Choosing what to watch in the world of streaming these days can be seriously time intensive. There's just so much to choose from, and before you know it, it's time to go to bed. Instead of scrolling through your favorite genre, you might consider narrowing down your options even further. How about movies with dogs, for example? After all, who doesn't love dogs? Fortunately, there's no shortage of movies about dogs getting in trouble on streaming sites such as Netflix. Here, your favorite TV and streaming guide highlights five of the best.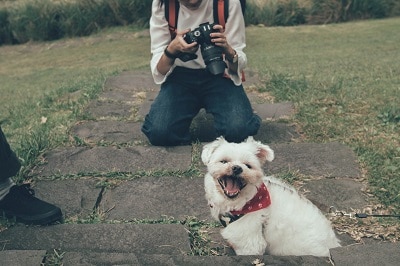 Benji (Netflix)
You can't have a list of favorite dog movies without devoting at least one to Benji. It seems that Hollywood can't get enough of this cute little animal, as they continue to make movies about him time and time again. The plot of this recent version is similar to the very first Benji movie from the early 1970s. Benji makes friends with two children who are kidnapped before he goes to rescue them. It may be a remake, but this 2018 version is every bit as moving as the original.
Hotel for Dogs (Hulu)
As the title suggests, this movie is about a hotel that solely caters for dogs. It starts when brothers Bruce and Andy develop an affection for a stray dog they've called Friday. But due to their foster home's no pets policy, they can't take him with them. So they provide him with accommodation at an abandoned hotel. In a short time, they open up the home for other dogs. But how long can they keep their new venture a secret from the adults and the local pound.
Hachi: A Dog's Tale (Hulu)
If you aren't averse to bawling your eyes out, this is one dog movie you should definitely see. The story follows a puppy who's accidentally stranded at a train station. He's found by a professor, who goes in search of Hachi's owner, albeit unsuccessfully. They develop a bond, and Hachi waits at the train station every day for the professor to pass by on his way back from work. One day, the professor doesn't arrive, and the dog waits for nine whole years for his master to pass by.
Turner and Hooch (Disney+)
This Tom Hanks vehicle revolves around his protagonist Detective Scott Turner, whose life is organized and boring until he is tasked with solving a murder with the only witness being a dog called Hooch. The dog turns Turner's life upside down, as not only does he have a new responsibility, but they also develop a bond over time. Let's face it: Tom Hanks and any dog was always going to be a winning combination.
White Fang (Disney+)
An adaption of the iconic Jack London novel, White Fang features a wolf-dog and his living with three masters. The story has captured the hearts of many of us over the years, and this adaptation continues to do the same. The movie features some stunning visuals, connecting the viewer with the sunning soundtrack and the main character. If you think this is just a kids' movie, that's a mistake, as adults can get a real kick out of this one too. Although, have your hankies ready, as you may shed a tear or two at the end.