Are you looking for a way to keep your home safe from burglars? A barking dog alarm might be just what you need. Dog alarm systems mimic dogs' sounds instead of a traditional beep. It's a fairly new concept, but many prefer dogs barking over sirens for safety reasons.
That way, you can safeguard your home without caring for a living creature. These devices can be very effective at deterring criminals. And with so many different options on the market, it can be tough to know which one is right for you.
Don't worry, we're here to help. In this article, I'll give a quick rundown of the available barking dog alarms and help you choose the best one for your needs.
Best Barking Dog Alarm Systems in the UK
1. S SELDORAUK Dog Barking Alarm Motion Detector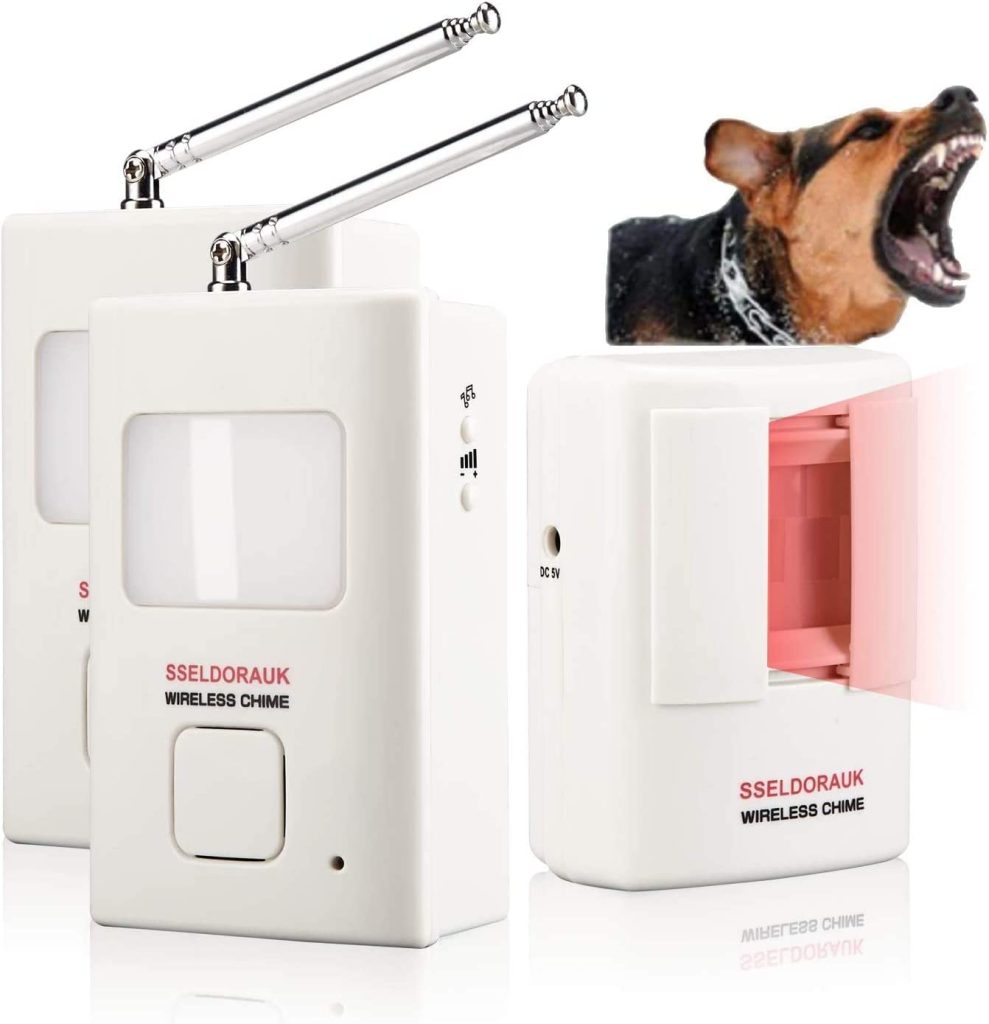 With a working range of 1000 feet, this wireless home security kit by S Seldorauk is perfect for your home. At just £35, you get two receivers and one motion sensor.
This barking dog alarm can work in three modes:
Melody (Dog barking, dingdong, alarm, and so on)
Flashing LED with Blue colour night light
Melody+ Flashing LED
The alarm is quite easy to install, with a convenient hanging hole on the back if you're not a handy guy. Additionally, you don't have to worry about quality or defects because it comes with a one-year warranty.
Buy S SELDORAUK Dog Barking Alarm Motion Detector on Amazon.
2. Electronic Barking Guard Dog Security Intruder Alarm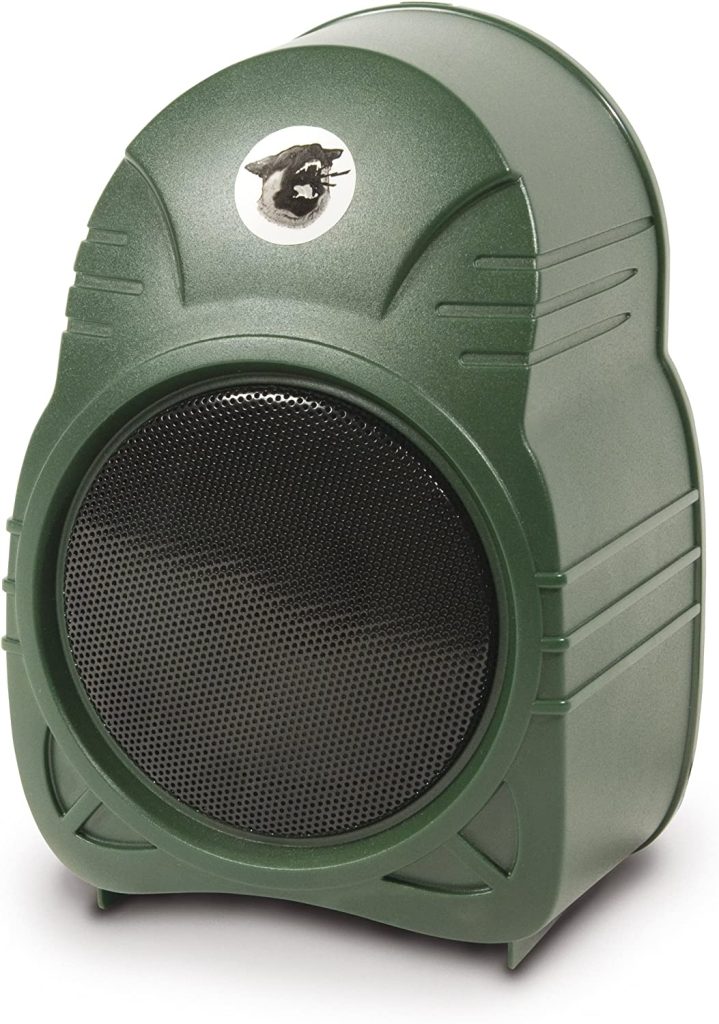 This Clifford James barking guard dog alarm detects anyone approaching your property using motion sensors. The sensors are set up to get 360-degree vision on your property.
As for the siren itself, you can choose from the sound of a barking dog, chime or alarm. It is easy to use since no fitting is required, and you can simply switch it on to activate the built-in sensor.
The main unit's design is well thought out. This alarm works on both batteries and the mains adapter. However, I recommend you plug it into the wall for more efficiency.
Unfortunately, we have noticed that the batteries drain far too quickly for such a minimal setup.
Buy CLIFFORD JAMES Barking Guard Dog Security Alarm on Amazon.
3. KH-Security Electronic Safe Guard Dog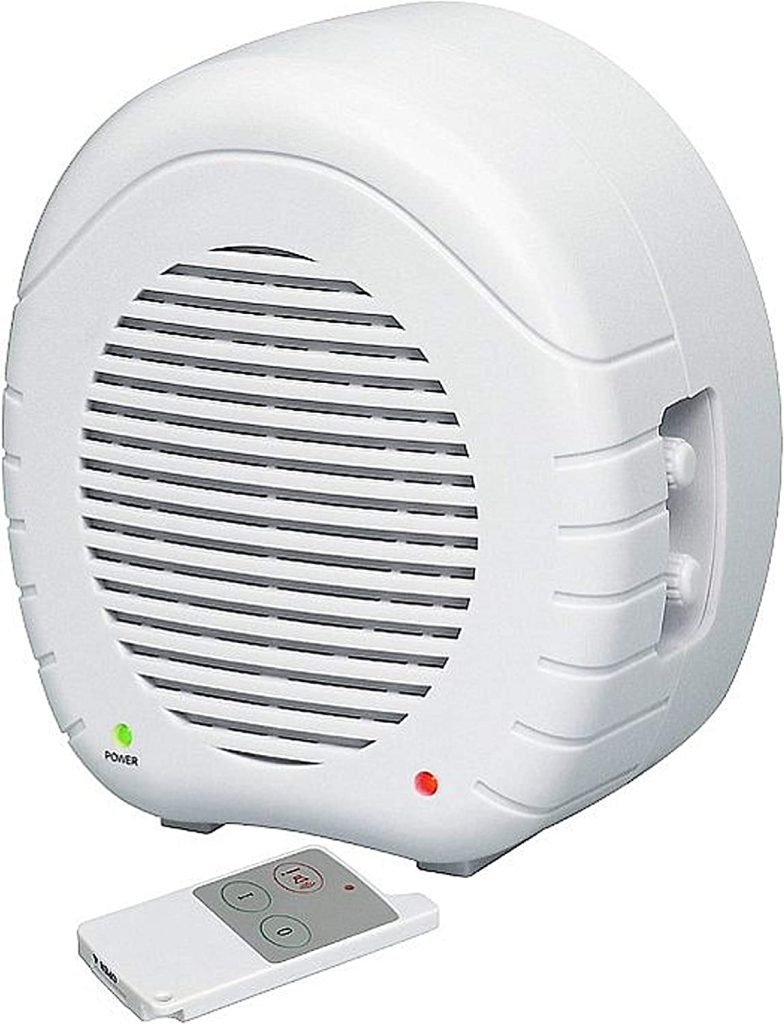 This KH Security Barking Dog Alarm has an option to choose from the sound of a gong or a siren as well. It has a working range of 3.5 meters. It has a remote control so you can sound the alarm by pressing a button on the remote.
This alarm can also detect motion through non-metallic objects such as wooden doors, windows, etcetera. It has an external speaker and can work on battery power as well.
Realism is arguably the most amazing aspect of this alarm. It doesn't start with a repetitive song that can be recognised as a phony within 10 seconds. And that's why it is the best electronic barking dog alarm system in the UK.
The alarm sounds once on initial motion detection, then as the motion gets closer and closer, it barks more aggressively and frequently, making it as realistic as ever.
Buy KH-Security Electronic Safe Guard Dog on Amazon.
4. Ultra Secure Direct Dog Barking Alarm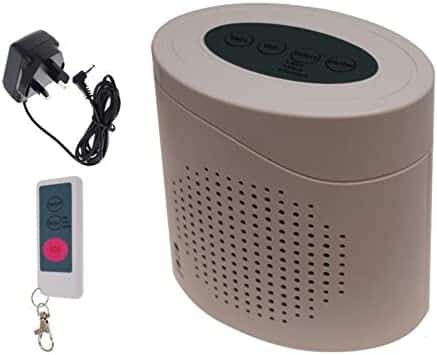 The Ultra Secure Direct Dog Barking Alarm uses radar to detect anyone entering a door without needing to be installed; it is the perfect deterrent for robbers and vandals. It also has an exterior sign that reads "dogs roaming free."
This alarm is perfect for when you are leaving your home empty. On activation, it starts a bark, then a loud growl with adjustable sound from 70 – 120 dB.
Installing the system is fairly easy. Put it behind a door and power it with the included plug-in transformer or 8 AA batteries.
Buy Ultra Secure Direct Dog Barking Alarm on Amazon.
5. ED 50 Rex Plus Electronic Watchdog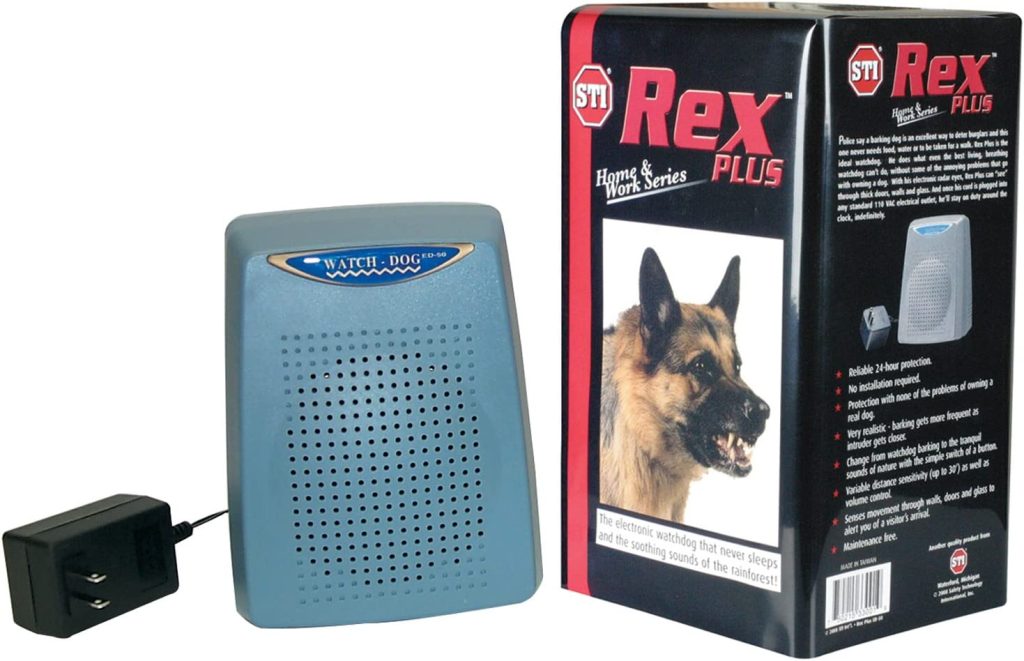 Rex Plus is adaptable and offers a great solution to discourage criminals without the bothersome issues of owning an actual dog. This electronic watchdog gives four sounds.
Choose the sound that best suits you: the continuous sounds of the rainforest, an option that uses the rainforest sounds to announce intruders/guests, the dog barking for 15–20 seconds followed by the sound of a siren, or the dog barking more frequently and louder as the intruder approaches.
It has electronic radar eyes that allow it to "see" through thick walls, doors, and glass. This alarm also comes with a limited warranty of 90 days.
Buy ED 50 Rex Plus Electronic Watchdog on Amazon.
6. PA-02 Dog Bark Imitation Siren Doorbell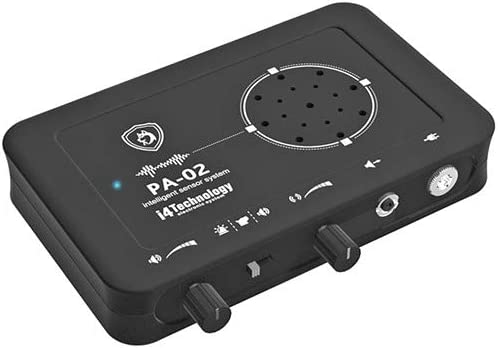 The PA-02 device begins to simulate the loud, lifelike barking of an angry dog when it detects activity from the outside– even through walls and windows. A clever algorithm produces the noises, so they never repeat.
The device has a motion sensor that can detect intruders up to eight meters away (3.3 to 26.3 feet). When it detects movement, the device plays sounds, as chosen from – a dog barking, an alarm, or a doorbell.
As a result, PA-02 can be used as a doorbell that alerts you to visitors, as well as a security system. Both the range of the motion sensor and the sound volume are programmable.
Buy PA-02 Dog Bark Imitation Siren Doorbell on Amazon.
7. TOWODE Motion Sensor Alarm
The Towode motion sensor alarm has 17 audio options, can be controlled remotely and has a high detection threshold for motion. Upon detecting motion, the infrared sensor sends a signal (up to 100 dB) and a flashing light.
It consists of PIR motion detectors with a range of 6 to 8 meters and a distant distance of up to 8 meters.
It can detect movement through most walls but not thick glass, metal studs, or exceptionally thick walls.
Buy TOWODE Motion Sensor Alarm on Amazon.
8. Waytronic Infrared Motion Sensor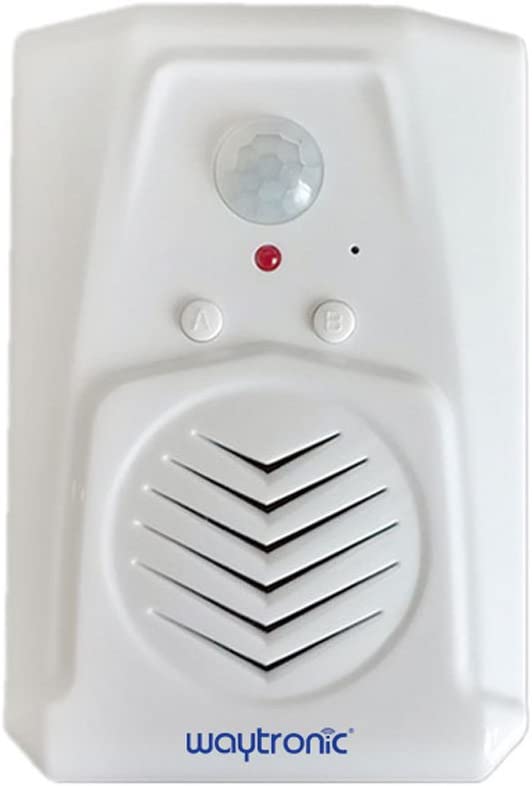 This Waytronic Motion Sensor plays customised audio files on activation. You can change the audio files with the help of a USB data cable to immediately download audio files from the PC.
There are two volume levels: Low and Maximum. Available for under 25 Euros on Amazon, this is the best bang for your buck. You can easily modify its orientation with the help of the ball mount.
Since it is an infrared sensor, it can operate in complete darkness as opposed to most props, which need someone to disrupt the plane of light to activate them.
Buy Waytronic Infrared Motion Sensor on Amazon.
How to find the best barking dog alarm for your home?
There are a few things to consider when choosing an electronic barking dog alarm setup.
1. Property size and expected range:
Before anything else, consider the size of your property and the range you need the alarm to cover. That will be your basic requirement, and you'll have to set a budget accordingly. You'll need an alarm with a wider range of detection and intensity if you have a bigger house and vice versa.
2. Alarm sensitivity:
Consider how sensitive you want the alarm to be. Some alarms can only go off when a loud noise is made, while others will go off at any sound or motion.
You'll also have to adjust the trigger range for motion detection based on the location of the alarm on your premises. You can set up exactly how close to your property you want the alarm to be triggered.
3. Desired features:
Carefully consider the essential features you want in an alarm. Don't be fooled by the bells and whistles too quickly. For example, some alarms come with removable batteries, so you can change them when they die.
Others can have solar panels, so you don't have to worry about batteries. Consider what would work best for your needs while staying within the budget.
4. Look at the reviews:
Check the reviews for different models of barking dog alarms. See what other people have to say about their experiences with different models. This can help you narrow your choices and find the best alarm for your needs.
Tips for Installing a Barking Dog Alarm
1. Use an area with little to no movement.
The alarm system is designed to go off only when it detects unwanted movement. It can be cumbersome to position it at a location with constant motion all day.
Put this at an entrance where no one frequently passes and away from swings and trees that wobble.
Barking alarm systems are impartial and unable to distinguish between desired and undesirable motions. You'll end up with a letter for noise nuisance if you aren't careful.
2. Make the burglar believe your lie.
To discourage people from attempting to approach the residence, you can purchase some "beware of dog" stickers. This will deter the crime instead of scaring the thief away with a loud noise.
3. Test the range.
These devices' realistic precision is to be considered to ensure both safety and convenience.
Make sure to keep it out of reach of generally crowded areas, as it might get triggered at times when it is not supposed to.
Frequently Asked Questions (FAQs)
1. What is a barking dog alarm?
A barking dog alarm is a device that produces a loud, audible sound when it detects movement. It is designed to scare away intruders and deter crime. These alarms are perfect for keeping burglars off your residential premises.
They can also be helpful for detecting trespassers and animals. A barking alarm is the next best thing if you don't have a well-trained dog with a sense of security, a commanding presence, and a loud bark.
2. How does a barking dog alarm work?
Barking dog alarms detect movement and then emit a loud, audible sound. The sound is designed to scare away intruders and deter crime. The alarm is triggered when it detects motion, and a sound file with realistic dog barking sounds is played.
The sound file typically has sounds from a huge, very angry dog that sounds like it might be inclined to attack strangers.
3. Are barking dog alarms effective?
Barking dog alarms are generally considered to be effective at deterring crime. Studies have shown that the presence of a barking dog alarm can reduce the chances of a break-in by up to 60%.
It also depends on what alarm you buy; the realism varies from alarm to alarm and thus can affect its effectiveness.
4. Are there any downsides to using a barking dog alarm?
The primary downside to using a barking dog alarm is that it may cause false alarms. If the device is triggered by something other than an intruder, such as a pet or passing vehicle, it can be quite disruptive.
Barking dog alarms require regular maintenance, such as batteries or power supply replacements. The maintenance cost can be high for some alarms.