Shih Tzus are some of the most adorable dog pets you can have in your house. However, having such a pet comes with its fair share of work. Maintaining this type of dog can be quite some work. You have to groom your furry friend and shampoo him regularly or frequently to keep their skin clean and their fur glossy. It is only fun having them around and playing with them when they are clean, thus the importance of shampooing them. You can get some of the best shampoos from M-Dog.org guide on the best Shih Tzu shampoos. When selecting a shampoo for your Shih Tzu, here are some of the qualities you may want to consider.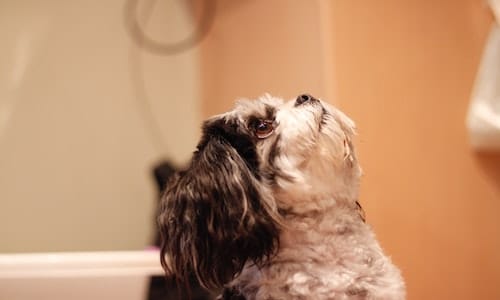 1. Remove Debris from Coat
A good shampoo should help you remove any kind of debris and oil from the dog's coat or fur. Shih Tzu skin produces body oils that can create an unpleasant greasy appearance and even have the dog smelling awful when mixed with low-quality shampoo. The dog, in general, will look dirty and dull. A good shampoo should help clean some of these oils without completely removing the dog's natural oils.
2. Right PH
A high-quality Shih Tzu shampoo will have a proper PH balance. Some shampoos can be extra acidic, putting the dog's skin at risk. With the right or balanced PH, the shampoo should sufficiently clean your dog's coat, as well as skin, and would not irritate it. You do not want your pet to have irritated skin since you will not like having around in that state.
3. Avoid Using Human Shampoo
Shih Tzu grows a double layer of fur, making it suitable for those with fur allergies because it rarely sheds dog hairs. Some owners tend to assume that they can simply use regular human shampoo to clean this dog. However, this should not be the case. Most human shampoos lack the PH balance that should be in a dog one. You should stick to the recommended dog shampoo to avoid irritating the dog's skin.
4. Chemical Free Shampoos
If you can, check-out for chemical-free shampoos. These are shampoos that contain mostly natural ingredients. Chemicals can harm not only the coat of your dog but can also lead to other health problems. With chemicals on your dog's fur, the dog can easily lick it, causing stomach upsets. So, you should avoid such things if you can.
5. Get a Shampoo that Rinses Easily
It is essential that you completely rinse dog shampoo from the dog's fur when washing it. Shampoos that are not easy to rinse leave an unpleasant residue on the dog's coat and skin. Left on the dog for long, this residue will clog the dog's pores. As a result, the dog's coat gets an oily and dull look that makes the dog look very ugly, unhealthy, and weak. If the dog happens to lick this residue, it can develop serious health complications that can even kill it.