A Furbo is an indoors security camera as well as a dog detection device in one package.
It is an all in 1 device for helping look after your dog when you are out of the house and the remote features it offers are incredibly impressive.
If you are considering getting a Furbo for yourself, but you are unsure if it is going to be worth the investment, keep reading!
Furbo Overview
The RRP for a Furbo is $249 but you may be able to find it for a bit cheaper if you find it on sale. The main feature of the Furbo is that it records a clear 1080p feed of where you set it up.
However, this is by far not the only feature which the camera system has.
We will go more in-depth on what else it offers in the design and features section, but it also gives you bark alerts, lets you hear your dog, and lets you talk back, and you can even dispense treats from it as well.
If you want to know the simple advantages and disadvantages of the system, keep reading to get our overview of this!
Pros
Gives you an impressive 1080p feed which even has night vision
Very simple to set up and easy to work with
Dispenses treats very efficiently
Activity updates work very well and let you know what is happening in your home
Gives you the ability to take photos as well as videos of your dog
2 way audio is very useful
Has compatibility features with Amazon Alexa which give it extra functions
Cons
Quite expensive so you need to be sure it will be useful for you
To get cloud recording, specific smart alerts and the Doggie Diary feature, you will need to pay for a subscription
Does not support Google Assistant
Design And Features
The Furbo itself is a little under 9 inches tall and is designed with an oval base which is 4.72 by 5.91 inches so it does not take up a massive amount of space, but will still have a presence.
The device only weighs 2.1 pounds, and the camera can capture 1080p footage using the impressive 160 degree wide angle lens and 4x zoom.
There is also the infrared night vision which helps it stand above competitors which do not use this feature.
Furbos are also designed with a speaker and microphone, which allow you to communicate with your dog. The microphone is also used a bark sensor. The device also has a treat dispenser.
The Furbo also has a light which indicated the device status at the bottom. The device is able to hold up to 100 treats depending on the size of them.
For such a functional device, the Furbo has a neat and sleek aesthetic which means that it does not clash against your living space and overall is good to look at.
When you first get the device you will get a free trial for 3 months of the Furbo Dog Nanny service which is the compatible subscription service with the device.
This means that you get even more features for your device.
There are still plenty of features which do not need the subscription like being able to view the livestream using your mobile, getting to listen and speak using the device, dispensing treats, get barking alerts, and recording videos and taking pictures.
However, the Dog Nanny subscription gives you a wide variety of features which make the device even more useful. Furbo are insistent on tempting you by following up the free trial with 3 more months at only $0.99.
After this you can pay $6.99 monthly, or if you are confident you like the service, $69 a year.
One of the main features of Dog Nanny is the event based cloud recording, as well as the Doggie Diary which makes personalized highlight videos.
Dog Nanny also gives you more scheduling supports and, smart alerts powered by AI. These alerts will tell you when the dog is active, or looking at the camera, or barking for too long.
The alerts will also tell you when a person is inside, or a smoke detector has gone off.
Like smart doorbells, the Furbo records video clips when it sees people, or specific events like barking, these will be saved on the app for a day, and you can download these to keep them permanently.
How To Set Up Your Furbo?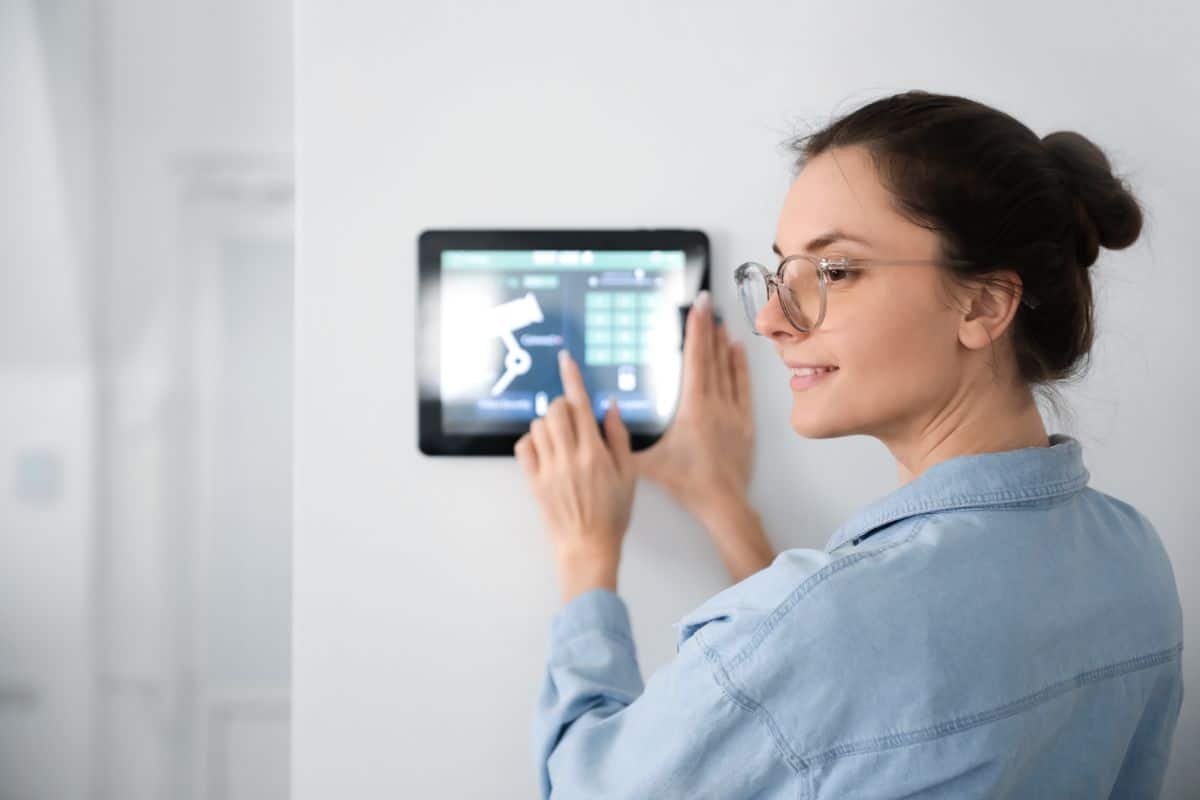 The creators of Furbo recommend setting up your Furbo somewhere between 12 and 20 inches off of the floor to ensure that you will get the best view of the room and your dog, and to adjust based on the height of your dog.
Your Furbo should also some with some pieces of double-sided tape to ensure that your Furbo stays attached to where it should be and that it will not get knocked down.
Lots of people put their Furbo next to a TV stand or something off a similar height to give you an idea of how they are commonly used.
There is a quick start guide which comes with your Furbo, but the set up process is very simple and you will not have to worry about the process being too confusing.
Once it is plugged in, you will have to wait until the light is green.
Once this has been done you should download the compatible Furbo app which will work on both Android as well as iOS.
You will need to create an account as well, but this will not take you long. The app will also help you with the rest of the set up process at this point and will make it easy!
You get the option to turn on notifications which you will need to permit if you want to receive the barking notifications and other features, and then you will use the app to connect to the Furbo using Bluetooth.
This will let you connect your Furbo to your Wi-Fi network which is how the Furbo connects to your internet.
You will also select which room your Furbo is in so you can name it after the room, this is useful if you plan to use multiple Furbos.
After this process is finished the app walks you through the process of introducing your dog to the Furbo which is a step competitors often forget to factor in and is useful for helping your dog trust the gadget.
Then you fill the Furbo with your dog's favorite treat, which will need to be dry, as well as round, and should be under half an inch in diameter to ensure it can get out the hole.
The app will then talk you through training your dog to get treats from the Furbo which is useful. You may also want to adjust the position at this point since the device occasionally shoots treats in an awkward direction.
Frequently Asked Questions
Can Your Furbo Hear You And Your Dog?
The Furbo will be able to hear what is going on using the livestream. It uses this to give you alerts when your dog is barking, or when alarms are going off. You can also use the speaker on the Furbo to talk to your dog through the app when you are not at home.
Is Furbo Worth The Money?
For the features which you get, Furbo offers some amazing services which would simply not be possible without the device. While the monthly service for Furbo is an investment, even without these, the device still has some amazing functionality and is perfect for pet lovers.
Does Furbo Have A Monthly Fee?
Furbo has its Dog Nanny service which after the free trials and discount period costs $6.99 a month or $69 a year.
This is not required for the Furbo to work, but it does add some extra features, however, you do not need it for the Furbo to do all of its advertised features, but we think the AI alerts are worth the investment.
Is Furbo Always Recording My Dog?
If your Furbo is turned on, then it will always be recording the room it is in, so whenever your dog is in that room it will be recording! However, if you want a constant feed of your dog, you will need a Furbo in every room it has access to.
Can My Furbo Be Hacked?
The hack-ability of the Furbo depends on how well protected your Wi-Fi and phone is, since this is how the hacker will get to the Furbo, so if you are worried about this, ensure that any device your Furbo is attached to, like your phone and Wi-Fi router, are well protected from hacking.
Summary
Hopefully this review has given you all the information you need to let you know whether the Furbo is going to be useful for you!
This device is well worth the price of admission if you are anxious about how your dog is when you are out!