Choosing a dog bed for your cute little pug is tricky yet critically important. For starters, pugs have significantly more health risks than other breeds.
During the night, you gotta watch out for breathing troubles, overheating, infections, and other complications that can disrupt your pug's sleep. Then once you have chosen the "perfect" bed, getting them to sleep on it is an even bigger issue.
Complicating matters further, pugs have severe separation anxiety. Even a minor anxiety can quickly become a chronic issue for these companion dogs.
So, how can you ensure everything runs smoothly when nightfall rolls around?
Here are the best beds to put your pug to sleep on.
Best Beds to Buy For Your Pug in 2022
1. Pet Fusion Memory Foam Bed – Best Overall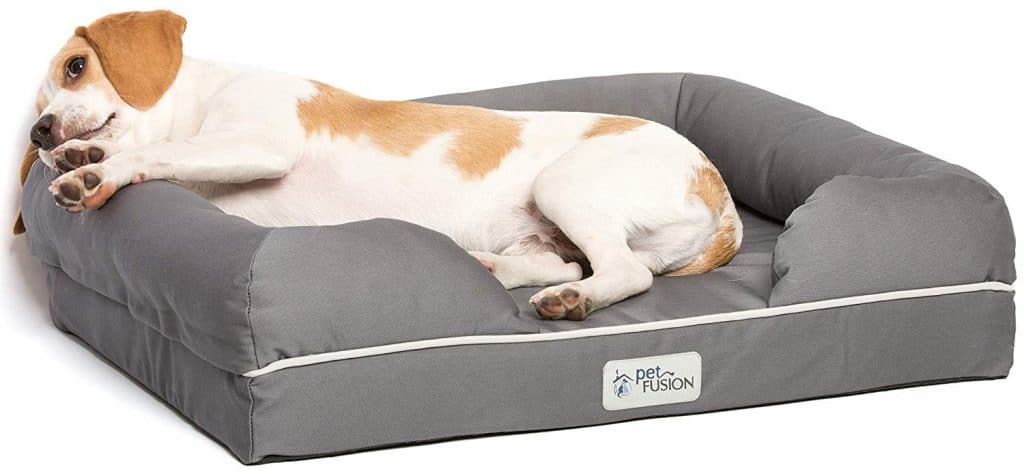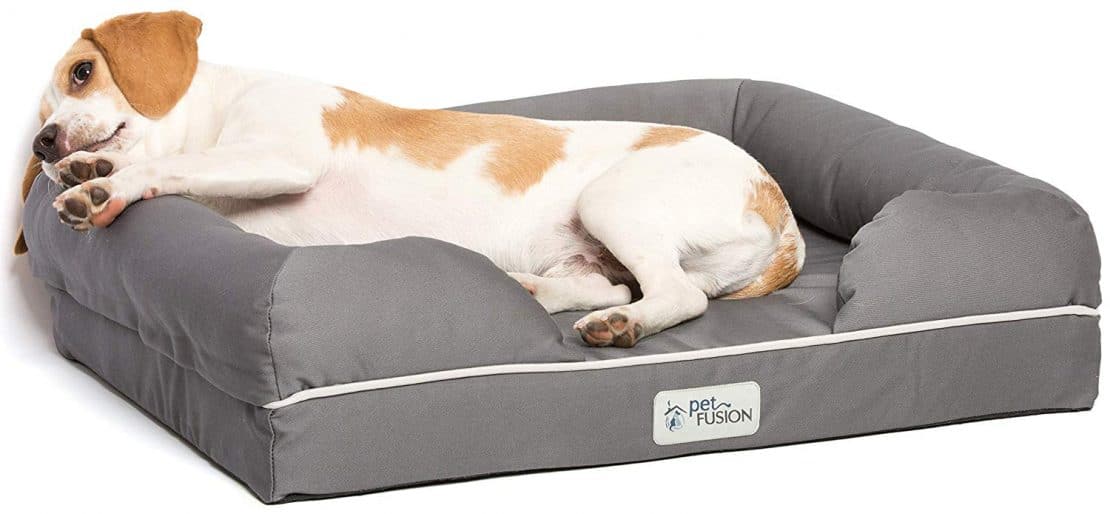 The Pet Fusion memory foam bed is the best dog bed for small pugs in 2022. It has memory foam to support their weight comfortably, bolster sides for head support, and removable, machine-washable covers.
At 90 pounds, it's not the cheapest bed, but it's definitely worth the expense. The only drawback you could find is that the covers are not hypoallergenic.
Although, you can wash them regularly since they're machine-washable OR just replace them with hypoallergenic covers of the same size.
Pet Fusion Memory Foam Bed (Small for Pugs)
PREMIUM DOG BED: Solid memory foam based for superior comfort, reduced joint pain and improved health, mobility and energy. It is also an idea calming bed for dogs who suffer with anxiety
2. Veehoo Raised Dog Bed – Best During Hot Days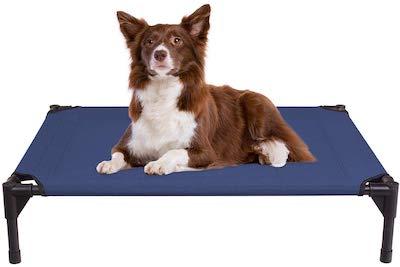 If you're looking for raised beds, Veehoo has an absolute gem for just 45 pounds.
The Veehoo Raised Dog Bed (medium-sized) is the best-raised bed for pugs in 2022. The impeccable quality of mesh material helps your dog lose the heat in warmer temperatures and keep them cool.
Remember, it may be cheap and comfortable, but it isn't ideal for the primary bed. Raised should remain secondary.
Veehoo Raised Dog Bed
Material: Textilene Mesh and Powder-Coated Steel. Size: 32"x25"x7" (81x64x18 cm). Can hold a maximum weight of 150 pounds (68kg); Suitable for a normal adult English Bulldog, Samoyed etc.
3. JOYELF Warm Bed – Best for Colder Climate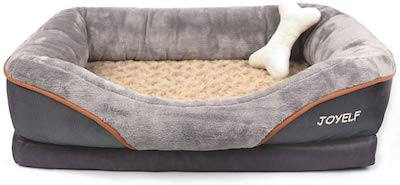 JOYELF Warm Bed is the most comfortable and snuggle-worthy dog bed for pugs during winters. It comes with a memory foam filling and bolsters sides on both ends. The bedding itself is super thick to make it warmer and relaxing.
Buying such a dog bed is extremely important if you live in colder areas. Cold weather is not good for joints, so extra warmth goes a long way, especially for smaller breeds like pugs.
Sale
JOYELF Warm Bed
HIGH-QUALITY MATERIALS: 1.Solid Memory Foam base for perfectly to your pet's body for maximum comfort. 2.Memory Foam using flame retardant material. 3.The Bottom Material of the dog bed comes with built-in nonslip rubber backing and waterproof coating. 4.Inner waterproof cover perfect for senior dog with occasional accident. 5.The fabric offers unmatched warmth and comfort; 6.The bolster is filled by PP cotton generously which is relax breathable and good resilience.
4. KOPEKS Sofa Bed for Pugs – The Premium Choice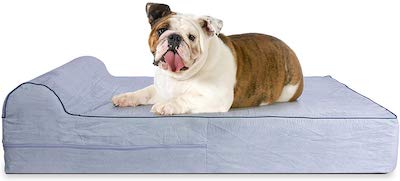 The KOPEKS Sofa Bed is the most expensive and premium dog bed for pugs worth buying in 2022. It has the right mix of essential features and extra flare to draw the eye.
The smallest retails at £48 and the largest at about £148. All three sizes have every desirable attribute highlighted in the buyer's guide – it has memory foam to give them a firm but comfy rest to ease the pressure on joints.
With raised bolster sidewalls, pugs can rest their heads and breathe easier. The cover material is hypoallergenic, removable, and washable.
5. Brindle Solid Memory Foam Orthopedic Dog Bed – Best for Crates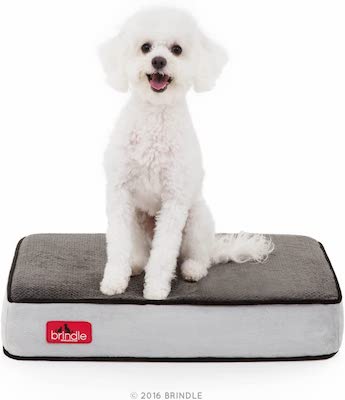 If you're looking for a dog bed to put in a crate, go with Bringle Solid Memory Foam Orthopedic Dog Bed. Especially for senior dogs!
Instead of a super comfortable sinking-style memory foam mattress, it's a slightly firmer orthopedic one. It provides great comfort and posture support for senior dogs that are helpful with hip dysplasia.
The material is hypoallergenic, which helps tremendously to keep infections and adverse reactions away from the skin, ears and eyes. On top of that, the velour cover can be removed and washed easily.
The drawback is that it doesn't have side bolsters to support the head. However, this could be perfect for owners using crates for their Pugs.
6. Loving Care Lounger – Most Features Under £50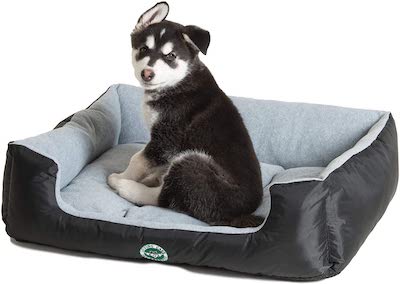 Loving Care Lounger is slightly expensive at £48 but has features to back itself up. The memory foam bedding comes with covers that aren't removable but are waterproof and hypoallergenic materials. The bed also has to bolster ends.
But most importantly, it's a massive bed for pugs. Even its smallest size is big enough to leave plenty of wiggle room for your furball to play around.
Loving Care Lounger
Great for ALL Weather. Reversible COOL on reverse side. Size: Large=80 cm x 65 cm, Faithful GREY. Loving Care Pet Products Ultra Supreme LOUNGER Style Black and Grey Dog Bed Cat Bed Pet Bed basket. Available in 3 Sizes and 7 Colours to Suit Most Pets and Homes. Made from same durable superior materials as our Nesting Beds B00SW7NHE4 and Crate Mats B01LW4AP0B. We donate a portion of our sales and product to pets in need and pet charities.
7. Easipet Waterproof Dog Bed – Best for Budget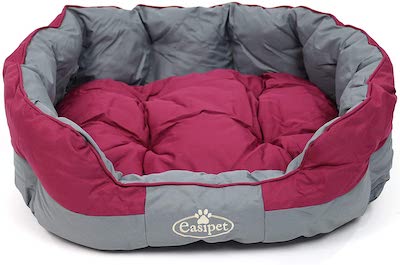 I can't say how they do it, but Easipet's Waterproof Dog Bed retails at 25 pounds, and it's the best bang-for-your-buck deal on this list.
The Waterproof Dog Bed is amazingly cheap and offers adequate comfort. Additionally, it's waterproof, which is necessary if your doggo is hyperactive. Or if they haven't been toilet-trained yet.
It's rounded, which makes it perfect for breeds who like to curl up (pugs) when they sleep.
How many hours a day do pugs sleep?
Pugs tend to sleep between 10 to 14 hours every day. Young puppies (of pugs) even have the habit of sleeping 20 hours a day. However, anything above 14 hours of sleep is a cause for concern (major or minor). A pug might oversleep due to boredom, obesity and other issues.
Read More: What do you need for your puppy coming home? A UK Checklist
Health Problems in Pugs You Must Consider
It's important to differentiate between "the best" and "the most suitable." You must consider your pug's health conditions when buying a bed for them.
We have to cater to the idiosyncratic features of which they're purposefully bred. The tradeoff for these desirable features is that they're ailments. Fortunately, there are now dog beds to help your pug overcome discomfort and aid sleep, relaxation, and anxiety.
1. Breathing problems
Pugs are a brachycephalic breed with short muzzles and a flat face. Selective breeding has shortened their nasal passageways.
It can cause a host of breathing problems which may lead to a lot of stress, discomfort and anxiety for the Pug, particularly when they are engaging in physical exercise and when the temperature is above average.
A comfortable bed will make things slightly easier so your doggo can relax and sleep easily.
The bolster bed with sidewalls helps to ease breating troubles. This allows pugs to rest their head, straightening out the airways and allowing them to breathe a little easier.
2. Possible separation anxiety
I have repeatedly mentioned that pugs are considered companion dogs, but what does it mean?
Through selective breeding, pugs have become a breed that is extremely clingy and struggles somewhat with being away from owners leading to an increased risk of separation anxiety.
Unfortunately, you can't resolve this deep-seated psychological issue with a good bed. It'll require training, trust and a lot of patience. Although, a comfortable bed will still help them get a good night's rest whenever you're around.
A quality bed will make them look forward to sleeping, which can only be good!
3. Hip Dysplasia
Hip dysplasia is one of the many problems that pugs inherit. While pugs are born with normal hips, their muscle development surrounding the hip socket is insufficient. It could potentially lead to grinding and unevenness.
In some cases, obesity has also been linked with the development of hip dysplasia. Hip dysplasia can cause stiffness and pain in moving, especially first thing in the morning.
A good dog bed can ease the symptoms and reduce the pain. It could also slow down the condition and maybe stop it in its early stages.
You should get a dog bed that is both soft and firm at the same time – a memory foam bed would be preferable in this situation. Memory foam will offer a soft cushion but firm enough that it's quite easy for a pug to get into a comfortable position.
4. Prone to allergies
They easily get a host of allergies, mostly confined to ear and eye allergies. Pugs have floppy ears, which can be a precursor to infections, and their bulbous eyes make them extremely prone to eye infections.
You can use hypoallergenic dog beds to recover from such a situation. They are now widely available to pug owners and are an essential feature on your next purchase for your furry friend.
These beds are designed to keep dust mites, mildew and mold spores from growing and infecting your precious pug. Dog beds with removable covers are also great for dogs with allergies, making washing the beds more often easier.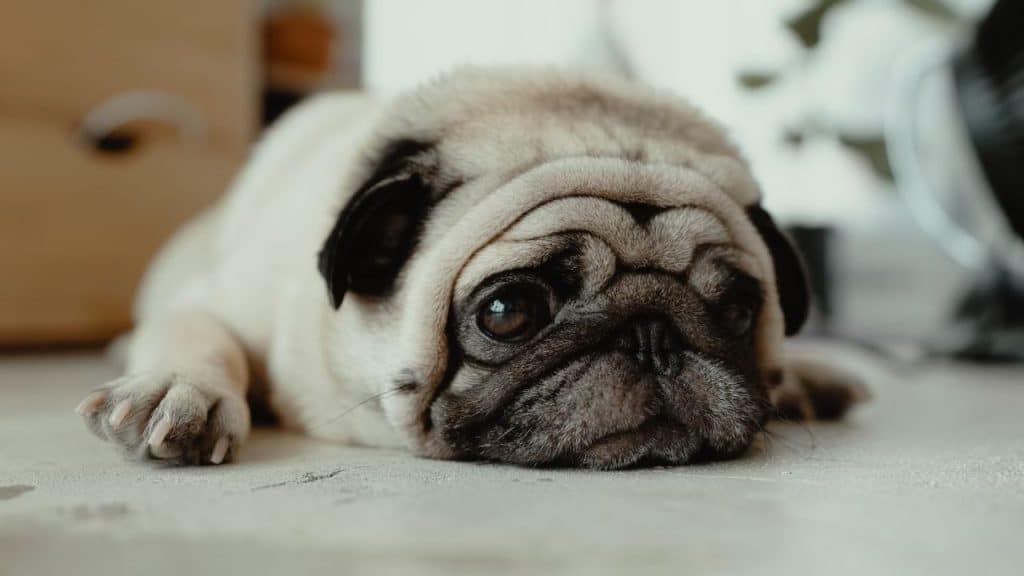 5. Potential Obesity & Uneven Weight
Pugs are heavy and not evenly distributed throughout their body which can cause flimsy beds with rubbish filling to sag. It also puts uneven pressure on the heavier parts of their body – especially the head and neck.
To counter this, getting a memory foam dog bed or a bed that's firm enough to support their weight over a long period is recommended.
Unfortunately, cheap dog beds aren't the best option for pugs, so you'll have to loosen your pockets a little for this one.
6. They struggle with heat
With pugs' breathing problems and obesity, any temperature above room temperature is unsuitable.
A particular dog bed option can help a Pug be able to rest and stay cool at the same time. For this, I recommend an elevated dog bed for your Pug to have around during warmer weather.
However, this is not the ideal bed all year round as elevated is a little hard and uncomfortable. Still, it can help keep them cool as the heat dissipates easier away from your dog's body, whereas a regular bed will only make them warmer.
What kind of bed is best for pugs?
To conclude, the ideal dog bed for a pug must have:
hypoallergenic elements to protect against potential allergens,
memory form filling to support their weight comfortably,
a sidewall (or a Bolster bed) so their head can rest on it,
and a secondary bed to keep them cool during warm temperatures.
Bolster beds with hypoallergenic mattresses and a memory foam filling are considered the best choice for young and adult pugs.
1. What size bed should I get for my pug?
Pugs are small, so they don't need XL or even a large-sized bed. A 22-inch dog bed is enough for your pug to sleep comfortably. If your pug is bigger or heavier, you can go with a 24-inch one, but that wouldn't benefit an average-sized pug.
2. Do dogs prefer hard or soft beds?
You should always buy a firm bed for your pugs (and other dogs) that is neither floor-hard nor plushy-soft. A softer bed won't support their joints and will cause discomfort in future. A firm bed with memory foam is the ideal choice.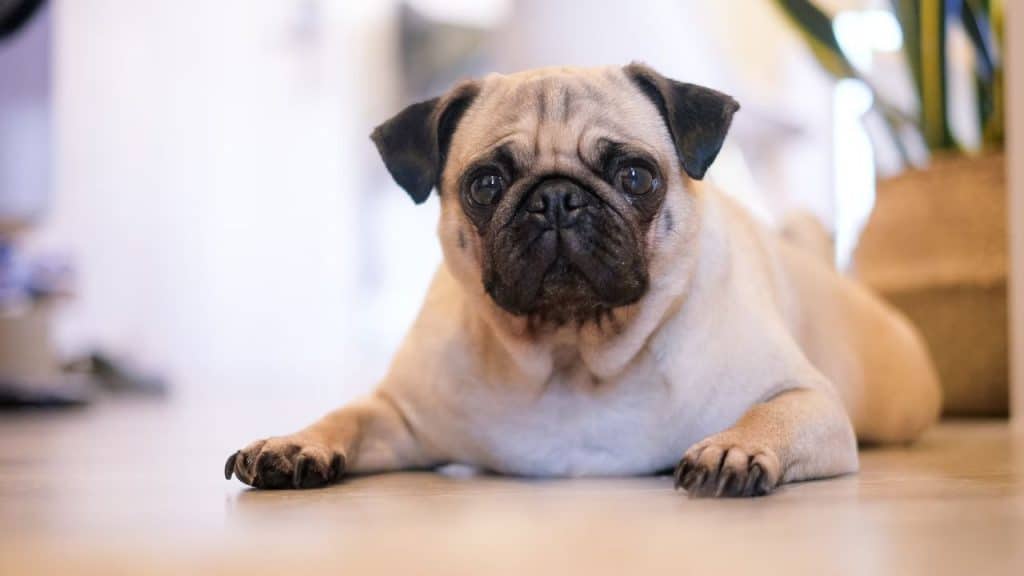 3. Can pugs sleep in a crate?
Pugs can comfortably sleep in a crate, even adults since they're not too big. Although, they're a hyperactive breed, so some wiggle room is preferable. The ideal crate size for pugs would be 22-inch or 24-inch, which should also accommodate their adulthood.
However, you can go with a 30-inch crate if your house has enough space because your pug will love it.
Read More: Beginner's Guide to Preparing Dog Crates: What to add and where to put it?
Other Important Details (FAQs)
1. Do pugs sleep on their back?
As part of the brachycephalic breed, pugs have breathing trouble due to narrow nostrils. If your pug naturally sleeps on their back, let them. They feel comfortable breathing in that position with the windpipe aligned safely. But it must be their own choice.
2. Why does my Pug sleep so close to me?
While all dogs are known to be great friends, pugs take this further. The so-called companion dogs grow incredibly attached to their owners and start developing separation anxiety if you ignore them too much.
It's common for a pug (and all breeds) to sleep close to you, the owner, until they're settled in.
3. Should pugs sleep in your bed?
You can let your pugs sleep in your bed if they're housebroken and follow your orders otherwise. However, it's worth considering that pugs shed a lot of hair which will inevitably ruin your sheets.
4. Why do pugs sleep with their tongues out?
Many dogs, especially pugs, prefer sleeping with their tongue out to regulate body temperature. It helps them relax and sleep peacefully, so you shouldn't worry. It could also result from hanging tongue syndrome or missing front teeth.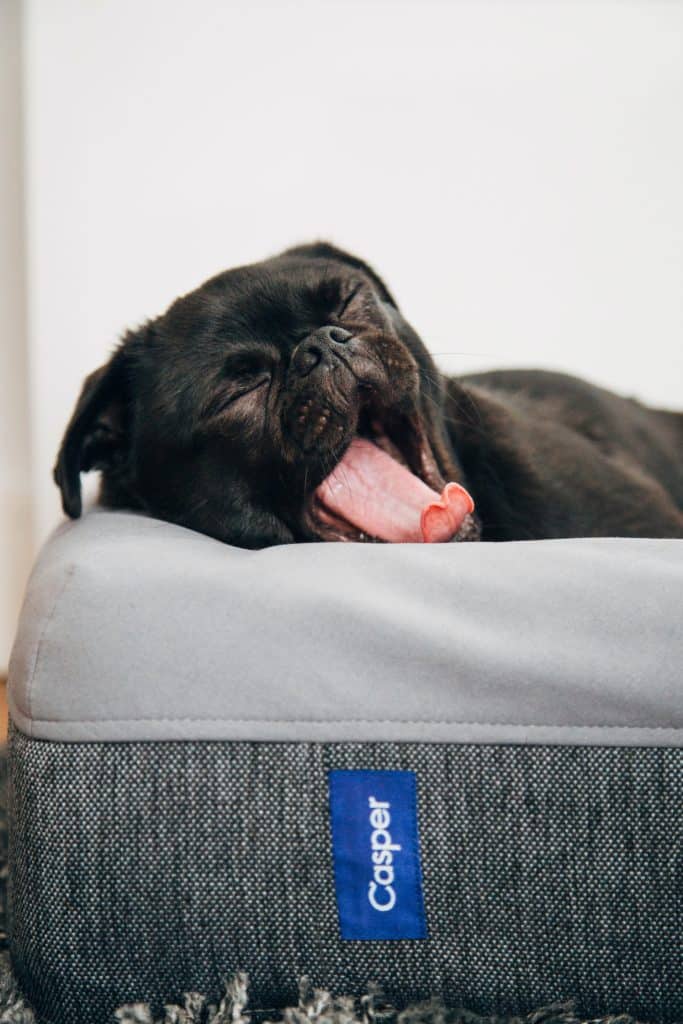 While the situation is not alarming, you can still do some digging. Check front teeth, especially in senior dogs. If present, you can get your dog tested, but hanging tongue syndrome is purely genetic.
5. How often should I clean my dog's bed?
Dogs' beds are cleaned weekly or biweekly, but the schedule depends on how "active" your dog is. Maintaining hygiene in your doggo's living quarters is important, so you should keep a close eye. You should also consider buying machine-washable dog beds.
6. How often should I get my dog a new bed?
You'll have to replace dog beds every few years – roughly one to five years because of basic wear and tear. Like other dogs, your pug might claw through the bedding due to basic instincts and marking its territory. If not, your dog bed will last slightly longer.
Reasons for replacement include infestation (ticks, worms, etc.), considerable wear and tear, bad odour, and mysteriously deteriorating health.
Last update on 2023-10-13 / Affiliate links / Images from Amazon Product Advertising API