Loose stool in dogs is a sign that they're struggling to digest their food properly and this can be because of a lack of fibre, allergies to certain ingredients or an underlying condition or all three.
If dogs are healthy and they're eating right then the stool should be firm and soft. If your dog has loose stools and you want them firming up then you've made a good choice by doing some research into a different diet.
In this article, we're going to offer a shortlist of 5 UK dog foods which are ideal for firm stools and explain why these dog foods are so good to help you and your furry friend's digestive problems out.
This shortlist has been created by looking at two important factors – they are hypoallergenic and full of fibre – two critical elements in achieving firmer stools.
1. Pure Pet Food Dehydrated Personalised Dog Food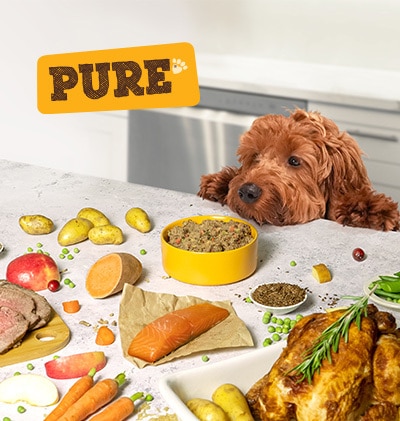 Pure Pet Food Dehydrated Personalised is the best dog food you can buy for firm stool in UK 2022. They make the food recipes in correlation with your dog's needs. Your order begins with a questionnaire, asking you about your dog's allergies, health problems and then other details.
These details include factors like their breed, age and weight. As a result, a perfect, tailored dog food plan will be curated for your dog's needs, in this case, the need for firmer stools. Any allergens you state will be removed from your dog's recipes, and all the rest of the ingredients are deliciously simple and totally gentle on the tum!
With all of this combined and the ability to personalise the food even more if you choose to, Pure dehydrated dog food is one of the best foods you can give a Boasting natural, minimal ingredient lists, all containing real meat, fruit and loads of vibrant veggies, Pure recipes will help soothe a sensitive stomach and the high fibre intake from the veg will help firm up stools. Fibre is super important for good gut and digestive health, which of course helps produce firmer, healthier stools, and luckily, Pure is packed full of it!
Some Pure recipes include brown rice, as this is great for digestion and full of fibre, however, if your dog is sensitive to grains, Pure will create a grain-free recipe perfect for your pooch.
Ingredients (Chicken recipe)
Chicken Breast & Thigh (25%), Potato, Parsnip, Carrot, Apple, Cabbage, Green Beans, Brewers Yeast and Minerals.
2. Lily's Kitchen Dry Dog Food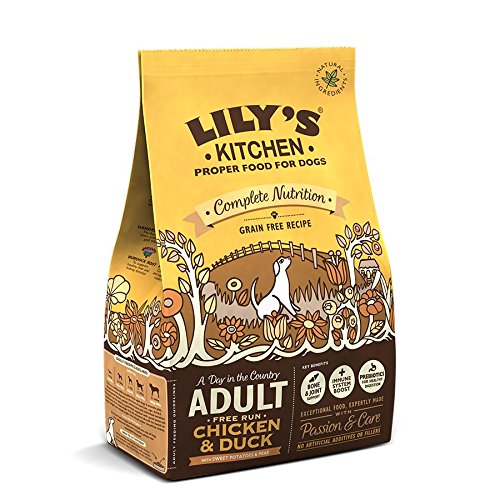 Next up is another JugDog firm favourite and the dry dog food of choice for Jeff (who has firm stools) which is Lily's Kitchen. This brand is an excellent choice to firm up stools as it hits the main points we've raised – it's made with natural ingredients, it's grain and dairy-free and it is jam-packed with fibrous vegetables.
Moreover, for dogs with really sensitive stomachs, you'll be pleased to know it's also Gluten-Free, Wheat Free, Barley Free, Soy Free, Dairy Free. You may think to yourself – what IS in it then? 
The recipe of choice for us is chicken which includes 31% fresh chicken and 30% sweet potatoes as opposed to white potatoes which some dogs don't agree with. The fruits and vegetables are peas, lentils, apples, carrots, spinach, cranberries, and alfalfa.
The kibble itself is tasty and crunchy. We recommend mixing it in with some wet food just to make it a little more chewable though. Thoroughly recommend and will surely help firm your pup's poops.
Ingredients (chicken and duck)
(42% Freshly Prepared: Chicken 31%, Duck 8%, Chicken Liver 3%, Sweet Potatoes 30%, Peas 6.5%, Lentils, Pea Protein, Flaxseeds, Eggs, Chicken Gravy, Calcium Carbonate, Salmon Oil, Fructooligosaccharides 2.5g/kg, Mannan Oligosaccharides 2.5g/kg, Apples, Vitamins & Chelated Minerals, Carrots, Spinach, Cranberries, Glucosamine 175mg/kg, Methylsulphonylmethane 175mg/kg, Chondroitin Sulphate 125mg/kg,Botanicals & Herbs: Alfalfa, Rosehips, Chickweed, Cleavers, Golden Rod, Nettles, Kelp, Celery Seeds, Milk Thistle, Dandelion Root, Burdock Root, Marigold Petals, Chicory Root).
3. Alpha Sensitive Complete Dry Dog Food Chicken and Rice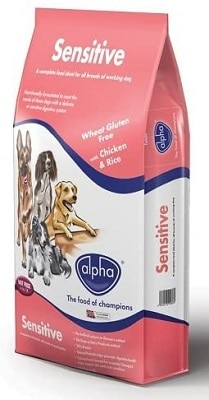 If your pup has a sensitive stomach and that's why you feel they're having loose stools then a speciality brand of dog food may be necessary and in that case, Alpha's sensitive complete dry dog food is a really good place to start.
What makes it sensitive is that many of the common ingredients which trigger allergies have been stripped out and gentle natural ingredients have been left in. Chicken and rice for a start is an easily digestible combination and one of the most common meats and carb sources in these kibbles which are designed to firm up stools. 
There is a high proportion of protein in this food which is great for building and maintaining muscles and an essential building block for any dog. Alpha cooks their foods slowly so that the vital nutrients and minerals aren't destroyed. The complete chicken and rice flavour is gluten and wheat free but not grain-free (due to the rice).
The only drawback for us is that there are other foods we've recommended with higher levels of fibre so if a lack of fibre is the cause of loose stools then perhaps this isn't the solution but if your dog has a sensitive stomach then it is. It's not that it lacks fibre because 3.7% of the kibble is fibre, it's just that there are better options out there for that specific nutrient.
Ingredients (chicken and rice)
Maize, Oats, Beef Meat Meal, Rice (12%), Poultry Meat Meal (7% Chicken), Poultry Oil, Fish Meal (2.5%), Linseed (2.5%), Brewer\'s Yeast, Fructo-oligosaccharide, Extract of Yucca Schidigera.
Read More: Best Wet Dog Food to Buy in UK 2022
4. Arden Grange Sensitive Adult Dry Dog Food Grain Free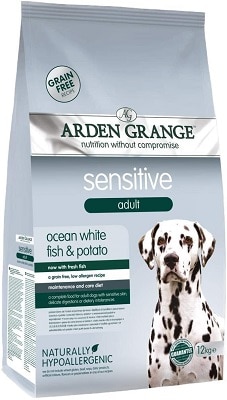 Arden Grange is another brand that JugDog loves and we have reviewed their recipes in a couple of roundup posts as well as an individual review. To help tackle loose stools we've chosen their Sensitive kibble in fish and potato flavour.
To start, this is the first fish-based dry food on this list so it gives a new option for readers who haven't been impressed so far with the overload of chicken. Fish is a lean white meat which is virtually fat-free, almost completely protein and very low in toxins.
This receipt is grain-free which excludes cereals and grains which on occasion can cause allergic reactions which can lead to loose stools, so it's hypoallergenic. Next, it includes prebiotics which helps feed the good bacteria to keep everything in the tummy humming along.
In terms of fibre which is a key ingredient in firming up stools, it has sweet potato, beet pulp and krill.
Although we would have liked to have seen a bit more veg in this recipe we do have to concede that the ingredients are very light and natural which is easily digestible and not only helps to promote a healthy gut but overall health from the nose to tail.
Ingredients (ocean white fish)
Fresh ocean white fish (22%), sweet potato (22%), ocean white fish meal (18%), potato (18%), refined chicken oil, beet pulp, whole egg powder, whole linseed, fish digest, krill, yeast, minerals, prebiotic FOS, prebiotic MOS, yucca extract, glucosamine, MSM, chondroitin, cranberry, nucleotides, rosemary extract.
5. PRO PLAN VETERINARY DIETS Canine HA Hypoallergenic Dry Dog Food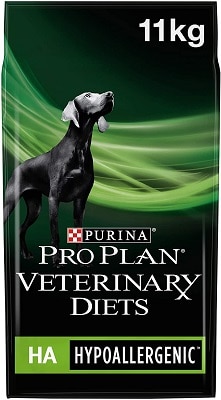 Our last entry is perhaps the most 'extreme' recipe as it is as the name describes a food used by Vets to help determine if your dog's loose stools are caused by certain ingredients. It is made with a single hydrolysed protein broken down into such small parts that the dog barely needs to do much work to digest it.
But, it contains all the nutrients they need to be healthy. It is a scenic marvel but so far from being natural that some people may be put off. However, owners with dogs who just seem to have loose stools no matter what they eat may finally have a lifeline.
This food is designed to not be fed to them all day every day, it's designed to be used temporarily to rule out any allergies they may have. If they are on this food for a week and you notice their stools firming up and they're in good health then you can move on to add more ingredients slowly over time and see if you notice any changes.
You can buy this stuff yourself to self-diagnose or your own vet may recommend it after a checkup.
Ingredients
Maize starch, hydrolysed soy protein, minerals, coconut oil, sugar, rapeseed oil, cellulose, soya oil, and fish oil.
Dog Food to Firm Up Stools Buyer's Guide
The quality of a dog's stool is a great indicator of gastrointestinal health, say Dogster and let it be known by us that if a dog has a healthy diet and digestive system every other aspect of health seems to fall into place. Essentially, you can often tell how a dog is doing just by observing their stools – if it's firm and a soft brown colour then all is well.
But, this guide is not written for owners of dogs with firm stools and people who have found this page on social media or search engines won't be looking for this kind of information.
Our roundup lists and buyer's guide is made to help people switch up their diet to help firm up loose stools. The roundup list of recommended dog foods is the solution and the buyer's guide is the supporting information on how these recommended foods work.
Why do dogs have loose stools to begin with?
There are three common causes of loose stools in dogs:
A poor diet with limited minerals, nutrients and lack of fibre
An allergic reaction to a certain ingredient in their dog food
Underlying issues such as IBS, stress, anxiety etc
This article only aims to look at the first two points, but by trying to tackle the first two it will become obvious if they have an underlying condition. Dogs occasionally experiencing loose stools is common and can be caused by them eating new foods they shouldn't or a sudden change in their diet. You should ask yourself if anything has changed lately – have you changed dog food brands lately? Perhaps a cheaper brand?
Do you regularly feed them table scraps on top of their normal diet? This can often lead to a bout of diarrhoea. 
Next, of course, is the overall quality of the dog food they're on. Do you look at the label of the food you're buying and make sure it has more than just the calories they need? Does it have 'roughage' which helps bulk up the stool and keep the digestive system healthy? Does it have natural ingredients full of nutrients and minerals and lastly is it free of 'filler' ingredients?
Our final point on the causes of loose stools involves ingredients which may cause inflammation of the bowels which then leads to loose stools and diarrhoea. 10% of allergies suffered by dogs are food allergies according to Web MD. 10% of something that isn't common is rare but it can and does happen.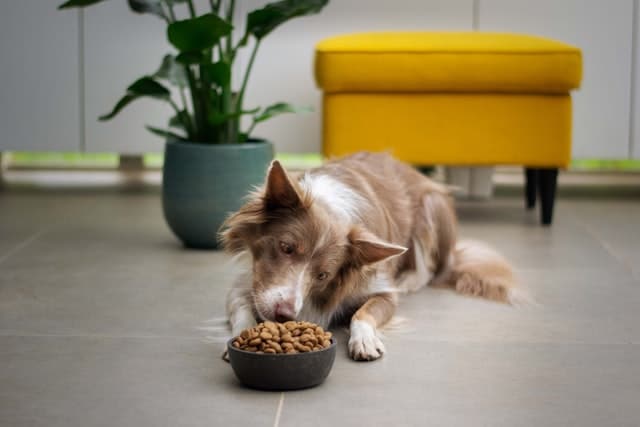 Dogs can get allergies at any stage of their life and they're not necessarily born with it – this means they can develop one over time. If your dog always had firm poops and then slowly you saw them degrade in quality then it could well be down to a new allergy.
It's difficult to find out the cause but every Vet across the globe would agree that the first step is always to improve their diet so they get more minerals, nutrients and fibre and then work from there.
Read More: Best Dry Puppy Food to Buy in UK 2022
What makes a dog food good at firming up stools?
To make our list complete we consulted various veterinarians and canine nutritionists as we could. Luckily, as a canine behaviour graduate myself, I knew a lot of people in this field so I was able to consult with them pretty intimately.
Here's what I found
Natural ingredients – foods made with natural ingredients correlated highest with firm stools. This is because dogs' digestive systems are not evolved enough (neither is a human's for that matter) to break down a lot of processed and man-made food without issue.
Many unnatural fillers, preservatives or artificial colours can result in an increase in gas (flatulence) and undigested residue. This fake stuff will then trudge down the colon and potentially cause inflammation which then results in hyperactivity which results in loose stools and diarrhoea.
In fairness, not too many modern dog foods include a lot of this stuff any more thanks to the excellent work of the Food Standards Agency. Our top tip for looking for a natural meal for your dog is to look at the ingredients and ask yourself 'would I want to eat these ingredients if they were presented in a way a human could eat?' if the answer is no then why would you feed it to your dog? 
Fibre – Fibre is the building block of the digestive system and is crucial to maintaining the whole thing. A lack of fibre essentially leaves your dog's digestive system having to work with one arm tied behind their back and that won't end with the firm stools you desire.
Fibre comes from vegetables and fruit and you should look at the ingredients list carefully to see where the fibre will come from. Commonly, manufacturers will use beet pulp but many modern brands will actually put a few varieties of vegetables in there such as carrot, kale, peas, cabbage and apples.
Prebiotics – Prebiotics are a type of fibre which may be supplemented instead of the natural source or added in as a bonus. Prebiotics feed the 'good' bacteria in your dog's stomach which helps them release nutrients to feed the colon to help it perform at its best.
The colon's role is to essentially move the waste out of the body in a slow but steady way. An unhealthy colon may move quickly and rush the stool out and that's how it ends up sloppy and loose. Whereas a healthy colon pulse slowly and consistently keeps the stool intact and firm.
Fish oil – Fish oil is a powerful tool to reduce inflammation in the colon but it also has the added benefits of helping joints and the brain. Fish oil can help alleviate any existing problems with the colon or stop it from happening in the first place.
Hypoallergenic – Foods which are labelled hypoallergenic have been stripped of many ingredients which are known to cause allergies in some dogs and that list includes grains, dairy and some types of meat. In my consultations, I discovered that dogs rarely suffered from allergies and it was not the most common reason for loose stools, however, it does not mean it doesn't exist and owners buying hypoallergenic dog food would only be exercising caution.