Dogs love to eat. As a pet owner, you will want to make sure that your dog doesn't just love their food but that it is high quality and nutritious; this can be hard to find and can require some research. Wet dog foods are an important part of your pet's meals. To a dog it's certainly the best part, notice how quickly they will get through the wet food as opposed to dry dog food or dry puppy food. This is our guide to the best wet dog foods on the market; we hope you find the perfect option for your pet.

Many brands of best dog food are mass-produced and very low quality, leaving dogs with poor health, struggle with passing stools, an unhealthy coat and in some cases allergies. Here at Jug Dog we've compiled a handy list of some of the best recommended wet dog foods money can buy in the UK.
Name
Best For Veggies
Fish4Dogs Mousse
Best Canned
Lily's Kitchen
Image



Best Overall
Image

Best For Veggies
Image

Best Canned
Image

Best Wet Dog Food UK Reviews
1. Forthglade 100% Natural Dog Food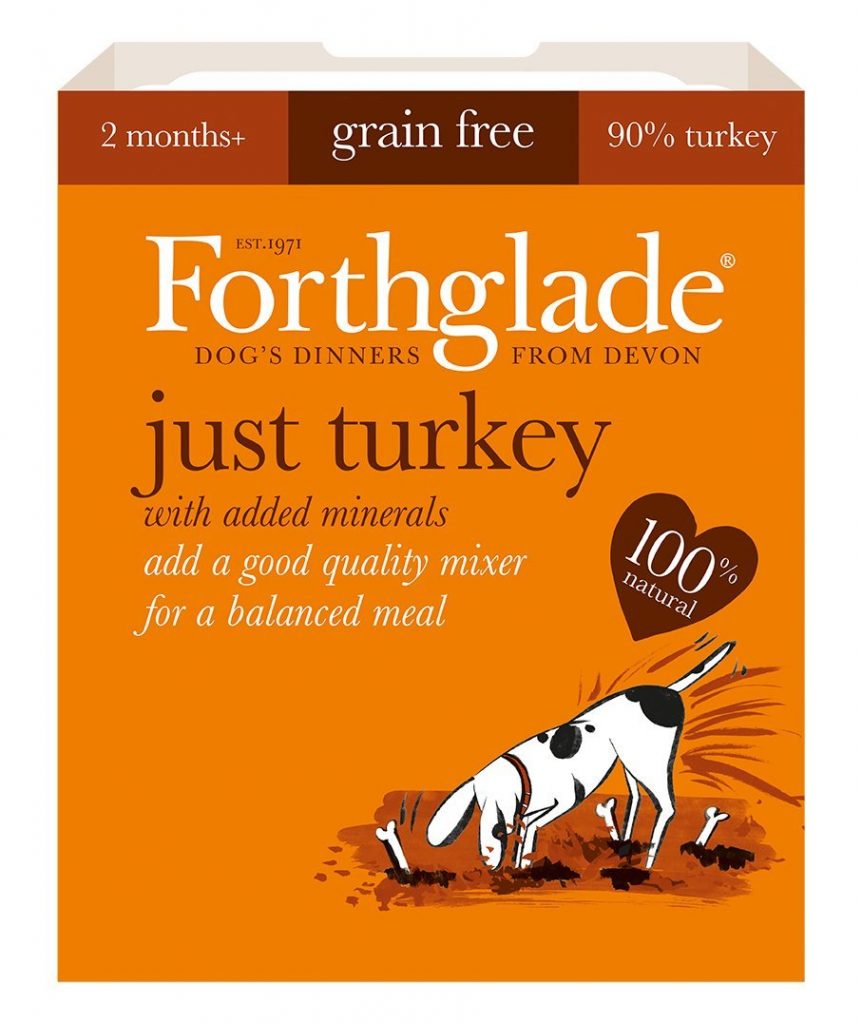 Forthglade is a UK company based in Devon. They create some of the best grain free dog foods currently. This wet dogs food is more akin to a pate; the cartons contain big moist chunks in BPA free packs which are rammed full of flavours. Options include:
Beef
Chicken (on its own, with heart or liver or tripe)
Duck
Lamb
Turkey
Forthglade's dog foods are also grain free which means it's suitable for dogs with sensitive tummies aged 2 months and above. This grain free wet food contains 90% meat and 10% minerals; making it a high quality natural choice and giving you the peace of mind that you're feeding your pet some quality food. We mentioned earlier that this is more of a pate consistency and that's because it's gently steamed; they add a little water to help cook everything slowly and at a low temperature to retain all the natural goodness. This process leaves you with a great dish that's easy to digest, highly palatable and bursting with flavour.
2. Pure Dog Food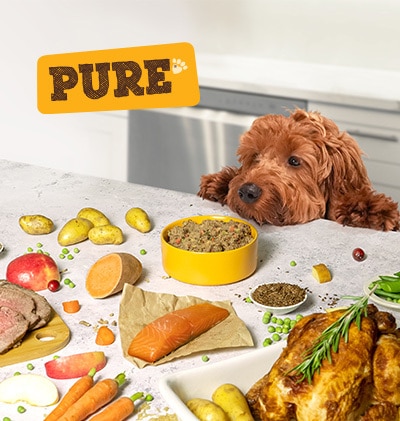 Packed with high quality, wholesome ingredients such as meat, fruit and veggies, Pure Pet Food is an innovative way to feed your dog. Although this isn't the typical wet food you're used to, as Pure comes as a finely chopped, dry food that you then add warm water to yourself, the end product is an incredibly healthy, delicious bowl of wet food that your dog will just gobble up.
The 'just add water' concept of Pure means that it's easy to store, has a longer shelf life and promises that your dog will always get a nutritionally balanced, healthy dinner that they'll love.
With Pure, your dog gets their very own personalized menu plan, tailored to their breed, age, weight and any ailments and allergies, meaning that there's something for everyone.
3. Nature's Menu Choice Pouches
Nature's Menu Choice food pouches are one of the highest rated options on Amazon currently. Made using locally and ethically sourced natural ingredients: natural meat, hearty vegetables and is also free from artificial colours and flavourings. Nature's choice is tasty and a healthy option and it is one of the cheapest on the list making it overall a bit of a beast. It's probably not the best we have on the list but it certainly one of the most popular choices due to the above points.
If you're on a budget but still don't want to feed your dog 'supermarket' brands then this is the one for you. We have tried this and Jeff loved it, the flavour we had for testing was Turkey and chicken meat. There are many other meat options available. This food is suitable for dogs aged 20 weeks and above so it is not suitable for puppies.
4. Harrington's Wet Dog Food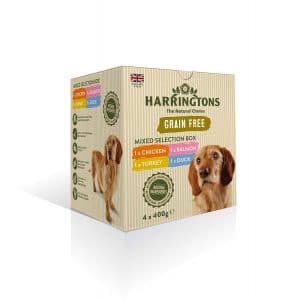 Harrington's is quickly becoming a household name in the field of dog nutrition and offers premium quality foods with healthy ingredients at supermarket prices. These are now a well known pet brand featuring in supermarkets up and down the UK; the price on Amazon is competitive though. As such, they are now one of the cheapest providers of quality foods – we like to think of them as the Skoda of the pet brands.
Their offering is similar in texture as Forthglade which is more like a pate. Not dripping wet like tinned food but moist chunks. It smells great to us which usually translates to tastes great for our dogs. Harrington's is grain free and free from artificial colours, flavours and preservatives and offer a few different meat flavours – chicken, duck, salmon and turkey so there's a bit of everything available. They also offer a mixed pack so you can have some of all – this can be handy if you're buying for the first time to know which one your dog loves the most.
As an added bonus and if you're very interested in what your dog gets it has green lipped mussel which provides the omega 3 fats, green tea which acts as an antioxidant, kelp for some more minerals and rosehips for vitamin C. This is quite a lot of effort from Harrington's considering their angle is good value for money and not 'to be the best'. Either way, our dog loved this and the effort they've put into the nutrition is certainly obvious as our dog's behaviour was excellent and their stools were exactly as you'd hope to find them.
To conclude, Harrington's is definitely a brand you should be checking out and a strong contender as the best wet dog option thanks to quality ingredients and a very generous price point.
5. Lily's Kitchen Wet Food for Dogs Review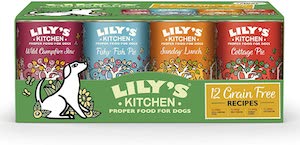 Lily's Kitchen as a brand is fast growing throughout the UK and you can find it in most well-stocked supermarkets these days. It is grain free and made with natural ingredients with so many meat options to choose from – this one is venison, pheasant and salmon. A combination that our dog really seemed to love! The common denominator with the products included in this page is that they aren't horribly mass produced with waste cuts of other meat products. You're keeping your dog in good shape with this selection.
6. Naturediet Chicken with Vegetables and Rice Dog Food Review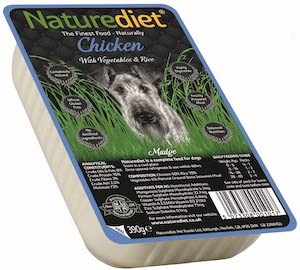 Naturediet's Chicken with Vegetables and Rice does come in other meat flavours but this one was particularly popular with our Jug. Natureduet ticks all the boxes when it comes to a high quality and healthy dog food. All of Naturediet's packs contain at least 60% real meat, vegetables and other natural goodness which is exactly what your dog needs to be fit and healthy.
7. Fish4Dogs Salmon Mousse 4 dogs Review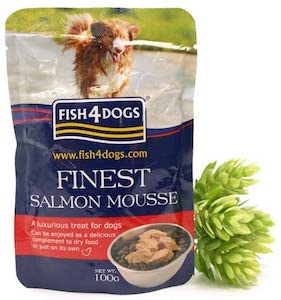 Jeff absolutely loves Fish4Dogs stuff, wet and dry. But what he loves in particular is the mousse. This grain free salmon meat mousse is rich in Omega 3 and made with 4 simple ingredients: salmon, water, seaweed extract and carrageenan. This mousse is packed with vitamins, minerals and of course protein. Fish meat is particularly good for a healthy coat. Lastly, the Fish4Dogs grain free mousse is extremely easy to consume so it can be a great addition for an elderly dog.
8. Barking Heads Wet Dog Food Fusspot Salmon Review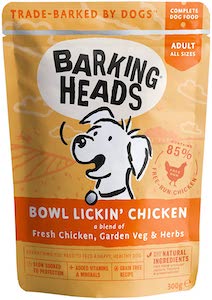 Another salmon based dog food here and another favourite for our Jug, Jeff. The Barking Heads salmon pot is a mousse consistency and is easy to eat even for a small dog. We can only assume it tastes great as Jeff wolfed this down as soon as it was served! It ticks all of the boxes: it's grain free, packed with vegetables and plenty of protein. This option is also free of artificial colourings, flavourings, preservatives and no GM ingredients.
Read the Barking Heads Dog Food Review
9. Yarrah Dog Food Alu Cup Organic Vegetarian Chunks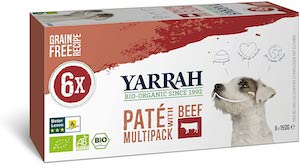 Here's a good wet food option if your dog is a vegetarian or you'd like your dog to follow a vegetarian diet. Perhaps you are a vegetarian or vegan and feel strongly about animal rights. The Yarrah Alu Cup contains soya, peas, carrots in a tasty gravy. Not only is this option meat free but it is grain free too and contains vegetables and soya. It does contain protein but not as much as the equivalents which include meat. Yarrah also does a meat version if you're interested!
What is wet dog food?
Wet dog foods are soft moist chunks (usually meat) that come in plastic containers, cans or pouches. They're super tasty, full of protein (most of their protein will come from the wet part) and easy for dogs to consume due to a lot less chewing. Usually, wet dog food is added on top of kibble (dry dog food) for complete nutrition. Although wet dog food (even the best ones) is very nutritious it does lack a lot of minerals and nutrients such as fibre – so it is advised to not just feed your dog just wet food. Plus, it's expensive on its own!
Wet food is called wet food usually because the soft chunks of meat are surrounded by a liquid of varying thickness – this is most often gravy or jelly; gravy being the wetter of the two. Having wet food mixed in with the dry kibble makes it easier to eat for your dog as well as tastier as flavour is better tasted when it's wet.
What to look for in the best wet dog meals?
Sadly, not all wet dog food is made equally. There are some that are so processed and awful that it would be dangerous to feed a dog regularly and akin to eating McDonald's as every meal, every day- think Super Size Me. So here's a list of what you should look for to always be included in the best options.
Protein
Protein is the building blocks to a body. Protein is used to maintain, repair and build muscles in a dog. The more active the dog the more important protein will be. Protein is a part of what a dog's natural diet would be before domestication and their bodies have not evolved enough to not still require it. When assessing new wet dog foods make sure it contains a lot of protein and from a clearly explained source such as chicken, fish, beef and so on. Protein from sources such as egg, tofu and peas is not good enough.
Grains
Grains will almost definitely be included in the dog food but what you need to take a look at is to make sure they are whole and unprocessed.
Why are grains such a touchy subject? Many dogs can be allergic to grains which can manifest in all sorts of ways from skin, eye and digestive problems. Not only that but grains also offer very little nutritional value to a dog over meat and vegetables.
Read more about our best grain free dog foods here
Vegetables
Yes, really! Dogs love vegetables and it is an often overlooked ingredient in their diet. You may be feeding your dogs vegetables separately as treats (we do here at Jug Dog) but it's a major bonus if some good veggies are included in the wet food.
As carnivorous animals, dogs don't need fruits and vegetables in their diet but a little helping in their meat based food can go a long way. If you don't feed them vegetables and vegetables are not present in the wet or dry food then as a responsible owner you'd need to find that elsewhere.
Complete and Balanced
Check to see if it has been certified by the AAFCO or the FSA. Many brands will state "Complete and Balanced" if they do, but always check the small print. The reason why complete and balanced food is so important is because a dog may only eat the same thing over and over again. If there's a vital nutrient they're missing then it will manifest itself in an illness or perhaps via their skin, nails or hair.
What to avoid in good wet dog food
Byproducts of other food
You should feed your pet quality food just like you would feed yourself or your children. Flat out avoid any dog food whether it's wet or dry when they've been made using byproducts or cut offs from other sources. It should be whole, natural ingredients all the way. Despite how bad a food will be, a dog will never starve themselves.
Non-specified ingredients
If the label doesn't describe what's in it then don't buy it. Always question what's going to go into your dog's body and if it's good for them. If the ingredients label doesn't add up it's because there's something they want to hide – and if they want to hide it then it won't be any good for them.
Artificial Sweeteners
Artificial sweeteners aren't exactly great for humans but our digestive systems are better used to it when compared to dogs. Artificial sweeteners in wet dog food can cause digestive issues and even lead to obesity as sweeteners trigger the same hormones as real sugar which can lead them to develop a sweet tooth and be hungry even when they're full.
Food binders
Food binders are used to literally bind the ingredients together so that it resembles what the food should actually look like. If it needs binders to look edible then it isn't edible in our book.
Your Thoughts
We are always looking to improve our website to make it even more informative to our readers. If you disagree, agree or feel the list is missing an important wet dog food that you and your dog love then why not let us know in the comments below. We will get in touch with the brand and get a taster sample. In the event you have a complaint or want to let everyone know of a problem with one of the choices then we will investigate and make any changes necessary.
Thank you for reading.
Last update on 2022-07-02 / Affiliate links / Images from Amazon Product Advertising API