London has much to offer us, but what about our furry companions? As far as humans go, we can eat all kinds of cuisines worldwide. But can the dog share that experience with us? And the answer is a big YES!
In recent years, London's culinary world has seen a delightful shift: the rise of pet-friendly dining spaces. There are so many restaurants and pubs in London that are dog-friendly, especially the gastropubs.
Recognising a growing demand, many restaurants are now rolling out the dog welcome mat, adding a new level of fun and convenience to dining out. But with so many options, how do you pick the best spot for you and your pup?
Fret not; this article has got you covered. I've scoured London's bustling food scene to bring you the city's best dog-friendly restaurants. From gourmet to casual, these eateries serve fantastic food while providing a comfortable and welcoming environment.
Top 10 Dog-Friendly Restaurants in London
The Vine, Highgate Road, is one of London's best dog-friendly restaurants / pubs. It's a spacious pub tucked away from the busy streets. The Vine is an excellent dining option for you and your dog with its expansive front garden, various cosy interior rooms, and impressive gastropub menu.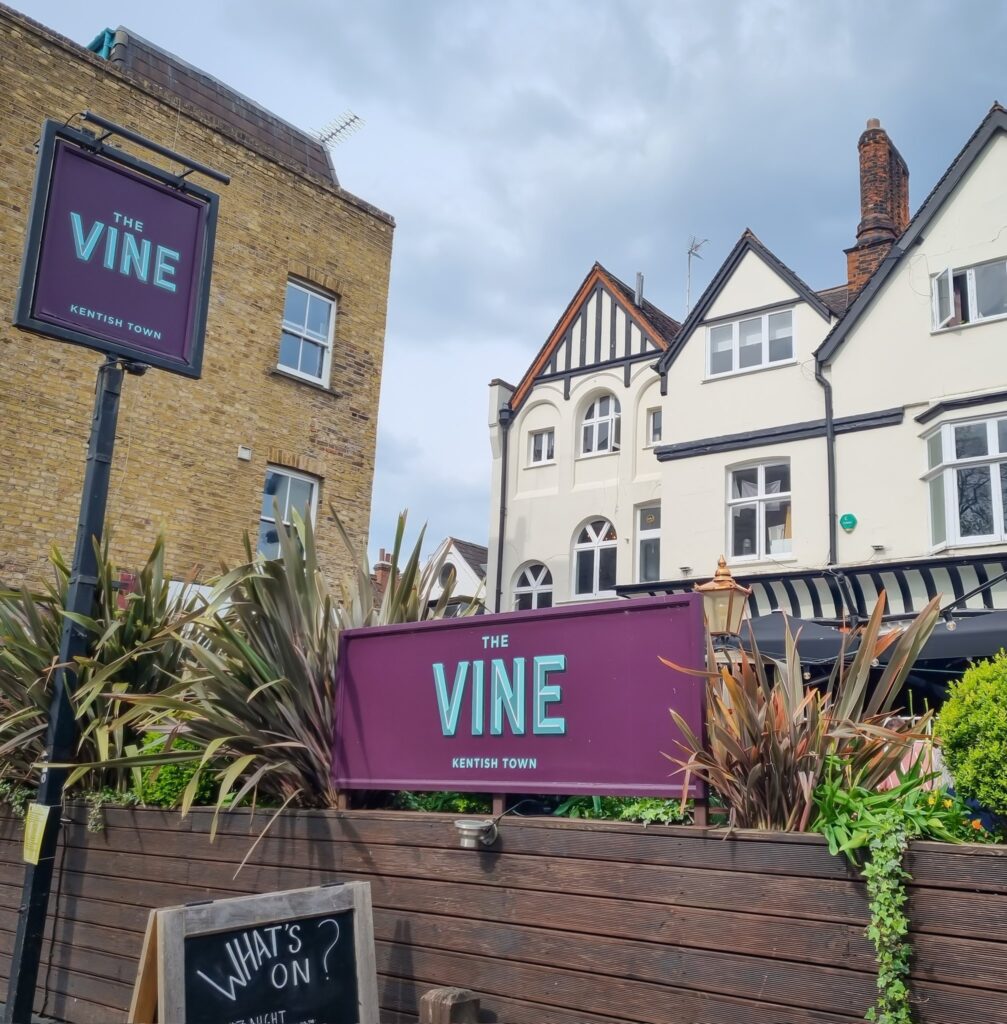 The front garden offers a secluded space somewhat sheltered from the road—perfect for post-walk relaxation with your dog. Inside, you'll find warm, welcoming décor that adds to the pub's friendly atmosphere.
This establishment offers a well-curated menu praised for its quality and affordability. Some standouts include halloumi fries, an absolute delight for cheese lovers. Their extensive beer and wine selection caters to traditional and modern palates.
Beyond allowing dogs, The Vine goes the extra mile to ensure your furry friend feels welcome. Staff are known to offer treats to visiting pups, making sure to change gloves afterwards for hygiene, especially in the current climate.
This level of service extends to their human patrons, making it a hit among regulars. And that is why it's one of my favourite go-to pubs in London.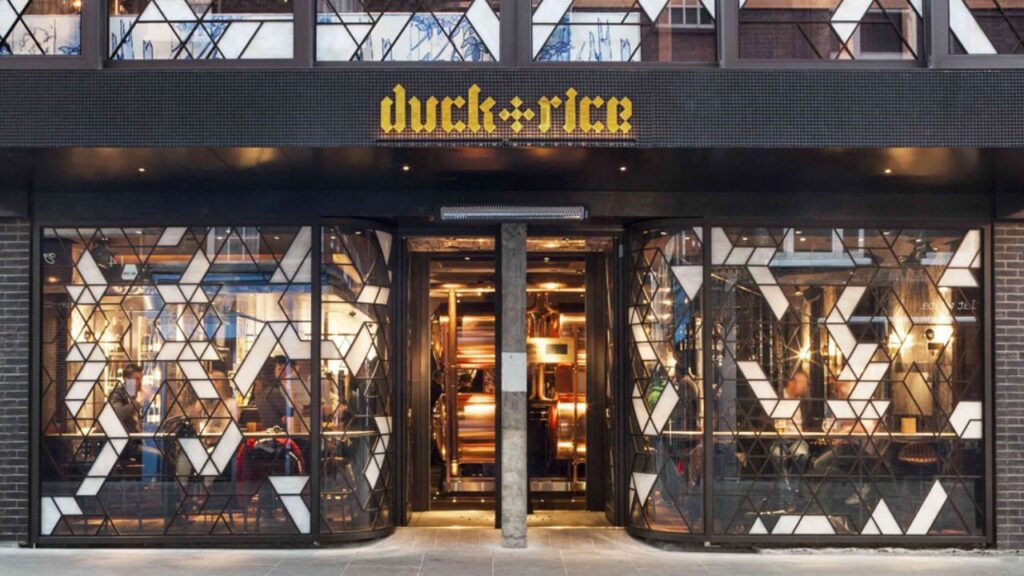 Duck and Rice in Soho is not your average British pub; it's a melting pot where Eastern cuisine meets Western pub culture. It's my favourite place whenever I crave Chinese and want to take Jeff along.
The restaurant offers a broad menu with an emphasis on sumptuous Chinese flavours. You can find everything from dim sum treats to crispy shredded beef and Kung Po chicken.
While the food is undoubtedly the star, the drink selection is not overlooked. Duck and Rice serves an extensive range of premium lagers, ales, ciders, and stouts. A standout is the Pilsner Urquell, delivered directly from their on-site copper tanks.
This attention to detail extends to their dog-friendly amenities, ensuring your four-legged friend feels as welcome as you. They perfectly combine British and Asian influences to create a unique dining experience for you and your pup.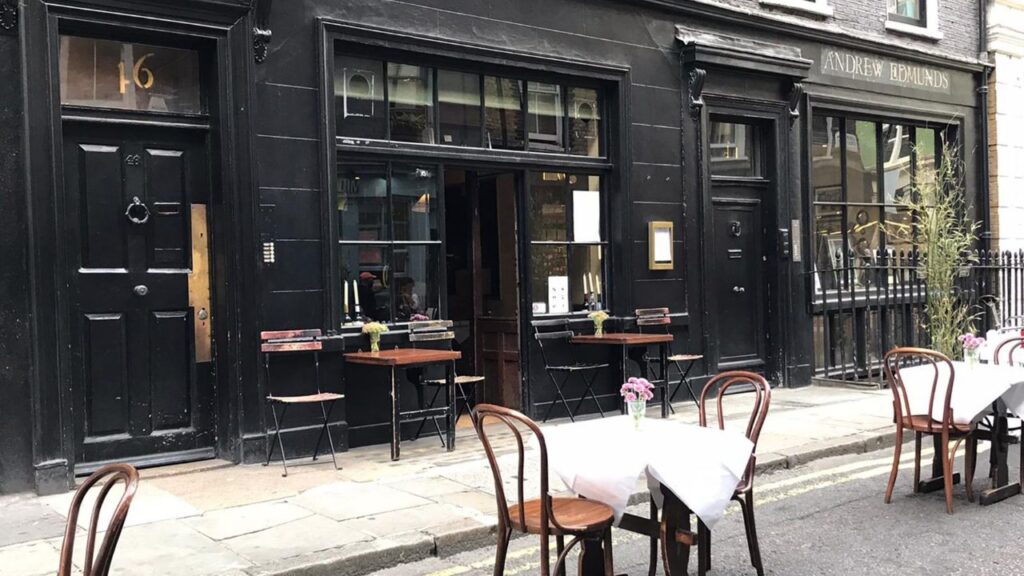 I visit Andrew Edmunds Restaurant whenever I want a uniquely British experience. They serve modern European cuisine in an 18th-century townhouse, which is awesome.
The menu features a diverse selection of contemporary English food, which can be enjoyed by your well-behaved, quiet pup. Moreover, they offer a romantic dining experience with candlelit tables and snug interiors, perfect for special occasions or intimate dinners.
Be warned that you'll find the good at Andrew Edmunds slightly bland if you are into spicier and aroma-tastic cuisine. It's also pretty expensive compared to my other picks on this list.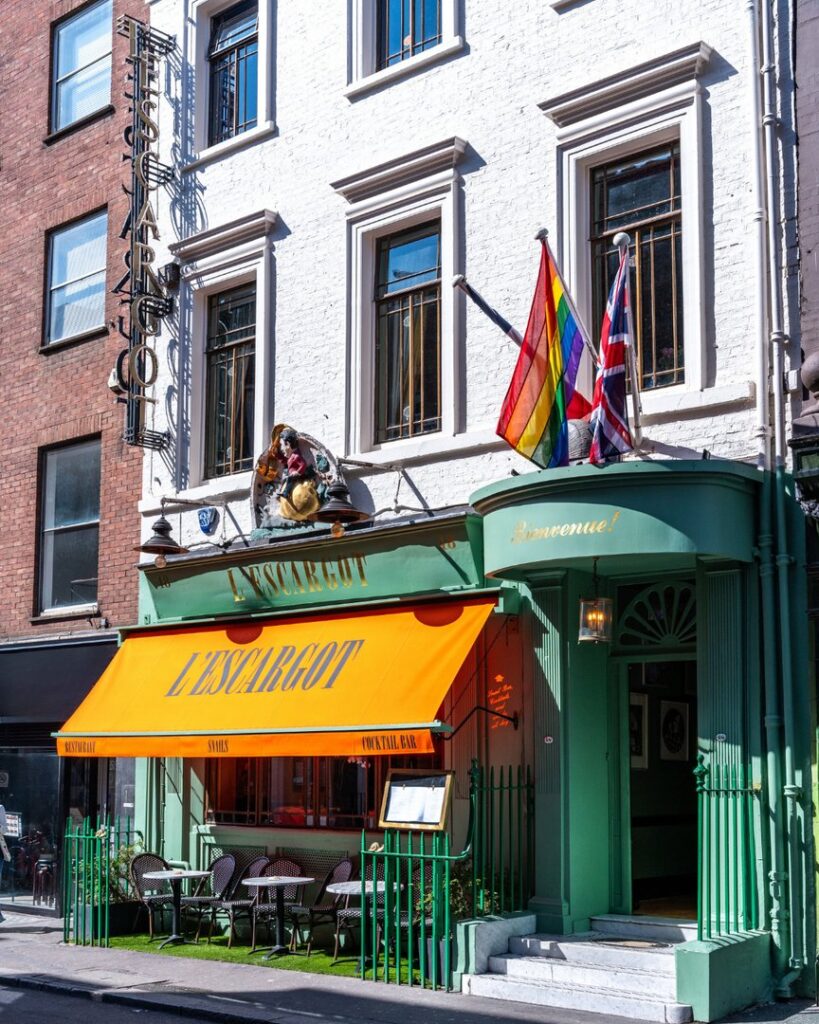 L'Escargot is the best dog-friendly restaurant in London, offering French cuisine. It is undoubtedly the epitome of French sophistication in the heart of London's Soho district. Although, it's a bit expensive, costing about £200-£300 for just two people.
Housed in a converted townhouse adorned with artworks by renowned French artists, the restaurant provides an ambience that is as cultured as its menu.
Run by dog-owning proprietors and a shareholder who is a canine behaviourist, this establishment understands the needs of dog owners and their pets. The welcoming atmosphere for dogs is unlike any other; pups are served organic treats from the luxury pet outfitters Mungo & Maud.
Even the water for your furry friend is served in a silver bowl. The staff know that "a quiet dog is one with something in its mouth," so they offer cocktail sausages to satisfy your pet.
As for the human menu, it's as authentically French as one could hope. Expect a variety of fine-dining classics—from the namesake snails swimming in garlic butter to a luxurious lobster bisque. You'll find everything from cassoulet to chateaubriand, and don't forget to finish your meal with a crème brûlée or tart au citron.
In short, the premium experience offered by L'Escargot for you and your canine companion can only be described as magnifique.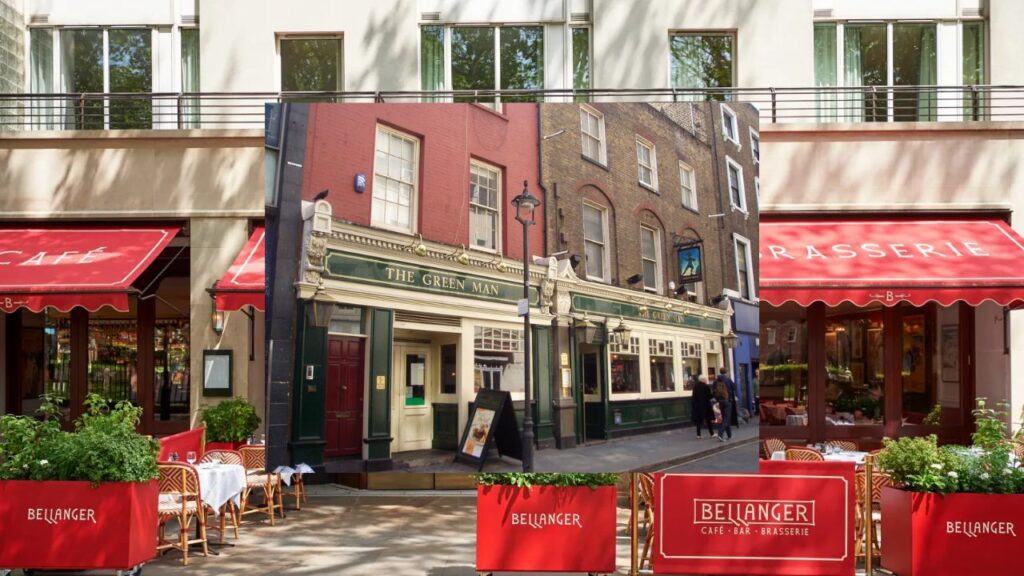 To avoid confusion, let me tell you that Bellanger used to be a French-inspired bistro before their remodel recently.
Now, Bellanger offers a slice of Mediterranean bliss right in the heart of London. Featuring a relaxed setting with a stylish terrace, it's the perfect place for leisurely brunches or romantic dinners.
The dining experience at Bellanger is something to talk about. While some long-term patrons miss the restaurant's previous menu offerings, the new Mediterranean focus has been well-received.
Best of all, your dog is welcomed and treated as a guest. They get showered with water bowls, treats and love from the staff!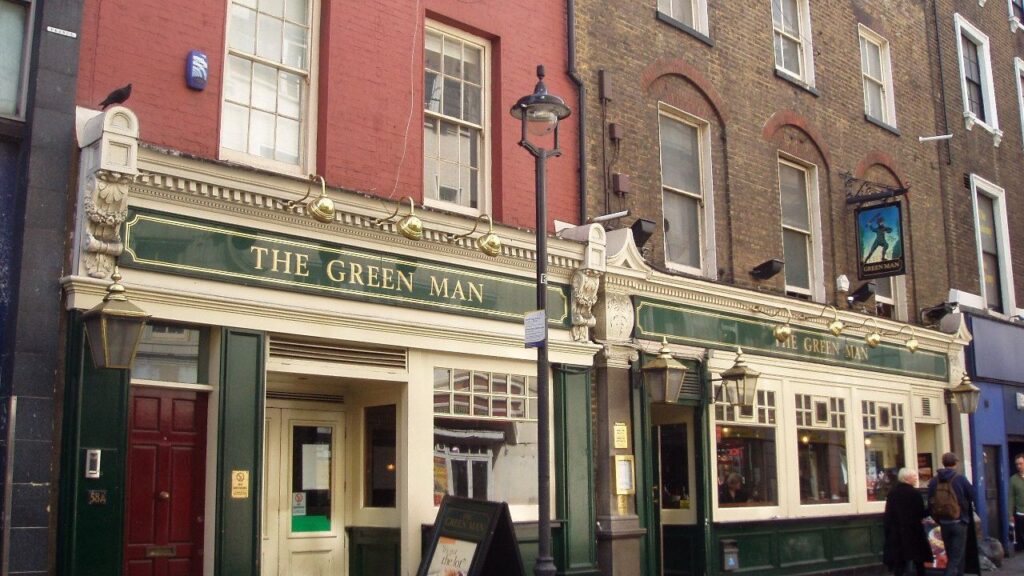 The Green Man in Fitzrovia is a charming gastropub that marries exposed brick walls with floral wallpaper, creating a unique and inviting atmosphere.
This pet-friendly establishment is a hit for both dogs and their owners, with staff offering a warm welcome to all.
While the pub used to specialise in cider, it has since broadened its beverage selection. So, if you're planning a visit based on older reviews highlighting its cider expertise, be prepared for a more diverse menu.
Despite the change, The Green Man retains its cool, laid-back vibe, making it a top choice for those searching for a stylish yet unpretentious pub experience in London's Fitzrovia area.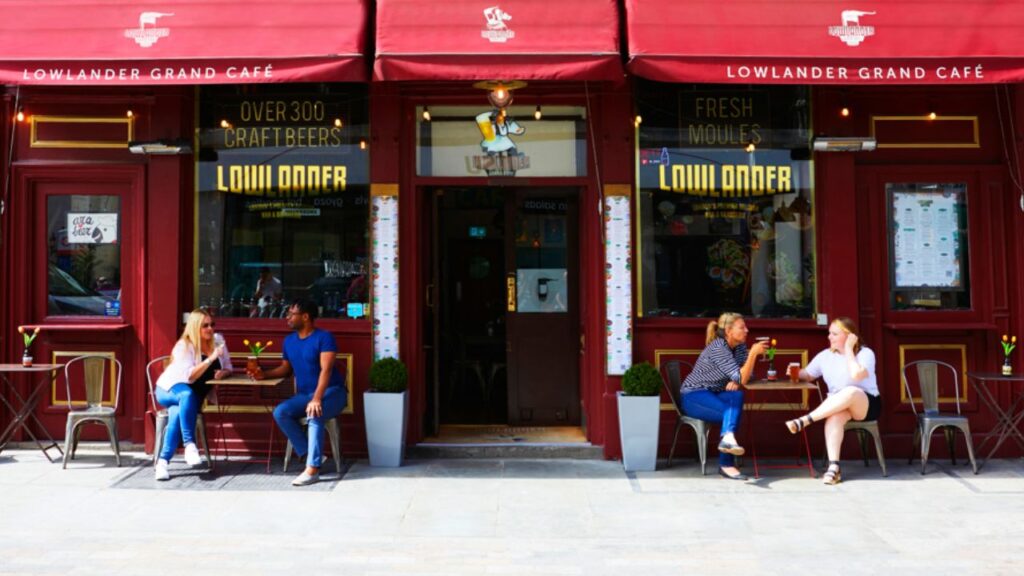 Lowlander Grand Cafe is London's premier destination for Belgian beer aficionados. This bar is a must-visit location with an impressive lineup of over 200 Belgian craft beers and ales.
But don't think of it as just a bar. Lowlander is a versatile brunch, lunch, dinner, or coffee spot. While the menu offers a range of classic pub fare, the café is renowned for its mussels (Moules).
Warm service, hot food, cold beer, and a dog-welcoming policy encapsulate the inviting atmosphere of Lowlander. Whether you're a local or just passing through, it's an excellent place to visit with your canine companion.
It's amazing how Jeff (my pug) and I could do a two-course meal at this place for just £30.
Named after the alias used by Princess Margaret and her companion Anthony Armstrong-Jones, this restaurant embraces royal traditions with its British comfort food menu. Dishes like cheese and leek tart, fish pie, and apple crumble cater to the simple yet discerning tastes similar to those of the royal family.
The restaurant has maintained its vintage charm, featuring a candlelit ambience and décor reminiscent of dining-room chic from Margaret's era.
Dogs are also welcomed with open arms, given a water bowl, and can look forward to a scenic walk around nearby Kensington Gardens and Hyde Park.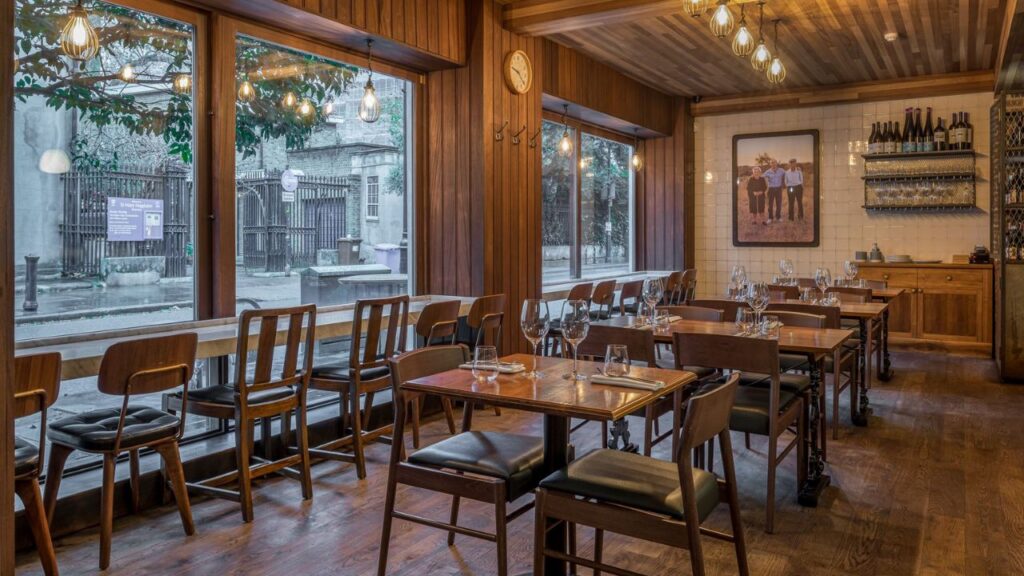 Pizarro Restaurant on Bermondsey Street is where fine Spanish dining meets hospitality. This upscale establishment boasts an extensive wine list and cocktail selection. It is one of the few premium restaurants in London that allow dogs.
You can enjoy your meal in the main dining area, at window seats that offer views of the St. Mary Magdalen church, or up-close-and-personal with the chefs in an open kitchen setting.
For those seeking a more intimate experience, a semi-private dining room is available, capable of hosting up to 10 guests. Speaking of chef, their signature dish, the 100% acorn-fed Presa Iberica (shoulder of Iberian pork), stands out as a must-try.
As for being dog-friendly, Pizarro also extends its warm hospitality to your four-legged friends.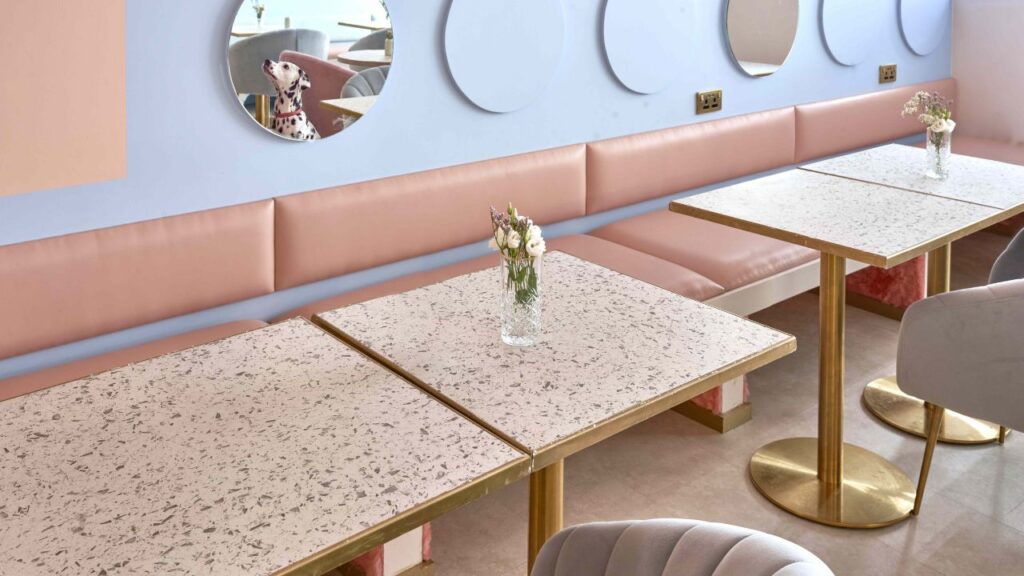 Pawsitive is one of the best dog-friendly cafes in London. With a mission to create a "Stress-Free and Happy Community," Pawsitive Cafe stands as a unique establishment focused on enhancing positivity and awareness around mental health.
Aside from a varied menu that includes brunch options, main dishes, and even Malaysian Halal offerings, the cafe goes the extra mile by having a specialised dog menu.
So, you can indulge in some good food and coffee while your pooch enjoys their special treat. Not just a gimmick; the food quality for humans and dogs is reported to be excellent.
Guests praise the friendly atmosphere, where the staff, customers, and their pets mingle in a very social and inclusive setting. In fact, eating at the same table with your dog is encouraged rather than frowned upon.
How to choose the best dog-friendly location?
When dining out with your dog in London, you'll want more than just a sign on the door that reads "Dogs Welcome." Let's be honest: not all dog-friendly restaurants are created equal.
1. Type of Food Offered
Don't go in just because they allow dogs. Ask yourself whether you even like the cuisine they're offering or not. Your dog might not be a food critic, but you certainly are! Luckily, my list is quite diverse, so you'll leave at least one or two out of the 15.
2. Space and Comfort Level for Dogs
It's one thing to allow dogs, but quite another to have adequate space for them to be comfortable.
Imagine enjoying your meal while your pup is cramped or anxious—doesn't sound fun, right? Make sure the place you choose has ample space, preferably those with outdoor seating options.
3. Amenities like Water Bowls, Dog Treats, etc.
A truly dog-friendly place takes your pet's needs into account. Are water bowls readily available? Do they offer dog treats or even doggie beer? These extras can make your dining experience far more enjoyable and relaxing.
4. Reviews and Recommendations
Word of mouth still rules. I sifted through countless reviews and social media shoutouts to curate this list. So this is one factor you won't have to worry about.
Is it safe to bring my dog to a restaurant?
Generally, bringing your dog to a restaurant is safe, provided you choose an explicitly dog-friendly place. These establishments often have specific areas designated for patrons with dogs and offer amenities like water bowls to ensure your pet's comfort.
How to make the most of your dining experience?
Dining out with your dog can be a fabulous experience, but let's make it better with a dash of preparation and etiquette.
Here's how you can enjoy your meal while ensuring your dog has a blast:
1. Bring Essential Supplies: Apart from your dog's leash, pack waste bags, a portable water bowl, and maybe a favourite toy to keep them entertained. Although, most dog-friendly restaurants offer water bowls and treats.
2. Only Take Trained Dogs: Ensure your dog is well-behaved and comfortable in public settings. If your dog tends to be anxious or overly excited, get them some outdoor experience through other outlets.
3. Know the Dog Zones: While many restaurants welcome dogs, not all areas within the restaurant might be dog-friendly. Some eateries designate specific zones where dogs are allowed. Confirm in advance so you're not caught off guard.
4. Mind Other Diners: Not everyone is a dog lover. Be considerate of other diners by keeping your dog close and ensuring they are not a disturbance.
5. Follow Restaurant Rules: Whether keeping your dog on a leash at all times or not allowing them on the seats, ensure you know and respect these guidelines.
So there you have it! Dining out with your dog in London doesn't have to be a hassle or a compromise on quality and experience. With this guide, you're all set for fabulous feasting with your furry friend. Cheers to that!