During the colder and wetter months of the year, walking your dog can be uncomfortable for your hands. Naturally, when out in cold weather you would place your hands in your pockets but when you're out with your dog and holding the dog lead then your mitts are exposed to the elements.
They can get really cold, numb and painful if the walk is long enough and may even put you off taking the dog for a walk altogether. Many people wear gloves to prevent numb fingers when walking the dog but cheap and basic gloves just don't cut it for various reasons.
lack of thermal insulation,
no grip,
poor quality materials which break down with the constant rubbing on the lead handle,
and a lack of smartphone touchscreen compatibility.
With this in mind, we've created a list of the best gloves for dog walkers which have been made to keep you snug and cosy, provide great grip and are comfortable to wear.
Best Gloves For Dog Walking Reviews
1. SEALSKINZ Waterproof All Weather Ultra Grip Knitted Glove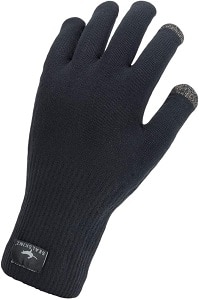 SEALSKINZ Waterproof All Weather Ultra Grip Knitted Glove is the best glove for dog walking. They offer the protection you need from the cold weather with their knitted gloves that feel great and soft against your skin. They are waterproof and weatherproof with three layers of insulation
The organic material is breathable, which stops your hands from sweating underneath. The palm of the gloves has a silicone printed on which gives the gloves their ultra grip whilst holding the lead or food.
Lastly, the gloves have a high stretch construction which doesn't restrict hand movement for a natural fit. You can even use a touchscreen using the thumb and index finger. Treat yourself to a new pair of top quality gloves: waterproof, warm and protected from all of the elements.
2. The North Face Etip Glove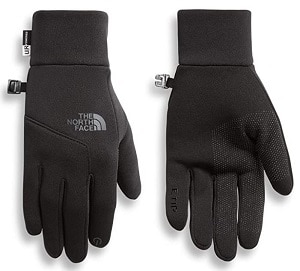 The North Face Etip Gloves offer a complete package for casual dog walkers when it's wet and cold. North Face are one of the best brands when it comes to reliable gear for all conditions and these gloves are no exception.
The four-way stretch fleece keeps your mitts nice and toasty without being too bulky in size. The five-dimensional grip makes the gloves fit perfectly and help keep your fingers comfortable whilst the silicone palm allows you to hold your dog's lead, treats or food without slipping from a sudden pull or change of direction.
It also helps with grip when it's wet. Lastly, using North Face's patented UR technology, all five fingers on these gloves can be used with a smartphone so you can carry on being connected to the world during a walk. The best choice for those who want a good fit and full control of their devices during a walk.
3. COTOP Outdoor Dog Walking Gloves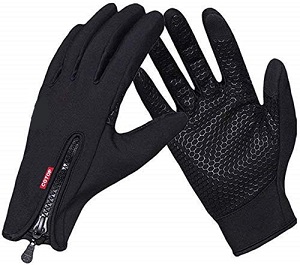 The COTOP outdoor dog walking gloves are top options with offer an excellent grip whilst enabling you to use your smartphone without having to remove a glove. The entire palm and all fingers have a tough and grippy silicone cross mesh which gives one of the best grips in the market whilst the fingertips have a metallic mesh which is mobile phone friendly.
Impressively, the outside of the gloves is made with breathable and waterproof material which keeps your hands dry and free from sweating. A bonus feature is a zipper which makes it easier to take off and adjust for different hand sizes to allow you to find the perfect fit.
This is particularly good for women as a lot of the unisex gloves tend to arrive in larger sizes. These are the best dog gloves for those who want to be able to make a quick adjustment to the size of their new gloves.
Read More: Best Dog Coats For Winter – Keep Them Warm And Dry This Winter
4. VBIGER Winter Gloves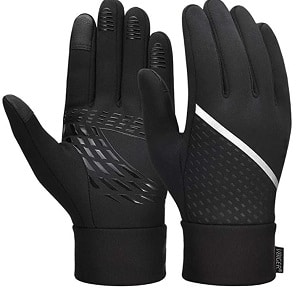 For something a little more heavy-duty to be used in particularly cold weather, we recommend waterproof gloves from VBIGER. They consist of top quality 3M Thinsulate cotton to warm you even in sub-zero temperatures.
The material is also waterproof making them useful in heavy rain. On top of that is a silicone non-slip coated palm which makes it easy to keep a firm grip on your dog's lead even in heavy rain. Lastly, the thumb and index finger can let you use your smartphone touchscreen so you won't need to take the gloves off to take a call or send a message.
We would say these are the best option for those who regularly go out in extreme cold and wet weather.
5. Men's Winter Leather Gloves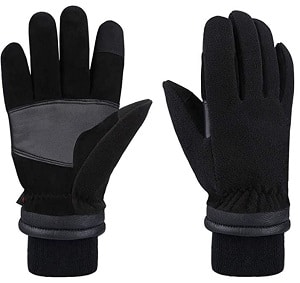 For dog owners who want a bit of class then these winter leather gloves are a top choice as they're one of the few made with real leather. On the inside is mercerized velvet which keeps you insulated while wearing them.
The palm is anti-slip which allows a sturdy grip on the dog lead which won't jump out of your hands after a sudden movement, even in the rain. Considering they're real leather, these gloves are a steal and can be purchased for less than £10 on Amazon.
It is worth noting that due to the leather material, these gloves will not work with touchscreen devices. We think the leather gloves are best for those who want their gloves to look stylish as an accessory or even as a gift to treat someone to a new pair of gloves.
6. Black Diamond Crag Half-fingerless Gloves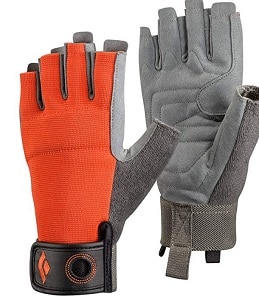 Black Diamond Crag fingerless gloves are one of the best options to keep your palms warm but keep your fingers out. Fingerless gloves aren't the best attire when you are walking your dog as the cold can still get to your fingers but if this is the style you are drawn then we recommend these.
There are some benefits to this style: you will save time from having to remove them if you need to use your fingers for a quick task. They're light and breathable with a synthetic leather palm for added durability. The griping of a plastic dog lead handle isn't great but the gloves themselves do not restrict your grip strength.
We would say these are best if you specifically want a new pair of fingerless gloves.
7. Unigear Winter Warm Gloves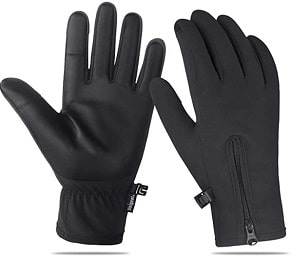 The Unigear winter warm gloves offer a more classic look whilst still keeping hands warm and dry on a cold walk. These gloves are made with polyester which is breathable and PU leather which is water wicking and grippy.
These gloves protect the wearer from the effects of the weather and still be able to use a smartphone thanks to waterproofing treatment, wind resistance and a luxurious velvet fleece lining. The zipper makes it quick and easy to remove the gloves whilst the elasticated wrist prevents heat from escaping.
These are best if you are likely to be out with yourself in very cold and wet weather conditions as they will provide the protection and extra warmth you require.
8. TRENDOUX Soft Warm Touch Screen Winter Gloves Thermal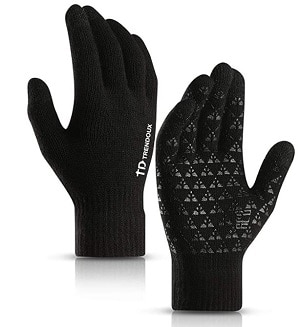 These trendy thermal gloves consist of a wool material which offers a more traditional feeling glove. Despite not having the latest technology that other gloves may possess the Trendoux soft walking gloves will keep your hands warm and offer a superb grip even in the rain.
They actually resemble gardening gloves as the palms and fingers have silicone throughout. Moreover, the Trendoux gloves also let wearers operate their smartphone touchscreens without any issues. The drawback, however, is that they are not waterproof and can get soaked beyond the point of return in the rain.
Read More: Best Dog Walking Boots – Waterproof and Mudproof For Amazing Walks – JugDog
9. ALPIDEX Lightweight Sports Outdoor Gloves
These gloves are designed for exercise in the elements but work just as well for dog walking. They have a medium thickness polyester construct which is ideal for mild winter days and a thermoregulation liner which helps keep your palms from sweating from being too warm.
The inside of the palm has non-slip nubs which enable a firm grip on the dog lead handle and their food and treats. Lastly, the tip of the thumb and the index finger has special material which enables smartphone use while wearing these pair of gloves.
10. Mountain Warehouse Classic Waterproof Women's Gloves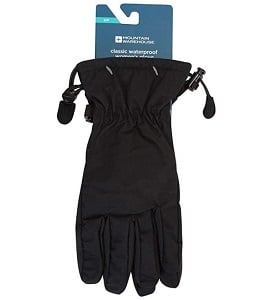 Mountain Warehouse is an industry expert when it comes to making gear to combat outdoor elements. Their waterproof gloves (available for men and women) offer quality and warm inner lining and a waterproof exterior with a pimpled palm for some extra grip which is great for dog walking, cycling and hiking.
The pimpled palm allows you to hold your dog's lead, treat and food securely. These gloves have a stretchy wrist to make them easy to put on and off as well as an adjustable strap to tighten. They're one of the best dog walking winter gloves for those who don't want to use their smartphone all the time.
Do I need dog walking gloves?
During the cooler months, taking care of yourself and having the right gear such as a great dog coat, boots and all-weather gloves can offer you the right protection against the elements and encourage you to go out with your dogs even when the weather is morose.
Dressing appropriately can make all the difference in your enjoyment of the walk itself.
Do brands make dog-specific walking gloves?
We have not discovered any dog-specific walking gloves- instead we considered the features we would want whilst walking dogs and worked back from there.
Many brands have created gear that offers full protection against the outdoor elements, a liner to prevent your fingers from getting numb on a chilly walk, different size options for men and women, lightweight options for those that are running with their dogs as opposed to walking and some traction to allow you to clasp the lead, your phone or food without them slipping away from you.