Pets with long nails end up hurting others as well as themselves. More importantly, having fractured nails isn't an experience dogs look forward to.
Yet if you're like most dog parents, you probably dread the nail-clipping time, and so does your dog. Fortunately, trimming nails could be a breeze with the appropriate equipment and a little bit of patience.
Today, I'll discuss some of the best dog nail clippers available on Amazon UK and offer tips for choosing the right one for your dog.
How much do dog nail clippers cost?
Generally, good-quality dog nail clippers cost between £6 to £20. You can get premium nail clippers for £25 and above. Many clippers between £7 and £10 include anti-rust blades, a safety lock, and comfortable handles.
Top 7 Dog Nail Clippers in the UK
1. Candure Dog Nail Clipper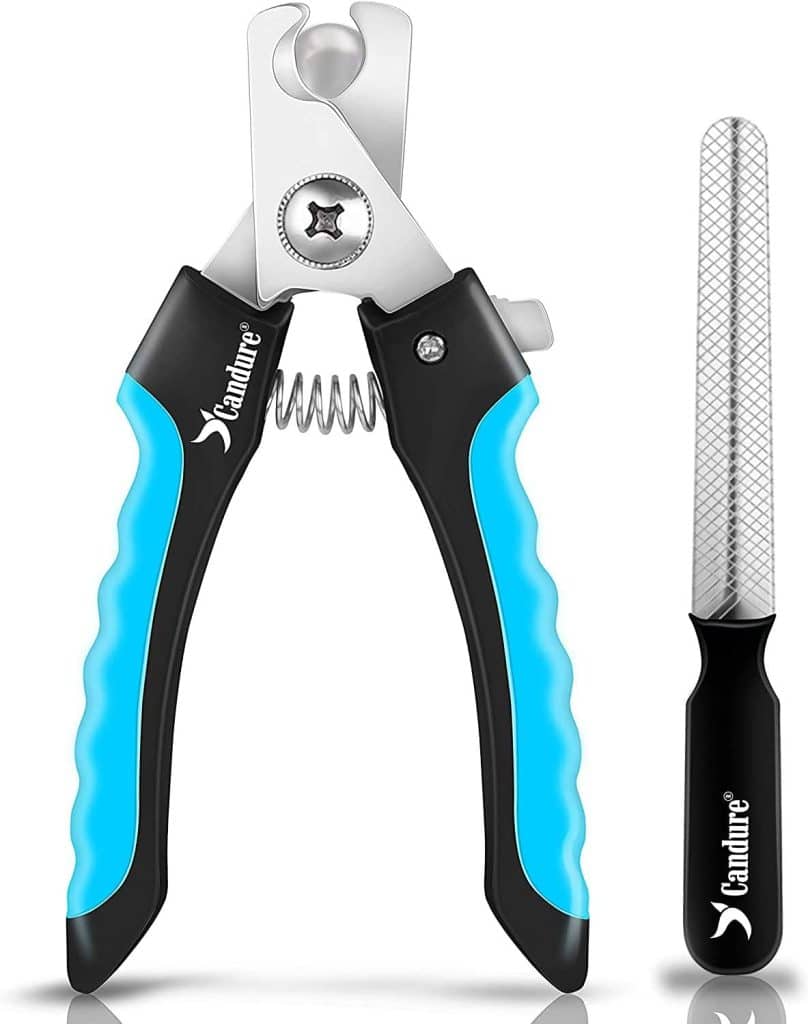 Priced at just £7, the Candure Dog Nail Clippers are the best bang for your buck. They're made with high-quality stainless steel and are built to last. The non-slip rubber handles have a comfortable grip that makes them easy to use.
It's fair to say that they're reasonably priced and excellent value for your money, considering that you can pick a pair of these on Amazon UK for just £7. Green and blue are the two colors available for these clippers.
I barely ever worry about over-trimming with these because the built-in safety blade is excellent at what it does.
My furry buddy has fairly medium-sized nails, and these cut through them conveniently. Upon purchase, you will receive a package containing the clippers and a nail filer. To ensure that the nails do not retain any sharpness, you must shape them. The nail filer, in my opinion, works fine.
Buy Candure Dog Nail Clipper on Amazon UK
2. Gonicc Pets Nail Clippers and Trimmer NT-1001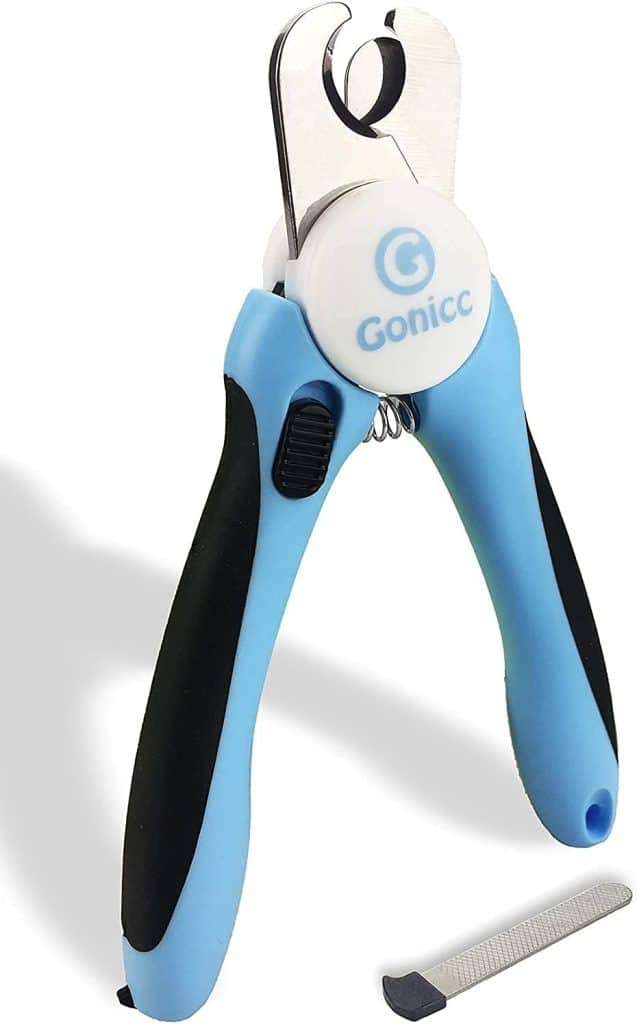 The Gonicc Pets Nail Clipper is the best dog nail clipper you can buy on Amazon UK in 2023. It's available for just £10 and is suitable for large and small pets. They are sturdy and easy to use. They also have a safety stop blade to protect your pets from being trimmed too short.
The safety lock is a wonderful feature that helps prevent kids from using them. Keep in mind that the Gonnic Clipper's blades are coated with anti-rust oil, and some traces of grease on the blades are common upon receiving a newly ordered set.
The nail filer that is placed within the clipper is by far my favourite supplementary tool. Nevertheless, some customers have experienced unsatisfactory purchases, particularly a few claiming that the nail filer is missing. Keep an eye out for missing features and report them to the vendor.
Buy Gonnic Dog Nail Clipper on Amazon UK
Also Read: Everything Dogowner Should Know About Clipping Nails
3. Thunderpaws Dog Nail Clipper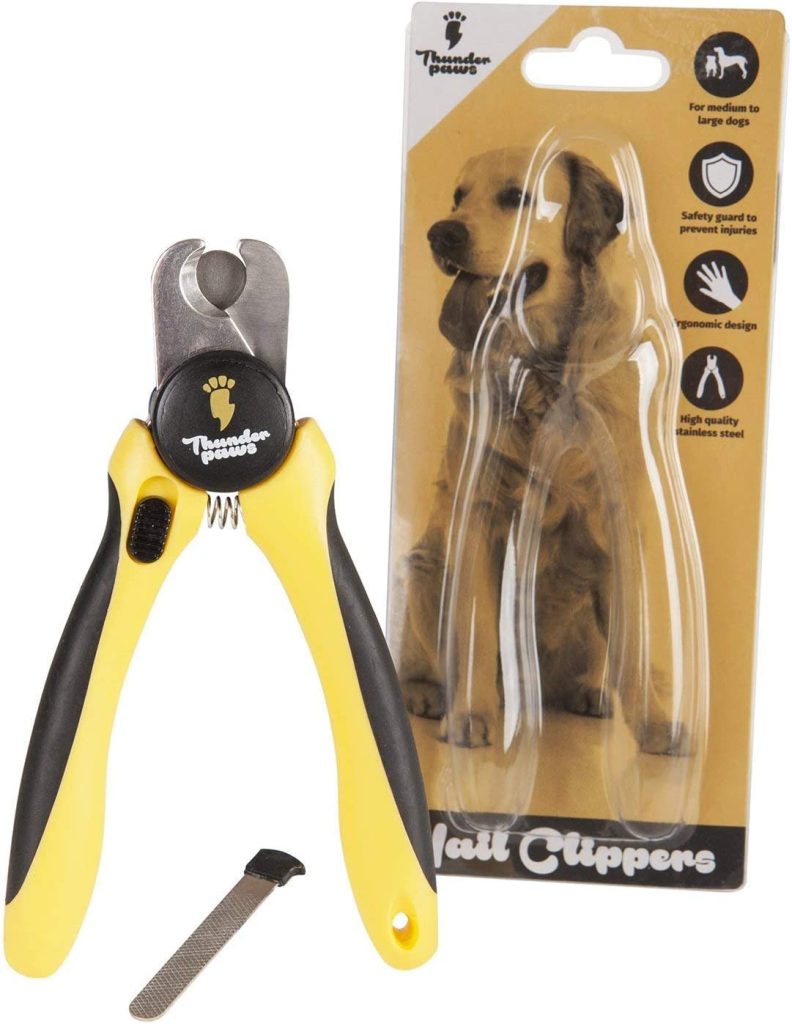 The Thunderpaws Dog Nail Clipper is the best dog nail clipper for medium and large dogs. These clippers can easily cut through thick or blackened toenails. They come in three colours– yellow, green and blue.
Similar to the Gonnic Pets Nail Clipper in build and features, the Thunderpaws Dog Nail Clipper comes with a hidden nail filer, a safety stop blade and a safety lock for easy storage.
The quality of this pair of clippers is on par with those used in professional salons, with their capacity to cut through the longest and stiffest of nails swiftly. They quickly became one of my favourites within the first few months of use.
Although these clippers have a quoted price of 15 pounds on Amazon UK, there are frequent discounts on this product so you could grab one for about 10 pounds.
Buy Thunderpaws Dog Nail Clipper on Amazon UK
4. Laika Dog Nail Clipper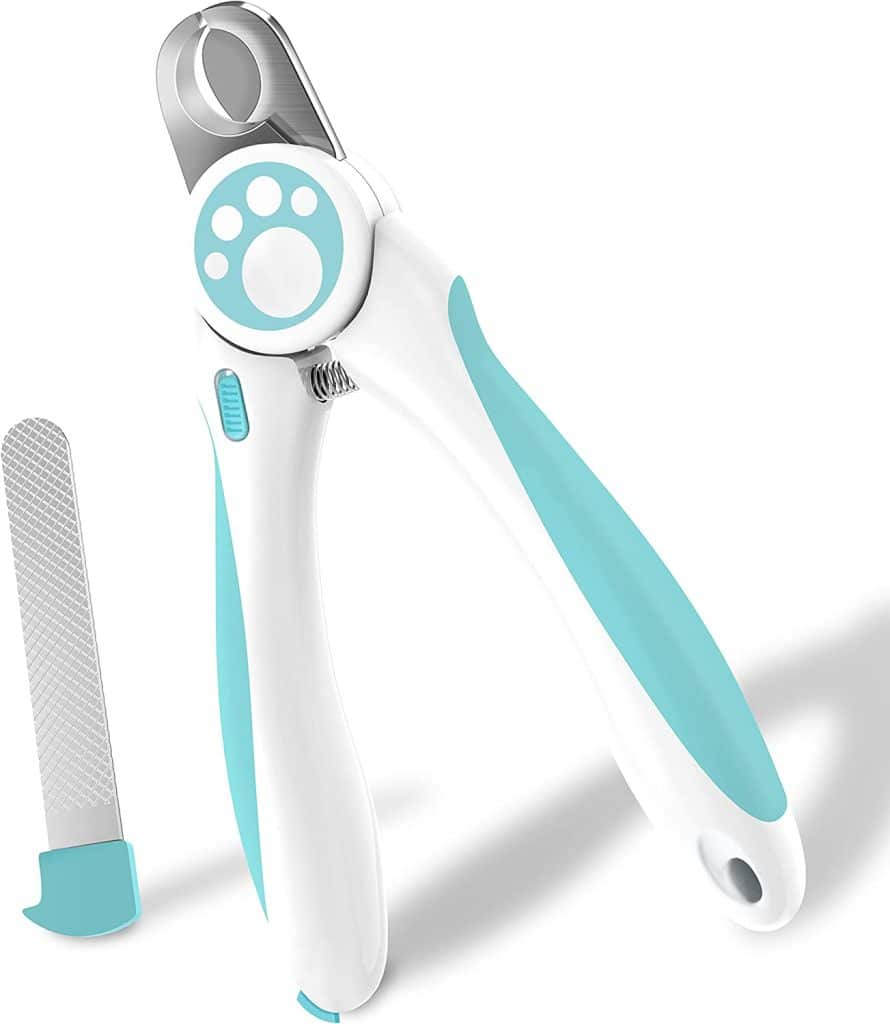 Like the others in this list, the Laika Dog Nail Clipper is built for nails of all sizes and sports all the basics, along with a safety stop blade and a safety lock. There is a little nail filer conveniently hidden in there as well. This pair, in particular, performs quite well in terms of longevity.
Comfort is where the Laika Dog Nail Clipper stands out from the rest, and by comfort, I am referring to both the owner and the dog. Thanks to its design and vibrant colour choices, my dogs have been the calmest around this one. Regular white and one of the lighter hues of Blue combined with body features that resemble a paw makes the tool look lovely.
Even though I rarely need to squeeze them, they are tolerable when I do. These make the procedure of nail clipping far less strenuous and much more practical.
Buy Laika Dog Nail Clipper on Amazon UK
5. Rosewood Dog Nail Clipper

This clipper from Rosewood is made with sturdy stainless steel blades and is intended to deliver rapid, precise cuts every time.
The safety stop blade guard guarantees a safe and even nail-clipping process, and the ergonomic handle makes it easy to hold. Additionally, you may soften any sharp edges after trimming with the provided nail file.
Rosewood is a well-known pet brand, and the quality of its products stands up to its reputation. Two different sizes of these clippers are available. Both sizes are offered on Amazon for less than £10.
Buy Rosewood Dog Nail Clipper on Amazon UK
Also Read: Why should you trim a dog's nails regularly?
6. Kaket Dog Nail Clipper
Not many nail clippers offer what this one does. The Kaket Dog Nail Clipper does a little extra to help trim your pet's nails even easier. The blade is made of sharp stainless steel, and with a little force, it swiftly cuts through.
A nail filer is placed within it, which always comes in handy when the nails need shaping. The filer is no less well-designed than the clipper.
What makes the Kaket Dog Nail Clipper unique for me is the little LED light, which, when lit, increases visibility, making it much easier to distinguish the blood vein in the nail. It also consists of a little detachable baffle which prevents the nails from splashing upon being cut.
Nails are hard objects and tend to fly off when cut with force, and they might damage your eyes if preventive measures are not taken. The detachable baffle is great at countering the same.
These little preventive measures are often disregarded, yet they have frequently helped me feel less intimidated when trimming my dog's nails. They are a great aspect to remember if you're new to this.
Buy Kaket Dog Nail Clipper on Amazon UK
7. Gobeigo Dog Nail Clipper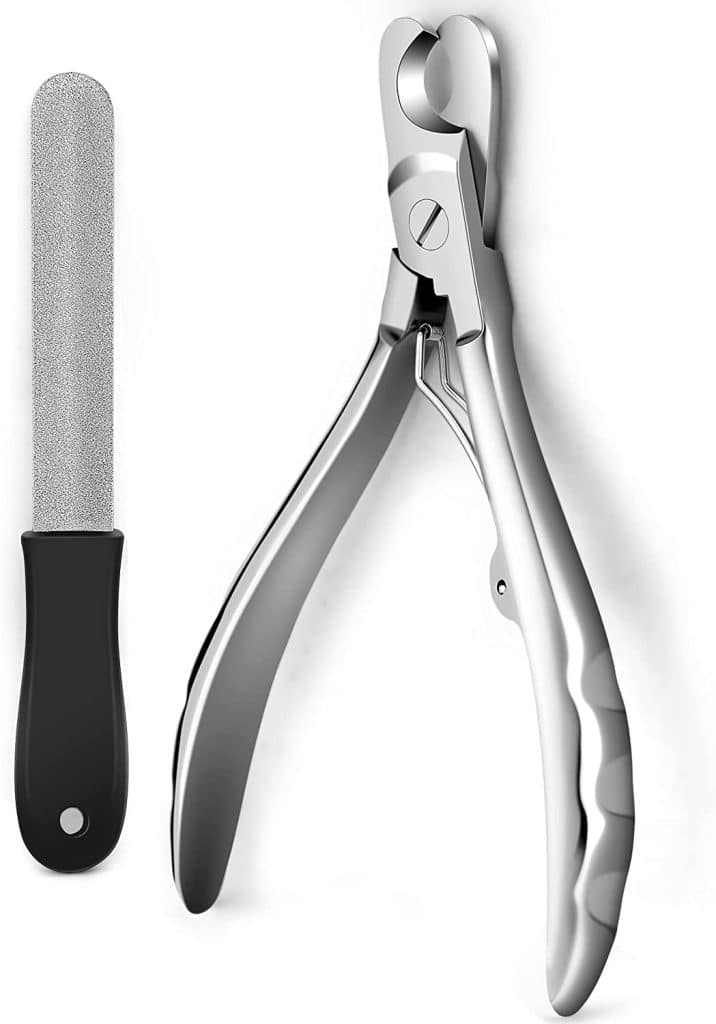 Made from Martensite steel, the Gobeigo Clipper is built to last. It has a comfortable and anti-slip grip handle that makes them easy to use. The clipper also comes with a safety stop, a nice feature if you're worried about cutting your dog's nails too short.
These are heavy-duty nail clippers, perfect for cutting hard, blackened nails. And because of that, it's suitable for large dogs with thick nails. Its slightly inclined body makes nail-trimming your dog much easier.
Buy Gobeigo Dog Nail Clipper on Amazon UK
How to choose the best nail clipper for dogs?
1. Make a budget and stick to it.
Determine a budget based on the features you want in your clipper. To make product comparisons simpler and more reasonable, only consider clippers within the decided budget.
2. Your Dog's Size: Small, medium, or large?
The clipper size is the most important factor when choosing a dog nail clipper. It is primarily determined by the size of your dog and its nails. Additionally, different species have different nail sizes.
There are many different sizes of dogs, so the clipper must be the appropriate size for your dog. A full-grown adult might not be able to use clippers designed for a little puppy. If the clipper is too small, it will not be able to cut the nail properly. If the clipper is too large, it may injure the dog's nail.
3. Type of Clippers
Dog nail clippers are offered in a variety of configurations. There are three main types of canine nail trimmers: scissors, guillotine, and grinder trimmers. The ideal size and style of clippers will depend on your dog's size, disposition, and nail thickness.
In general, scissor clippers (aka Miller's Forge clippers) are best for large dogs with thicker claws. Guillotine nail clippers work best for dogs with thin nails. Pliers-shaped trimmers – including electric grinders and manual nail files – are best for dogs with sensitive nails or paws.
Guillotine clippers are the most popular type, but scissors may be better for some dogs. Grinders, however, is a relatively new trend in dog nail trimming.
Ask your vet if you're unsure about the type of clipper to buy. They will be able to assist you in opting for the optimum size and kind of clippers for your dog.
4. Quality of Blade
Take into account the sharpness of your clippers. Ensure the blades are strong enough to last a long time and won't quickly dull.
Clippers with dull blades have to be squeezed, increasing the risk of injury for you and your dog. Also, try looking for options with an anti-rust feature to have long-lasting blades.
5. Quality of Clipper
The handle's design and size significantly impact the clippers' ergonomics, making them important factors to consider.
The handle must be comfortable to hold and easy to use. Some dog nail clippers have an ergonomic handle that makes it easier to hold and control, while others have a basic handle that's easy to grip. Again, the type of handle you choose will depend on personal preference.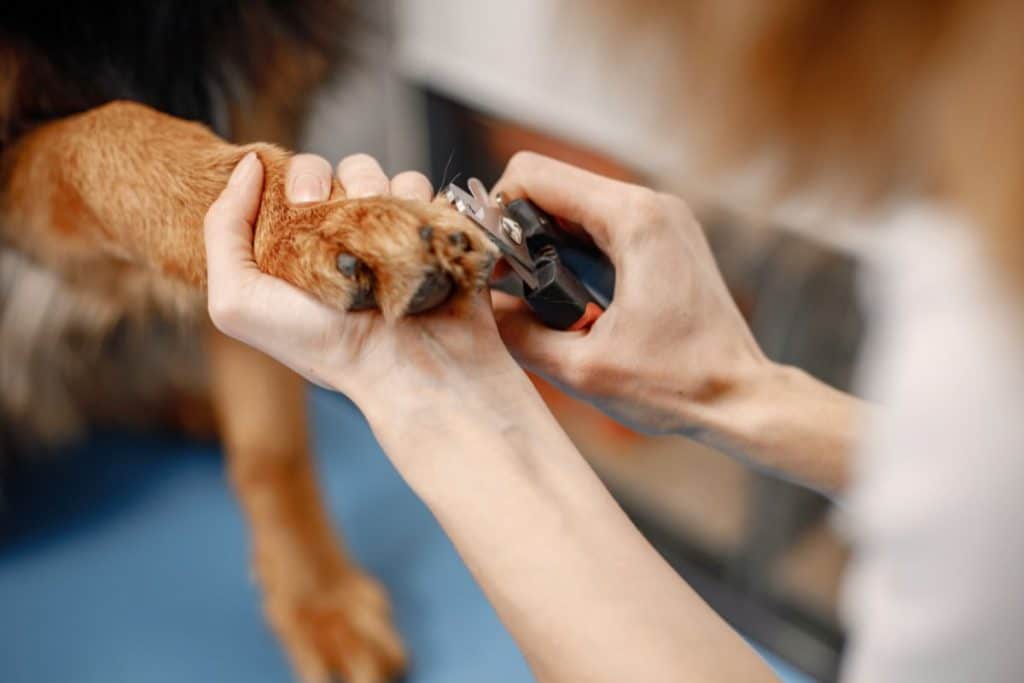 Frequently Asked Questions
1. How to avoid the quick while trimming my pet's nails?
It's crucial to stay away from the quick (or "Kwik") while trimming your dog's nails. This is the blood artery that passes through the nail. If you make a quick cut, your dog will experience severe pain and bleeding.
If you're unsure of precisely where the quick is, it's recommended to stay on the safe side and trim the tips of the nails.
2. How often should I clip my dog's nails?
Ideally, you should clip your dog's nails every 2-3 weeks. However, some dogs may need their nails clipped more often, especially if they are active and their nails grow quickly.
3. How can I tell if my dog's nails are too long?
Your dog's nails need to be cut if you can hear them clicking on the floor as they walk or if you notice that they are curling under. If your dog is limping, its nails are likely excessively long. Frequent paw licking is a more subtle indicator.
4. Is it safe to clip my dog's nails at home?
If you are careful and use the right equipment, nail-trimming your dog at home is safe. You can minimise Injury hazards while trimming your dog's nails with the right clippers.
In general, tackling the canine Mani/Pedi on your own requires skill, patience, and conditioning (that is, getting your dog used to it).
Keep in mind, using the wrong tool or following the wrong style can cause bleeding and pain, making it even more challenging to get your dog used to nail trimming. Also, be sure your canine clippers are sharp enough to avoid shredding the nail.
If you still don't feel confident trimming your pup's nails, another option is to take your dog to a groomer or a veterinarian. Make the most of your visit by asking them to walk you through the process.
Here's to becoming a Pawdicure pro!