Welcome to our guide to the best dog nail clippers. In the past, purchasing a nail clipper for dogs would have been unnecessary: naturally dog's nails would have stayed trim thanks to walking on rough surfaces for the vast majority of their time. However, these days your dogs most likely spend their days and nights on soft furnishing such as dog beds, carpets or laminate flooring in between their walks. Their outside activities may also be reduced to a couple of walks a day and even then maybe on smoother tarmac surfaces, pavements or on the grass.
Name
Best Overall
Safari Nail Clippers
Best Grinder
Romanda Dog Nail Grinder
Budget Option
Wahl Guillotine Claw Clipper, Cat and Dog Nail Clippers, Pet Claw Cutter, Nails Clippers, Nail Clipper for Pets, Non-Slip Handles, Sharp Cutting Blades, Professional Claw Cutters
Image



Best Overall
Image

Best Grinder
Image

Budget Option
Name
Wahl Guillotine Claw Clipper, Cat and Dog Nail Clippers, Pet Claw Cutter, Nails Clippers, Nail Clipper for Pets, Non-Slip Handles, Sharp Cutting Blades, Professional Claw Cutters
Image

These lifestyle changes mean your dog's nails may keep growing to the point where they can cause problems for themselves and potentially others. Clippers are often an item overlooked when owners are shopping for items for their new puppy but they are crucial to your dog's health and safety. This is why we have created this list of the best dog nail clippers so that you can keep your dog's nails in check on a regular basis easily and stress free for everyone involved.
Best Dog Nail Clippers Reviews
1. Safari Professional Stainless Steel Trimmer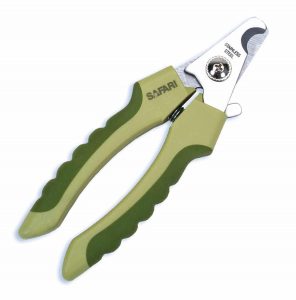 Overall, the best dog nail clippers in our list are The Safari Professional Steel Nail Trimmer. The Safari Steel nail clippers are designed for dog nail trimming and maintenance. In terms of the design, Safari have created the clippers with yours and your dog's comfort at the forefront: the handle has a soft comfort grip while the dog nail cutter itself has a safety guard to prevent injury to their nails. The comfortable grip is ideal to allow you to hold the trimmer for longer without your hands or grip getting tired meaning that you can concentrate fully on cutting your dog's nails. The use of stainless steel for the pliers themselves will allow you to cut your dog's nails easily and effortlessly which is best for nervous dogs or those that squirm.
Another fantastic feature is that these dog nail clippers are available in two sizes: a standard size and a larger option suitable for large dogs. The price point for these professional dog clippers is very fair and will suit any budget. If you're looking for a clipper that just gets the job done without any bells and whistles then this is the one for you – it may not be specialised and you still need to do it yourself but dog nail clippers don't come better than this. The Safari dog nail clippers have excellent reviews online with an average Amazon rating of 4.6 based on over 10,000 reviews. It's not just us that think they are the best dog nail clippers.
2. Romanda Dog Nail Grinder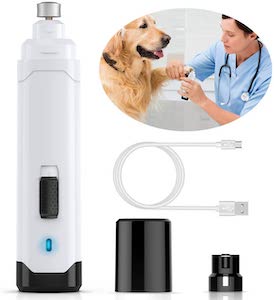 The best dog nail grinder has to be this model by Romanda. This grinder device is easy to use, suitable for large and small dogs and comfortable for you and your pet. The Romanda nail grinder features an adjustable low-high speed design which is powerful enough to support heavy grinding. There are three ports to match with your pets size; simply choose the appropriate port and speed. The best aspect of a nail grinder is that the risk of clipping the dogs nails too short is eliminated: you can painlessly and precisely trim their nails with their safety at the forefront of the process. In terms of comfort, the handgrip is made from rubber which helps relieve hand pressure and prevents the device from slipping out of your hand. The sound from the nail grinder is very low (below 55DB) so as not to scare your dogs thus allowing you to safely trim their nails without your dog being scared of the sound.
The Romanda dog nail grinder is rechargeable: the device has a built-in battery that lasts 2 hours, which is more than enough time to trim your dogs nails. The lightweight design makes it easy to use in either your right or left hand. Romanda offer 24-hour customer service via email if you have any issues. Many owners prefer grinders to dog nail clippers and, after trialling both types, we can see the benefits too.
3. Thunderpaws Dog Nail Cutters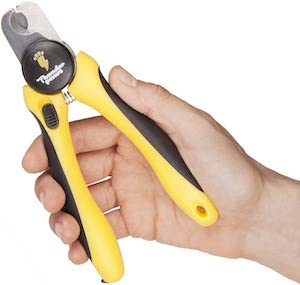 Thunderpaws pet nail cutters are the best dog nail clippers for a professional cut and finish. Thunderpaws claim that their products are created with professional grade materials and their nail clippers are used by veterinarians and professional dog groomers. The blades themselves are made from stainless steel to ensure a clean cut in one smooth action. The handles are made from non-slip rubber and are ergonomically designed for a comfortable grip which makes the nail clippers easy to use.
Thunderpaws dog nail clippers come with a protective guard to protect your dogs nails from being 'over-trimmed' and a safety lock for easy storage. These professional dog clippers come with a nail file which allows you to smooth your dog's nails over after clipping. For the price of one single professional dog grooming session you can purchase your own kit to allow you to cut your dogs nails whenever necessary. The Thunderpaws pet nail clippers come with a lifetime warranty and 90-day 100% money back guarantee which is thoroughly reassuring and shows the confidence they have in their product being the best.
4. Wahl Guillotine Clipper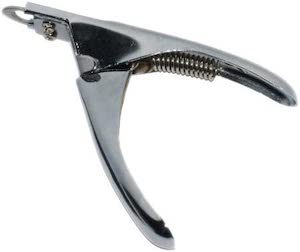 The Wahl guillotine design are the best dog nail clippers if you're on a budget. Although these dog nail clippers are relatively cheap, they are made to a very good standard: made using quality materials which leaves the dog's nail with a smooth, clean cut.
The claw design provides enough space for small, medium and large dogs so this is a good purchase for any owner; they are also ideal for dog groomers. Also, the Wahl model is surprisingly lightweight for a stainless steel product. The handles are comfortable but not on the same level as some of our scissor style cutters here.
This is a relatively cheap dog nail clipper with hundreds of Amazon reviews averaging 4.4 overall; clearly, this product offers excellent value for money and is ideal as a first clipper. Some reviews have noted that the clipper can be difficult to grip when wet which is a warning for those who may be nervous cutting the dogs nails or planning to use it near water, perhaps after a bath or shower. Overall though, we would say this is a great dog nail clipper if you're on a budget.
5. Vaxuia Nail Clipper with File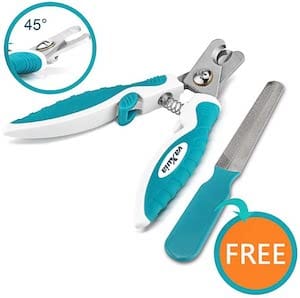 This kit by Vaxuia comes with both a file and dog clippers for nails that need to be trimmed and smoothed over. The nail clippers have a safety guard which reduces the risk of over cutting the pet nail and thus reduces your chance of making the nail bleed. The safety lock on the blades ensures that you can store the device away safely and conveniently. You will be able to trim your dogs nails at home quickly and confidently whilst saving money on taking your dogs to the vets or groomers to get their nails maintained.
Similar to other models, the Vaxuia is ergonomic and easy to use thanks to the non-slip rubber handles and comfortable grip – ensuring your pet's safety throughout the process. The stainless steel blades make nail trimming quick and create a clean cut on your dogs nails while the mechanical spring makes the strength more controllable. Vaxuia nail clippers come with a lifetime warranty and a 90-day money back guarantee. These are priced slightly higher than similar models but the lifetime warranty may sway you to purchase with Vaxuia.
6. Nobby Starline Guillotine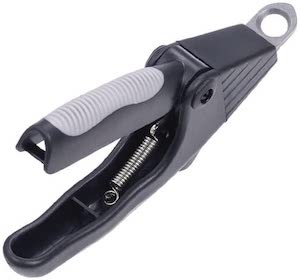 The Nobby dog nail clippers are another guillotine style trimmer. This product has somewhat of a modern design with an ergonomic grip and monochrome aesthetic which makes it a bit more pleasing on the eye compared to some of the other models. This is a nail clipper dog and owners will find it equally comfortable to use: with soft rubber handles and a mechanical spring to make cutting your dogs nails easy. This is a budget option that gets the job done.
If you're new to dog nail clipping and unsure about all the pet nail 'quick' information then we would not recommend this model despite the low relative price it has as it doesn't have a safety guard. We've added it here to give our readers more options and to justify why the best dog nail clippers are called the best. Choose this if you and your dog are experienced with nail trimming sessions and it's not anything new to you.
7. Purfect Pet Products
The Perfect Pet products are the best dog nail clippers for very small dogs and other small animals such as rabbits and cats. They are designed to be more akin to regular scissors that you'd cut paper with than other nail clippers in our list. They are extremely comfortable to hold and take very little space in the house when you put them away and if you have a small toy type dog then we'd recommend these over the larger ones which would be overkill. The clippers are sharp and accurate and get the job done with minimal fuss.
As well as being smaller, these are cheaper than most other options. Do make sure to only use these on very small or toy dog breeds. Overall, these clippers tick all the right boxes and are the best nail clippers for if you do have a small dog or other small pets but as mentioned previously, these would be totally ineffective to use on the nails of bigger dogs.
8. DakPets Pro Clippers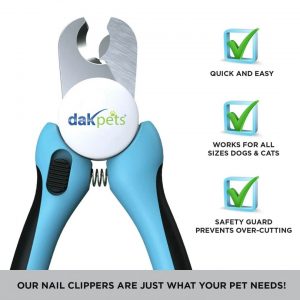 The Dakpets dog clippers are professional grade scissor style nail clippers with a superbly crafted blade and comfortable grips. They are powerful enough to trim nails with just one cut to allow for fast and convenient grooming. These ones are one of the more premium versions available and they look pretty good too. Although we were able to use these on our Jug dog, Jeff, we did find them to be quite big and cumbersome – we wouldn't want to try and use these on toy breeds (the Purfect Pet Nail grinder is best for a small dog).
The DakPets dog scissors have been designed with safety at the forefront: high quality blades and an effective safety guard which supports quick, painless and easy trimming of their nails. An additional safety feature is the ergonomic non-slip handles which are longer than some of the other contenders. The file can be used to smooth down and sharp points or edges of your dog's nails. DakPets offer a 100% money back guarantee so you can feel assured when purchasing.
9. Ancol Ergo Nail Clipper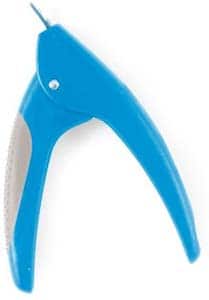 The Ancol Ergo guillotine dog clippers are great for budget conscious dog owners. It's quite a basic looking clipper but has everything you'd need: a comfortable grip, a sharp blade and a strong spring to cut those nails down. The Ancol Ergo comes in blue and is a simple design. As with most guillotine clippers the biggest drawback is the lack of safety guard so the size can seem too big when you're clipping smaller dogs.
If the guillotine version is what you're after and a cheap and cheerful one will do then this is the one for you. The Ancol Ergo can also be used for other similar animals such as cats and rodents.
10. Dog Nail Clippers with Bag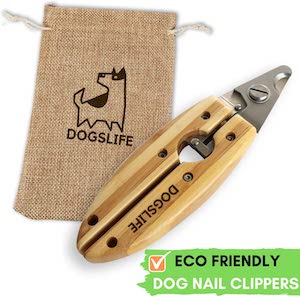 This is the best option if you're looking to be eco friendly whilst trimming your dog's nails. As well as being the only eco friendly grooming nail clippers for dogs, they are suitable for all sizes whether you have a small or large dog. The high quality metal blades ensure a quick and clean cut for your dog while the bamboo handle is not only stylish but sustainable too. Do not that the bamboo handle is not as easy to hold compared to the rubber-handled competitors so if your dog is likely to wiggle or your hands are likely to be wet then this product may slip.
Your item will arrive with a storage bag which is a nice extra. The protective guard can be used when not in use to keep you and your family safe: it keeps the blades pressed together to prevent catching when you reach into the bag. With this item you get a 30 day guarantee if you change your mind, this isn't as long as some other models but more than enough time for you to try it out and see how it is for you and your dog. Overall, these are a great option if you're looking to be more eco friendly whilst caring for your dog.
Types of Dog Nail clippers
There are three main types of dog nail clippers: 'guillotine', 'scissors' and 'rotary sander'. The sander being quite different to use compared to the other two. Here we'll discuss the differences between them and the pros and cons to help you find which are the best dog nail clippers for you, your dog and your budget.
Guillotine
Guillotine nail clippers have a round area to put the nail in and then a blade cuts from one side for a clean cut. Guillotine clippers are handy as they will always cut in a straight line making aiming easy. However, as that is also it's downfall as guillotine dog nail clippers can become annoying when trying to cut the nail at an angle. Most guillotine clippers can have replaceable blades giving them a lot of mileage. Guillotine clippers are good for most nails but not versatile enough for larger dogs or curved nails such as dew claws as they lack the power required.
Scissor/Pliers
The most common type of dog nail clippers are the scissor/plier type of clipper. The sharp stainless steel cutting blades come together to snip part of the nail. The design allows for precision while the construction and grip allow for power for a quick and easy snip even for larger dogs. However, the clippers are more of a challenge to use on smaller nails as it lacks the accuracy of the guillotine type when it comes to avoiding the quick. Some do come with adjustable cut guards but not all.
Grinders
Last, but not least are the dog nail grinders or sanders depending on who you ask. These are completely different as they do not cut the nail at all but just sand it down to the desired length. More costly, can be a bit uncomfortable for your dog because of the noise but can be a god send for people who really are nervous about cutting the quick. Not our first choice to recommend but we still would recommend it under certain circumstances.
Last update on 2022-05-19 / Affiliate links / Images from Amazon Product Advertising API