If you're looking for a tool to help with training your puppy then a whistle will be a brilliant investment for you. Perhaps you'd rather not shout your dog's name across a field when you want them to return or maybe you want to train a gun dog to follow various commands from the sound of a whistle: either way we've got you covered in our comprehensive buyer's guide. A dog whistle is a high-pitched whistle used to train puppies and dogs; typically the sound produced is inaudible to humans. The sound emitted comes from the ultrasonic range; a pitch that is so high humans can't hear it but thanks to a dog's sensitive hearing, they will hear it. You can then use the whistle to train your puppy or dog to return to you once they hear the whistle. This is our guide to the options available on the market – we hope you find the best dog whistle to meet your needs.
1. Acme Dog Whistle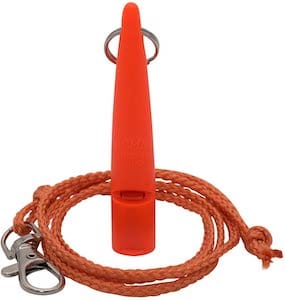 The Acme is one of the best dog whistles in our list for general use and is reasonably priced therefore, it has made it to our top spot. To begin with, the Acme dog whistle comes with a colour coordinated whistle band which is available in over 20 colours. The colour options vary from vibrant (such as turquoise, hot pink and lime green) to more basic choices like red and black so we think all dog owners will be able to find a colour combination they love. Moving away from the design, the Acme whistle creates a standard, stable dog whistle sound in the frequency 4850 Hz; it isn't a silent dog whistle to human eats but it certainly isn't deafening. This is an ideal option for sport, hunting and herding. Additionally, this whistle is also a suitable option for dog trainers to guide and rescue dogs.
The Acme whistle for dogs is one of the highest rated whistles on Amazon with dog owners praising the loud and clear sound; commenting on it being an effective tool to aid with recall and complimenting the useful band and lightweight whistle as being comfortable to wear. Overall, if you're looking for a basic dog whistle to support with training and recall, with the added bonus of a wide colour selection and competitive price point, then we highly recommend this one.
2. QUACOWW Dog Training Set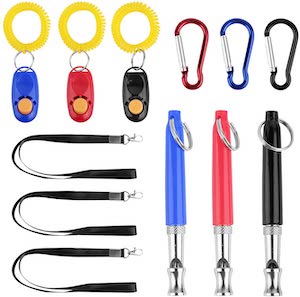 Our second place position goes to the Quacoww set. This 9 piece training set comes with 3 whistles for dogs as well as some additional pieces to support your training journey. This is the ultimate training accessory pack containing: 3 training whistles with lanyards; 3 training clickers with wrist straps and 3 spring snap hooks. A fantastic feature is that the whistle sounds can be adjusted to multiple frequencies; this can be used to easily train your puppy unlimited commands as they will associate different frequencies with different instructions. The silent dog whistle saves dog owners from shouting their pet from across the field, instead the ultrasonic sound can be used as a training tool to teach your dog unlimited commands such as recall, sit, stay and even for toilet training.
In addition, in terms of the materials used: the whistles and hooks are made from stainless steel while the clicker is made from plastic and the lanyards are nylon. All of the items within the pack are durable, firm, lightweight and portable. If you're just looking for a dog whistle – there are better options on our list as you won't need all the added extras in this pack. However, if you're looking to train your puppy then this complete set contains additional items that will make the task easier and it's always handy to have a spare whistle, especially if there will be more than just one of your training your puppy.
3. Professional Dog Obedience Whistle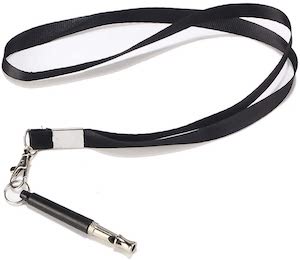 Third on our list is this professional dog obedience whistle from GCSEY. This training device has been professionally designed and can produce frequencies in the range of 5.4 KHz and 12.8 KHz. This frequency range is audible to the human ear but not loud whilst also being completely safe for your dog's ears. The ultrasonic whistle can adjust the frequencies by rotating the black part of the product; this will allow you to train your dog to associate different sounds with varying commands this way. In terms of the materials used: the whistle itself is made of high quality stainless steel and plastic so you can rest assured that it will not rust or fade.
Although this is one of the more expensive options on the list, these whistles are a high quality professional option suitable for all breeds of dogs which have been designed with your dog's safety as well as your comfort at the forefront. This is an investment piece to aid with puppy training and to save your voice when you want your dog to return to you!
4. Ueetek Training Clicker and Whistle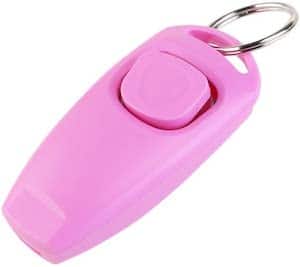 This is the best dog training whistle and clicker combined. The whistle and clicker device is on a keyring which is ideal to ensure you will have it with you every time you need it. The dog whistles sounds feature is simple: there are no varying frequencies with this particular model. But it's the best dog whistle if you're looking for a simple device to aid recall. If you're keen to start training your puppy then this is great as you can use the clicker for one command – perhaps as a way of saying 'no' to an undesirable behaviour and the whistle to recall your dog when they are off their lead to save you shouting across the field.
The colour of the product is pink and it is made of plastic. A small and simple unit attached to a keyring with a raised push button to activate the clicker. This product is a great way to help you to connect with, train and bond with your pet. It is certainly not the most fancy product on our list; but it does the job, has the additional clicker feature and is reasonably priced. It's definitely worth giving this one a go if you're not sure whether to use a whistle or clicker as part of your training process.
5. Acme Solid Silver Whistle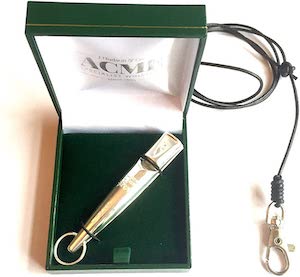 This is one of the best dog whistles on the market but be warned that it does come with a very large price tag! Priced at around £260, for some of you this will be way out of your budget, but for others this would make the best gift or even a luxury treat. Made by Acme, this solid sterling silver whistle will help recall your dog whilst looking incredibly stylish every time. These whistles create a high pitch sound which is audible for dogs whilst being quiet for the user. According to Acme themselves, this product works best for breeds such as Spaniels but it is an excellent choice for both close and distant control for any breed. These are single frequency whistles so there are no fiddly bits; it's perfect for use in the town or countryside.
The unique aspect of this whistle is the material used which is hallmarked sterling silver for the ultimate quality and slick aesthetic. Within the emerald green box you will also receive a luxury leather lanyard to maintain a stylish look whilst walking your dog. There is an option to get the whistles engraved which would make this generous gift that bit more special. We know this has an incredibly high price point, and if you're just looking for a low-price option there are better models on the list for you, but for the most supreme design it doesn't get greater than this.
What is a dog whistle for?
A whistle for dog training is a great investment piece. It can help you keep your furry friends safe at all times and can also be used by owners to help with their dog's obedience and behaviour. This can be an important device for looking after your dog at dangerous places such as near lakes, busy roads or open fields with other dogs around if they are off the lead accidentally or have tried to run away. When it comes to assisting with obedience and behaviour training, whistles are a great way to help teach your dog to stop barking if they are getting disruptive, particularly in urban areas.
Essentially, a dog whistle gets their attention every time and you can use that whistle sound to train your dog to come to you or any other desired action. Some will have a variety of frequencies available to allow you to train your puppy to respond in different ways to each varying sound.
How do dog whistles work?
Dog whistles operate using ultrasonic sound which is mostly silent to humans but animals such as dogs and cats can hear. This makes them an ideal tool for non-intrusive training at all times during the day without impacting others negatively. The devices are highly effective to create targeted communication with your dog. Humans will change our tone without meaning to when we panic. So if we think our pooch is going to come into danger then the way we shout their name will sound different when we panic; our furry friends will sense this fear and may not want to return as a result. However, do bear in mind that if your dog can hear it… then other dogs can too so be aware when using it in public places where other dogs can be as you may end up with more than one returning to you when you blow!
A human's highest hearing range is around 20 kHz while a dog's upper hearing range is roughly 45 kHz. This means that a frequency of between 20 kHz and 45 kHz is outside of human range but inside a dog's range. This is why whistles appear to make no noise whatsoever to your ears yet your dog's ears will prick up when a whistle is blown.
What dog whistle frequency is most effective?
A good frequency for a dog whistle depends on the desired results and your dogs hearing ability. Ideally, the best frequency will be between 20 and 45 kHZ, however you can purchase adjustable dog whistles that you can fine tune and test to see which one your dog reacts to. Or even use this feature to train your pet to respond differently to varying sounds. Do consider that higher frequencies may be more irritating for the dog and can be used as a punishment and a lower frequency may not bother them at all. Our advice is to keep the frequency low at somewhere in between 25 – 35 kHz.
What should I look for in a dog whistle?
Dogs' hearing and ability to train differs from breed to breed. Also, be mindful that dog's hearing often gets worse as they age just like we do – so it's important to make sure you find out the right frequency for your dog. The easiest and most effective way to find out which frequency is best for your pooch is to purchase a dog whistle that has an adjustable frequency and then it's a case of trial and error. If you invest in a dog whistle with a single frequency and it's the wrong one then it's unfortunately going to be sent back or go into the bin.
Secondly, for the best dog whistle you should invest in one that matches you and your furry friend's lifestyle, is it going to be used indoors only? If so, you won't need an expensive and tough one but if you like to go on adventurous walks or even hiking then it's best to get one with a lanyard and built robustly.
We hope this article has been both informative and useful for you. If you have purchased one of the whistles we'd love to hear your views. Alternatively, if you have a different model that you'd recommend then do let us know below.
Other Articles You Might Like