Having a high quality GPS tracker can allow you to monitor your dog's location when they are out of sight. Trackers are a relatively small and simple device that can be attached to the collar or harness of your pet and can then be used by owners to monitor them in real time. Live tracking your pet from the comfort of your home can allow you to relax knowing where your pet is and knowing that you have the GPS tracking device means that you are in the best position if your pet did wander too far.
Name
Best Overall
Pawfit 2 Dog GPS Tracker
Best Value
Tractive GPS Tracker
Best Performance
SportDog Tek Series Radio Dog Tracker
Image



Best Overall
Image

Best Value
Image

Best Performance
Name
SportDog Tek Series Radio Dog Tracker
Image

GPS stands for Global Position System: the technology uses radio towers to relay the location of the connected device – and this is exactly how GPS tracker for dogs work. A GPS tracker uses the response time to estimate a location: more specifically, the time it takes for the information to 'ping' to the nearest radio.
Dog trackers send a signal back to the owner usually via an app on their phone. As long as both devices have signal it will work. Often, this is the reason why there are some trackers which are much better than the others. A tracking device will require you to commit to a monthly subscription plan or to purchase a sim card for the device to allow for the communication between the tracker and yourself to take place.
With so many trackers out there to choose from we've compiled a list of what we would regard as the best to save your time scrawling the internet and to help you find the right GPS dog tracker for you.
Best Dog Tracker Reviews
Here is our list of the top dog trackers, starting with the best overall and then after that are strong contenders.
1. Pawfit 2 Dog GPS Tracker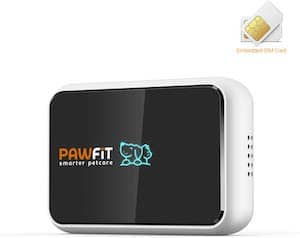 Pawfit 2 is the best rated dog tracker of 2023 in the UK. It comes with an embedded SIM card (covering Europe and N. America); it utilises GPS, WiFi and cellular technology to give you the fastest and most accurate location of your dogs. The subscription free starts at £3.59 a month.
Aesthetically, the tracker is smart: the small white device can be attached to any collar or harness with a width up to 32mm. Additionally, it is waterproof, dustproof, anti-shock and anti-bite. The battery will last just over 5 days and a full recharge will take around 2 and a half hours.
Pawfit provides owners with the most accurate information regarding your pet's location and presents your pet's movements as steps, distance, calories burned as well as their active and rest hours. You can set activity goals for your pet and the Pawfit App will give recommendations based on their breed and weight.
Once you have downloaded the Pawfit App you can see your pet's locations and activities whenever you wish. You can set upto 10 'zones' (areas you want your dog to rmain within) aend you will receive alerts if your dog leaves the zone. You will also be alerted if the surrounding temperature of your pet becomes abnormal or if the tracker has been removed from the collar.
A unique feature of this tracker compared to most others on the market is the protection feature: using the latest text-to-speech technology, anyone who presses the power button will hear a broadcast of your pet's ID and be able to return your lost pet to safety. This feature, along with the fantastic App, great design and personalised goals make it a really fantastic choice. If the price point is an issue for you then check out the Tractive GPS model below.
2. Tractive GPS Tracker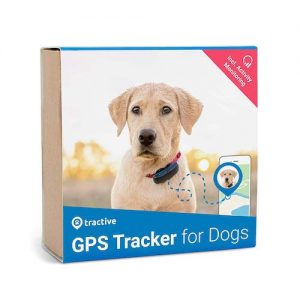 The Tractive GPS is our best value dog tracker. It is one of the cheapest in the list but the Tractive GPS model is full of great features: worldwide location tracking and activity monitoring; with upto 5 days battery life and a low price monthly subscription.
This realtime dog tracker relays your dog's location information back to your app; your pet could literally be on the other side of the world and you would be able to track them from your living room. It weighs less than 31g; an ideal small dog tracker. The dimensions are 51x41x15mm so it's clearly visible at all times. It's a very robust tracker that can take a knocking and it's waterproof.
In the box you receive two clips for a dog's collar, a charger and a user manual. The clips can be fiddly to get on so we may recommend using cable ties believe it or not! The Tractive GPS trackers are available in three colours: white, camouflage and pink.
Where Tractive shines though, is the sheer amount of features it has for its price and size. It uses virtual fences (zones) so you can designate where's safe or not and you will receive an alert if your dog leaves a designated zone. The Tractive model keeps a location history so you can see any patterns, favourite places so if they ever get lost and god forbid they don't have a tracker at least you have an idea of where they've been. The APP can be downloaded on your mobile phone which then allows for real time tracking.
As with the majority of GPS trackers, there is a subscription fee. The basic plan starts at £3.33 and allows unlimited live tracking of your pet. The Tractive GPS tracker is the right choice for you if you want to track your dog's location without spending too much upfront or have a more expensive monthly subscription plan to pay.
3. TKSTAR Real Time Tracking Locator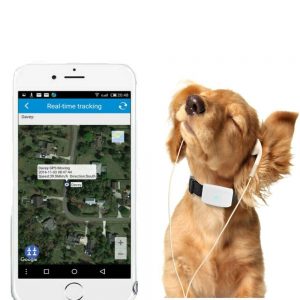 This is the best tracker for those not wanting a subscription plan. The TKSTAR GPS pet trackers are ideal for medium to large dogs due to the large collar size. The GPS dog tracker features: Geofences (zones), IPX7 Waterproofing and historical location tracking. The app uses Google maps; you will need a prepaid SIM card to operate. Once the sim card has been inserted into the tracking device you call or send a messenger to the sim card number. Once connected, the GPS pet tracker will send you a text message with a link to Google Maps to allow you to monitor your dog's location.
The strap you get with the TKSTAR trackers is also of a decent quality. The battery life of this activity monitor is around 4 days with use of standby mode activated for part of the duration; you will receive a warning message when the battery level is low and it is time to charge it back up. The biggest drawback for this pet tracker is the setup. It's not plug and play like many of the others and after sales support is very sketchy. We struggled to get any answers from TKSTAR on some general questions and there aren't many resources online either. However, if you're OK with screwdrivers and SIM cards then you'll be fine.
4. Kippy GPS Monitor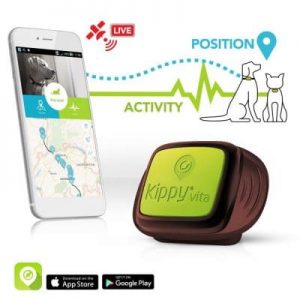 The Kippy pet tracker is another strong choice which ticks all the right boxes. It is an advanced activity monitor which allows you to locate the position of your pet with unlimited reach. The Kippy GPS trackers allow you to monitor your pet's activities and set goals. This is probably the best dog monitor for ease of use: simply download the Kippy App and attach the tracker to your dog's collar or harness then track your pet via your mobile phone or tablet. You can track your pet's location, monitor their activities and use the geofence feature to receive an alert if your pet leaves the designated area.
The Kippy pet trackers update the location of your pet every 4 seconds; practically live tracking. Perfect for dogs and cats that like to roam as you can keep an eye on your pet at any time. This is the best dog model for those owners that also want to track their pet's sleeping, walking, running, playing and even how many calories their dog has burned!
Once you have ordered and received your Kippy tracker dog you will need to download the app. Be aware that Kuppy does require the activation of a subscription package; there are three packages available with prices starting at £4.99 a month. You will receive a 2 year warranty with your purchase and if your pet tracking device is not working as you would expect, Kippy offer technical support to all of their customers.
5. Weenect Pet Tracker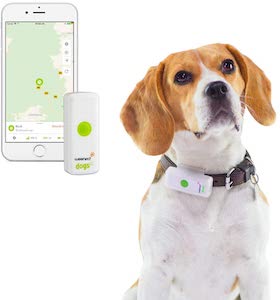 The Weenect GPS pet tracker allows you to track the location of your dogs without a distance limit. Real time GPS tracking means that you live tracking of your pet can take place at any time day or night. The Weenect model has a battery life of roughly 2 to 4 days – the variation is dependent on the time spent in motion and the strength of the GPS signal. The time taken to charge the battery is 2 hours which is reasonable.
Inside the box you will receive the GPS tracker, protective case which fits adapted to collars and harnesses, USB cable, user manual. Please note the device is only waterproof upto 1 meter. This live tracking device requires a monthly subscription to cover the service charge. Once you have purchased your tracking device the subscription plan can be selected when you register the device on the Weenect website. The subscription charges are inline with the others available in our list.
6. Yepzon One Personal GPS Tracker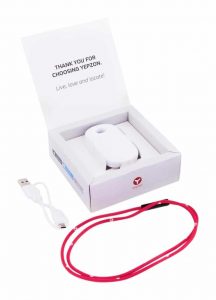 The Yepzon one is a personal tracker but it's easy to turn it into a tracker for dogs by attaching it to their collar. As it's not a specific pet tracker there is no activity monitor or zones feature built in. However, as it can be attached to any pets, humans or even objects the versatile tracker may come in handy for another purpose in the future.
Yepzon aims to be the leading brand for 'making sure anyone or anything missing will be found' and that they will provide the easiest, most secure and stylish locating service to keep safe what you value the most. Multiple users can download and track the device which is a useful extra. The modern looking design not only looks great but is shockproof, waterproof and rustproof. The Yepzon tracker has the ultimate battery life with upto 4 months!
This product is predominantly aimed towards parents who want to keep their children safe; it does not mean that this isn't a viable option for dog owners. Bear in mind the device will dangle off their collar rather than be fixed tightly to it. The lack of activity monitor feature and zones does hold it back somewhat. However, it's safety is heads and shoulders above the rest as there are no usernames and passwords to hack and there are no buttons to press meaning it can never be turned off and lost for good. Exceptional stuff! Lastly, it's cost is on the more expensive side as it is a more premium option but the monthly subscription is on the cheaper side and you also don't need to buy your own prepaid SIM card as there's on included.
Overall, this is one of the better choices out there with an excellent performance record, a class leading battery and excellent safety features.
7. SportDog Tek Series Radio Dog Tracker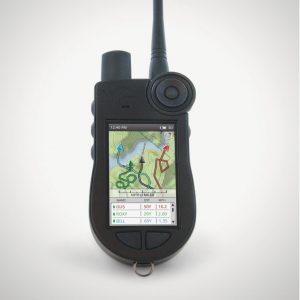 The SportDog Tek Series 2.0 tracker is the best dog tracking device in this whole list! Why didn't it get our top spot? Well, quite simply it's because this one is going to set you back over £600. The SportDog trackers are for hunters who use dogs professionally to hunt and track: typically out in the wilderness where other trackers may not work at all.
The SportDog Tek 2.0 uses Frequency Hopping Spread Spectrum (FHSS) which provides immunity to signal interference allowing for higher transmitter output power, resulting in superior range performance. In short, you will almost always have a signal; it doesn't matter where you are. Secondly, it uses GPS and GLONASS which is a secondary satellite system. Topography maps are already loaded onto the GPS pet device leaving the tracker to concentrate its signal on live tracking and not streaming the map. This device is so powerful that it could track 21 dogs at one time; ideal for those who are very serious about their hunting and tracking. If you're that person then £650 may not seem that much.
With the SportDog Tek 2.0 you get a dedicated collar and handset to track your dog/s and it gives you real time updates on where they are and how they got there as you can see in the image above, it's able to do this because of the aforementioned superior signal system and powerful technology inside both devices. The Tek 2.0 allows the use of GeoFences (zones), waypoints and even voice control so you can literally send your voice back to the dog's collar to give them commands. This really is the best dog activity monitor money can buy.
Lastly, the collars and the handled device are dust-proof, shockproof and waterproof to the point where it could be submerged in water: which is a legitimate concern for those training their dogs or hunting in extreme conditions. The battery life is 24 hours on a full charge and it takes 4 hours to fully charge. This may seem poor in comparison to the 'everyday' dog trackers which can last upto 5 days but in reality you would not use this kind of tracker for a walk in the park. The collars are a bit cumbersome and shouldn't be used for dogs weighing less than 3.6kg.
Overall, if we took price out of the equation then this is the ultimate tracking device in the UK as its performance is mind blowing, features unparalleled and it can track a whole pack of dogs. If you're a hunter or after the ultimate activity monitor then buy this, otherwise the Tractive is still the ultimate 'everyday' GPS location device on the list.
8. Vodafone Curve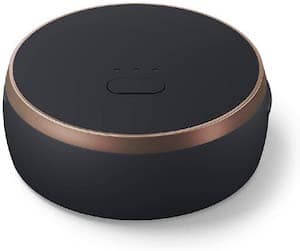 The Vodafone Curve is a lightweight GPS tracker that can be attached to objects, people or dogs to allow you to follow them in real time using the Vodafone Smart app. In order to use the GPS function to track your dog in real time a 12 or 24 month paid subscription is required. The Vodafone subscription is one of the cheapest: £3 a month over 12 months or £2 a month over 24 months. This SIM card is then used to allow you to track your dog no matter how far they get.
A great feature of the Vodafone Curve is that you can create your own Zones and receive alerts when your dog enters and leaves them. Weighing just 30g it's as light as a house key and won't bother your dog. The battery life is yet another plus point of this tracker lasting between 4 days to 7 days depending on the usage. The Vodafone Curve has a large ring which can be used to attach the device to your dog's collar.
9. PAJ GPS Dog Tracker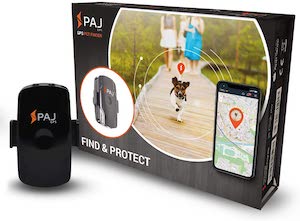 This is one of the best dog trackers for ease of set up; the GPS tracker has an integrated SIM card so all you need to do is register the device online and you're ready to track your dog. With a monthly charge of less than £5 a month it is one of the more expensive monthly charges. The PAJ trackers are small and light; the size of a matchbox and weighing 28g makes it the lightest tracker for dogs and cats on our list. The device itself is robust and resistant but also small and versatile; it won't get in your pet's way. The PAJ pet tracker is ideal for attaching to the collar or harness thanks to the quick and secure attachment with a rubber strap.
These PAJ dog trackers offer 100% safety thanks to the Geo-Fence alerts that warn you as soon as your dog leaves a predetermined area. This GPS tracker allows you to track your dog's location in real time and the 100-day tracking history means you can measure your dog's activity. The tracker has a battery life of about 1-2 days when in use and upto 3 days in standby mode.
10. PitPat Activity and Fitness Monitor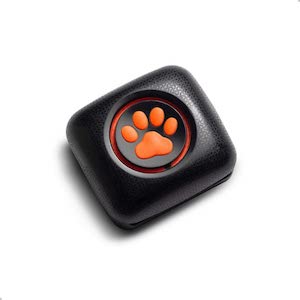 This monitor is not a GPS tracker but it is the best option if you want to track your dog's daily activity and fitness. PitPat's aim is to keep your dog healthy and allow owners and pets to have fun together. PitPat worked with vets to design the monitor to be the ultimate model for dogs. The App is easy-to-use and allows you to view your dog's daily exercise, rest, distance travelled and calories burned. You will also receive personal recommendations specific to your dog's breed. You can set and track goals and win achievement badges. This is a really nice monitor to encourage bonding between your dog and younger family members perhaps.
The PitPat activity monitor itself will fit any collar or harness. The device is robust, feather-light, comfortable and fully-waterproof so it won't irritate your dog whilst they're wearing it and you won't need to panic if they go near water. Another huge plus point of this monitor is the ultra-long battery life; this will last you over a year and can then be replaced. Whilst this model isnt a GPS tracker and won't help if your dog is missing; it's a fantastic pet monitor and will allow you to see your dog's daily activity and fitness.
Why get a dog tracker?
The purpose of a tracker for dogs is to tell you where they are. The majority of the time GPS tracking your pet will be unnecessary – they're in the kitchen, garden or next to you on a walk… yet the device is crucial if they're prone to wandering or something more sinister has occurred.
Locating a wandering dog. If your dog has gone on a solo walk without your knowledge then the tracker can help you find them before they get into trouble. Now, you may think that your dog will never go off on their own without your consent because they always listen to you, but consider these moments:
Your bitch is on heat and has gone looking for a mate;
Your dog can smell a dog on heat and has dropped everything to find them;
Has smelled great food;
Attracted by a certain sound (dog whistle etc)
Chasing prey
Locating a lost dog. Your dog may not be wandering like the above but full blown lost. This can be particularly stressful for both man and dog as they attempt to reconnect. Of course, a tracker makes this much easier as you know which direction to go to, without one you may find yourself looking for a lot longer than necessary and the longer they are lost the less chance they will be found, especially at night and in extreme weather. Here are some reasons why your dog's lost:
Your dog has lost their bearing;
They've been startled by another dog, human or noise and run away;
You're on a hike/long walk in unfamiliar areas and become separated;
Dog has been injured and unable to travel back.
Locate a stolen dog
Live tracking can help the owner in the event that a pet has been stolen. The information can be used by police to locate and reunite the owner and pet.
What to look for in a good dog tracker
With so many trackers for dogs and cats available online; it can be a complex task finding the right model for you. Below is a list of the features that good GPS dog collars have in common.
Signal range
This one should go without saying really. A pet tracker should have a decent enough range to communicate with the nearest signal tower. Poor signal can defeat the whole object of a tracking collar.
Battery life
If the GPS activity tracker is 'always on' then a lengthy battery life is crucial to allow for live tracking to be carried out.
Waterproof
A good tracker should be waterproof so that it will continue to work in wet conditions such as heavy rain or even being lost in a river etc.
RELATED: 2020's Best Waterproof Coats / 2020 Waterproof Dog Beds
Zones
The very best trackers of 2020 can utilise zones, this means that there are certain areas that are safe for the dog to wander into and won't trigger an alert but then if they wander outside of the zone it will tell you.
Last update on 2023-10-13 / Affiliate links / Images from Amazon Product Advertising API