In the UK we are blessed to live in a country with such high standards of foods for our pets. This means that our furry friends are able to eat only the best wet dog food and dry dog foods giving them excellent health, shiny coats, healthy teeth and nails and great positive energy. Just like with human beings, we can not stress the benefits of having a complete and balanced diet! We've already reviewed our recommendations of the best wet food and in this article we're going to discuss JugDog's recommended best dry dog food to accompany them.
Brand
Best Overall
Lily's Kitchen
Best Fish Based
Wellness CORE Dry Dog Food
Best On A Budget
Burns Dog Food Original
Best For Weight Loss
James Wellbeloved Naturally Healthy Light Kibble
Image




Best Overall
Image

Best Fish Based
Brand
Wellness CORE Dry Dog Food
Image

Best On A Budget
Image

Best For Weight Loss
Brand
James Wellbeloved Naturally Healthy Light Kibble
Image

The Best Dry Dog Food Brands In The UK
To save you some time we've created this handy table with our favourites from some categories to make it easier for you to make a decision on which dry food is best for your dog.
To save you some times, we feel that out of the dry feed we've reviewed and tested that the best dog food of 2018 is…
Best Dry Dog Food Reviews
1. Lily's Kitchen Complete Nutrition Dry Dog Food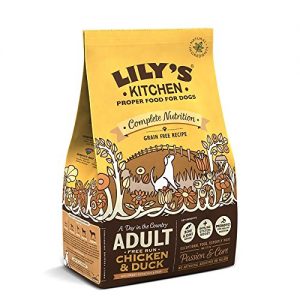 Just like we did with their lovely tinned wet food, we've tested Lily's Kitchen dry food equivalent – chicken and duck flavour. Right off the bat we're going to let you know that Lily's Kitchen complete nutrition dry dog food uses natural ingredients which mirrors the ingredients label exactly – what does this mean exactly? It means this food is free from preservatives, artificial colours and sweeteners. On top of that, this stuff is free from meat meals – this means it's free from the non valuable parts of the meat source such as heads, hooves and so on. This food ticks most boxes when it comes to being the best dry dog food on the market.
This food is highly nutritious and is a fantastic partner to whatever wet food you go for. The chunks are small enough for most for most dogs to be able to eat without any problems. Because the ingredients are natural, grain free and no artificial additives it means that it's easy on your dogs tum and you won't have to worry about any allergic reactions of any kind. Lily's Kitchen may be a more commercial brand these days and appear in most mainstream supermarkets but that doesn't mean the kibble they make is any less than excellent.
In summary, just like their wet food offering Lily's Kitchen dry dog food kibble is excellent quality which is absolutely packed full of all the nutrition you'd want your dog to have and very tasty. Jeff had no problems eating this stuff and the price isn't too bad. A highly recommended dry dog food brand.
Lily's Kitchen Complete Dry Dog Food Ingredients
 Fresh chicken and duck meat (38%), sweet potatoes, peas, lentils, pea protein, flaxseed, chicken liver (4%), eggs, chicken gravy, calcium carbonate, salmon oil, apples, carrots, spinach, cranberries. Phytonutrients: alfalfa, rosehip, chickweed, cleavers, golden rod, nettles, kelp, celery root, milk thistle, dandelion root, burdock root, marigold petals, chicory root. Vitamins and chelated minerals. 347 kcals/100g.
Sale
2. Pure Dehydrated Dog Food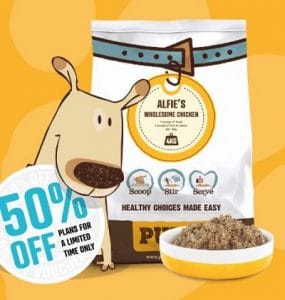 Technically speaking, Pure Dehydrated Food is a wet food as it needs water to be added but as it's all you need it fits perfectly in this article as this food is the most common food fed to dogs.
Pure dehydrated dog food is a modern spin to dog food as it's personalised to your dog's specific nutritional needs based on breed and activity. The reason why it's so good is because it is always fresh when it is served but has an incredible shelf life when it's in the pack making it an ideal bulk purchase and a cheap one at that.
In terms of ingredients it's about as best as you can get with only natural ingredients included and a hefty amount of real chicken breast and thigh (this was the flavour we tested). The vegetables in the ingredients are the most impressive with a lot more than most dry food brands on the list. This is a huge benefit of the way Pure food is prepared.
To summarise, if you can get over how it looks and prepared then this really is one of the finest meals you can give a dog and they will love how fresh, tasty and moist it is!
Pure Dehydrated Dog Food Chicken Recipe Ingredients
Chicken Breast & Thigh (60%), Carrot, Parsnip, Sweet Potato, Cabbage, Apple, Green Bean, Cranberry, Linseed, Chicory Root, Brewers Yeast, Vitamins and Minerals
3. Arden Grange Adult Dried Dog Food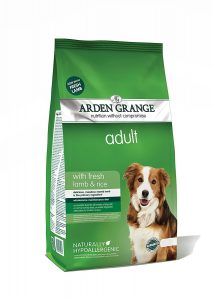 Arden Grange's adult dried dog food is quite simply one of the most professional and healthy dried kibble you can get for you dog. They have more than one flavour available but the one we recieved for testing was lamb and rice. The lamb meat is sourced from meadow fed lamb for those who care about the animal's welfare and how they were treated and comes naturally packed with protein (which isn't essential as the wet food should cover that). The lamb is paltable and easy to digest even for those with sensitive tums and the only parts of the lamb that's been in used are nutritionally valuable parts, this means no hooves, heads etc.
The ingredients included are of a high quality which means no growth hormones, antibiotics and nothing that's genetically modified in any way. Although the food is obviously processed it's as natural as it can get and suitable for 'regular' dogs who are pets or those who engage in light work. Arden Grange's dry dog food is about the size of a golden nugget cereal ball so it should be fine for most breeds except small and large breeds however they do provide the same food for those mouths as well so be sure to check them out.
Arden Grange Lamb and Rice Adult Dry Dog Food Ingredients
Analytical Constituents: Crude Protein 25%, Fat Content 16%, Crude Ash 8.9%, Crude Fibres 2.5%, Calcium 1.6%, Phosphorous 0.9%, Omega-3 0.71%, Omega-6 2.91%. Composition: Lamb (lamb meat meal 29%, fresh lamb 5%), rice 26%, maize, refined chicken oil, beet pulp, whole dried egg, chicken digest, yeast, whole linseed, krill, minerals, prebiotic FOS, prebiotic MOS, yucca extract, glucosamine, MSM , chondroitin, cranberries, nucleotides. Additives (per kg) Nutritional Additives Vitamins: Vitamin A 18,000 IU, Vitamin D3 1,350 IU, Vitamin E 240 IU. Trace Elements: Zinc chelate of amino acid hydrate 500mg, Copper chelate of amino acid hydrate 100mg, Manganese chelate of amino acid hydrate 67mg, Calcium iodate anhydrous 2.4mg, Selenised Yeast (inactivated) 65mg, Antioxidant (rosemary extract).
Sale
4. Harrington's Complete Dry Dog Food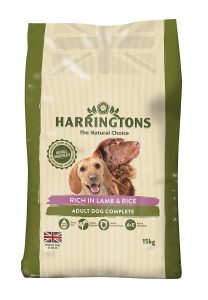 The Harrington brand is perhaps one of the most well known in the UK and can be found in most supermarkets, normally this may be construed as a negative but not in this case as Harrington's is one of the finest dog food brands in the UK with a great reputation for making fantastic products at affordable prices. Some of the key benefits you can expect from feeding your dog Harrington's is Omega 3 and 6, vitamins, minerals and essential fatty acids from the rich Kelp added in, healthy teeth and bones from the calcium and phosphorus and a reduced amount of flatulent odours (farts) would you believe from the Yucca extract. To top it all off, Harrington's has citrus extracts which acts as an antioxidant.
Aside from these benefits, does it tick the boxes when it comes to being classed as 'one of the best' and 'complete'? Well, yes it does. Harrington's complete dry dog food is free of added sugars, has no added wheat, dairy or soya. However, this product is not grain free and Harrington's do not claim that the ingredients are naturally sourced or of a 'high quality' nor do they mention the level of processing. Jeff (our resident Jug) has had this stuff numerous times in the past and loves it, we would also regard him as a very healthy and active dog so we've got no complaints about the performance of this dried dog food and that's speaking from experience.
To summarise, Harrington's Complete dry food is a very good complete dry dog food option for those who want an overall package of quality and low cost. The kibble itself will provide your dog with all the nutrition they will need but not all ingredients are naturally or sustained sourced so if you want your food to be ethical and great this ain't it I'm afraid.
Harrington's Complete Dry Dog Food Ingredients
 COMPOSITION: Maize, Chicken Meat Meal (14%), Barley, Meat Meal, Rice(4%), Poultry Gravy, Poultry Fat, Beet Pulp, Linseed, Minerals, Kelp (0.2%), MOS (0.1%), Citrus Extract (0.04%), Yucca Extract (0.01%).Additives (Per Kg): Nutritional Additives: Vitamin A 12,000 iu, Vitamin D3 1200 iu,Vitamin E (alpha tocopherol acetate) 90 mg, Vitamin C (ascorbyl monophosphate) 50 mg, Zinc Chelate of Amino Acid Hydrate 400 mg, Iron Sulphate Monohydrate 200 mg, Manganous Oxide 80 mg, Zinc Oxide 55 mg, Cupric Sulphate Pentahydrate 40 mg, Calcium Iodate Anhydrous 3 mg, Sodium Selenite 0.2 mg. Antioxidants (contains rosemary and tocopherol rich extracts – natural antioxidants). Analytical Constituents: Protein 21%, Fat Content 10%, Crude Fibre 2.5%,Crude Ash 8.5%, Omega 6, 2.0%, Omega 3, 0.3%.
5. Orijen Adult Original Dry Food
Orijen is one of the most reputation dog brands in the UK and have featured in some of our other recommendation pages. On this list we feature Orijen's 'original' type of dry food (they also offer 'regional' and 'puppy' but the ones we purchased and tested with Jeff was original as of course he is an adult now. Orijen's angle when it comes to their food products is a dog's biological nutritional needs and how they can help us meet them.
This kibble is made using fresh free roaming chickens and turkeys which are fresh with no preservatives, nest-laid eggs and wild caught fish; just like the dog's prey if they had not been domesticated. With these ingredients in mind, Orijen's Originl dry food has 38% protein, 19% carbohydrates and presumably the rest is fat which is the exact requirements of a dog's body according to them. The food is also grain free and uses only natural ingredients which means this stuff gets to tick some very vital boxes for us.
To summarise, Orijen is a great choice for those who want to be scientifically precise with their portions and to make sure they really do get everything they need. Jeff had no problem eating Orijen but it was clear there were tastier alternatives.
Orijen Adult Original Dry Dog Food Ingredients
 Ingredients: Fresh chicken meat (13%), fresh turkey meat (7%), fresh whole eggs (7%), fresh chicken liver (6%), fresh whole herring (6%), fresh whole flounder (5%), fresh turkey liver (5%), fresh chicken necks (4%), fresh chicken heart (4%), fresh turkey heart (4%), chicken (dehydrated, 4%), turkey (dehydrated, 4%), whole mackerel (dehydrated, 4%), whole sardine (dehydrated, 4%), whole herring (dehydrated, 4%), whole red lentils, whole green lentils, whole green peas, lentil fiber, whole chickpeas, whole yellow peas, whole pinto beans, whole navy beans, herring oil (1%), chicken fat (1%), chicken cartilage (1%), chicken liver (freeze-dried), turkey liver (freeze-dried), fresh whole pumpkin, fresh whole butternut squash, fresh whole zucchini, fresh whole parsnips, fresh carrots, fresh whole red delicious apples, fresh whole bartlett pears, fresh kale, fresh spinach, fresh beet greens, fresh turnip greens, brown kelp, whole cranberries, whole blueberries, whole saskatoon berries, chicory root, turmeric root, milk thistle, burdock root, lavender, marshmallow root, rosehips, enterococcus faecium. Analytical Constituents: Crude protein (min.) 38 %, Crude fat (min.) 18 %, Crude ash (max.) 8 %, Fibre (max.) 5 %, Moisture 12 %, Calcium (min/max) 1.4 %, Phosphorus (min/max) 1.1 %, Omega-6 (min.) 3 %, Omega-3 (min.) 1%, DHA (min.) 0.3 %, EPA (min.) 0.2 %, Glucosamine (min.) 1400mg/kg, Chondroitin sulfate (min.) 1200mg/kg. Nutritional Additives per kg: Vitamin A 25 KIU/kg, Vitamin D3 1100 IU/kg, Vitamin E 320 IU/kg, Thiamine (B1) 82 mg/kg, Riboflavin (B2) 40 mg/kg, Pan. Acid (B5) 40 mg/kg, Niacin 260 mg/kg, Pyridoxine (B6) 30 mg/kg, Folic Acid 4.0 mg/kg, Vitamin B 120.2 mg/kg, Choline 2380 mg/kg.
Orijen Original Dry Food
With 38% richly nourishing protein and 85% quality animal ingredients, ORIJEN nourishes dogs of all breeds and life stages according to their evolutionary and biological needs
6. James Wellbeloved Naturally Healthy Light Kibble – Best For Weight Loss
James Wellbeloved is another great British dog food brand making quality munch for canines up and down the country. This stuff says it's light kibble but it is quite bulky so perhaps not suitable for dogs with weak jaws such as Chihuahuas. Out of the many stellar Amazon reviews James Wellbeloved have received many of them have cited using this as a weight loss aid due to its low calorie levels. This is the stuff we would highly recommend and call the best dry dog food for dogs who have low activity levels or are overweight.
OK, the low calorie and tasty boxes have been checked what about the rest? Well, this stuff uses only natural ingredients which means its gentle on the tummy and gives a big nutrition boost, its hypoallergenic which means your dog is unlikely to have an adverse reaction of any kind and it has no artificial colours, flavourings or preservatives and lastly it's grain free. James Wellbeloved have also gone even further than most dry dog food brands by adding that the food has added dietary fibre to keep dogs full for longer, has a blend of taurine, glucosamine, chondroitin and herbs for healthy hearts and joints, omega 3+6 for nice shiny coats, Yucca extracts to keep the smells on the down low and Prebiotic and natural chicory inulin for a happy gut.
In summary, James Wellbeloved is our best recommended dry dog food for overweight dogs and low activity dogs. It's very healthy for any type of dog while being light on the calories giving them all the nutrients they need while being on a diet. You won't be disappointed with this stuff.
James Wellbeloved Naturally Healthy Light Kibble Ingredients
INGREDIENTS
Turkey meal 24.50%,Brown rice 23.20%,Naked oats,White rice 12.00%,Sugar beet pulp,Whole linseed,Pea protein,Turkey gravy 3.00%,Alfalfa meal,Turkey fat 2.20%,Pea fibre,Seaweed 0.70%,Omega supplement*,Potassium chloride,Sodium chloride,Parsley 0.13%,Nettles 0.13%,Chicory extract 0.10%,Calcium carbonate,Glucosamine 0.05%,Yucca extract 0.02%,Chondroitin 0.01%
James Wellbeloved Naturally Healthy Light Kibble
Barley and Sugar Beet a natural source of carbohydrates and a natural provider of dietary fibre. Brown and Pearl Rice an easy to digest source of carbohydrates which is gentle on your dogs stomach
7. Forthglade Cold Pressed Dry Dog Food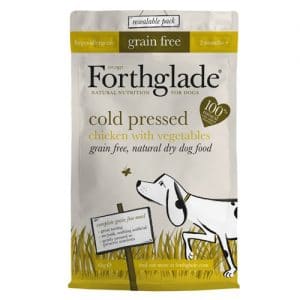 Forthglade have the distinction of making one of the best wet dog foods we've reviewed, we were pleasantly surprised to learn they also make dry food too!! But is it as good? Yes! Yes it is. Forthglade's dry food is made using natural ingredients only with added vitamins and minerals for a complete package. Despite this, we'd still recommend mixing it with the wet stuff. Forthglade has cold pressed their food to help pack in the nutrients and make it gentler on your dog's tummy by making it easier to be broken down. This is really good stuff and clearly made ethically and with love by Forthglade. In our test batch of chicken with vegetable flavour Jeff clearly found it tasty and easy to chew – his stools were very healthy and his flatulence was on the down low. Top stuff.
You'll be pleased to know Forthglade cold pressed dry dog food also checks a lot of boxes – it has natural ingredients, no added sugar, salt, flavourings or colours, its grain free, its hypoallergenic and not genetically modified. As with most brands on this list this food ticks all the boxes to be even considered the best dry dog food.
In summary, Forthglade's entry into the list is a fine one and a worthy contender for the top spot. It ticks all the boxes you should want and the stuff is easy to digest and comes from a reputable brand. Definitely a dry food brand to consider.
Forthglade Cold Pressed Dry Dog Food Ingredients
Chicken 32.5% (17.5% freshly prepared chicken*, 15% dried ground chicken*), Sweet Potato (28%)*, Peas*, Chicken Fat*, Gelatin, Beet Pulp (source of FOS)*, Dried Fruit (2.3%: apples, pears, blueberries, cranberries), Salmon Oil (1%)*, Brewer's Yeast, Dried Botanicals (0.6%: Fennel, Nettle, Dandelion), Mannan-oligosaccharide (prebiotic), Egg Powder*, Chicory Extract (source of FOS)*, Dried Seaweed, Camomile, Flaxseed Oil*, Glucosamine (300mg/kg), Chondroitin Sulphate (300mg/kg). Yucca. * ingredients thermally pre-treated prior to cold pressing.
Sale
8. Burgess Sensitive Hypoallergenic Food for Puppies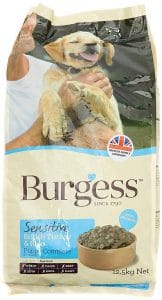 Our first entry for young pups is the Burgess Sensitive and Hypoallergenic dog food for puppies. This was one of the brands Jeff liked a lot when he was a young pup with us. It's packed full of wholesome ingredients ready to help them grow in a healthy way. What we liked about Burgess's offering was how robust and packed their pieces of dry kibble were, how easy it was to chew and how much it seemed to taste for our dog. As we already know, puppies need a balanced diet when growing to ensure that they grow up 'properly'.
Obviously, this food is hypoallergenic and perfect for sensitive tums such as a pups so you can avoid a lot of messy situations with this dry food against some of the poorer supermarket stuff. However, the thing that goes against Burgess is their lack of a definite answer if it is grain free or genetically modified, our researchers here could not find the answer which means we have to mark it as a no. That said, we still think this is a high quality dry dog food that should be considered, just take a look at the vast majority of positive reviews on Amazon and the effect is has had on their dogs! That many can't be wrong, right?
To summarise, this is a great dry dog food for puppies at a very generous price point – we believe it does contain grains and may be genetically modified but if you can see past that or don't care then Burgess Sensitive Hypoallergenic Food for Puppies is a strong choice.
Burgess Sensitive Hypoallergenic Food for Puppies
Composition: Rice (min 26%) • Turkey Meal (min 26%) • Salmon Pro (10%) • Poultry Fat • Whole Linseed (3%) • Gravy • Fish Oil (1.4%) • Oat Feed • Lucerne Extract (1%) • Seaweed (0.5%) • Salt • Fructo-Oligosaccharides (0.2%) • Yucca (0.025%) • Minerals. Analytical Constituents: Protein 30% • Fats and Oils 15% • Fibre 2% • Ash 6.5%. Nutritional Additives: Vitamin A (retinyl acetate) 25,000 iu/kg • Vitamin D3 (cholecalciferal) 2,500 iu/kg • Vitamin E (dl Alpha tocopheryl acetate) 200 mg/kg • Copper Sulphate Pentahydrate 32 mg/kg • Calcium Iodate Anhydrous 2.4 mg/kg • Sodium Selenite 0.33 mg/kg • Ferrous Sulphate Monohydrate 133 mg/kg • Manganous Oxide 16 mg/kg • Zinc Sulphate Monohydrate 333 mg/kg • Taurine 1,500 mg/kg. Technological Additives: Plant and Tocopherol Rich Extracts of Natural Origin 100 mg/kg.
9. Amazon Brand – Solimo Complete Dry Dog Food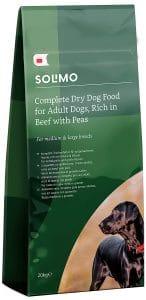 Solimo Complete Dry Dog Food is an Amazon brand of dry dog food we've been tasked with reviewing. Amazon want to make it easier for people to buy products online and more and more these days they are purchasing products to sell them directly – this means that the deliveries are shorter and often the products are much cheaper but is the quality the same? Let's take a look at how Solimo Complete Dry Dog Food stacks up against the best dry dog foods. First thing is did Jeff like it? Yes he did. He had no problems eating this kibble after mixing it with our wet food – this is a bare minimum achievement as if he dint eat it we wouldn't review it, however he did seem to genuinely enjoy the taste and had no problems breaking down the golden coloured kibble.
As far as checking boxes is concerned, Solimo Complete dry dog food is free of artificial colours, flavours and preservatives, contains natural prebiotics for easy digestion but there is no information on whether it's grain free, hypoallergenic or even if its made using only natural ingredients. Unfortunately, there is very little online when I looked which leads to me to the conclusion it isn't. This food is very affordable and tasty for your dog but if you want only the best then this is best avoided.
Unfortunately you will need to visit Amazon to see the ingredients as they are not readily available.
10. Wellness CORE dog dry food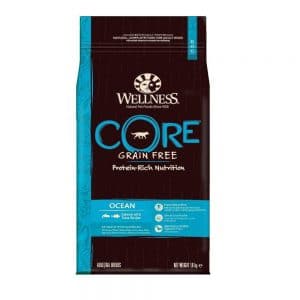 There aren't many dry choices in this list where the meat and protein source has been fish so we decided to seek out a fish led dry dog food and the best we found has been from Wellness CORE. The Wellness CORE dog food gets 32-37% of its protein from fish (salmon, specifically) and keeps the carbohydrate and fat content naturally low – this makes Wellness CORE a protein powerhouse meaning its an ideal choice for those who may not want to feed them wet food at all. Jeff found the food easy to chew and didn't have a problem with the taste however it is worth noting that he wasn't quite as excited for this as the meat based options but that would be natural we think.
One of the best features of Wellness CORE is its abundance of minerals, vitamins and nutrients as fish (in our opinion) is already healthier than white and red meat. This stuff is made using natural ingredients, naturally hypoallergenic and free from artificial colours, flavours and preservatives – this means it's a clean sweep of features you'd really want in a dry food option. We really can't stress how much healthier we feel this stuff is and if your wet food choice has red/white meat then a fish based kibble is a perfect partnership.
In summary, if you want a fish based dry food then Wellness CORE offer the best that we've reviewed. Tasty, extremely healthy, relatively cheap and ticks all of the boxes. It's simply great.
Wellness CORE dry dog food ingredients
Salmon 30% (Fresh Salmon 16%, Salmon Meal 14%), Peas, Tuna Meal 14%, Dried Potatoes, Potato Protein, Beet Pulp 5%, Rapeseed Oil, Full-Fat Linseed 4%, Dried Fish Protein 2%, Salmon Oil 2%, Dried Chicory Root 0.5%, Carrots, Apples, Broccoli, Spinach, Blueberries, Cranberries, Tomatoes, Yucca Schidigera, Yeast Extract (source of mannan-oligosaccharides), Glucosamine Hydrochloride 100 mg/kg, Chondroitin Sulfate 100 mg/kg. Vitamin A 14,000 IU, Vitamin D3 850 IU, Vitamin E 120 mg, Zinc sulphate, monohydrate 125 mg, Ferrous sulphate, monohydrate 100 mg, Cupric sulphate, pentahydrate 10 mg, Manganous oxide 3 mg, Calcium iodate, anhydrous 1 mg, Sodium Selenite 0.2 mg.
Wellness CORE dry dog food
All natural dog food dry, grain free & fresh fish number 1 ingredient, 32-37% protein in the final kibble
11. Pooch & Mutt Dry Dog Food – Health and Digestion Complete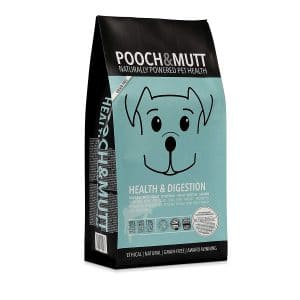 Pooch & Mutt make a variety of foods from wet food to tasty treats to dry food. They also specialise in making different types of dry dog food such as a calm & relaxed blend, health and digestion (this one we are reviewing), fresh breath, move easy (joint support) and slim and slender (weight loss blend). The one we've got to review is the health and digestion which we view as the 'standard' edition – a healthy dry kibble which is easy to digest should be the bare minimum if they are going to be considered one of the best dry dog foods really. Anyway, we mixed this with our current wet food (forthglade) and our jug Jeff adored this stuff more than usual for kibble. He wolfed it down and seemed to have no problems chewing the chunks, he even started to lick his bowl afterwards which doesn't always happen with him! That's the taste and palpability test done, what about the all important health and nutrition?
Pooch & Mutt's health and digestion complete dry dog food is hypoallergenic and includes pro/pre biotics which helps with the digestion (like those yogurts you can buy) it's also free from gluten, artificial colours, preservatives and flavours and is also free from any GM foods. It's main source of protein is from fish (salmon) which leads it to be low in fat and carbohydrates when compared to blends which used red and white meats. The ingredients are all from natural sources which gives this food the clean sweep when it comes to desirable features. Although it can be easy to think that all dry dog food are the same they really aren't and the fact that my dog loved this one a lot more than some of the others he's had over the years separates it from the rest.
To conclude, Pooch & Mutt's health and digestion complete dry dog food is one of the best dry dog food brands on the market and this blend will help your dog get a shiny coat healthy teeth and a lot of energy. At around £6 per kg it's also competitively priced!
Pooch & Mutt's health and digestion complete dry dog food ingredients
salmon (45%; including; 25% freshly prepared salmon, 17% dried salmon, 1.5% salmon oil, 1.5% salmon gravy), sweet potato (25%), potato, peas, alfalfa, beet pulp, linseed, charcoal (0.55%), minerals, vitamins, brewers yeast, mannanoligosaccharides (prebiotic mos), fructooligosaccharides (prebiotic fos), parsley, psyllium, yucca schidigera extract, cranberry, glucosamine (175 mg/kg), chondroitin sulphate (125mg/kg). nutritional additives per kg: vitamins: vitamin a (as retinyl acetate) 25,240 iu, vitamin d3 (as cholecalciferol) 2,165 iu, vitamin e (as alpha tocopherol acetate) 180 mg, biotin 145 mcg; trace elements: cupric sulphate pentahydrate 58 mg, zinc sulphate monohydrate 133.5 mg, manganous sulphate monohydrate 105 mg, ferrous sulphate monohydrate 160 mg, calcium iodate anhydrous 1.6 mg, sodium selenite 0.6 mg; technological additives: enterococcus faecium cernelle 68 (sf68; ncimb 10415) 1,000,000,000 cfu as an aid in the establishment, maintenance and restoration of a balanced gut flora in dogs. analytical consituents: protein 24%, crude oils and fats 12% , crude fibres 3.5%, crude matter 8.5%, omega 6 1.2%, omega 3 3.69%,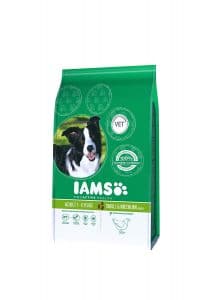 We normally stay away from mainstream brands as (rightly or wrongly) we feel that they lack a lot of the overall quality as some of the 'indie' brands and cut corners with ingredients they use to make it. However, we have used IAMS in the past and when we were asked to do a review we gave them the benefit of the doubt. Jeff enjoyed Iams adult dog food (it is dry kibble even if doesn't say it on the bag) and had no trouble breaking it down and clearly enjoyed the taste. The flavour we got by the way was chicken. The size of the nuggets was good, the texture was good and the smell was normal. No complaints.
Now it's time to discuss the really important stuff that needs to be included for it be the 'best' dry dog food or at least a best in category. Unfortunately for the end user, IAMS dog food is not grain free (grains are second on the ingredients list), it's not made using only natural ingredients (chicken by-product is in the ingredients) and it's not hypoallergenic. This is not to say the food is unhealthy for your dog, far from it, IAMS adult dog food will nourish and feed your dog but when compared to the others on this list this is a much cheaper but does not tick many of the boxes as we would expect from a mainstream supermarket brand.
In conclusion, you get what you pay for with IAMS – you'll get food that your dog will probably love but there are foods out there which may cost a bit more but will gentler on their stomachs and won't fill them up with empty carbs that the grains provide.
IAMS Adult Dog Food Ingredients
Chicken, Ground Whole Grain Corn, Ground Whole Grain Sorghum, Chicken By-Product Meal, Dried Beet Pulp, Natural Flavor, Chicken Fat (preserved with mixed Tocopherols), Dried Egg Product, Potassium Chloride, Flaxseed, Caramel Color, Salt, L-Lysine Monohydrochloride, Choline Chloride, Carrots, Tomatoes, Calcium Carbonate, Fructooligosaccharides, Spinach, Green Peas, Minerals (Ferrous Sulfate, Zinc Oxide, Sodium Selenite, Manganese Sulfate, Copper Sulfate, Manganous Oxide, Potassium Iodide), Vitamins (Vitamin E Supplement, Ascorbic Acid, Calcium Pantothenate, Vitamin A Supplement, Biotin, Thiamine Mononitrate (source of Vitamin B1), Vitamin B12 supplement,  Niacin, Riboflavin Supplement (source of Vitamin B2), Inositol, Pyridoxine Hydrochloride (source of Vitamin B6), Vitamin D3 Supplement, Folic Acid), Dried Brewers Yeast, DL-Methionine, Dried Apple Pomace, L-Carnitine, Dried Blueberry Pomace, Mixed Tocopherols, Rosemary Extract.
Sale
IAMS Adult Dog Food
Product packaging relaunch and formula is taking place; please note packaging and product may vary from the visual shown
13. Best for tight budgets – Burns Dog Food Original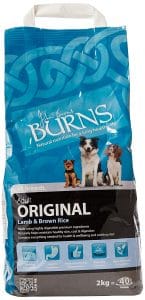 Burns is a widely known brand of quality dog food so there's no surprise that they've made it to our top list of best dog dry foods. The food in particular we've been given to trial is their original lamb and rice flavour for adult dogs (our Jug is 3). Although the kibble chunks were a bit robust and seemed harder than usual it still didn't stop our Jeff tearing through it was if it was nobody's business which is a good sign. The texture and 'powder coating' of the pieces seemed good and judging from the smell it had a good strong flavour to it. So far, so good for Burns dog food original.
Now that we've got that out of the way how does Burns dog food stack up against some of the best dry dog food in the UK market? Well, pretty great actually. Burns dog food original is hypoallergenic, highly digestible, made using natural ingredients and free of gluten. It's got no added wheat, beef or dairy and designed to suit all-round health. Burns pet ticks all the boxes other than being grain free – however, it's worth noting that it is certainly free from the worst grains that just make dog fuller than what they should be. Burns dog food is also know for being ultra competitive on pricing so we're pleased to say that Burns dog food is our best budget dry dog food here!
To conclude, with a very competitive price considering its substantial quality, ticking practically all the boxes and being genuinely tasty for our dog Burns original dog food is one of the best kibble on the list. There are better dry dog foods on the list if you're willing to pay extra but if you want to strike a balance between cost and quality then you can't beat this stuff. We thoroughly recommend.
Burns Dog Food Original Ingredients
Composition:Brown Rice (58%), Lamb Meal (24%), Oats, Peas, Sunflower Oil, Seaweed, Vitamins & Minerals. Analytical Constituents:Crude Protein 18.5%, Crude Oil & Fats 7.5%, Crude Fibre 2.5%, Crude Ash 8.0%, Moisture 8.0%, Copper 19mg/kg, Sodium 0.19%, Calcium 2.17%, Phosphorus 1.17%, Magnesium 0.13%, Potassium 0.31%, Essential Fatty Acid 3.20% Nutritional Additives: Vitamin A 25,000 iu/kg, Vitamin D3 2,000 iu/Kg, Vitamin E 100 iu/Kg, Calcium Iodate Anhydrous 1.5mg/kg, Cupric Sulphate Pentahydrate 55mg/kg, Sodium Selenite 0.6 mg/kg, Ferrous Sulphate Monohydrate 160mg/kg, Manganous Sulphate Monohydrate 100mg/kg, Zinc Sulphate Monohydrate 130mg/kg
What is dry dog food?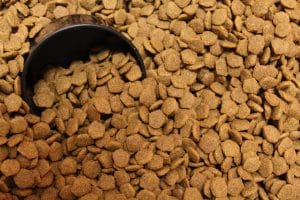 Dry dog food can sometimes be called kibble and is a processed food created using different method of condensing a lot of different nutrients into a small biscuit like food. It is the opposite of wet dog food and often contains different nutrients and minerals that wet food can not posses. Dry food manufacturing is a cheap and energy efficient way to make food for the mass market, it's also a highly efficient way to pack more nutrients and calories into the smallest possible 'nugget'.
Dry dog food is a hard biscuit that does require a decent jaw to break down, however different types of dry foods are made for different sizes of dog. To pack all the nutrients in a process called 'extrusion' is needed – the chosen ingredients are packed together then water is added to increase the moisture level (around 35%). These are are then heated up and pressed at extremely high pressure which then melds the ingredients together, it is then cut to size which results in the kibble. After exiting the extruder, the kibble can then be oven-baked at a lower temperature to reduce the moisture which results in the dryness.
Flavourings can be added to dry food either naturally or artificially which results in a powdered surface.
Benefits of dry food for your dog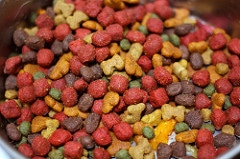 Dry dog food is a modern marvel in terms of giving your dog the best nutrition at an affordable price. Some may argue that dry food is the best food you can give a dog as certain types are 'complete' which means they have all the vitamins and minerals that a dog needs to live a healthy life without the need of wet food; very rarely if at all are wet dog foods complete.
Some of the benefits of dry dog food are:
Complete nutrition for your dog (with some brands)
It's cost effective as dry food is much cheaper per kg than wet food
Modern dry food brands can be hypoallergenic to reduce adverse reactions
Keeps teeth clean and sharp when they chew it
Packed full of fibre to help them poo
Has a very long shelf life
What to consider when looking for dry dog food
Not all dry dog foods are created equal and there are some dry foods out there designed specific for certain dietary requirements and what stage of their life the dog is. Before considering one of our reviewed foods in this page, consider the following:
Age of the dog
There are three stages of a dog when it comes to food: puppy, adult and senior and dogs in these three stages need different combination and quantities of nutrients and minerals . Puppies may need smaller chunks of kibble as they won't have adult teeth yet and the food should contain more nutrients such as protein to maintain their growing body. Senior dogs are better served when their diet has more vital oils and calcium to help maintain their joints in old age. Adult healthy dogs should get a combination of both.
Read more: Best dry puppy food
Health of the dog
You should judge the overall health of your dog to determine whether or not they should be on a special diet to aid recovery, one symptom of this is to eat soil. Please note that being under or over weight is a health signal and you should feed them accordingly. We do have a recommended weight loss specific dry food in the list we think you should consider if you have an obese pooch. Never force-feed a dog if you're concerned they aren't eating – see a vet.
Budget
The bigger and more popular brands can be expensive – you will need to consider if the dog food you want isn't going to cause too much strain on your finances long term. Sometimes taking a cheaper food is the best choice overall. We have made sure to include some budget options in our list.
Criteria to be the best
Dogs will eat most things you put in front of them as long as its tasty but not all feeds are created equal and not all of the food are as healthy as each other. When we brainstormed at JugDog HQ we needed to come up with a criteria that dog foods would be compared against to see if they are fit to be called a good dry food option. Although the criteria has a structure it is also rigid and the reviewers overall judgement is the deciding factor if it's a dead heat – let's take a look at we consider as important aspects in anything you feed your dog:
Is it made using natural products?
Is it hypoallergenic
Is it grain free?
Is it free of additional colours, flavours or preservatives?
Natural ingredients
A major plus point for good dog food is gained if its been made using only natural products. Natural products mean that it has not been made using anything genetically modified or un organic. The vegetables must be natural and the meat must from an actual animal and not pumped full of additives. Foods made without animal by products or 'meat meals' are also given a huge boost from us – animal by product and meat meals refer to using parts such as hooves, heads, feet and so on. Meat should be from the muscle only.
A food with poor ingredients will not be eaten, you may find your dog rather starve than chew it.
Hypoallergenic
No one can ever guarantee if a dog won't get an allergic reaction from foods so there's no official governing body that awards a true hypoallergenic food with a seal of approval. However, foods can be made less likely to cause a reaction by limiting the number of different ingredients, keeping ingredients natural and avoiding genetically modified foods and other known ingredients commonly associated with allergies. So, a food labelled 'hypoallergenic' is not allergic proof but rather extremely unlikely to cause an allergic reaction in a dog.
Allergic reactions can include but not limited to skin rashes, skin dryness, poor quality coat, diarrhoea.
Grain free
View our page on the best grain free dog food here.
A grain free feed means that the food has not been stuffed with 'empty' carbohydrates that provide energy but do not provide much nutrition on their own. Although there is nothing particularly wrong with grains per se, a food where the grains are replaced by other natural ingredients are certainly better. Wheat and corn can also trigger allergies in some dogs as well as flare-up arthritis.
Free of additional colours, flavourings and preservatives
This last one is an obvious one. For us to put our neck on the line and recommend a dry food to you we'd fully expect it to be free of additional colours, flavours and preservatives which can inflate the number of calories, cause digestive problems and give your dog sugar that could be easily be avoided.
Last update on 2020-06-03 / Affiliate links / Images from Amazon Product Advertising API