In the UK we are blessed to live in a country with such high standards of foods for our pets thanks to innovation, competition and tight regulations. This means that UK dog owners have a wide range of options with high standards. However, this does not mean that all dog food is created equal but despite it being impossible to say that one brand offers the best dry dog food there are some which are clearly better options for some breeds.
Our goal during the creation of this article is to firs and foremost understand what nutritional requirements dogs have and find a shortlist of available dog food which can meet this requirement and narrow it down to the brands which can excel passed them.
To save you some time we've created this handy table with our favourites from some categories to make it easier for you to make a decision on which is best for your dog.
Brand
Best Overall
Lily's Kitchen
Best Fish Based
Wellness CORE Dry Dog Food
Best On A Budget
Solimo Dry Dog Food
Best For Weight Loss
James Wellbeloved Naturally Healthy Light Kibble
Image




Best Overall
Image

Best Fish Based
Brand
Wellness CORE Dry Dog Food
Image

Best On A Budget
Image

Best For Weight Loss
Brand
James Wellbeloved Naturally Healthy Light Kibble
Image

The Best Dry Dog Food Brands in the UK
1. Lily's Kitchen Complete Nutrition Dry Dog Food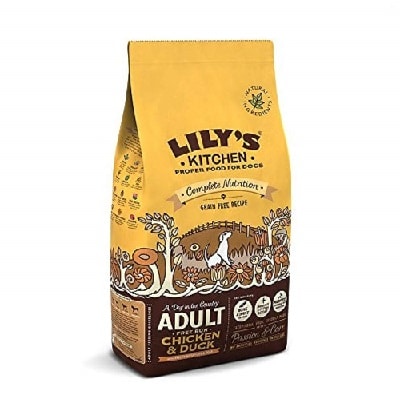 Lily's Kitchen is a brand which offers complete nutrition for your dog which derives its protein from meat content of freshly prepared chicken and duck (41%) and free of meat meal, carbohydrates from sweet potato (30%) which is gentle on most sensitive tums and the fibre comes from a plethora of fruits and vegetables such as peas, carrots, spinach, apples and cranberries which promotes healthy stools and a well-oiled colon. On top of the core ingredients are a variety of supplements such as salmon oil and glucosamine.
Key Features
Core ingredients – Chicken, duck, sweet potato, peas, chicken liver
Benefits – Our analysis tells us that this food is truly complete and has all the required nutrients for a healthy dog.
Allergen information– Gluten Free, Wheat Free, Barley Free, Soy Free, Dairy Free
Other flavours – 6
Price point – ££
Lily's Kitchen complete dry dog food is made with natural ingredients with a healthy protein level from poultry meat, plenty of fibre and great for mildly sensitive stomachs and packed with vitamins and minerals for overall health.
2. Pure Dehydrated Dog Food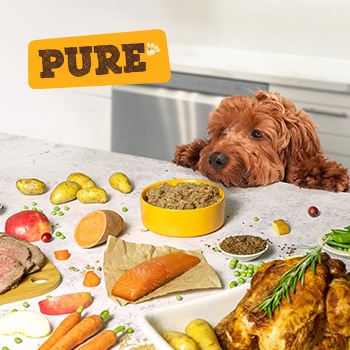 Pure offers a hybrid of wet and dry, providing the convenience of dry food and the tastiness of wet food.
Pure is made by finely chopping up tasty ingredients and removing the moisture gently, preserving and locking in the natural goodness of the food. Therefore, it comes to you as a dry food that you add warm water to yourself, allowing your dog to enjoy a tasty, hot meal that is super healthy too.
Containing only the best, real ingredients, such as prime cuts of meat, fruit and veggies like carrots, peas and apple (tasty!), Pure Pet Food is a fantastic and easy way to give your dog a balanced, delicious dinner. Every recipe is personalised to your dog's needs to make sure that they thrive, also offering grain-free recipes and recipes suitable for various allergies and medical concerns too.
Key Features
Core ingredients – Chicken breast and thigh, carrot, potato, parsnip, apple
Benefits – A convenient and modern way to feed complete nutrition in one meal
Allergen information- Contains wheat gluten
Other flavours – Can be configured uniquely on their website
Price point – ££
Pure is a fantastic and modern meal to offer a dog which contains everything they will need to be healthy as well as an added convenience for owners who currently feed wet and dry.
3. Tails.com Personalised Kibble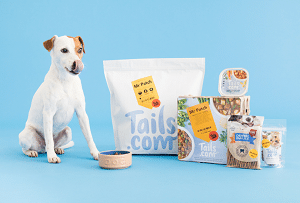 Similar to Pure, Tails.com offer a personalised service who make the recipe just for your dog which means you can let them know if your dog is fussy, has certain allergies or likes a certain flavour. Using the Tails service you can get regular dry dog food delivered to your door on a regular basis so you never run out and the recipe will be exactly the same every time. The ingredients are a perfect blend of meat, vegetables, minerals and vitamins with no artificial flavours or preservatives.
Core ingredients – Lamb/gravy/salmon/chicken, peas, beet pulp, potatoes
Benefits – Recipe tailored specifically to you
Allergen information- Hypollergenic recipes available
Other flavours – Customisable
Price point – £££
4. Arden Grange Adult Dried Dog Food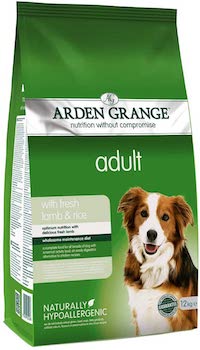 Arden Grange's adult dried dog food is a cost-effective alternative using modern technologies to cheaply offer nutrients and energy. The lamb meat meal is sourced from meadow fed lambs which comes naturally packed with protein, alongside rice for carbohydrates and beep pulp as a source of fibre. Prebiotics FOS and MOS are included to promote gut health.
Key Features
Core ingredients – Lamb meat meal (29%), fresh lamb (5%), rice 26%, maize, refined chicken oil
Benefits – Offers an alternative to chicken and other poultry-based pet food. Contains l tryptophan which is a feel-good hormone.
Allergen information – Contains grains but does not contain wheat gluten, soya, beef, dairy products, artificial colours, flavours or preservatives
Other flavours – Chicken and rice, salmon and rice,
Price point – £££
Arden Grange offers a good quality meal suitable for a normal adult dog with regulated body weight without health issues. The composition of the food is great from our analysis.
5. Harrington's Complete Dry Dog Food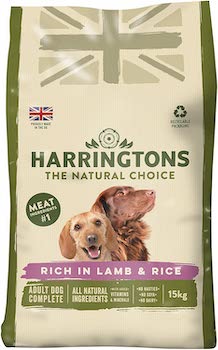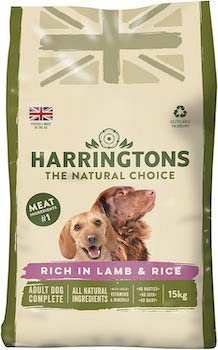 Harrington's offer a dry mix which is cheap and complete and ideal for owners on a budget. The core source of protein is from animal protein in the lamb meat meal (26%) and the carbohydrates come from white rice. The fibre content primarily comes from beet pulp, a common kind of pet food bulking ingredients. What differentiates Harrington's from the pack is the inclusion of omega 3 fatty acids, nutrient-dense kelp, amino acids and citrus antioxidants which helps to combat health problems.
Key Features
Core ingredients – Lamb meat meal (min 14%), Rice (min 14%), beep pulp, poultry fat, linseed
Benefits – One of the cheapest complete meals available in the UK
Allergen information – Contains rice but is free from dairy, free from soya and wheat
Other flavours – Turkey and vegetables, salmon and potato, beef with brown rice
Price point – £
From our analysis and research into the dog food brands market, we've concluded that if you're looking for a balance between price and quality then Harrington's is great for adult dog owners.
6. Orijen Adult Original Dry Food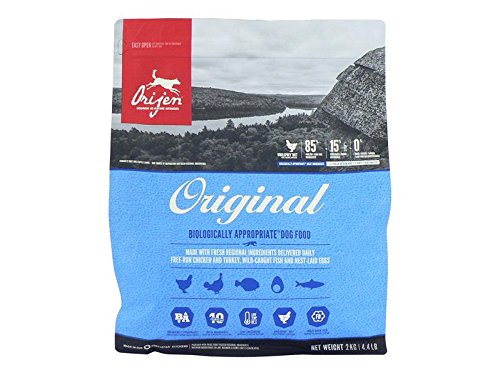 Orijen pride themselves on offering owners a blend which is made of 85% animal ingredients which aim to resemble the natural diet a dog should have. The meat comes from a variety of animals which include turkey, herring, walleye, chicken and salmon. 66% of the meat is fresh and the other 33% is air-dried. This is an incredible amount of animal proteins and one of the highest available in the UK outside of raw food. However, it is not all meat as there are a plethora of vegetables too including peas, lentils, alfalfa, yams and much much more.
Key Features
Core ingredients – Chicken, herring, turkey, eggs, salmon
Benefits – High protein, low carb option
Allergen information – Contains egg but otherwise good for dogs with food intolerances
Other flavours – Six fish, regional red, tundra
Price point – £££
Orijen adult original food brand is one of the best choices for working dogs who need a lot of protein content with owners who don't want to feed them raw food.
7. James Wellbeloved Naturally Healthy Light Kibble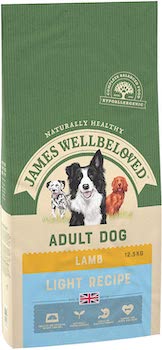 James Wellbeloved offers a naturally light kibble is a good quality food designed for breeds who are prone to obesity or are already overweight. To reduce the calories they use brown and peal rice which is less calorie dense and have some fibre. On top of the rice is barley and sugar beet which aids the digestive system. Seaweed, vitamins and minerals are added to the ingredients to aid the immune system making this blend great for a dog with a health condition.
Key Features
Core ingredients – Turkey meat meal, barley, sugar beet, brown rice, pearl rice
Benefits – Low levels of carbohydrates which is easy on the digestive system
Allergen information – Hypoallergenic
Other flavours – Turkey and rice, lamb and rice, fish and rice
Price point – ££
James Wellbeloved is among the most popular food brands in the UK and their light recipe is one of their best sellers.
8. Burgess Sensitive Hypoallergenic Dog Food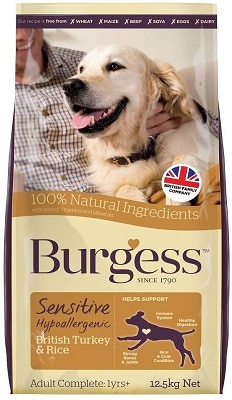 Burgess is a food brand that Jeff ate during a time where he seemed to eat grass and suffered from flatulence and loose stools. Burgess is a light and easily digestible meal which uses salmon as the main source of high-quality protein and natural omega 3 fatty acids. Rice is used as the source of carbohydrates as its easily digestible. The fibre comes from beet pulp. Burgess adds lucerne as an antioxidant to improve overall well being and boost the immune system and prebiotics are used to help the stomach and colon do its job. Burgess is hypoallergenic which is necessary for dogs who have a food allergy.
Key Features
Core ingredients – Rice, salmon, chicken meal, poultry fat, beet pulp
Benefits – Perfect food to keep an active dog with food allergies fed
Allergen information – Hypoallergenic, free from wheat flour
Other flavours – Turkey and rice
Price point – ££
A cost-effective dog food best for dogs who have allergies or suspected allergies whilst still living an active life as the salmon promoted muscle growth and recovery and the rice gives loads of energy.
9. Amazon Brand – Solimo Complete Dry Dog Food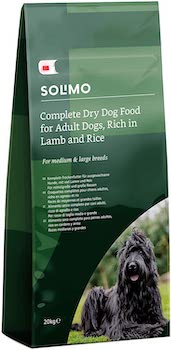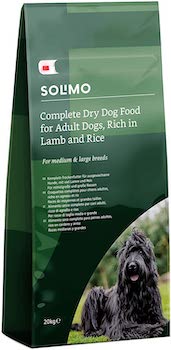 Amazon hasn't always been all about the dog food until very recently but has always been a big seller of pet foods. Now, they are offering their own brand which offers unmatched delivery times and one of the cheapest pet food on the UK market for dog owners. Solimo offers high-quality complete nutrition which has been developed by nutritionists and veterinarian approved. The meat comes from Tukey which is easily digestible and the carbohydrates come from cereals such as maize. The fibre comes from natural ingredients such as peas and beet pulp. Lastly, probiotics are included to help the immune system.
Key Features
Core ingredients – Turkey, maize, peas, linseed, beet pulp
Benefits – Extremely cost-effective food for adult dogs without allergies
Allergen information – Contains cereals,
Other flavours – Chicken with peas
Price point – £
This is a great pet food option but it is not grain-free or hypoallergenic. Ideal for healthy and active dogs.
10. Wellness CORE Wellness Large Breed Original Dog Food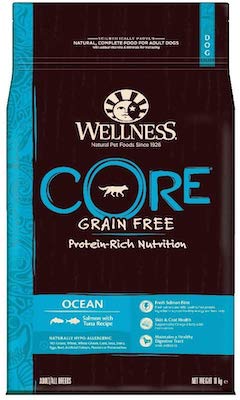 Wellness CORE is a brand promote dog foods for good health. The recipe we were able to try was for large breeds so Simon and Kim got involved. The main ingredients are chicken meat which is in abundance at 57% of the total. 25% of it is fresh. Potatoes, peas and linseeds are included for carbohydrates as well as fibre but the magic comes from some of the other natural ingredients which are broccoli, spinach, tomatoes, cranberries, blueberries which really does make it among the healthiest dog food brands on the market and rivals the likes of Royal Canin.
Key Features
Core ingredients – Chicken and chicken meal, potatoes, peas, linseed, beet pulp
Benefits – High protein, an impressive number of natural ingredients and useful additives such as L-Carnitine and Chicory Root.
Allergen information – Grain-free
Other flavours – Chicken with peas
Price point – £££
Which best dog food to buy is not an easy question to answer but we would certainly be confident to say that Wellness CORE will give large breeds a massive health boost per day.
11. Pooch & Mutt – Complete Dry Dog Food – Calm & Relaxed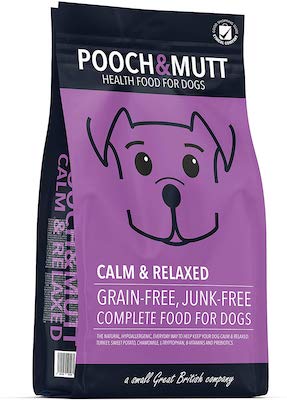 Pooch and Mutt seem to understand all about dog food more than most adult dog food brands as they offer a variety of pet food which caters to more than feeding them and making them full. The product we've highlighted here is a calm and relaxed recipe which includes ingredients which can help reduce anxiety and overall calmness. They've done this by adding chamomile a well known calming plant, l-tryptophan which helps release feel-good hormones and prebiotics which promotes a healthy gut. This flavour is turkey meat and potato perfect for adult dogs of any body weight.
Key Features
Core ingredients – Turkey, potato, peas, beet pulp, brewer's yeast
Benefits – Best dog food for calmness – active ingredients to help relax dogs who are prone to anxiety
Allergen information – Grain-free, fatty acids, a lot of meat
Other flavours – Health and digestion, joint care, slim and slender
Price point – £££
12. Angell Petco's Complete Superior Adult Dog Food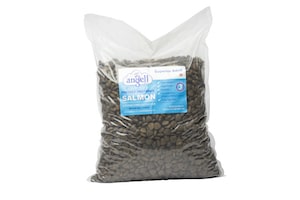 Angell Petco specialises in organic, nutrient-rich dog food made with fresh ingredients and a unique cooking process. Grain-free and hypoallergenic, their food contains natural ingredients only, including fresh salmon (37%) and real potatoes (36%). The highly digestible Superior Adult food is packed with Omega-3 fatty acids, vitamins and minerals, perfect for healthy skin, glossy coats, superior gut health and a fighting-fit immune system.
Key Features
Core ingredients – Salmon (37%), Potato (36%), Salmon Oil (11%), Peas (5%), Beet Fibre, Brewers Yeast, Minerals and Vitamins.
Benefits – A unique cooking process preserves the natural goodness and flavour of the ingredients, allowing for the effective delivery of nutrients to your dog in every delicious meal.
Allergen information – Free from artificial additives, preservatives, flavouring, non-nutritional fillers, wheat and gluten.
Other flavours – Lamb & Rice, Trout & Whitefish, Salmon & Whitefish
Price point – ££
Angell Petco stocks specially formulated complete dog food for puppies, adults and senior dogs, as well as a range of healthy, nutritious dog treats and natural supplements.
Dry Dog Food Buyer's Guide
What is dry dog food?
Dry dog food can sometimes be called kibble and is a processed food created using a method of condensing a lot of different nutrients into a small biscuit-like food using a cooking method called extrusion. This method rose in prominence in the 1950s by the company Ralston Purina who adapted their extrusion method used to make breakfast cereal to pet food. Dry food manufacturing is a cheap and energy-efficient way to make food for the mass market, it's also a highly efficient way to pack more nutrients and calories into the smallest possible 'nugget'.
Dry dog food is a hard biscuit that does require some chewing and not as palatable as wet food, however different types of dry foods are made for different sizes of dog. To pack all the nutrients in a process called 'extrusion' is needed – the chosen ingredients are packed together then water is added to increase the moisture level (around 35%). These are then heated up and pressed at extremely high pressure which then melds the ingredients together, it is then cut to size which results in the kibble. After exiting the extruder, the kibble can then be oven-baked at a lower temperature to reduce the moisture which results in the dryness.
Flavourings can be added to dry food either naturally or artificially which results in a powdered surface.
What is the best dry dog food on the market?
Contrary to what it may seem, dry pet food offers complete nutrition and a dog does need to eat anything else to meet their minimum requirements of calories, vitamins and minerals. The difference between an average brand and one of the best dry dog foods is what ingredients are used to meet those requirements and what ingredients are added in addition to these minimums.
But, there is no such thing as the best for all dogs but there can be best for your dog. The reason for this is that every pet has their own preference in terms of flavour and texture, they'll have their own unique digestive system which may struggle with some dog food ingredients and it's not uncommon for dogs to have allergies to certain ingredients which are common in dog foods such as grains, dairy, soy, wheat and gluten.
Therefore, what we've done with our research is come up with reviews and a top 10 list of the best dog food with at least one brand which will be perfect for any dog.
Benefits of dry food for your dog
Dry dog food is a modern marvel in terms of giving your dog the best nutrition at an affordable price. It is not only beneficial to the pet but the owner, too. Some may argue that these foods are the best food you can give a dog as certain types are 'complete' whereas alternatives such as raw and wet are not. This means they have all the vitamins and minerals that a dog needs to live a healthy life without the need of supplementation.
Complete nutrition for your dog – Due to the nature of the extrusion method, pet food brands are able to quite literally combine a whole host of ingredients into one dough before it's baked into a biscuit. As a rule of thumb, dog food will have around 30%-40% protein, 20-30% carbs and 30%-40% fat and 5-8% vitamins and minerals.
Highly digestible – Thanks to strict regulations, modern dog food is free from harmful and indigestible bulking ingredients which makes it easy for a dog to digest and absorb into the body. This has been the case since the 1960s with the introduction of the Pet Food Institute, FEDIAF and other governing bodies like them.
Cost-effective – The extrusion method makes it cheap to make the food in large quantities for the manufacturer and these savings trickle down to dog owners. Owners can also make further savings by opting to buy the food in bulk. It is not uncommon to be able to purchase a month's worth of food for less than £30 which is near impossible with canned or raw food.
Wide variety of recipes to individual dogs – Dog food has come a long way since its introduction in the 1950s. Manufacturers are now able to cater to specific breeds, size, life stages and every potentially food allergies under the sun. This means that even the most unhealthy or picky eater out there can find a brand which is exactly what they need.
Keeps teeth clean and sharp – Dry dog foods are crunchy and need some chewing before they can be swallowed. This means that the best dry UK food for dogs can actively clean their teeth as they eat as well as exercise their jaws. Alternatives such as wet and raw can be tricky when they get stuck between the teeth which can require intervention but dry doesn't suffer as much from this problem.
Long shelf life – Dried food lasts a long time so long as it's kept correctly, preferably with a dog food container which again makes bulk buying a cost-effective option.
Special terms used with dry dog food
We've used a few terms in our review and in the ingredients list so we thought we'd take the time to explain some of the more uncommon phrases.
Meat meal – Meat meal is the end result of overcooking the meat to the point it turns into a concentrated powder which is high and protein and almost no moisture. This does make it less natural but many nutrients are kept intact and it's easier to get the proportions right with this process. Most foods will contain chicken meal with many brands opting for a mix of fresh meat and meat meal.
Beet Pulp – Beet pulp is what's left after sugar is extracted from sugar beets and it is packed with fibre. Beet pulp is a common and easy to add ingredient which helps add fibre to the kibble to support the nutritional needs of the dog. Visit our high fibre dog food page for recipes with more of this content.
Linseed – Linseed is used to boost omega 3 fatty acids in the food. Omega 6 generally comes from the meat.
Yucca extract – Yucca extract is a powerful and natural antioxidant and can help reduce the odour produced when they fart. Visit our page on the best dog foods for flatulence for more on this.
Grains – As the AKC report, grains have had an unfair reputation over the years with the vast majority of dogs perfectly capable of digesting it and there's no need for most owners to buy grain-free food. However, some dogs may be allergic to grains so we've made sure to list if the recipe contains them or not. The three most widely used grains are wheat, rice and corn. If you are looking for a grain-free recipe then check our best grain-free dry dog food page.
Prebiotics – Prebiotics are non-digestible nutrients designed to feed certain bacterias in the gut to help maintain a healthy immune system and a properly working digestive system. The Whole Dog Journal provides a much more in-depth description of the good they can do.
What to consider when looking for dry dog food
Getting the right food is easy so long as the customer researches the nutritional requirements of their own dog and where they are in their life. Before reading our list and parting with money ask yourself a few questions;
Age of the dog – Puppies need speciality food so take a look at our best dry puppy food page and senior dogs need food with added vitamins and supplements which are rich in oils to support ageing joints.
The health of the dog – Is your dog in good shape or not is a key question to ask as a dog food brand such as Royal Canin or Arden Grange will have specific recipes to help with certain conditions.
The activity levels of the dog – How active a dog is playing a big part in which food to find for a pet. Working dogs need a lot of protein to recover and carbohydrates to fuel their activity. Whereas a more passive dog doesn't need anything special.
FAQs
What is the best dog food recommended by vets?
The dog food which vets tend to recommend is Hill's Science, Royal Canin, Arden Grange. However, this recommendation can vary from one practice to another and should be taken with a grain of salt. The PDSA give guidelines on what to look for which is similar to the contents of this page but do not specify any particular brand.
What is the best dry dog food for working dogs?
The best dog food for working dogs will include a high level of protein to sustain their muscles and complex carbohydrates which will give them a slow release of energy between meals. As a bonus, foods with omega 3 and 6 help with active joints and foods with prebiotics and fibre promote a healthy gut which is essential to any dog, working or not.
What's the safest way to transition my dog to new dry dog food?
The safest way to introduce a new food to a dog is gradual, starting by replacing about a quarter of their current food and increasing in increments over a week. The best way to see if they have taken well to the new food is to observe their stools. Healthy stools should be firm and not extremely smelly. If you have problems with loose stools then why not check out our best dog food for firm stools page.
Are there any ingredients which should be avoided?
Yes. Ingredients which are not recommended under any circumstances are preservatives butylated hydroxyanisole, butylated hydroxytoluene, tertiary butylhydroquinone and ethoxyquin, artificial dyes and any meat source which has not been properly identified on the label. However, due to tight UK and EU regulations, you should never find any foods which contain these on the shelves.
Last update on 2022-07-02 / Affiliate links / Images from Amazon Product Advertising API