Gifts for dogs
Whether it's their birthday, the anniversary of joining their forever home or a seasonal holiday; we love to treat our pets and celebrate these milestones. Our pets are members of our family. So when we gather together to open presents, we want to make sure our 4-legged friends are included and treated to a gift they'll love. As we are all too aware, our dogs won't have as many birthdays as us so it's important to make a special occasion once a year to celebrate their lives and all they bring to our family. Knowing what to get your pooch can be tricky: this is our guide to the best gifts for your dogs that they will love.
Best for the fashionable four-legged friend
How gorgeous is this fleece dog hoodie? It's the ideal fleece hoodie for your dog to keep them warm on those early morning walks. Clothing is a fun way of showing off your pet's personality whilst also being a practical gift to keep them warm or stop their fur getting wet or muddy. The wine/grey colour combination is trendy and will suit your dog perfectly. This gift not only looks good but is practical too: the fleece material is shower resistant; it can be washed in the washing machine or by hand, and the fit can be adjusted. The dog hoodie is available in three sizes: small, medium and large so you can select the fit that would best suit your dog. You can order and collect this item for free in-store or, if you're spoiling your dog to a few extra gifts or necessities, you can get free delivery if you're spending over £39.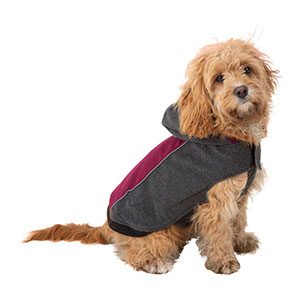 Best for a bored dog that needs stimulation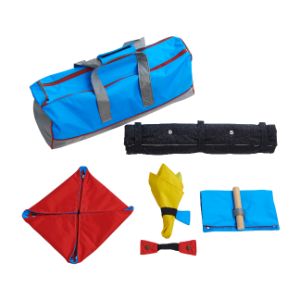 We have been so impressed with this Activity Mat by Buster. Buster are a forward-thinking company that have designed this mat in such a way to stimulate your pet mentally for a healthy mind. Within this activity mat you can: hide dry food or a treat then allow your dog to retrieve them; you can change the tasks daily to keep your pet interested; you can increase the difficulty of the task; you can enjoy interacting with your dog- this mat is a fabulous way to bond and play with your pet that the whole family can get involved in. This is one of the more expensive dog gifts we have selected, at £45 with free delivery, but we feel confident that this gift is excellent value for money. This set comes with a carrier bag, mat and three activities (the envelope, the water lily and the cone cloth). But complementary activities can be bought separately – perhaps as another gift later in the year. This gift will keep your dog entertained and stimulated which can have such a positive outcome on your pet's behaviour.
Best for a greedy dog
If your dog likes to eat different meals and treats – this is a brilliant gift set for their birthday, new home or even a new home gift to help them to settle in to their new environment. The gift includes a bottle of Bottom Sniffer dog beer: this is a healthy, non-alcoholic drink that is poured over their dog food to soften it and give it an extra flavour. The gift also includes a 300g bag of Billy and Margot Venison marrow bones and a box of their nutritious training biscuits. There are some delicious coconut, banana and peanut butter daily treats by the brand Tribal. The whole gift set is packed into a beautiful Not in the Dog House branded box and lined with black tissue paper. So all in all this is a fabulous gift both for your own dog and for a friend or family member's pooch.
Best for a dog that likes variety
If your dog loves to chew, squeak and fetch then why not treat them to this gift set of multiple toys? This gift set contains 7 dog toys: a chew toy, a squeak toy, a ball, a toy bone, a plush dog, a rope and a tug of war ball. The bright colours of the selection of toys will attract the interest of your pet immediately. If you're looking for a gift for your dog on a family occasion such as Christmas – this is ideal as this gift set will keep your four-legged friend entertained while the rest of the family open their gifts. Each toy in the set has been designed with pets in mind: they are safe for your dog to play with independently as well as with you or other family members to encourage bonding between you and your pet. You can also order this set and divide the toys out over the year for a number of special occasions or between two or more dogs if you're lucky enough to have more than one pooch at home.
Best for a thirsty pup
If you're regularly out for walks with your dog and you notice they get thirsty – this is a practical gift to make their walk more enjoyable. The COTOP portable dog water bottle is portable and convenient. It is quick and easy to use: there is just one key to open/lock the water making it quick and easy to get fresh water to your dog. The bottle holds up to 12oz of fresh water which can be poured into the dog friendly 'bowl' attached to the bottle. There is a reason that this bottle is a best seller- every aspect of the bottle has been carefully considered with ease for you and safety of your dog at the forefront of their design. It is a practical gift for your dog: but it will make walks more enjoyable for both of you and may even encourage you to get out to new destinations or extend your walks which is the best gift for your dog.
Sale
Best for a dog that's home alone
If your dog is often home alone, this is the ultimate gift to keep them entertained, safe and in contact with you whilst you're away from them. This gift allows you to see your dog clearly day and night with a superb 1080p Full HD camera. Talk to your dog from wherever you are and even hear what he's doing with 2-way-chat. One of the best features of this gift is that you can play with your dog even when you're away: you can remotely toss treats to your dog via the free Furbo app that you can download onto your phone. You can put your dogs favourite treats into the device and reward them for the good behaviour you see on the device. This is the most expensive gift we have selected in our guide but we fully believe that this gift is worth the price-point as not only is it the ultimate entertainment for them when you are out of the house, but it is also a fabulous piece of technology to keep your pet safe and monitored during times that you cannot be with them.
Read our list of the best dog cameras.
Sale
Best for a dog that wants to celebrate on social media
We love this Happy Birthday bandana and hat set for your dog to wear to celebrate their special day! This is an excellent way to have some fun on their birthday and entertain your friends online with a Happy Birthday post and picture of your pooch celebrating their birthday. There are a range of designs available for your dog so that you can choose the best one to suit their personality. Although this gift may just seem a bit of fun initially, it is premium quality and has been made to last. Therefore, it's a gift that can be brought out every year to celebrate your dog's special day. Both items can be adjusted to fit your dog perfectly.
Related: Best dog cooling bandana
Best for Christmas gifts for dogs
This stocking by Cupid and Comet is a wonderful gift for your dog this Christmas. The stocking contains three Christmas Dinner dog treats: salmon for starters, turkey for the main course and cheese biscuits for their dessert. The treats are made with real salmon, turkey and cheese – so as well as being a fun and tasty  gift – it is healthy and nutritious too. The stocking also contains two toys: a squeaky cracker for pre-dinner entertainment and a tennis ball for some entertainment after the meal. Treating your dog to a gift over Christmas is not only a lovely away to treat them but it also ensures they are kept entertained and included throughout the day when your attention may be elsewhere. 
Best for a wet dog
How lovely is this personalised microfibre towel for your dog? If your dog loves a walk in the rain, to run through puddles or loves a wash then why not treat them to a super absorbent microfibre towel to ensure they can have their fun but also dry them off before they shake their wet fur in the house! The lovely thing about this gift is that you can personalise it: you can get up to 12 characters embroidered onto the town with a choice of font and colours. The towel is 110×60 cm and is machine washable. It is lightweight and folds up which makes it an ideal towel to take with you on longer walks. Although it isn't a gift that your dog can play with – its a gift that promises long walks in the rain, rolling in mud and splashing in puddles which are the ultimate gifts for your dog to enjoy! 
Best gift for puppies
If you or a family member or friend are getting a new puppy- this is a lovely gift to welcome them home. The All Pet Solutions puppy gift set contains 4 squeaky toys: a cactus, a cushion, a plush teddy and a heart (pink set) or a star (blue set). These toys are perfect for attracting your puppy's attention and gives them a chance to vent their excess energy – which they will have a lot of! The gift set also includes a ball toy which is perfect for toss and chew games which are essential for dogs as their teeth grow. Puppies naturally chew – if you can provide them with a chew toy or ball they will chew this rather than your wires, shoes or cushions. The items within the gift set are made of safe, non-toxic materials so you can relax whilst they explore their new toys. The gift set is available in rose pink or aqua blue – it is perfect for welcoming your new bundle of furry joy home.
We hope you you have enjoyed reading our guide to the perfect gift for your dog. We love to celebrate the special occasions with our dogs and hopefully you have found the perfect gift for your four-legged friend. If you do make a purchase and take a photo for social media then do tag us so we can share it to our page: we love to see dogs be spoiled and treated for their birthdays or other holidays.
Last update on 2022-05-19 / Affiliate links / Images from Amazon Product Advertising API