In another 'episode' of Ask the Jug Dog, we have an anatomical question related specifically to male dogs…
"I have a 3-year-old Labrador who has had the snip (neutered) for around 2 years now but recently he's started getting erections at random times. I thought neutered dogs couldn't get it up anymore? Should I be worried?".

Joseph Holden, 34, Newcastle
This is a common question we get at the Jug Dog. There are many assumptions out there about what neutering/castration/the snip actually does and what it doesn't. Many people have their dog neutered to calm them down or to make sure they don't give you any unexpected visitors at your door angry their dog's pregnant. An erection is something they can still get and in this blog post, we're going to explore what causes them and what to do about them if they are happening frequently or for a long period of time.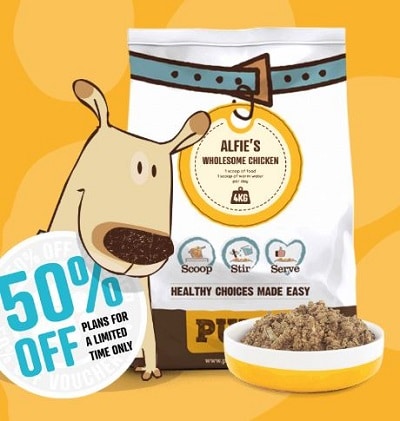 Can neutered dogs get erections?
Let's dispell the myth right here – neutered dogs can and probably will get erections. When a dog is neutered their testosterone factory is inhibited and their puppy making semen is no longer in production but that doesn't stop your dog from getting excited and therefore having an erection from it.
They will have a lot fewer erections, stop humping everything in sight and won't feel the need to mark their territory as much after neutering but it won't stop completely. If your dog gets excited, for whatever reason, the body can react by sending blood to the penis along with baculum (penis bone) to produce an erection which looks a little bit like lipstick sticking out.
Neutering doesn't remove the baculum and does not stop the blood flow to the penis and that is why neutered dogs can and will get erections.
What to do if your neutered dog has an erection
Here's some advice for you if your dog does get an erection.
Figure out the cause
If your dog gets an erection and/or tries to hump things try and make a note of the situation which caused it. Did it happen just as you can come in from work? Does it happen when you tell them it's time for walkies? Whatever it is that seems to cause it to try and downplay the next time it happens and you'll find that these erections will start to become a thing of the past.
Ignore it
The most widely used response to a neutered dog's boner is to simply ignore it. By ignoring the dog when their that excited you can help them calm down so that it goes away naturally.
Make sure they are well exercised
A healthy dog is a dog who is well exercised and isn't frustrated. Make sure to keep your dog active so that their frustrations don't build up. We've all heard of humans suffering from sexual frustration and dogs can get it as well which can be abated with a nice walk.
Cold water
There's no better way to get rid of a castrated dog's erection than a blast of cold water. This could be particularly effective for those with dogs with erections which don't seem to away and your dog is looking stressed or uncomfortable because of it.
What causes a neutered dog to get a hard on
There are several reasons why a dog could get an erection, we'll list them here to help you diagnose the cause of your dog's lipstick..
Sexual excitement
The first and most obvious cause of a dog's erection is sexual excitement. Of course, a neutered dog has a much-reduced interest in sexual intercourse following neutering but that's not to say they don't get excited from time to time and show their excitement with humping, mounting followed by an erection. A bitch doesn't need to be involved as dogs can start to hump because they're bored.
This is completely normal behavior albeit rarer for a neutered dog.
Happiness
Dogs can get erections from just being happy and excited. Do you notice the lipstick coming out when you get home from work or when you suggest going for walkies? That could be the root cause.
Anxiety/stress
In some rare cases, sudden anxiety and stress could cause some dogs to have an erection and not an enjoyable one even if they've been neutered. Anxiety and stress-related erections can manifest itself in an erection that comes quickly and seems to take a while to go away (see our notes on how to get rid of it).
Has the dog recently gone through any trauma? Has anything major changed in the house such as the arrival of a new baby? These sorts of big changes can make a dog feel uneasy which can result in unexpected erections.
As time goes by the anxiety should ease off as will the hard-ons.
Paraphimosis
Paraphimosis is a medical term for an erection that won't go away which is a genuine concern for the dog and you, the owner. A neutered dog can also suffer from this condition This condition means that the penis cannot be retracted under the sheath which can lead to great discomfort, pain and further complications if medical assistance isn't sought. The main concern is dryness and irritation occurring on the penis from being overexposed.
If your dog's erection has been present for an abnormal length of time and they look to be in discomfort then medical attention should be sought immediately. If that's not possible then ensure the penis stays moist with lubrication.
Related Articles