Hip dysplasia is a disease which makes the joints not grow properly and become misaligned leading to uncomfortable movement and constant pain. This can lead to a severe downgrade in a dog's quality of life as one of the things they enjoy the most is taken away from them – movement and play.
There's no cure for hip dysplasia, sadly, but there are a lot of things an owner can do to help with managing it as best as possible – one of those things is to ensure they still get as much exercise as they can but that is easier said than done. This article aims to help owners with dogs suffering from the disease to learn how to give them exercise without making it too uncomfortable.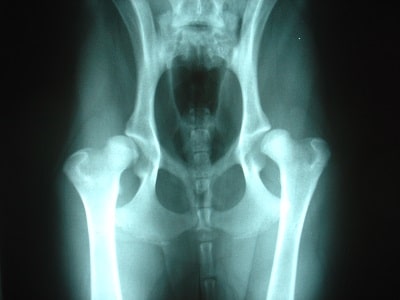 Why do dogs with hip dysplasia need exercise?
Dogs with HD who do not get enough exercise may see their condition worsen more than if they did get out and about. Exercise helps keep the joints supple and their mental health in a positive range. Exercise also keeps obesity at bay which can put even more pressure on the joints from the extra weight.
In simple terms, exercise is not only beneficial but encouraged for dogs with the disease. If you've adopted a dog with joint problems or your dog has developed it over time this is an essential guide.
What exercises are good for dogs with hip dysplasia?
Simple short walks
For dogs with early signs of hip dysplasia there is no better way to get some exercise than simple short walks. Never over do it as this can lead to wearing down the joints. Try to walk them on soft and even surfaces such as grass. Your own garden is perfect for this.
If you don't have a garden or a decent place to walk close to home then consider investing in a dog ramp to easily put them in the car to drive to a good park. Be prepared to train them to use it.
Swimming/paddling
Hydrotherapy is a much lauded method of exercising disabled dogs as the water takes the pressure off the joints and they can swim pain free. You can easily find a decent dog pool to accommodate your dog – you don't need to find a speciality provider which could cost a lot of money for this.
Household and garden games
Get them to move themselves by engaging in low activity movement games in the house such as fetch, hide and seek and search. Hide treats in the garden and around the house to encourage them to seek it out – they won't be forced to move and they'll only do it if they want to. Don't do anything rambunctious that may lead to them having to change direction harshly as this can hurt the joints.
Massages
Massaging their aching joints can alleviate some pain and help keep the joints supple. A massage is easy to do and should be done every day regardless of exercise.
Conclusion
To slow the progress of hip dysplasia, exercise is strongly recommended along with a healthy diet. Not only is exercise good for the body but it is good for the soul and a happier dog is more likely to stay mobile for the longest possible time before the disease really takes over. You can quite easily add a few years to their joints with regular exercise.
Related Articles