Dogs are fun pets; there's no debating that. But keeping them clean and hygienic is a challenge and a half, especially when it comes to bathing them.
While some dogs love water, a lot of them don't. That's why having the right equipment for bathing your dog is essential.
Lucky for you, I have bought, tested and reviewed the five best bathtubs for dogs available in the UK. And I'll discuss how you can choose the best one for your doggo.
Which is the best bathtub for dogs in UK?
The Flying Pig Dog Grooming Tub is the best dog bathtub in the UK due to its perfect size, heavy-duty plastic basin, stainless steel stand, 360-degree access, adjustable levellers for uneven floors, and a non-slip base. Additionally, it's placed high to protect your back.
How to choose the best bathtubs for your doggo?
1. Budget
Consider your budget when choosing a bathtub for your dog. Bathtubs come at different prices, from budget-friendly options to more high-end models.
Generally, good-quality and size-appropriate bathtubs for dogs cost somewhere between £30 to £150 in the UK. The actual cost varies depending on the size and features of the tub. Choosing a durable tub with necessary features like non-slip surfaces is best.
2. Size
When choosing a bathtub for your dog, size is an essential factor.
You'll want to ensure the bathtub is big enough for your dog to fit in and move around comfortably. Consider your dog's breed, weight, and height when choosing the bathtub size.
3. Material
The material of the bathtub will play a role in durability and ease of maintenance. Regular bathtubs will take a beating from a dog's nails, so purchase one with thick and rigid plastic so as not to waste your money.
Plastic and metal are two common materials used in dog bathtubs, each with pros and cons. Plastic is lightweight, portable, and affordable, while metal is more durable and sturdy.
Read More: How to dry a dog quickly after a bath?
4. Portability & Location
Consider if you need a bathtub that can quickly move from one location to another. Or, if you want a tub with a fixed place but some extra features.
Portable bathtubs are great for those who travel with their dogs or need to move the tub from room to room.
You also need to choose whether you'll use the tub indoors or outdoors.
For indoor use, get a tub with high walls, a lightweight structure and handles for carrying.
For outdoor use, you have more flexibility with your choices, as excess splashes are a little less of a problem, and how you empty the water is more accessible.
5. Drainage
The drainage system ensures that you can easily remove water from the bathtub after each use. Look for a bathtub with a drainage system that is easy to use and ensures that water is quickly removed.
6. Non-slip surface
Safety is a top priority when bathing your dog, and a non-slip surface can help ensure your dog is secure in the bathtub. Look for bathtubs with non-slip surfaces to prevent slipping and sliding while your dog is getting washed.
Considering these factors, you can ensure that you choose the best bathtub for your furry friend, ensuring they are comfortable and safe while getting clean.
The Top 5 Best Dog Bathtubs in the UK
1. Editor's Choice: Flying Pig Dog Grooming Bathtub
Price: £392.94
Size: 37.5″ x 19.5″ x 35.5″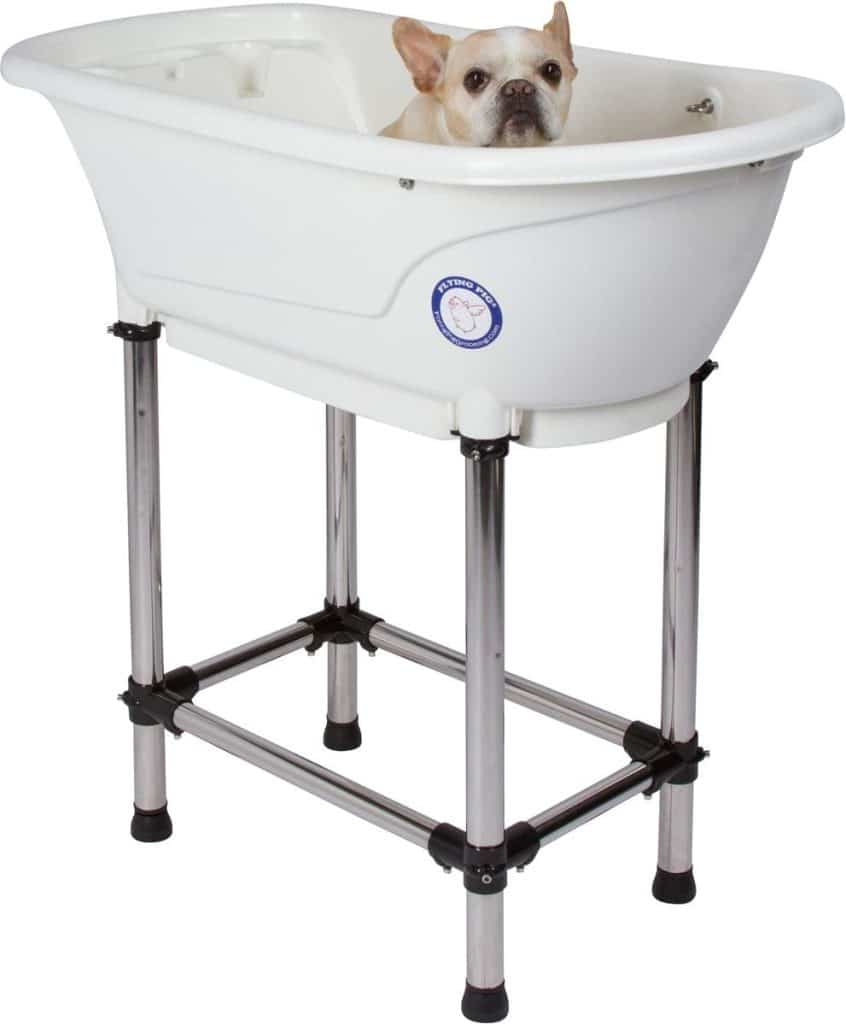 The Flying Pig Dog Grooming Bathtub is an excellent option for dog owners looking for a durable and convenient bathtub for their medium to small pets.
The basin of this bathtub is made of heavy-duty plastic material, and the stand (legs) is made of stainless steel, making it both sturdy and long-lasting. The tub's whole unit can accommodate dogs weighing up to 68 kg.
The best feature is the adjustable leveller – a godsend for uneven floors. The bathtub is also lightweight and portable, making it easy to store when not in use.
Pros:
Standing tub
Durable material
Adjustable leveller
Portable and lightweight
Space for shampoo
Cons:
Expensive
Not suitable for larger dogs
Buy Flying Pig Dog Grooming Bathtub on Amazon UK
2. Best Budget Choice: Prosper Plast Dog Cat Bathtub
Price: £19.93 – £32.88
Size: available in multiple sizes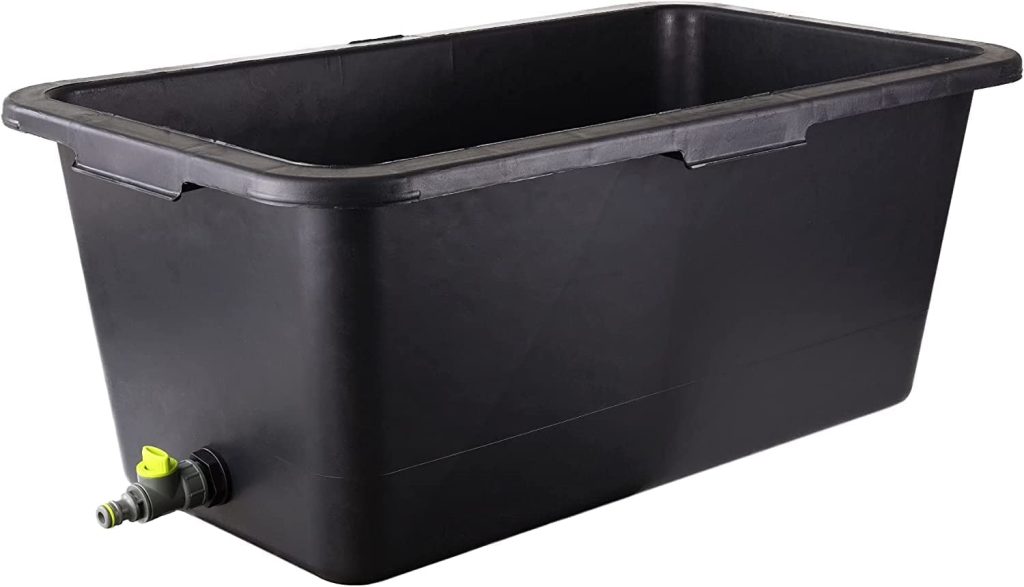 The Prosper Plast Dog Cat Bathtub is a budget-friendly option for pet owners in the UK. It's made from BPA-free and 100% pet-safe materials, ensuring your furry friend is protected from toxic components.
The product is available in multiple sizes, making it suitable for small and big dogs. It has a functional tap that makes filling and draining the water easy.
Another great feature is the drainage, so you don't need to lift the tub from the ground. You can connect it inside and outside to your garden water hose for easier cleaning.
Pros:
Budget-friendly
Made from pet-safe materials
Available in different sizes
Easy to fill and drain water
Cons:
Made of plastic
Not as durable as Flying Pig Tub
Buy Prosper Plast Dog Cat Bathtub on Amazon UK
3. Best for Small Dogs: Collapsible Pet Bathtub by ddLUCK
Price: £32.99
Size: 24" x 15" x 3.25"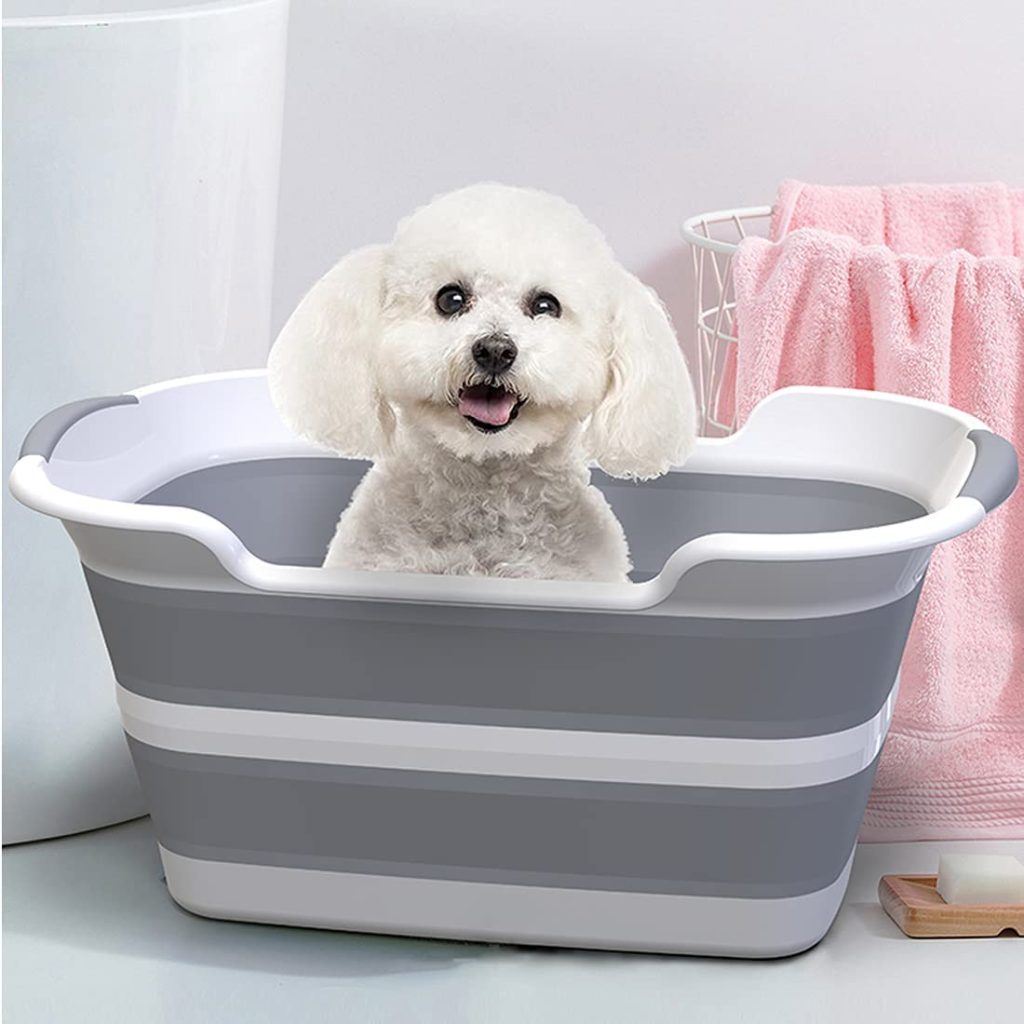 The Collapsible Pet Bathtub by ddLUCK is the best dog bathtub in the UK for pet owners with small-sized dogs weighing less than 15kg. The collapsible design makes it easy to store without taking up much space. Hence it's a great choice for travellers.
Additionally, the bathtub comes with a drainage hole, making draining the water fast and convenient after use. It's made of soft and strong PP and TPR material, durable enough to withstand normal wear and tear.
Buy Collapsible Pet Bathtub by ddLUCK on Amazon UK.
4. Standing Boat Foldable Pet Dog Bathing Tub
Price: £99.99
Size: 24" x 21" x 6.3"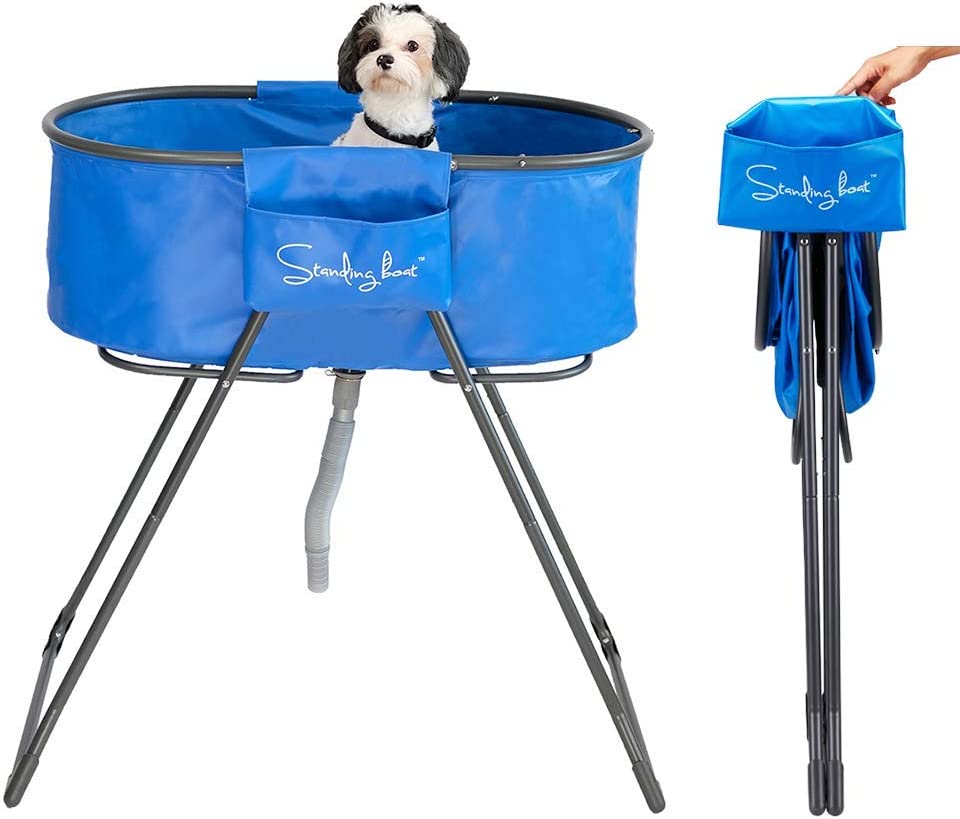 This is a top-of-the-line option for pet owners in the UK looking for a comfortable, convenient, and durable dog bathtub. One of the main benefits is that it's designed with pet owners in mind.
Due to the comfortable elevation, an easy drain hose, 360-degree access, and convenient side bags, bathing your pet is now a breeze. Another advantage of this tub is that it is perfect for small to medium-sized pets holding up to 40 kg.
It is made of yacht-grade PVC, and the frame is made of stainless aluminium tubing. Additionally, it's foldable to make transportation and storage easier.
Pros:
Elevation equals no back problems
Perfect for small to medium-sized pets
Lightweight and durable
Foldable in one second for easy storage and transport
Cons:
Expensive
Not suitable for larger pets
Assembly required for first-time use
Buy Standing Boat Foldable Pet Dog Bathing Tub
5. Peteast Splash Sprinkler Pad for Dog Baths
Price: £50.39 – £56.15
Size: 51″ – 67"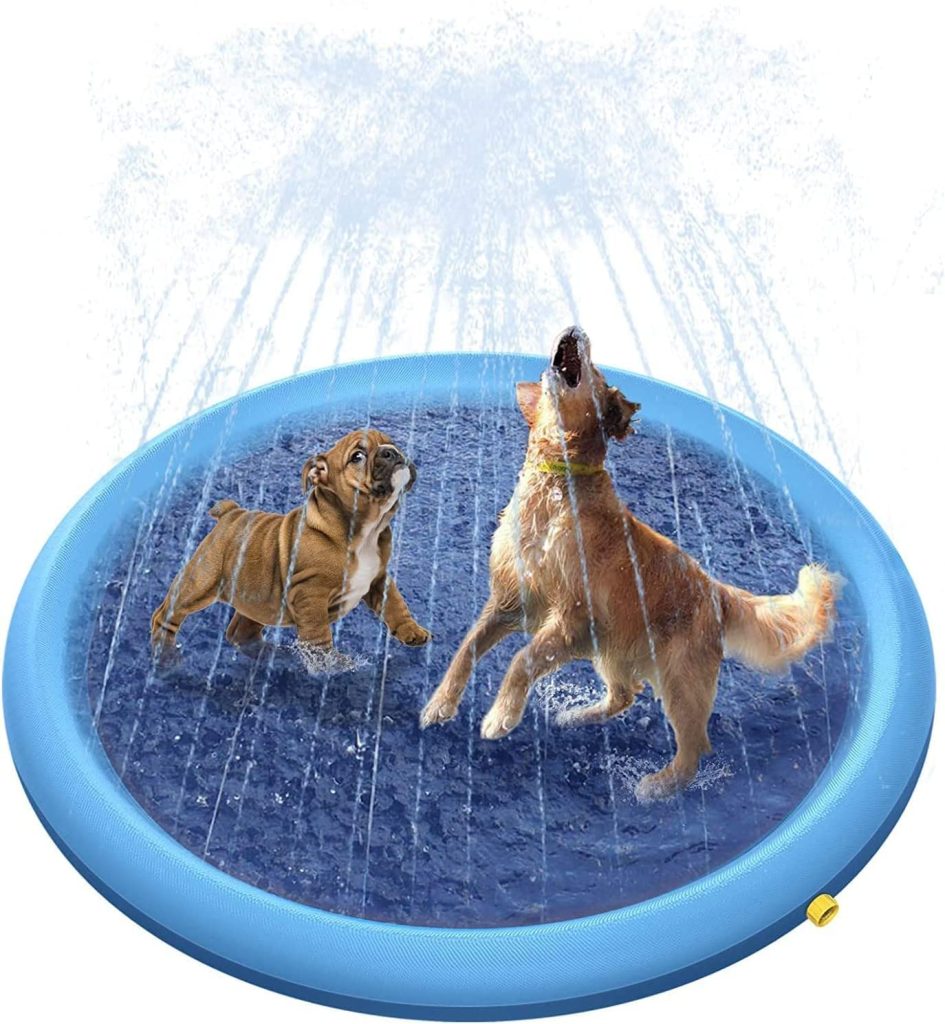 The Peteast Splash Sprinkler Pad is the perfect solution for keeping your furry friend cool and comfortable during hot summer days. This product is made of eco-friendly PVC material, ensuring durability and sustainability.
With a non-slip texture and bumps inside to prevent slipping, your pet will have a safe and enjoyable time playing in the water.
The easy setup process by simply connecting to a garden hose or PVC tubing and adjusting water pressure makes it a convenient choice. Additionally, its foldable design allows for easy transport and storage.
With lifetime customer service and replacement/refund options, the Peteast Splash Sprinkler Pad is a great investment for pet owners who want to provide their pets with a fun and safe outdoor experience.
Buy Peteast Splash Sprinkler Pad for Dog Baths on Amazon UK
Why should I bathe my dog in the tub?
A dog bathtub usually makes bathing your dog more accessible and less messy. It provides a safe and secure environment for your dog, allowing you to wash them thoroughly without worrying about them slipping or getting injured.
It protects your bath from being wrecked: Most of my readers are sick and tired of dog hairs clogging the plugs, dog smell stinking out the bathroom, a wet mess with a trail of destruction through the house and nail scratches in the tub itself.
It's quicker: In my experience, using a dog bathtub made the overall experience quicker as I spent less time getting everything together – all the shampoos, towels, getting the temperature right and so on.
It's more fun that way: The flexibility of most bathtubs meant that it's a lot more casual, less stressful and ultimately a more fun experience for you and the doggo.
Read More: Best Shampoo to Buy For Dogs in the UK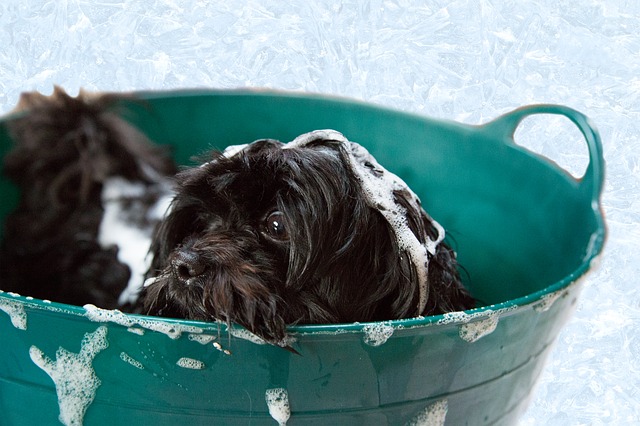 How to properly use a dog bathtub?
1. Prepare shampoos, brushes, shower/hose heads and towels before you begin. It's much more convenient than your doggo leaping out while you're fetching them.
2. Place the bathtub on a solid, flat floor, so it doesn't wobble with vigorous scrubbing.
3. Fill the tub with warm water that doesn't go over their bellies. It's best to keep the water level to their knees.
4. Use a tether to keep your mutt in place if they like to move around but don't be aggressive.
5. Use the tub sparingly. You CAN wash dogs too much.
6. Give your dog plenty of attention, praise and treats. Make them want to do it again.
7. Empty the water into the sink or drain instead of the grass because the detergents can harm your lawn.
8. After emptying the water, wipe the tub with anti-bacterial wipes or spray.
Read More: Best Healthy Treats to Buy For Your Dog in the UK
Frequently Asked Questions (FAQs)
1. Do dogs prefer warm or cold baths?
Dogs do not have a general preference towards water temperature when bathing. Most prefer warm water during winter and cold water during summer for obvious reasons. Although, it mostly depends on their characteristics.
Ultimately, observing your dog's reaction to warm and cold baths is best. If your dog seems uncomfortable or agitated during a bath, adjust the temperature to suit their needs better.
2. How often should a dog be bathed?
Generally, most dogs only need to be bathed every 4-6 weeks. However, if your dog has skin issues or gets dirty frequently, more baths may be necessary. It's best to consult with a veterinarian to determine a proper bathing schedule for your dog.
3. Can I use a dog bathtub indoors, or do I need to use it outdoors only?
A dog bathtub can be used indoors and outdoors, depending on your preference and the tub's design. Some are suited for outdoor use and feature durable materials that can withstand the elements. Indoor-use tubs have additional features like non-slip surfaces.