Using crates is a fantastic way to housebreak and provide a safe and comfy place for your dog to be able to relax. We have written a popular guide on the best dog crates and this article aims to support that list to help you decide which size is right for your dog life stage and breed.
Does the size of the crate matter?
For adult dogs who have been housebroken and the crate stays in the house perhaps not. But for puppies and dogs who are not potty trained it most certainly does and we can attest to this having crate trained Jeff at an early age. The size of the crate also makes a difference to the likelihood of injury if it is used to transport dogs regularly.
What size dog crate do I need for housebreaking?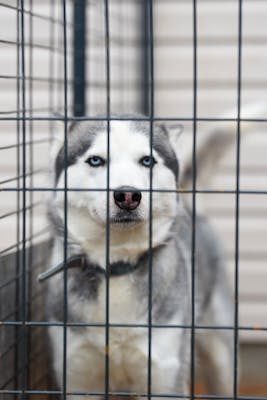 The reason why the size of the crate matters with housebreaking is because of a dog's reluctance to soil their own sleeping area. If the crate is too big they will soil in the excess space whereas if the dog crate was just big enough for their bed then they are more likely to not soil their bed and will hold it in and do it elsewhere. It seems cruel but it will help the dog become housebroken quicker and perhaps get them out of the crate permanently.
So, for a casual size guide you should aim for a crate that is big enough for them to be able to get up and turn around and nothing more. This includes having the bed inside or whatever bedding you'll be using. If you're thinking this won't work for you because you have a puppy then fear not, we have a solution for you.
Buy a crate suitable for the dogs adult size and use a crate divider in the meantime. If you want to know what adult crate size you need then here is a simple weight calculator you can follow but be sure to use your dogs predicted adult weight.
For dogs weighing 11kg or less get an 18″-22″ crate
For dogs weighing 11kg to 15kg get a 24″ crate
For dogs weighing 15kg to 20kg get a 30″ crate
For dogs weighing 20kg to 30kg get a 36″ crate
For dogs weighing 30kg to 40kg get a 42″ crate
For dogs weighing over 40kg get a specialist crate with dividers
Most crates on the market will do but you'll need to make sure to buy a divider from the same brand to make sure there aren't any niggling installation issues. We'd recommend taking a look at the Elli-Bo brand as that is what we used and we had no problems with them.
To make it easier, here's a generic list of crate sizes and what breeds they are most suitable for:
What size dog crate do I need for my breed?
18″-22″
This is the smallest dog crate on the market. Rarely will you find a metal crate smaller than 22 inches. Suitable for extra small dogs up to 11kg and around the size of the following
Chihuahua
Pug
Yorkie
Shih Tzu
Pomeranian
24″
A small dog crate suitable for the following breeds between 11kg and 15kg as a guide.
Border terrier
Jack Russell Terrier
Miniature Poodle
West Highland Terrier
30″
Suitable for medium breeds between 15kg and 20kg such as the following
Pit Bull Terriers
Daschund
Cocker Spaniel
French Bulldog
36″
A large crate suitable for large breed of dogs weighing between 20 and 30kg. Pretty serious piece of kit. Here are some example breeds to see if yours fits in this category
Basset Hound
Beagle
Bulldog
Whippet
42″
42 inch dog crates are typically the biggest size you can shop online easily. Suitable for dogs up to 40kg these will cater for really big dogs such as:
Bloodhound
Bullmastiff
Great Dane
Greyhound
Rottweiler
This is enough to cater for 99.99% of large breeds and if you own a dog bigger than that your best choice is a bit of DIY or get the services of an engineer.
What size of dog crate do I need for my puppy?
The dog crate size you should get for your puppy, in our opinion, should be the crate that they will need as an adult and to use a divider to slowly make it bigger as they grow. Using the divider, only gives them enough space to be able to get up and turn around so as to not give them enough space to soil the crate whilst not soiling their own sleeping area.
You will need a crate divider which matches the size of the crate, here is an example 30″ crate divider from Amazon.
This worked tremendously for us and Jeff was housebroken within 2 weeks of using the crate. Because Jeff did not want to soil his crate he would hold on to the wee and poo which made his muscles stronger and then it was easy for us to observe him relieving himself and then to heap loads of praise on him.
Conclusion
It is important to get the correct size crate for your dog and we hope our guide has helped you figure out the exact one you need. We also believe that crate dividers are essential to save money and give you the ability to increase their living space as they grow. As a last point, be sure to check out our excellent best dog crate page for the best products on the market.
Related Articles
Last update on 2021-10-24 / Affiliate links / Images from Amazon Product Advertising API