Welcome, fellow dog lovers and owners, to my corner of the web!
Using dog crates is a popular and effective dog training method. They can be used from puppyhood all the way to adulthood. It also gives a bit of "safe space" for your dog where they can get their "me" time whenever necessary.
A dog crate, sometimes known as a cage or an indoor kennel, is designed to offer a secure den-like structure for dogs to rest in for short periods, either enclosed or open. Usually, they're cube or rectangular-shaped with one or two doors that can be locked outside.
However, these crates have become more than containment spaces. As I mentioned, they serve as sanctuaries for our beloved companions, providing comfort and security like a cosy den.
And as you go through this guide, I'll ensure you'll be better equipped to choose the perfect crate for your four-legged friend.
Do vets recommend dog crates?
Generally, dog crates come highly recommended by veterinary experts. These versatile enclosures provide a safe and comfortable space for our canine companions, offering numerous benefits such as a safe and comfortable space, preventing destructive behaviour and facilitating travel.
Best Dog Crates to Buy in the UK!
We've tested over 100 hundred dog crates and cages over many months with our own dog, Jeff. And after all that, I've decided on a few brands and models that are well worth the price.
1. Editor's Choice: MidWest Single-Door Dog Crate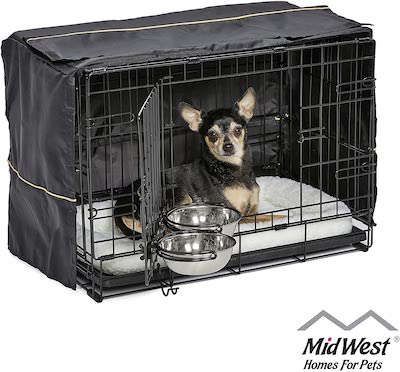 The MidWest Single-Door Metal Dog Crate is currently the best dog crate available for dogowners in the UK due to its simplicity and functionality. With one door featuring two sliding latches, it ensures your dog's security. The durable steel mesh and removable plastic bottom make cleaning a breeze.
It's available in various sizes and suits a wide range of breeds, and its foldable design allows for easy storage and travel.
However, some owners found larger sizes heavy, and a few experienced minor issues with the divider. Overall, it's an affordable, practical choice loved by many owners.
Pros:
Sturdy and durable, even for large dogs
Wide range of sizes for a comfortable fit
Easy assembly and folding
Affordable compared to similar crates
Removable bottom for easy cleaning
Handy divider for puppies and added value
Cons:
Larger sizes may be heavy to move
Divider setup may be slightly challenging
The sizing guide can be misleading
Some durability concerns for certain dogs
Buy Dog Crate, MidWest Life Stages Dog Crate on Amazon
2. Beginner Choice: Ellie Bo Dog Crate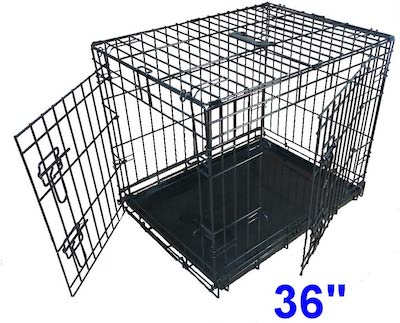 Ellie Bo is a renowned manufacturer of dog crates, mostly of the wired mesh cage variety. They are simple, cheap, easy to use and are made to a high standard.
The Ellie Bo dog crates typically come with a double door, one on the front and one on the side, and a removable metal tray at the bottom to make it easy to clean.
Although you may have typically seen Ellie Bo dog crates in black, they also come in Gold and Silver. Whether your pooch is young or super big, these crates are available in various sizes to fit any dog.
More so, if you plan on crate training your dog from a young age, you can buy the Ellie Bo dog crate and cage along with a crate divider so that you can gradually increase the size of the inside (too much space in the crate makes it easy for dogs to soil in them).
Buy Ellie Bo Dog Crates on Amazon
3. Budget-Friendly: New World Crates Folding Metal Crate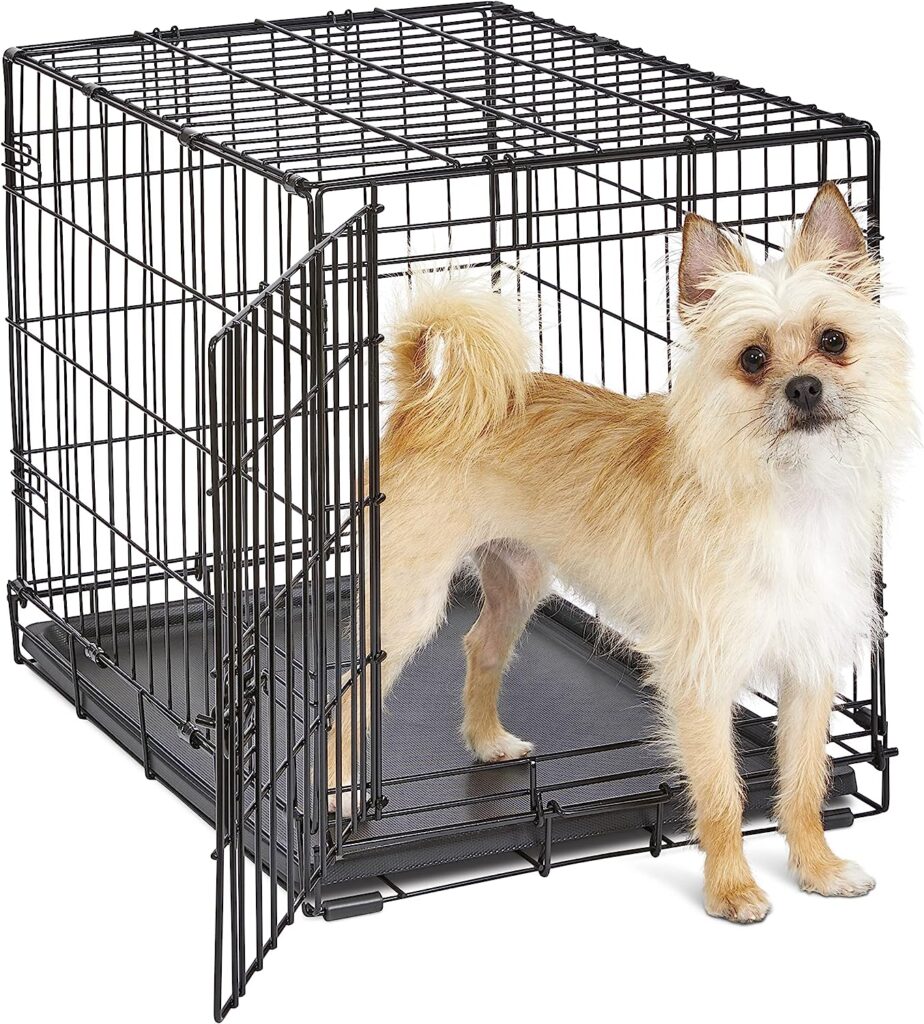 The New World Crates Folding Metal Crate is our affordable crate training and travel pick. Available in various sizes, it accommodates dogs of different sizes.
The crate features a leak-proof plastic pan and a heavy-duty slide-bolt latch for security. It's easy to assemble without required tools, folds flat for storage, and provides ventilation and visibility.
With its protective, long-lasting black E-coat finish, this crate is a high-quality investment at an affordable price, built to withstand the test of time.
Pros:
Available in various sizes for all dogs
Relatively lightweight and easy to assemble
Features a heavy-duty latch for added security
Cons:
Not suitable for extra-large breeds over 50kg.
The New World Crates Folding Metal Crate offers unbeatable value without compromising quality, making it an excellent choice for budget-conscious dog owners.
Buy New World Crates Folding Metal on Amazon
4. Best for Car Travel: Amazon Basics Folding Soft Dog Crate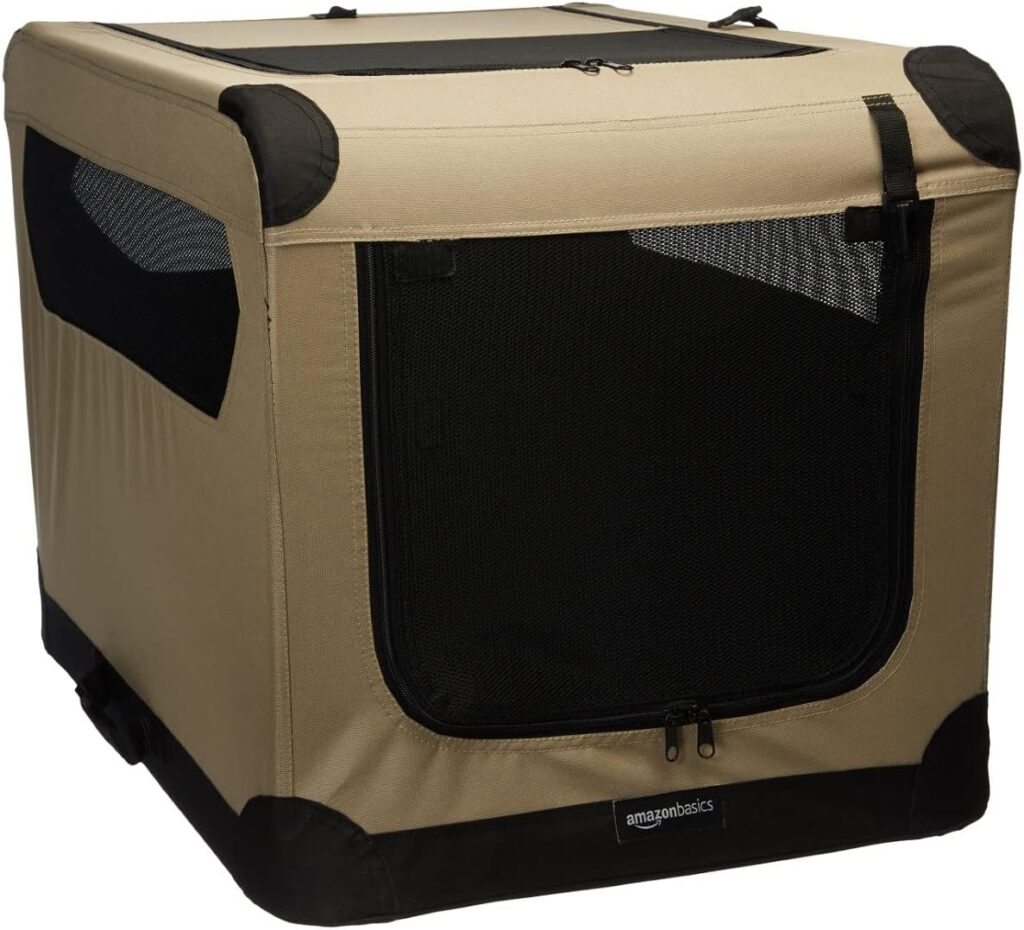 The Amazon Basics Folding Soft Dog Crate is our top pick for car travel and the best soft dog crate option. Crafted with durable polyester fabric and a lightweight PVC frame, it provides a cosy and secure resting place for your dog during your journeys.
Featuring doors with zippers on the top and front, this crate offers easy access, while the mesh on the doors and windows ensures excellent ventilation. It's perfect for dogs who don't chew and need a comfortable, relaxing space.
Pros:
Dogs find it roomy and comfortable, ensuring a pleasant travel experience.
Its lightweight construction makes it easy to carry during travel.
The simple folding mechanism makes assembly a breeze.
Mesh windows provide ventilation and allow dogs to see outside.
Cons:
Some owners experienced issues with the stability of the zippers.
Not suitable for dogs prone to chewing or escape attempts.
Despite minor drawbacks, the Amazon Basics Folding Soft Dog Crate remains a reliable choice for car travel, offering comfort, convenience, and adequate ventilation for your furry companion.
Buy Amazon Basics Folding Soft Dog Crate on Amazon
5. Eco-Friendly Choice: New Age ecoFLEX Pet Crate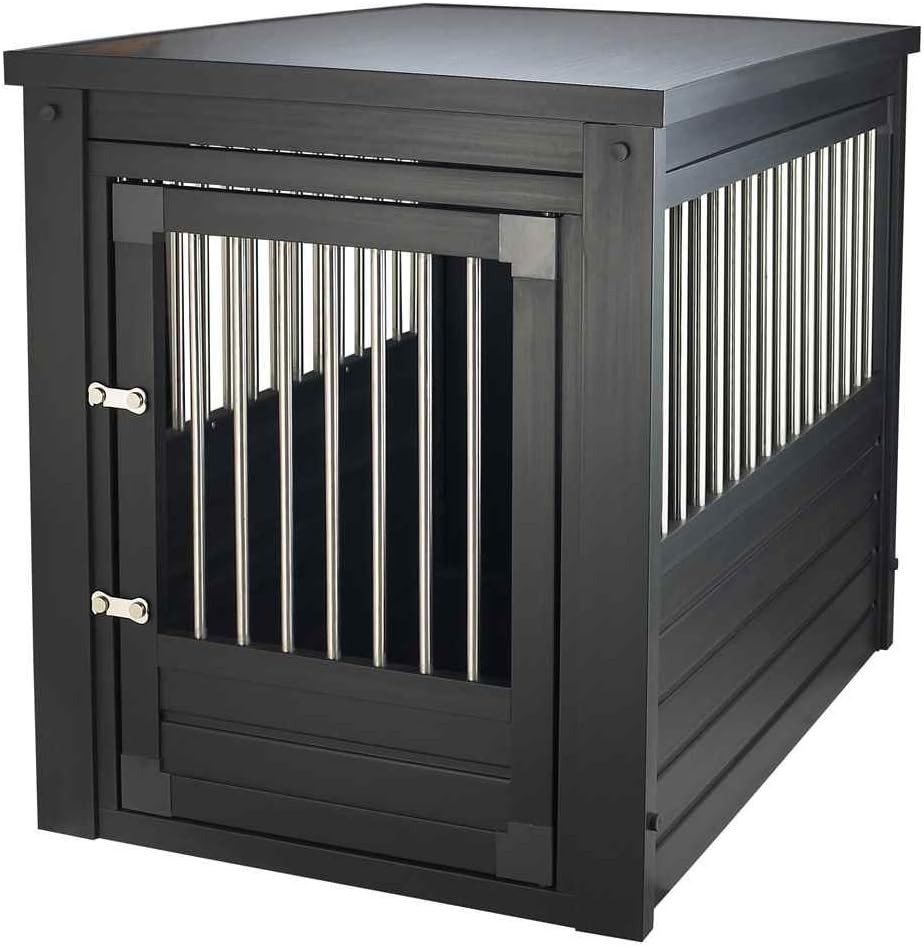 According to BASF, ecoflex has no negative consequences for nature or the environment.
New Age Dog Crate, made using ecoflex, is the best eco-friendly dog crate for green dog parents. This crate doubles as an end table, seamlessly blending fashion and functionality into your home decor. Crafted from a durable recycled plastic wood polymer composite, it offers long-lasting wear resistance.
The stainless-steel tubing on the sides and door ensures proper ventilation while keeping your furry friend secure. The stainless-steel latch on the door adds an extra layer of safety.
Pros:
Quick and easy assembly is appreciated by many owners.
Sufficient room inside ensures dogs can lie down comfortably.
The plastic construction makes cleaning a breeze, a feature many love.
Cons:
The door's sturdiness may not be suitable for escape artists.
Heavy chewers may damage the crate, as it's not designed to withstand extensive chewing.
A few owners found the crate less cost-effective due to its high price and perceived lower quality.
Buy New Age ecoFLEX Pet Crate on Amazon
Buyer's Guide: How to choose the best dog crate?
1. Size and Dimensions
The size of the cage is the single most important factor to consider.
In general, the size of your dog's crate should be big enough for them to get up and turn around, and no more for dogs yet to be housebroken. This is to discourage them from soiling their own sleeping area. You can later buy a bigger crate once they're housebroken and comfortable.
A crate that's too small can be uncomfortable and restrictive for your dog, while one that's too large may not provide the sense of security that a well-fitted crate offers.
Each dog breed has its unique size and space requirements, so it's essential to measure your dog accurately and refer to size guidelines provided by crate manufacturers.
How to measure my dog for the right crate size?
To determine the right size, measure your dog from the tip of its nose to the base of its tail for length and from the top of its head to the ground for height. Add a few inches to these measurements to ensure your dog has enough space to stand up, turn around, and lie comfortably.
Read More: What size dog crate do you need?
2. Materials: Which crate type is best for your dog?
Metal (Wire) Crates: Sturdy and well-ventilated wire crates are popular for their durability and visibility. They allow maximum airflow and make it easier for your dog to see what's happening outside, benefiting those who may feel anxious.
Pros:
Sturdy and durable
Excellent ventilation and visibility
Easy to clean
Collapsible for storage and travel
Cons:
It may not provide as much privacy as other types
Some dogs may try to escape through the gaps in the wires
Plastic Crates: They provide a cosy, den-like feel for dogs, creating a safe haven for them during travel or moments of solitude. Plastic crates typically have a front-facing door, offering privacy and seclusion.
Pros:
Secure and enclosed design
Great for travel and airline-approved
Provides a den-like environment for dogs
Offers more privacy compared to wire crates
Cons:
It may not be as well-ventilated as wire crates
Less visibility for the dog to see outside
Soft-Sided Crates: Lightweight and portable, soft-sided crates are ideal for travel and short-term use. They are made from fabric materials with mesh panels for ventilation and visibility. Unfortunately, they may not suit dogs who like to chew or scratch.
Pros:
Lightweight and portable
Easy to set up and fold down
Cosy and comfortable for dogs
Ideal for short trips and travel
Cons:
Not suitable for dogs who may chew or scratch
Less sturdy compared to metal or plastic crates
It may not provide enough airflow for some dogs
3. Portability and Travel Compatibility
Depending on your lifestyle, you may need a crate that's easy to transport, lightweight, and capable of withstanding the rigours of travel.
Collapsible Design: These crates are space-saving and convenient for storage.
Built-in Handles: They're easier to carry around, especially during travel.
Airline Approval: Airlines have specific requirements for pet travel, so it's essential to check their guidelines before purchasing a crate.
Outdoor Use: Look for durable materials and features that suit outdoor use.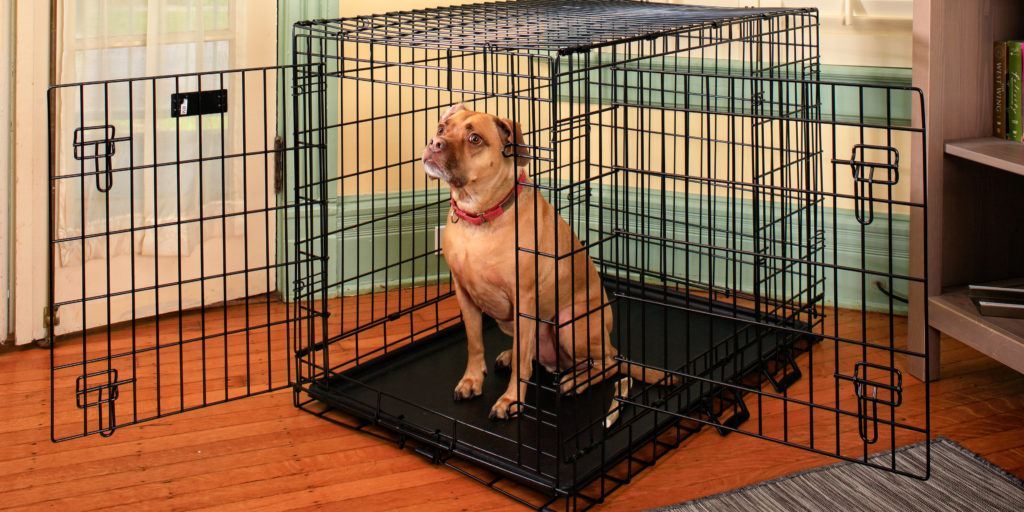 4. Safety Features
Ensure the crate has secure locks and latches that protect your dog and prevent accidental escapes. Some crates come with double locks for added security. Check the crate's overall construction to ensure no sharp edges or parts could harm your dog.
5. Budget Considerations
Look for a crate that balances affordability and durability. Investing in a high-quality crate can save you money in the long run, as it will likely last longer and better serve your dog's needs.
6. Space & Location At Your Home
Consider the aesthetics of the crate and how well it fits into your home environment. Some crates are designed to blend in seamlessly with your interior decor, while others may be more utilitarian in appearance.
If you plan to keep the crate in a specific area of your home for a while, choosing one that complements the overall ambience is essential.
Read More: Beginner's Guide to Preparing Dog Crates: What to Add and Where to Put it?
7. Easy to Clean
Crates and cages will get dirty over time, like any bedding, so they must be cleaned occasionally.
Wire crates for dogs can be cleaned easily with a hose down and scrubbing of the metal or plastic removable tray. Hard plastic crates can be wiped down with antibacterial wipes, a spray, and a cloth, but soft crates may need specific instructions.
8. Open vs Closed Crates
Some dogs prefer an open-air feeling, while others feel more secure in a fully enclosed crate. Pay attention to your dog's behaviour and comfort level to determine which type suits them better.
Choosing the perfect crate for your canine companion involves carefully assessing their unique needs, behaviour, and lifestyle. Considering these essential factors, you'll be well on your way to finding the ideal crate for your furry friend.
Frequently Asked Questions
1. Are wire crates better than plastic ones for training?
Wire crates offer excellent ventilation and visibility, making them ideal for dogs feeling anxious or stressed when confined. In comparison, plastic crates provide a cosy den-like feel, offering more privacy and security.
2. Can I use a soft-sided crate for house training?
Generally, soft-sided crates aren't ideal for house training, especially for puppies or dogs still learning bladder control. Additionally, dogs that aren't housebroken may be more prone to chewing and scratching – which is the biggest con of using soft-sided crates.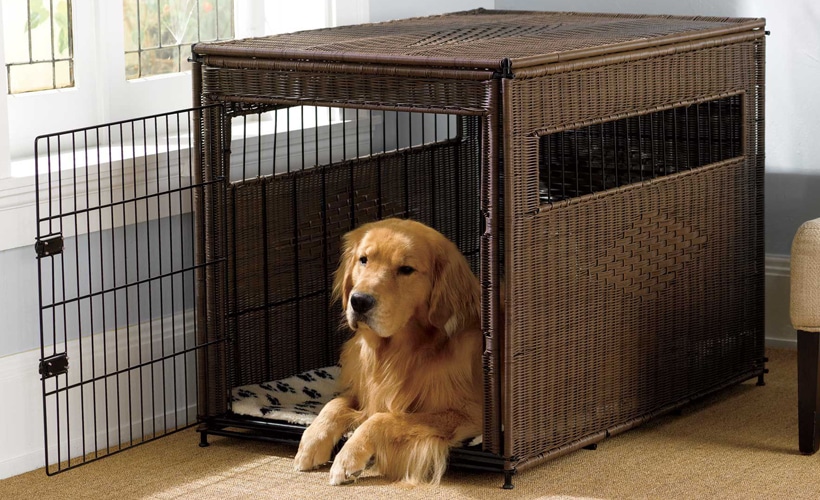 3. How do I make the crate more comfortable for my dog?
Place a soft and washable crate pad or bedding inside for added comfort. Add a few favourite toys or a chew bone to keep your dog entertained while in the crate. Also, ensure the crate is located in a quiet and peaceful area of your home, away from excessive noise or disturbances.
4. Can I use the crate for travel purposes?
Many dog crates are designed with travel compatibility in mind. If you plan to travel with your dog, look for crates that are collapsible for easy storage and feature built-in handles for convenient carrying. For air travel, ensure that the crate is airline-approved and meets the specific requirements.
5. Are there any eco-friendly crate options available?
There are several eco-friendly crates available for environmentally-conscious pet owners. Look for crates made from sustainable materials such as recycled plastics or natural fibres. These eco-friendly crates are not only safer for the environment but also safe for your dog.
6. How do I clean and maintain the dog crate?
Regularly remove and wash the crate pad or bedding to ensure freshness. Clean the crate using pet-safe cleaning agents, and thoroughly dry it to prevent odours and mould growth. Regularly inspect the crate for any signs of wear or damage, and replace any worn-out parts to keep the crate safe and functional
7. Can I crate-train an older dog?
Technically, it can be beneficial for older dogs as well. While it may take extra patience and understanding, crate training can help older dogs feel secure and establish a designated space.
8. At what age should a dog stop sleeping in a crate?
In general, dogs beyond the age of two can stop sleeping in a crate and be shifted to a more liberal dog bed. However, the exact timeline can vary depending on the dog's behaviour and comfort level. Some dogs may prefer to continue using their crate as a safe space throughout their lives, while others may outgrow it.
Read More: How to help your dog cry less in its crate?
Safety Warning for Dogowners
In general, it can be easy to see crates and a cage as an effective tool to keep your dog secure in the same place, but they should only be used for short periods and never for hours on end. The goal is only to housebreak and offer a secure place instead of a resentful corner they're forced into.
Therefore, I recommend every potential buyer of crates to think about the endgame you want to achieve – if it's housebreaking, then what will the sleeping arrangement be after they've done it? To keep them safe while you're at work, do you need to hire a dog walker to break up their time in it?
Jeff was trained, and now we don't have a crate. I would still highly recommend their use, but we never had it in mind to use permanently. If it's your doggo's choice to use it, it's never seen as a 'cage'.