Thanks to the recent advances in our camera technology, canine surveillance has reached a new level. But dog collar cameras are fundamentally different. A dog camera is often placed around the house to survey your dog and maybe talk to them.
Dog collar cameras are a particular product made specifically to capture movement clearly from the viewpoint of a collar. They are small with flat surfaces, so they sit flush on the dog's neck to capture what's in front of them.
Of course, that's not ideal for surveillance, but it has its perks. It's great for capturing random but unforgettable moments. More importantly, you see the world from your pup's eyes and learn what catches their attention.
Let me tell you about the best dog collar cameras in the UK.
Best Dog Collar Camera in UK 2023
1. GoPro Fetch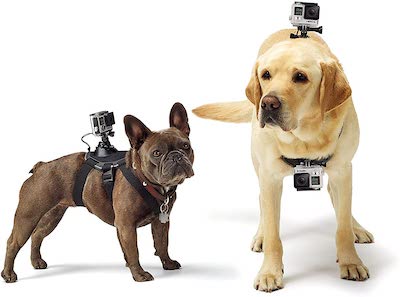 GoPro has already made its name in the outdoor adventure sports camera market, but you'd never think they have a product line dedicated to dog collars. The upside to this weird anomaly is that you get a seriously amazing camera that records clear quality in the toughest and roughest situations – a dog running around is a doddle.
The downside is that it's VERY expensive. The GoPro Fetch harness is £75, and I don't have to tell you how much the GoPro camera would cost.
The GoPro fetch attaches comfortably to dogs weighing 7 and 54g. It uses a rigid, flat plastic top (or bottom) on which the GoPro attachment sits to enable a more stable video recording during motion.
It is chest-mounted and gives the same angle as a dog collar, but it won't swing around as much due to the harness straps.
2. Insta360 GO 2 Waterproof Action Camera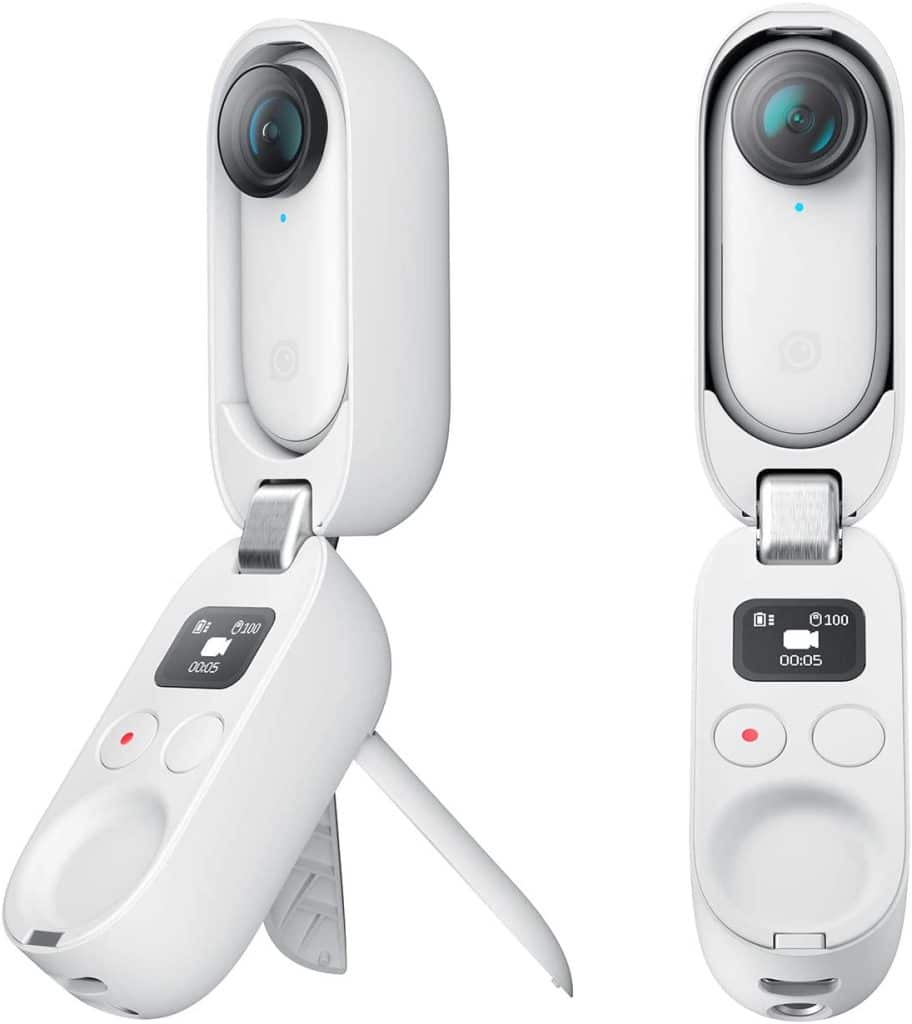 Speaking of expensive but beautiful cameras, Insta360 is a strong contender. The Insta360 GO 2 is another action camera for outdoor adventures like a GoPro. And it's the whole package!
You can control Insta360 GO 2 from your mobile phone; it has unrivaled image stabilisation, adequate battery for the size, and is super small. Its battery life is shorter than GoPro's, but you'll never get this video quality on a small camera anywhere else.
Sure, GO 2 isn't GoPro, but it's not cheap, either. Its retail price is somewhere under £300.
Read More: Buy Insta360 GO 2 Waterproof Action Camera on Amazon
3. Mini Spy Camera Wireless Hidden, MHDYT Full HD 1080P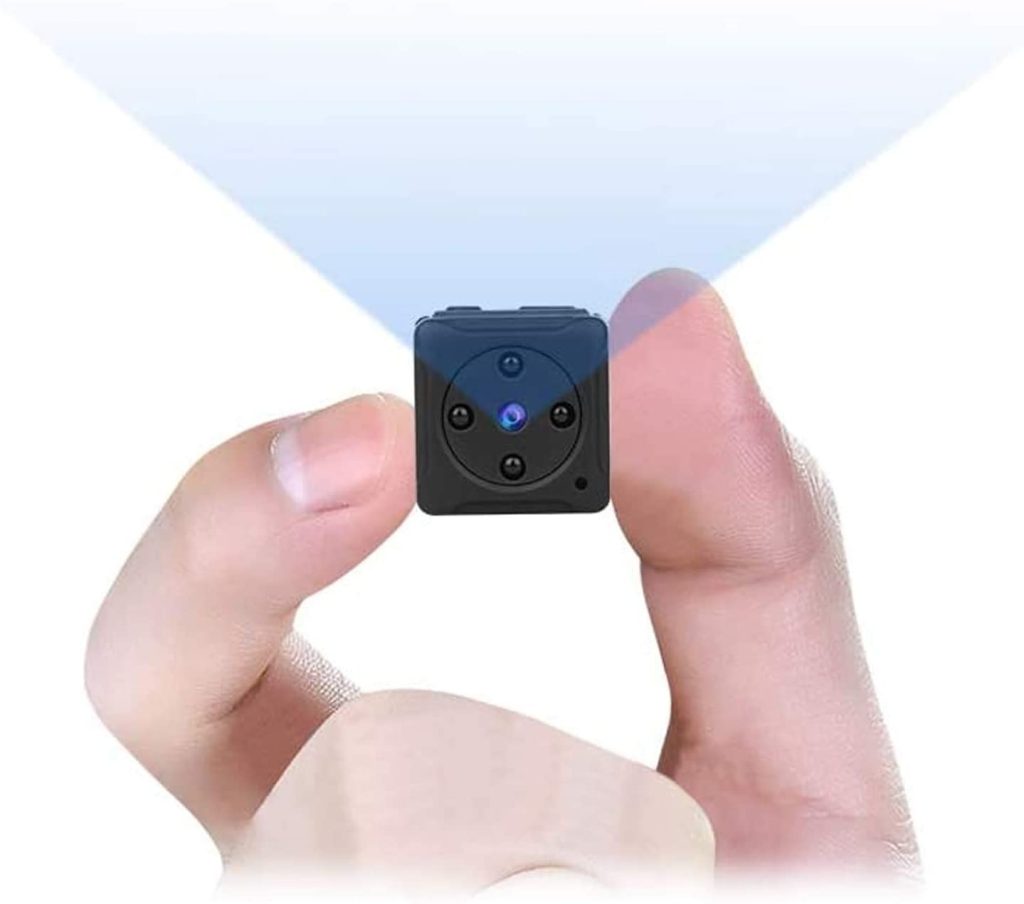 Granted, MHDYT is not the best collar camera for battery life, as it'll only give you about an hour's worth of content on a single charge. But that's because it's so small in size.
This spy camera is amazing in terms of video quality (1080p) and features. It has motion detection features and can technically start recording based on your dog's movements.
The camera is so small that you'll have no problem attaching it to your doggo's harness, and they'll never get distracted. Additionally, the spycam has a great infrared sensor that captures good quality media in low-light situations and at night.
Buy Mini Spy Camera Wireless on Amazon UK
4. 2022 Hidden Camera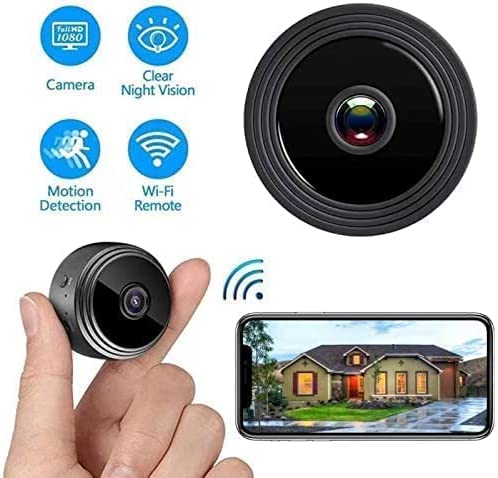 If £50 was a big commitment for a no-name camera, go for this one. The 2022 Hidden Camera can do almost everything MHDYT can but at a lower price. The camera is smaller than two of your fingers and only cost £31.98.
The battery isn't something to ride home, but its new image sensor can now capture Ultra-HD (UHD) videos at 1080p resolution. The camera also features a wide viewing angle of a whopping 150°.
Additionally, the camera works at night and in other low-light situations. And it has Wi-Fi capabilities, so you can also control that through the smartphone app.
Buy 2022 Hidden Camera on Amazon
Are there different types of dog collar cameras?
There are three major types of dog collar cameras on the market.
Read More: How often should you get a new dog bed? How to make the transition?
1. Picture-only
These cameras can only click still shots of your dog's activity rather than a full-blown video.
While the drawbacks are blatantly obvious in this category, it has pros as well – picture-only cameras are considerably inexpensive, and their batteries last much longer per charge cycle.
2. Picture and Video
This category has the ideal cameras since you can take both pictures and videos of whatever your dog is doing. And that's just too adorable to miss. But, of course, they're comparatively expensive, and the battery doesn't last as much.
3. Picture, Video and Livestream
These are VERY expensive luxury cameras, and you must constantly recharge their batteries. The upside is that you can get live footage of your dog's actions if they get in danger.
How to choose the best dog collar camera?
Ideally, a dog collar camera should be a one-time purchase. I wouldn't wanna be bothered about such a small product now and then. You can make that scenario true by keeping a few simple rules in mind.
1. Weight
The weight of your dog's collar camera matters more than the image quality itself. It should never slow down the little ball of energy. Using a small, lightweight camera will also ensure that it doesn't catch your dog's attention too much.
After all, what's good about a spy camera if your dog knows about it?
2. Image Quality
How will you enjoy your dog's POV if it's all blurry to you? Ideally, your dog collar cam should at least support 720p videos. Higher resolution equals a higher cost, but it'll be worth every penny once you can clearly monitor your dog's day-to-day.
Make sure you don't end up chasing after only image quality, as it'll add weight to the camera.
3. Battery Life
You'll have to make some sacrifices on this one. The battery life will not be great, given how small these cameras are. First, make a realistic list of intended features – so you won't spend extra battery life on livestream footage if you don't need it.
4. Storage
Storage options are often overlooked even though they're the most fundamental necessity of a camera. If you don't have enough storage, you'll unknowingly miss out on some awesome moments. I recommend getting a collar camera with removable storage.
5. Connectivity
Ideally, your dog's collar camera should be compatible with modern smartphones. This will allow you to click pictures and see live footage.
6. Durability
Depending on how hyperactive your dog is, durability could be your #1 priority. All the other features are just bells and whistles you'll only use if the camera stays intact long enough.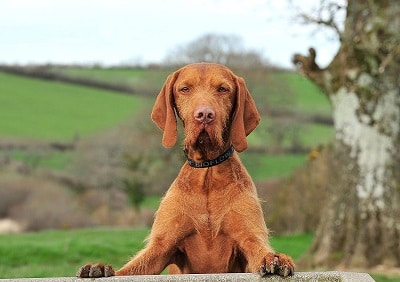 What are the benefits of using a collar camera?
Let's de-accelerate a little – by now, you know the names of the best dog collar cameras and how to choose one. But do you need one in the first place?
Well, the answer to that question is most likely no. A dog collar camera is a luxury item you might not need, but it's much more fun to have one.
The primary reason for buying one is to look at your pets' actions when you're not around. Now, there are four big reasons why that's important.
First, it'll help you solve household mysteries, especially if you have multiple pets. You'll finally have the answer to questions like which one is jumping around. Which one is the mysterious litterbug?
The second one is safety. Some high-quality cams have livestream features. It comes in handy if your doggo escapes you a lot. Or, if you live in a shady neighbourhood, it's good to have constant eyes on what they're doing.
Third, it's an excellent instrument for training. When you see what your dog sees during outside walks, you understand the type of stuff that catches their attention. You can alter the training in a way that it's most effective.
Read More: Best Dog Cameras in UK 2023 & How to Choose One!
Fourth, it's a great tool for candid memories. Ever wanted to get a video or a picture, but by the time you got your phone out, the moment's passed? Or seen something during a walk and just forgot to capture it?
The collar camera will record what's in front of it without turning it on or holding it. These cameras conveniently capture random but beautiful moments such as playtime with a new baby, a special dog walk or a hiking session.
Can dog collar cameras be hacked?
A hacker can hack dog collar cameras if they're connected to your home router. A hacker can then misuse the feed from your dog's collar camera for nefarious purposes without your knowledge.
While every individual can't completely shield themselves from hackers, there are a few steps you could take. First, change your router's default password. "Admin" is easy to hack. Next, ensure the firmware of your dog's collar camera is up to date. And finally, just have a strong and secure Wi-Fi password.