Dogs scratching at doors and carpets leaving deep cuts and an unpleasant look can be the bane of many a dog owner's life. It can be difficult to train them out of it as often it doesn't happen when you're around which can leave owners frustrated that their precious door will forever be destroyed and there's nothing they can do.
Well, we're here today to tell you it doesn't have to be this way. With the use of dog door scratch protectors you can protect your doors from being clawed away and it will give you more time to be able to train the behaviour out of them. Perfect.
Dog Door Scratch Protector Review
Here is a short list of some of the best door scratch protectors on the UK market.
1. PETFECT Pet Scratch Protector with Custom-Cut Knife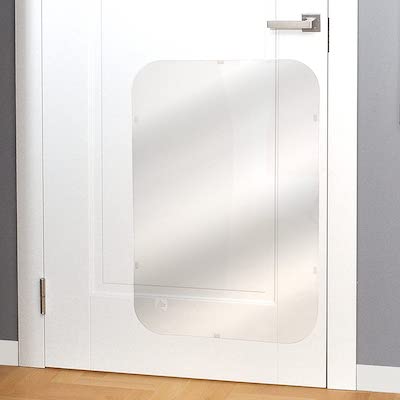 This is one of the most popular scratch protectors online. It is a set of clear, tough polymer which is extremely slick and scratch resistant which makes the scratching a bit boring and won't sharpen their nails. Of course, if they do feel like scratching it will leave the surface behind it untouched.
Some door protectors require a tack or pins but the PETFECT Pet Scratch Protector has a layer of strong self adhesive which will leave no marks at all. It is so easy to apply and just as easy to take off when done but beware the adhesive won't keep its strength if it is repeatedly losing stickiness by being taken on and off all of the time.
The plastic sheet can be cut to whatever shape you desire to cater for different doors and styles but it can also be used on different surfaces not just doors such as sofas, beds and chairs. When using these products ensure you are using dog nail clippers regularly to make sure they are trim as door scratching may have been their only way to groom them.
PETFECT Pet Scratch Protector with Custom-Cut Knife
STOP DAMAGED DOORS & WALLS: Pet parents say this door guard for dogs & cats has stopped destruction from anxious pups and hyper kitties who often give up scratching and move on; Crafted from extra durable polycarbonate, Protecto Door Protectors provide a crystal clear, scratch resistant surface that protects delicate doors & walls from nervous scratching & pet damage
2. DanceWhale Anti-Scratch Dog Training Tape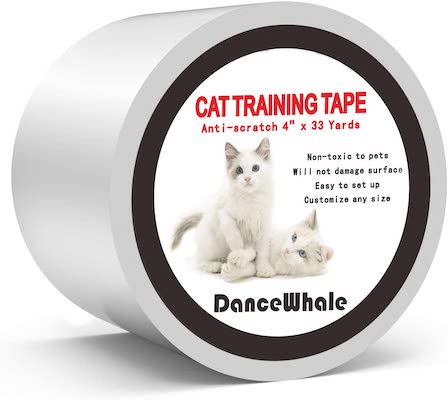 This is a product aimed at cats but it can equally work to protect doors from dogs scratching, too. This one is a lot more of a simple concept – it is a double sided tape with a very sticky surface which doesn't necessarily protect doors from direct contact from claws but rather deters them from doing it in the first place.
The sticky surface is very annoying for them to touch and they will just not want to scratch the surface at all. The tape is easy to apply and shape to the most commonly clawed at the surface and just as easy to take off. It can be cut in such a way that it can be applied to almost any surface at risk of damage, not just doors.
Overall,this is one of the most versatile and easy to use options to train dogs to not scratch at doors but it does need to be pointed out that it won't protect them directly. However, it's important to remember that a prevention is much better than a cure.
DanceWhale Anti-Scratch Dog Training Tape
Teach your cat not to scratch: Our cat scratching deterrent tape will train your cats to stop clawing the furniture or carpet because kitty hates the stickiness feeling of this double sided adhesive cat scratch tape. Cat will be repelled by the stickiness. It will be trained to avoid the places that make it annoying.
3. ForuMall 2PCS Pet Scratching Protector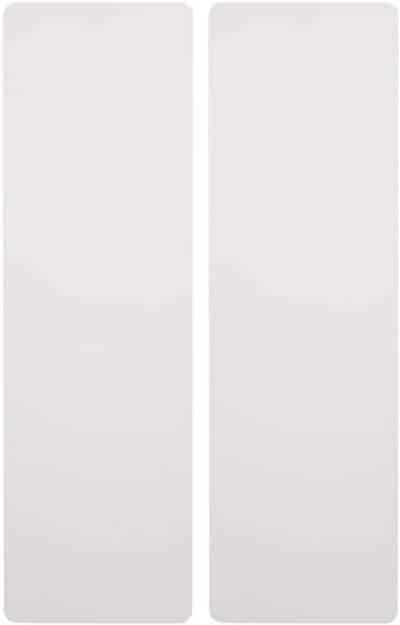 These are a two pack of thick, industrial grade vinyl with an adhesive side to grip doors, sofas, chairs… whatever it is you want to be scratch proof. The stuff is very bendy and can wrap around and get into dips with ease making it ideal for unconventional doors as well as standard ones.
These are some of the cheapest on the market with a high level of performance making it a bargain. The adhesive is strong but it won't take the point off the furniture but over time it may leave an area of discolouration on soft furnishings as it won't collect dirt or be stained on.
The only downside for us is the rectangular shape makes it more ideal for furniture and not as much for doors but they can easily be cut to shape.
ForuMall 2PCS Pet Scratching Protector
This cat sofa anti-scratching guard, also called the sofa furniture protector, can protect the interior decoration, doors, sofas, screens and wood products and prevent the cat's claw from getting hurt from the scratching.
4. 2PCS Dog Scratch Protectors Self-adhesive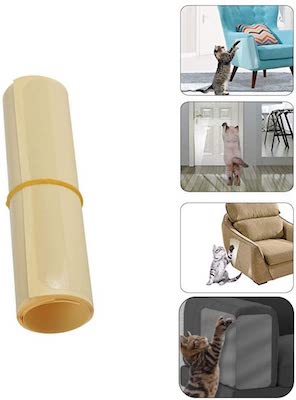 These rolled up sheets are strong, self adhesive PVC protectors which can wrap and cling to practically any surface around the house and stop dogs from getting through the what's underneath. Exceptionally cheap with a proven track record of saving hundreds of dog owners possessions it's hard to say no to this product.
All dog nail door protectors look about the same and we'll admit this doesn't look much different to any of the others other than the price.
2PCS Dog Scratch Protectors Self-adhesive
【Self-adhesive & Easy to Install】-- Our cat claw shield takes seconds to Install Furniture guards, Peel off the self-adhesive pad, aim a place, stick it and secure it with twist pins, very easy, no complex steps nor tools.
5. 6 Pack Pet Furniture Protectors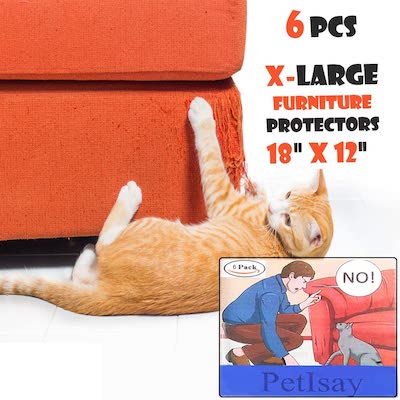 These final products are here because they're the best value for money when you need more than just a couple. Most of the other products are suitable for one or maybe two doors but with this pack you could do up to six or a mix of doors and other pieces of furniture. The product itself is more or less the same as all the rest except it also has twist pins and the self adhesive.
The quality's good and the price is cheap and it's potentially the best option for "bulk" buying.
Sale
6 Pack Pet Furniture Protectors
【BETTER PROTECTION】- Total 6 PCS X-Large size(18" X 12" ) Self-Adhesive Sheets and Twist Pins to get EXTRA ASSURANCE. PetIsay furniture guards will prevent your cat from scratching your furniture, providing MORE COVERAGE and that the pads will stick well on your couch. Our couch protector from cats will effectively protect your fabric upholstery leather couch from pet claw damage
Dog door scratch protector buyer's guide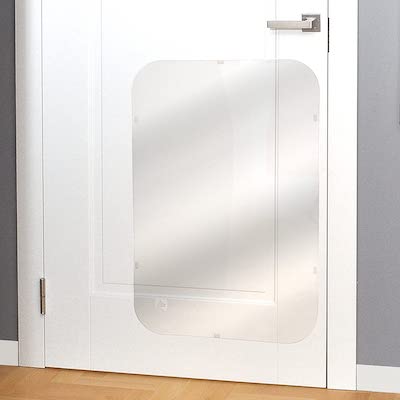 Welcome to our short dog door scratch protector buyer's guide. In this section we briefly discuss what this product is, how effective they are and what to look out for when buying one this year.
What are dog door scratch protectors?
Anything that protects a door from being scratched can be classed as a protector. However, for the purposes of this article we are referring to scratch protectors which you can buy online and not any DIY ones.
These protectors are typically tough sheets of reinforced plastic which stick to the desired area via adhesive or twisted pins to create a slick surface which do two things – stop a dog's claws from getting to the surface underneath and reduce the desire to claw from the slick surface not massaging their nails and giving them a satisfying experience. We always recommend using dog nail clippers in conjunction with these protectors.
Do they work?
Yes, the best dog door scratching protectors do work so much that they stop the doors from being damaged, they are also very effective as a deterrent to stop the behaviour. However, we want to express that training should be the first port of call to protect your doors and the protectors should be seen as a temporary measure only. You wouldn't want to keep this invisible sheet on forever, would you?
What to look for in a good protector for dogs against clawing?
99% of the products in this space are the same thing from the same factory, but if you are doing a lot of research then we would say the most important feature is actually the quality of the adhesive and the way to figure this one out is through the customer reviews on sites like Amazon.
The sheet doesn't need to be titanium to stop scratching from damaging a door, especially if you regularly use dog nail clippers.
Related Articles
Last update on 2022-07-02 / Affiliate links / Images from Amazon Product Advertising API