Fleas are one of the most commonly quoted problems from dog owners about their dogs. They are extremely annoying to have and once your dog has them then your entire house could become infected with the parasites. Giving your dog regular effective flea treatment is an easy method to stop it from happening in the first place as well as treat any flea infection they already have. With so many different flea treatment brands on the UK market in 2019, however, it can be confusing to know which one is the best choice for you. Here at JugDog, we have compiled a final list of 10 and a complete buyer's guide for the best flea treatment.
Brand
Best Spot-On Treatment
Frontline Spot On Flea Treatment
Best Shampoo
ProGroom Dog Shampoo
Best Tablets
Bob Martin Flea Tablets
Best Household Spray
Frontline Homeguard Spray
Image




Best Spot-On Treatment
Brand
Frontline Spot On Flea Treatment
Image

Best Shampoo
Image

Best Tablets
Image

Best Household Spray
Brand
Frontline Homeguard Spray
Image

The Best Flea Treatment Brands in the UK
We've created a quick and easy table for our visitors to be able to see all the best-rated flea treatments that kill fleas fast at a glance and in their categories. To read all of our individual reviews just skip the table.
Best Flea Treatment Reviews
Out of all the flea treatments we've reviewed here is a final shortlist of the 10 we feel are worth a look.
1. Bob Martin Flea Tablets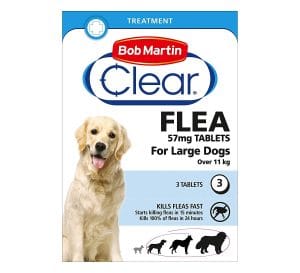 The lowdown: Bob Martin is somewhat of a household name for UK dog products and none of them is as popular as their effective non-prescription flea tablets. They are a safe product to give to puppies (from 4 weeks), adults and even pregnant bitches which just shows how safe they are. Works in 15 minutes to kill existing fleas and stop the growth of eggs, pupae and larva. In a pack, you get 3 tablets so it is quite pricey per tablet but it is one of the most effective treatments on the market.
We recommend pairing these tablets with a home remedy such as a flea spray and a hot wash for your dog's bed etc.
Pros:
Works very quickly
Easy to administer
Tried and tested
Cons
Expensive price per tablet
Doesn't de-flea the home on its own
Sale
2. Frontline Spot On Flea Treatment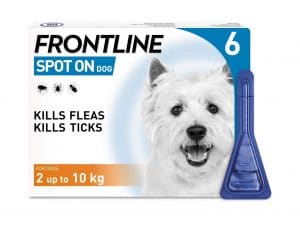 The lowdown: Frontline is one of the biggest names in the world of flea treatment and their most popular product is the non-prescription spot-on flea treatment. After breaking the pipette you apply to the back of the neck and that's job done for the month in terms of killing any existing fleas and preventing any future infestations for around 4 weeks. It's fast-acting, easy to apply and effective. Because of this, we feel Frontline Spot On Flea treatment is the best flea treatment around.
At around £25 per pack of 6, you can make your dog flea free for a year for £50. If you have a subscription with a vet you can often get these for free as part of that. Otherwise just check out our product buttons for more information. If you're worried that rain or a bath will wash away its effects – don't – Frontline spot on flea treatment continues to work regardless if your dog has been exposed to rain.
Pros
Extremely effective
Relatively cheap
Super easy to apply
Cons
Doesn't make the home flea free
Need to be have a reminder to apply every month
Sale
3. Indorex Flea Spray

The lowdown: Virbac is a major company which are heavily involved with veterinarians across the country – they are a company that supplies a lot of products to vets who then pass on their excellent products to us dog owners. Their Indorex Flea Spray is the best flea spray on the UK market in our opinion as it's incredibly cheap at less than £10 for a spray that could cover a 4 bedroom house if you wanted to. Not only that, but it also kills fleas quickly and has an odourless spray. The Indorex flea spray is NOT designed to be used directly at the dog but instead to be directed at household furniture, clothes, beds, rugs, carpets and so on.
If your dog has fleas then use this spray to protect your home but use tablets, shampoos or a spot on treatment to treat the dog itself.
Pros
Excellent value for money
It works
Works for 6 months after spraying
Cons
Doesn't work on the dog itself
Hard to know where you've sprayed because of a lack of smell
Sale
4. Progroom Oatmeal Dog Flea Shampoo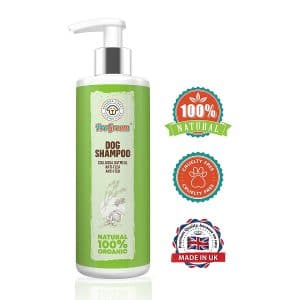 The lowdown: We think that Progroom's natural, organic and chemical-free oatmeal flea dog shampoo is the best flea shampoo on the UK market right now, as do over 100 of other verified buyers on Amazon. It's not just a shampoo that will kill fleas it's also a fantastic shampoo in general which uses only natural ingredients making your dog fresh, clean and soothed if they are suffering from any skin issues flea related or now. It's not cheap but as dogs don't need to be washed that often it should last you at least 6 months. If you're currently having problems with fleas with your dog and the home then use this fantastic shampoo to supplement your efforts.
After using this product your dog will look and smell great. It's anti-fungal, anti-itch, anti-allergic and anti-bacterial. Any itchy skin they've got will start to get better and they'll be free of dandruff. If your dog doesn't have any fleas but you want to repel them then this shampoo will also tick that box. It does absolutely everything you want from shampoo and more!
Pros
Does more than just get rid of fleas
Will last a long time
Takes care of skin problems
Cons
Shouldn't be used without other topical flea treatment
Expensive shampoo
Sale
Progroom Natural Flea Shampoo
🐾 HOW WE'RE DIFFERENT - We have PATENTED a new advanced and unique formula of COLLOIDAL OATMEAL, which increases the oil and water binding capacities. This unique ingredient induces the action of HIF1-a, a protein that has a great role in dogs' skin repair & regeneration. Formulated by an internationally renowned aromatherapy expert and founder of the Institute of Aromatherapy.
Related: Best Dog Shampoo
5. Johnson's Vet Dog Flea & Tick Collar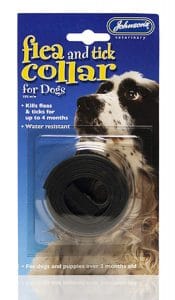 The lowdown: Dog collars are an easy way to kill and repel fleas without having to do much as the collar does it for you. The best flea collar in our opinion is the selection offered by Johnson's. To put it simply, it may not be the best flea treatment but it's extremely cheap and it does work – especially on the smaller breeds. Johnson's usually offer a 2 pack which is pretty much a whole 8 months worth of flea repellant for under £10 which is a steal and the best return on investment out of any flea treatment we've reviewed.
The collar itself is not stylish and it is NOT suitable to add a dog lead to. You will have to put this collar on in addition to your existing collar and under any dog coats or harnesses. It is no elastic, however, so if it gets caught in anything it can be a bit of a problem. It's waterproof so it can be worn in every season. All in all, this is a decent dog collar that's a steal if you just want to get everything you can to have a flea-free pooch.
Pros
A 'no hassle' solution
Cheap
4 months of repellant per collar
Cons
Not an elastic collar
Not stylish
Not the most potent flea treatment you can get
6. Cooper & Gracie Dog Flea Protection Spray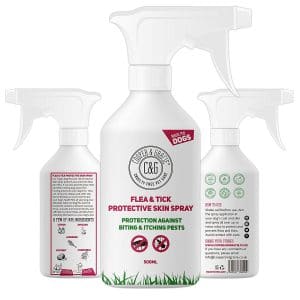 The lowdown: This cruelty-free and vegan spray is one of the most reviewed flea product on Amazon. This spray works as a coat conditioner to protect your dog from fleas and ticks and should be applied on a regular basis. By that we mean it should be applied before you go for a walk as a strong repellant for that walk. If your dog is exposed to rain or without use or a while it becomes ineffective and will need to be re-applied. Some people may find this handy and others may find this very annoying and just won't do.
However, this is a product for those who want to make sure their dogs are safe and not to be used as the only tool in the wheelhouse. Therefore, we recommend having this in the house to be used alongside tablets/spot-on treatments during riskier seasons such as spring and summer where fleas are in abundance. In terms of a flea spray that can actually be aimed at dogs, however, this is the best.
Pros
Convenient to use
Loads of positive reviews
Cons
Not the best protection
Limited time as a repellant
Sale
Cooper & Gracie Dog Flea Spray
BEST FLEA CONTROL FOR DOGS - Take Advantage of our proudly Cruelty Free and Vegan blend for dogs - We use only the highest quality natural essential oils blends and you can expect superb protective qualities from our product unlike other treatment.
7. Merial Frontline HomeGuard Flea Spray

The Lowdown: The Merial Frontline HomeGuard Household flea spray is different than Cooper and Gracie's version as this is not intended to be directed towards the dog. Instead, this is a flea spray designed for the home or vehicles only to be used to kill and repel fleas in areas such as carpets, cracks, crevices, flooring, bedding, blankets and soft furniture. The 400ml aerosol is fast, effective and excellent value for money and should be in every dog owners toolbox whether they have a flea problem or not.
The best thing about this spray is that its effect lasts for a whopping 12 months after application! Unless you live in a mansion then £15 or so for peace of mine for a year is an absolute steal. Of course, you will still need to get alternative flea treatment for the dog itself so don't forget to check out our other non-prescription UK flea treatment reviews. This is the best flea spray for the home in our opinion.
Pros
Effective for 12 months after application
Extremely effective
Has a pleasant smell
Excellent value for money
Cons
Very toxic to aquatic animals
House needs ventilating after application
8. Natural Chemistry Flea and Tick Squeeze On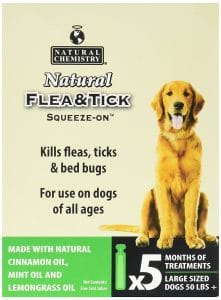 The lowdown: Natural Chemistry are known as an ethical producer of pet products and the flea and tick squeeze on a flea treatment is no exception. A quality product with 5 pipettes in a pack which have a powerful anti-flea liquid which sinks into the skin, fur and natural oils rapidly. With this pack, you get 5 months worth of treatment for around £12 which is £2.40 per month. With the Natural Chemistry Flea and tick squeeze, all you've got left to do is make the rest of the household flea free.
It's a relatively new product in the market but has already garnered very positive reviews. Verified customers on Amazon have praised its speed in getting to work and killing the fleas and its pleasant smell (it contains cinnamon oil, mint oil and lemongrass oil) – many of the spot-on treatments do have a bit of a medical smell to them so this is a welcome change. Ths USP of this is the fact that it's a healthier alternative to traditional spot-on treatments. It may not be our number 1 recommended spot-on flea treatment but it's definitely up there as one we would put our name next to.
Pros
The nicest smelling spot on treatment
Less harsh chemicals used
Works very quickly
5 months worth of protection
Free delivery
Cons
Not as effective as some of the more seasoned products
Not as widely reviewed as it's a new product in the UK
9. Johnson's Flea Tablets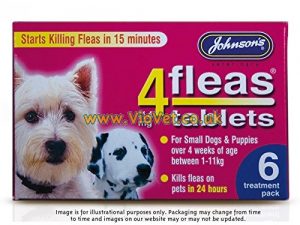 The lowdown: Johnson's 4Fleas tablets are another excellent choice of pill-based flea treatment which acts fast (15 minutes) and will kill all fleas within 24 hours. 4Fleas are known to be the first-ever over the counter non-prescription flea treatment taken orally and has become quite the household name on the back of it. Johnson's 4fleas tablets have no side effects whatsoever other than the kill of fleas making them one of the safest choices if your concerns were those.
Some of the third party reviews have noted that they have been prescribed a dose of one tablet a day over three days for them to work as opposed to within 24 hours as the box suggests – it really does depend on the dog, however. So, if you just want something to work fast and without fail then perhaps these aren't the ones for you. Otherwise, they are a snip at around £8 for a box of 4. As usual, always use in conjunction with other flea treatments except for other oral flea treatment. Stick to shampoos, collars and sprays.
Pros
Cheap and cheerful
Market leading brand
No side affects and easy to swallow
Cons
Some people have reported them taking 3 days to take effect
There are better out there
10. Beaphar Fibrotec Spot-on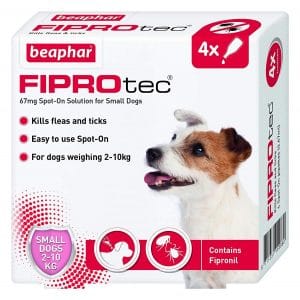 The lowdown: Beaphar's Fiprotec spot-on is an easy to use, affordable non-prescription flea treatment which we rate highly thanks to its high-performance level and reasonable price. With this spot-on treatment, you can expect your dog to begin losing its fleas even if they haven't bitten into your dog yet. This is due to the inclusion of the chemical Fipronil (hence the name). Fipronil is a chemical which is stored in the dog's hair follicles and kills the fleas that way. Although this stuff is somewhat safer as it is not ingested it is at the same time a bit slower working; after 24-48 hours instead of the usual 15 minutes to 24 hours that other spot-on treatments do. However, it does offer protection for 5 weeks after which is on part with the leading spot-on flea treatments.
We've included this choice for those who want to avoid exposing dogs to chemicals. Using this along with household sprays and shampoos means that your dog will completely avoid most allergens and chemicals they may disagree with. It's not expensive, works well so yeah, we're quite pleased to say that this is one of the best flea treatments.
Pros
A flea treatment that isn't ingested
Hard working treatment that protects for 5 up to weeks.
Cons
Not suitable for those looking for a quick fix
What are fleas?
A flea is a disgusting little parasite which sucks the blood of the organism it latches on to. Their main method transportation is leaping thanks to their giant hind legs which helps them be able to latch on the bodies of animals much, much larger than them such as dogs. Fleas have evolved to become specialists in dealing with their preferred host which means that they have strong claws to stay lodged and specialised mouths to draw the blood. Although a flea won't kill a dog they will drive them absolutely bonkers with how itchy they will make their skin as they move around their fur.
A flea is classed as an insect which can not fly. They are usually flat in shape which makes them more manoeuvrable in a mammal's fur. A flea has 4 life cycles and a dog can encounter all 4 of them if an adult breed. The four lifecycles are egg, larva, pupae and adult. Although fleas are a nasty bunch of parasites they are fairly easy to treat and prevent as well. The species of flea that like dogs, in particular, is the "Ctenocephalides canis" but other species of the flea can still adapt to the dog's blood.
Female adult fleas can lay 25 eggs in a day and live for a week, but she won't start laying them until a blood source has been established (your dog) So, just bringing in one flea can lead to a massive infestation in a short space of time. A single egg takes around 17 to 26 days to become an adult. Effective flea treatment for your dogs can nip the proverbial bud before it becomes a problem, however, for many people flea treatment is an afterthought once the infestation has set in.
How do dogs get fleas?
Unfortunately for dogs, their natural desire to roam and explore is one of the leading causes of getting fleas and the need for effective treatment. he most common cause of fleas is other animals which include both wild animals and other flea-infested domestic animals such as cats and other dogs. Typically, fleas are caught from other animals when the dog gets close enough and the flea uses their powerful legs to leap on. The RSPCA state that fleas can be a problem no matter how clean your home is – always stay vigilant.
Puppies shouldn't receive flea treatment and should never be exposed to animals and places which could give them fleas.
Related Post: Our recommended harnesses for comfortable walks
Some animals which can carry fleas are:
Birds
Cats
Rodents
Rabbits
Squirrels
Hamsters/Gerbils
Humans (yes you read that right!)
Being close to flea-infested animals isn't the only cause, however, with the second leading cause being an infestation being brought into your home through flea-infested items such as old clothes, mattresses, toys, rugs and blankets. Generally, you'll find these if you purchase second hand or even just picked up randomly on the street. It only takes one flea to create a widespread infestation throughout the house, so be warned.
ALSO READ: JugDog's Recommended Dog Beds
Are fleas dangerous to dogs?
First and foremost, fleas are an irritating parasite but one that's unlikely to go away completely. A bit like the common cold. If the flea problem was such an easy one to win then there wouldn't be as many flea treatment products on the UK market. However, having fleas can still lead to some serious problems if the infestation is bad enough and the dog does not get any treatment for a prolonged period of time. After all, fleas DO feed on your dog's blood while they are there. Here is a list of potential problems your dog could face if they have fleas
Flea bite dermatitis
Flea bite dermatitis is one of the most common symptoms and problems dogs can get from an infestation. As the fleas move around, bite and suck on your poor canine's blood they will cause a red lump which will lead to a terrible itch that they'll furiously try and get rid of with scratching and biting at their skin.
This constant aggravation of the skin can lead to bleeding and in some cases an infection surrounding the wound caused by itching, biting and scratching. If left unchecked the infection can cause some serious problems for your dog's health and a visit to your vet. Even if you manage to give your dog flea treatment the infection left behind can still cause problems.
Related: Dog Nail Clippers You Should Buy
Flea allergy dermatitis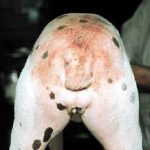 Flea allergy dermatitis is caused by an allergic reaction to the flea's saliva. Symptoms of an allergic reaction include a red rash, skin bumps and scabbing. Flea allergies can spread much further than just the bite – in cases where the dog is infested with fleas the allergic reaction can spread all over and create a very serious problem. Typically, dogs who have allergic reactions to foods are more likely to get reactions from parasites such as fleas.
Both flea treatment and skin treatment need to be given to help the dog recover.
Tapeworms
Dogs can contract tapeworms via a flea which has a tapeworm inside of them. This sounds and is indeed disgusting. Tapeworms are a nasty problem in their own right so to get both fleas and tapeworms is both tragic and horrible.
RELATED: Our Top Rated Worm Treatments
Anaemia
Flea anaemia would class as one of the most severe and possibly last stage of a serious flea infestation on your dog. Flea anaemia occurs when the fleas have been left untreated for so long that they have drained so much blood that the dog can no longer function as they would normally. Pair this with the bite dermatitis and allergy dermatitis and you have a seriously sick dog that will need immediate medical attention.
Flea treatment on its own will simply not do here. Your dog will likely need blood transfusions, antibiotics, physiotherapy to get them active again. If left untreated, anaemia can sadly lead to death which is a real possibility for dogs who are neglected for long periods of time such as strays and those with awful owners.
Types of flea treatment
You can get flea treatment with different applications that can a preventative and a cure. Many of these work well with each other with one method not always enough to get rid of an infection on your dog and the household. However, caution should be used using flea tablets and spot on at once.
Flea Spray

A flea spray is a simple plastic spray loaded with a chemical concoction which can include permethrin and piperonyl butoxide, pyriproxyfen and chrysanthemum cineraria folium. A flea spray is primarily used to rid fleas in the household and on infected clothes such as dog beds, clothes, beds and so on. Typically, a flea spray is NOT to be directed directly on a dog and instead used to rid of fleas everywhere else.
If your dog definitely has fleas and you're unsure if the infestation has spread elsewhere then we recommend purchasing a spray to be sure as the fleas can always come back and even jump on to you if your dog is now flea-free!
Direction of us: Spray onto surfaces where a flea infestation is but NOT a dog or human or any living being
Recommended for: To keep areas free of fleas and as a preventative from time to time
How effective is it?: Flea spray is very effective at getting rid of fleas from household furniture and other cloth materials. Flea is highly recommended for large outbreaks of fleas in the home.
How long does it take to work?: Domestic flea sprays can take up to an hour work to work when sprayed as prescribed on the instructions label of whatever brand you go for. The effects of the spray will start to kill adults fleas pretty quickly and halt the progress of adolescent flea (egg, larvae, pupae) at the same time meaning no new fleas will emerge following being covered. The effects of flea spray will last for up to 12 months after which makes it the most effective flea prevention product on the UK market and even if your dog never gets fleas you should still keep some in the home.
Tablets
Flea tablets/pills are typically the first lines of defence when you suspect your dog has fleas. They are cheap, effective and if it's not a severe infection can stop any more progress very quickly. Flea tablets work in a couple of different ways by releasing chemicals into the bloodstream and then killing the flea when they suck more blood or through the dog's natural oils on the skin.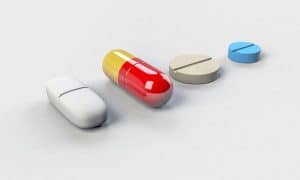 The chemicals in the pills that fleas do not like are nitenpyram which attacks the flea's nervous system and spinosad which again attacks the nervous system of the flea causing almost instant death. Lastly, many manufacturers of flea tablets throw in some garlic which makes the dog produce an odour that fleas just don't like acting as both a treatment and a preventative.
Direction of use: To be taken orally by a dog
Recommended for: To quickly get rid of existing fleas on a canine and as a regular preventative
How effective is it?: Flea tablets and pills are one of the most effective methods of treating dogs for fleas and would be our recommendation to purchase in every case of fleas.
How long does it take to work?: Flea tablets enter the bloodstream and get spread around very quickly. Most brands of tablets to get rid of fleas will start to work within minutes and any fleas currently attached to the bloodstream will start to drink poison and die. The effects of the tablets continue to work for the next 12 weeks making this is a product you should give your dog quarterly as prevention.
Flea Shampoo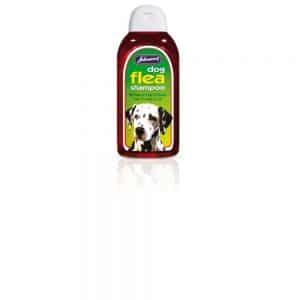 Flea shampoo is one of the most popular methods of flea treatment and prevention as it's quite effective and easy to use and eliminates the worry about bathing a dog after using flea treatments. Flea shampoo can kill and wash away fleas while they're in the bath and become a preventative afterwards thanks to its anti-flea odour. As is the case with most flea treatment, we'd recommend using the shampoo at the same time as other methods such as the spray and tablets.
Many of the flea shampoo brands on the UK market will also help treat dry skin which they will likely to be suffering from if they've had a flea infestation so there's a double win here.
Direction of use: To be lathered into a dog's fur while having a bath or a shower
Recommended for: To get rid of existing fleas as well as a preventative measure for potential infestations in the future
How effective is it?: On its own, we don't think flea shampoo is as effective and fast-acting as alternatives such as flea tablets. However, we do think it's a cheap way to "be sure" that the fleas have gone.
How quickly does it work?: Flea shampoo kills fleas instantly as well as stunting and halting the growth of the eggs, larvae and pupae. Flea shampoo also has the beneficial quality of being a pleasant experience at the same time as your dog's skin is soothed if they have had any dry/itchy/ skin issues at the same time. If your dog has had some previous flea treatment then shampoo is even more effective as it isn't as powerful as tablets or spot-on treatment on its own.
Flea Collars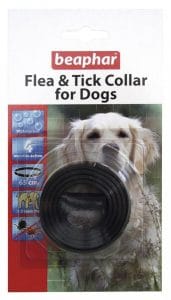 A flea collar is pretty much as the name suggests. It is a collar that releases gas into the air and through the dog's fur and skin to act as a repellant for fleas. We don't see it as good treatment as it's just not strong enough but as a year-round repellant, it could do the job. However, it can get a bit awkward if they already wear a normal type of collar or even a harness as they'll effectively be wearing two which may look daft and make them annoyed.
Direction of use: Wear as a collar
Recommended for: As a cheap year round flea repellant
How effective is it?: As a treatment – poor as the biggest impact is closest to the collar if they are larger dogs with fleas on their tail it's unlikely to do anything. As a repellant, though, it's probably fine but again it's not as effective as others.
How quickly does it work?: Flea collars work pretty quickly in the areas close to the collar (we're talking hours) and continue to work for a number of months after that. However, with it being not a 100% effective it technically takes even longer to work on the more remote areas of the dog.
Spot on Flea Treatment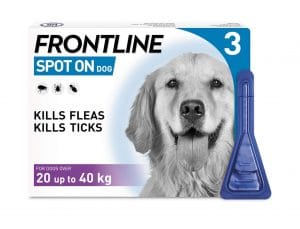 Spot-on flea treatment is a liquid in a pipette which goes under your dog's skin which kills existing fleas and prevents further infestations for up to 4 weeks. Typically, spot-on flea treatment is what a vet would prescribe and recommend as it's extremely effective and cheap to buy.
Direction of use: Open pippett and apply to the back of dog's neck where they can not reach to lick.
Recommended for: Spot-on flea treatment is both an excellent treatment for an existing infestation and as a regular prevention when applied as prescribed by the manufacturer.
How effective is it?: Spot on flea treatment is about as effective as it can get in our war against canine fleas.
How quickly does it work?: Spot on dog treatment starts to work instantly but typically fleas will start to perish after around 10 minutes. Spot on flea treatment enters the bloodstream and out again through the dog's natural oils rapidly which is bad news for fleas their eggs, larva and pupae. However, spot-on treatment only last 4 weeks after application which makes it second best to the tablets in terms of lasting impact.
How to prevent your dog from getting fleas
In an ideal world, we wouldn't need any flea treatment at all. Unfortunately, we don't live in an ideal world and most dogs will probably encounter some fleas at some point in their lives. If a dog lives in a filthy environment and never gets any preventions then fleas could be a constant and consistent problem. Here are some tips to avoid fleas on your dog and in your home in the first place:
Regular treatments for the dog
The number one method to prevent your dog from getting fleas and carrying their eggs is to regularly give them preventative treatments such as flea tablets and spot-on dog flea treatment. Using this will make your dog less attractive to the fleas. You could also swap out your regular dog shampoo with flea shampoo for even more protection.
In our opinion, if you follow this point you don't really need anything else – this will be more than enough. If you use a flea shampoo, make sure you don't wash them too often.
Regular treatment in the home
To make sure that if your dog gets fleas they aren't passed on to the home it's recommended to periodically give your home some flea treatment, too. This is quite easy with the use of our recommended best flea sprays to give areas where your dog hangs around the most. Don't worry, you don't need to spray all of your furniture, clothes and so on – try to make sure to get your dog's sleeping area sorted including the bed, dog crate and any blankets they use and you should be fine.
RELATED: JugDog Recommended Dog Crates / Indestructible Dog Beds
Dog flea sprays are odourless so when you do treat the house it's not going to stink!
Don't bring home second hand clothes
As we've explained previously, fleas aren't just caught from other animals but from places they've laid their eggs, too. We recommend to never bring any second-hand clothes, rugs, dog beds, blankets etc home and if you do wash them with a hot temperature before you use them as fleas hate the heat.
Wash their accessories often
A dead-easy way to prevent fleas is to keep your dog's accessories clean on a regular basis. This doesn't necessarily mean use a flea spray as washing your dog's dog bed, collar, harness, crate, blankets etc at a warm temperature can also keep the parasites at bay. Take even more precautions if two dogs share the same bed.
RELATED: Waterproof dog beds / Waterproof dog coats
Treatment after a big day out
If you've been out with your dog and they've been exploring more than usual particularly in spring and summer and they're NOT currently on any sort of flea prevention treatment then we recommend to give them some once they're home again. Fleas jumping from other mammals are a common cause of flea infection which means the chances of it happening are increased when there are more of those animals about (spring/summer) and when your dog has ventured off the beaten path more than usual.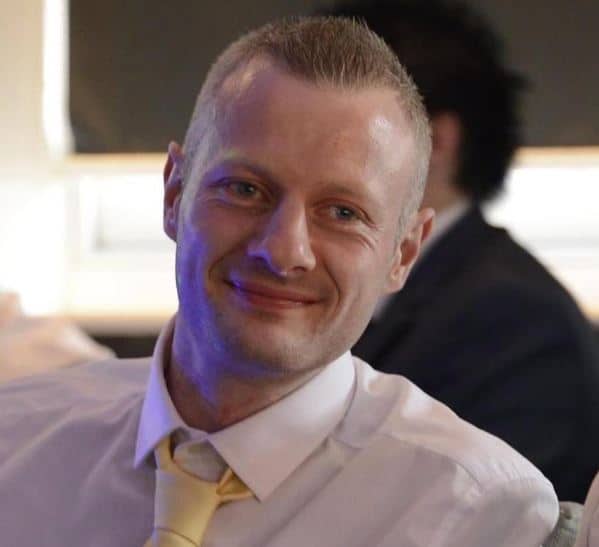 Ronnie is the JugDog site editor and a dog expert who has lived and worked with dogs his entire life. Living in St. Helens, UK with his wife son and Jug Dog Jeff Ronnie spends most of time researching the answers to the burning questions of the dog community as well as reviewing the latest and greatest dog products.
Last update on 2020-07-08 / Affiliate links / Images from Amazon Product Advertising API