Fleas are one of the most commonly quoted problems from dog owners about their dogs. They are extremely annoying to have and once your dog has them then your entire house could become infected with the parasites.
Giving your dog regular effective flea treatments is an easy method to stop it from happening in the first place as well as treat any flea infection they already have. With so many different flea treatment brands on the UK market in 2020, however, it can be confusing to know which one is the best choice for you. Here at JugDog, we have compiled a final list of 10 and a complete buyer's guide for the best flea treatment for dogs.
Brand
Best Shampoo
ProGroom Dog Shampoo
Image

Best Shampoo
Image

Best Flea Treatments For Dogs UK Reviews
We feel the best flea control treatments to kill fleas and prevent flea eggs is the below selection which contains a varied deployment method and topical treatments to suit every owner and dogs alike.
1. Bob Martin Flea Tablets for dogs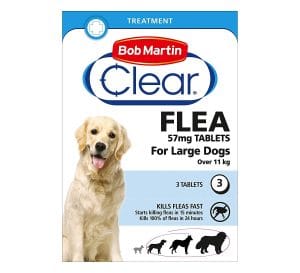 The lowdown: Bob Martin is somewhat of a household name for UK dog products and none of them is as popular as their effective non-prescription flea tablets. They are a safe product to give to puppies (from 4 weeks), adults and even pregnant bitches which just shows how safe they are. Works in 15 minutes to kill existing fleas and stop the growth of eggs, pupae and larvae. In a pack, you get 3 tablets so it is quite pricey per tablet but it is one of the best and most effective treatments on the market for dogs of all ages except puppies.
We recommend pairing these tablets with a home remedy such as a flea spray and a hot wash for your dog's bed etc.
Pros:
Works very quickly to kill adult fleas on dogs
Easy to administer
Tried and tested flea control
Cons
Expensive price per tablet so make sure not to waste them
2. Frontline Spot On Flea for Dogs treatment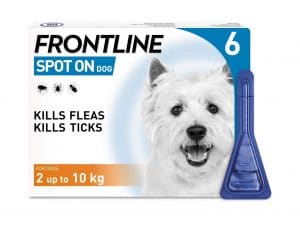 The lowdown: Frontline is one of the biggest names in the world of flea control and their most popular product is the non-prescription spot-on flea treatments for dogs. After breaking the pipette you apply to the back of the neck and that's job done for the month in terms of killing any existing fleas and flea eggs and preventing any future infestations for around 4 weeks. It's fast-acting, easy to apply and effective. Because of this, we feel Frontline Spot On Flea treatment is the best flea treatment around.
At around £25 per pack of 6, you can make your dog flea free for a year for £50. If you have a subscription with a vet you can often get these for free as part of that. Otherwise just check out our product buttons for more information. If you're worried that rain or a bath will wash away its effects – don't – Frontline spot on flea treatment continues to work regardless if your dog has been exposed to rain.
Best for owners who want fleas to be killed as quickly as possible.
Pros
Extremely effective 30 days protection for flea dogs
Kill fleas in 12 hours or less
Relatively cheap
Super easy to apply treatment for dogs
Cons
Doesn't make the home flea free for any other pet
Need to have a reminder to apply every month
3. Indorex Flea Spray for dogs

The lowdown: Virbac is a major company which is heavily involved with veterinarian products across the country – they are a company that supplies a lot of products to vets who then pass on their excellent products to us dog owners. Their Indorex flea control spray is the best flea spray on the UK market in our opinion as it's incredibly cheap at less than £10 for a spray that could cover a 4 bedroom house if you wanted to. Not only that, but it also kills fleas quickly and has an odourless spray. The Indorex fleas and ticks spray is NOT designed to be used directly at the dog but instead to be directed at household furniture, clothes, beds, rugs, carpets and so on.
If your dog has fleas then use this spray to protect your home but use tablets, shampoos or a spot on treatment to treat the dog itself.
Pros
Excellent value for money
It works and kills adult fleas
Works best for 6 months after spraying
Cons
Doesn't work on the dog itself
Hard to know where you've sprayed because of a lack of smell
4. Progroom Oatmeal Flea Shampoo for dogs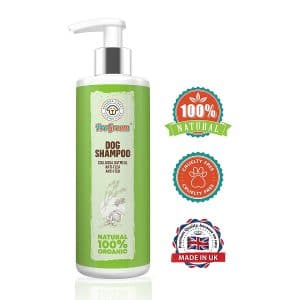 The lowdown: We think that Progroom's natural, organic and chemical-free oatmeal flea dog shampoo is the best flea shampoo on the UK market right now for dogs with or without fleas and ticks, as do over 100 of other verified buyers on Amazon. It's not just a shampoo that will kill fleas it's also a fantastic shampoo in general which uses only natural ingredients making your dog fresh, clean and soothed if they are suffering from any skin issues related to fleas. It's not cheap but as dogs don't need to be washed that often it should last you at least 6 months. If you're currently having problems with fleas with your dog and the home then use this fantastic shampoo to supplement your efforts.
After using this product your dog will look and smell great. It's antifungal, anti-itch, anti-allergic and anti-bacterial. Any itchy skin they've got will start to get better and they'll be free of dandruff. If your dog doesn't have any fleas but you want to repel them then this shampoo will also tick that box. It does absolutely everything you want from shampoo and more!
Pros
Does more than just get rid of fleas
Will last a long time
Takes care of skin problems
Kill fleas within 12 hours and protects them for 30 days
Cons
Shouldn't be used without other topical flea treatment
Expensive shampoo
Related: Best Dog Shampoo
5. Johnson's Vet Dog Fleas and Ticks Collar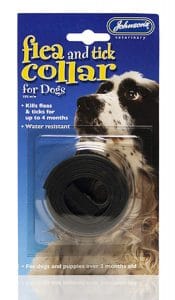 The lowdown: Dog collars are an easy way for dog fleas and flea eggs to meet their demise. The best flea collar in our opinion is the selection offered by Johnson's. To put it simply, it may not be the best flea treatment but it's extremely cheap and it does work – especially on the smaller breeds. Johnson's usually offer a 2 pack which is pretty much a whole 8 months worth of flea repellant for under £10 which is a steal and the best return on investment out of any flea treatment we've reviewed.
The collar itself is not stylish and it is NOT suitable to add a dog lead to. You will have to put this collar on in addition to your existing collar and under any dog coats or harnesses. It is no elastic, however, so if it gets caught in anything it can be a bit of a problem. It's waterproof so it can be worn in every season. All in all, this is a decent dog collar that's a steal if you just want to get everything you can to have a flea-free pooch.
Pros
A 'no hassle' solution
Cheap
4 months of repellant per collar against adult fleas and flea eggs
Cons
Not an elastic collar
Not stylish
Not the most potent flea control you can get
6. Cooper & Gracie Dog Flea Protection Spray for dogs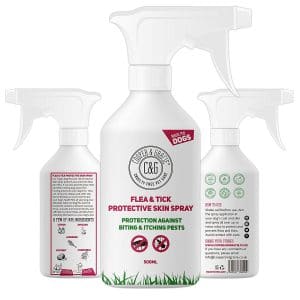 The lowdown: This cruelty-free and vegan spray is one of the best reviewed flea products on Amazon. This spray works as a coat conditioner to protect your dog from fleas and ticks and should be applied on a regular basis. By that we mean it should be applied before you go for a walk as a strong repellant for that walk. If your dog is exposed to rain or without use or a while it becomes ineffective and will need to be reapplied. Some people may find this handy and others may find this very annoying and just won't do.
However, these products are best used by those who want to make sure their dogs are safe and not to be used as the only tool in the wheelhouse. Therefore, we recommend having this in the house to be used alongside tablets/spot-on treatments during riskier seasons such as spring and summer where fleas are in abundance. In terms of the best flea treatments spray that can actually be aimed at dogs, however, this is the best.
Pros
Convenient to use
Loads of positive reviews
Cons
Not the best protection
Limited time as a repellent against flea and tick for a pet
7. Merial Frontline HomeGuard Flea Spray for dogs

The Lowdown: The Merial Frontline HomeGuard Household flea spray is different than Cooper and Gracie's version as this is not intended to be directed towards the dog. Instead, this is a flea spray designed for the home or vehicle and best used to kill and repel fleas in areas such as carpets, cracks, crevices, flooring, bedding, blankets and soft furniture. The 400ml aerosol is fast, effective and excellent value for money and should be in every dog owners toolbox whether they have a flea problem or not.
The best thing about this spray is that its effect lasts for a whopping 12 months after application! Unless you live in a mansion then £15 or so for peace of mine for a year is an absolute steal. Of course, you will still need to get alternative treatments for dogs so don't forget to check out our other non-prescription UK flea treatment reviews. This is the best flea spray for the home in our opinion.
Pros
Effective for 12 months after application
Extremely effective against adult fleas
Has a pleasant smell
Excellent value for money
Cons
Very toxic to aquatic animals so make sure to store safely
House needs ventilating after application for best results
8. Natural Chemistry Flea and Tick Squeeze On flea treatments for dogs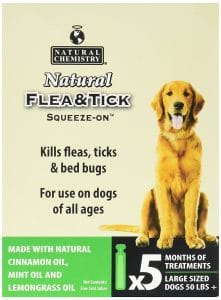 The lowdown: Natural Chemistry are known as an ethical producer of pet products and the flea and tick squeeze on a flea treatment is no exception. A quality product with 5 pipettes in a pack which have a powerful anti-flea liquid which sinks into the skin, fur and natural oils rapidly. With this pack, you get 5 months worth of treatment for around £12 which is £2.40 per month. With the Natural Chemistry Flea and tick squeeze, all you've got left to do is make the rest of the household flea free.
It's a relatively new product in the market but has already garnered very positive reviews. Verified customers on Amazon have praised its speed in getting to work and killing the fleas and its pleasant smell (it contains cinnamon oil, mint oil and lemongrass oil) – many of the spot-on treatments do have a bit of a medical smell to them so this is a welcome change. Ths USP of this is the fact that it's a healthier alternative to traditional spot-on treatments. It may not be our number 1 recommended spot-on flea treatment but it's definitely up there as one we would put our name next to.
Pros
The nicest smelling spot on treatment against adult fleas
Less harsh chemicals used
Works very quickly
5 months worth of protection
Free delivery
Cons
Not as effective as some of the more seasoned products
Not as widely reviewed as it's a new product in the UK
9. Johnson's Flea Tablets for Dogs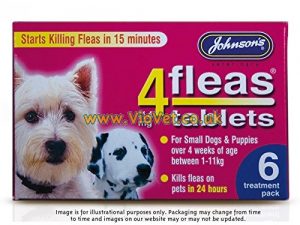 The lowdown: Johnson's 4Fleas tablets are excellent products of pill-based flea treatment which acts fast (15 minutes) and will kill all fleas within 24 hours. 4Fleas are known to be the first-ever over the counter non-prescription flea treatment taken orally and has become quite the household name on the back of it. Johnson's 4fleas tablets have no side effects whatsoever other than the kill of fleas making them one of the safest choices if your concerns were those.
Some of the third party reviews have noted that they have been prescribed a dose of one tablet a day over three days for them to work as opposed to within 24 hours as the box suggests – it really does depend on the dog, however. So, if you just want something to work fast and without fail then perhaps these aren't the ones for you. Otherwise, they are a snip at around £8 for a box of 4. As usual, always use in conjunction with other flea treatments except for other oral flea treatment. Stick to shampoos, collars and sprays.
Pros
Cheap and cheerful
Market leading brand
No side affects and easy to swallow
Protection for 30 days
Cons
Some people have reported them taking 3 days to take effect against adult fleas
There are better out there
10. Beaphar Fibrotec Spot-on for dogs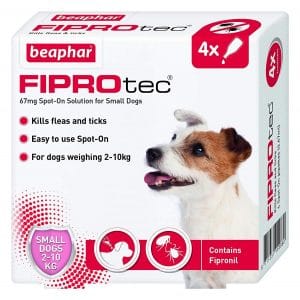 The lowdown: Beaphar's Fiprotec spot-on is an easy to use, affordable non-prescription flea treatment which we rate highly thanks to its high-performance level and reasonable price. With this spot-on treatment, you can expect your dog to begin losing its fleas even if they haven't bitten into your dog yet. This is due to the inclusion of the chemical Fipronil (hence the name). Fipronil is a chemical which is stored in the dog's hair follicles and kills the fleas that way. Although this stuff is somewhat safer as it is not ingested it is at the same time a bit slower working; after 24-48 hours instead of the usual 15 minutes to 24 hours that other spot-on treatments do. However, it does offer protection for 5 weeks after which is on part with the leading spot-on flea treatments.
We've included this choice for those who want to avoid exposing dogs to chemicals. Using this along with household sprays and shampoos means that your dog will completely avoid most allergens and chemicals they may disagree with. It's not expensive, works well so yeah, we're quite pleased to say that this is one of the best flea treatments.
Pros
A flea treatment that isn't ingested
Hard working treatment that protects for up to 30 days
Cons
Not suitable for those looking for a quick fix
How do dogs get fleas?
Unfortunately for dogs, their natural desire to roam and explore is one of the leading causes of getting fleas and the need for the best and most effective treatment. The most common cause of fleas is other animals which include both wild animals and other flea-infested domestic animals such as cats and other dogs. Typically, fleas are caught from other animals when the dog gets close enough and the flea uses their powerful legs to leap on. The RSPCA state that fleas can be a problem no matter how clean your home is – always stay vigilant.
Puppies shouldn't receive flea treatment and should never be exposed to animals and places which could give them fleas.
Some animals and pet which can carry fleas are:
Birds
Cats
Rodents
Rabbits
Squirrels
Hamsters/Gerbils
Humans (yes you read that right!)
Being close to flea-infested animals and pet isn't the only cause, however, with the second leading cause being an infestation being brought into your home through flea-infested items such as old clothes, mattresses, toys, rugs and blankets. Generally, you'll find these if you purchase second hand or even just picked up randomly on the street. It only takes one flea to create a widespread infestation throughout the house, so be warned.
Are fleas dangerous to dogs?
First and foremost, for dogs, fleas are an irritating parasite but one that's unlikely to go away completely. If dogs' flea problem was such an easy one to win then there wouldn't be as many flea treatment products on the UK market and the need to create lists like this.
However, having fleas can still lead to some serious problems if the infestation is bad enough and the dog does not get any treatment for a prolonged period of time. After all, fleas DO feed on your dog's blood while they are there. Here is a list of potential problems your dog could face if they have fleas
Flea bite dermatitis
Flea bite dermatitis is one of the most common symptoms and problems dogs can get from an infestation. As the fleas move around, bite and suck on your poor canine's blood they will cause a red lump which will lead to a terrible itch that they'll furiously try to get rid of with scratching and biting at their skin.
This constant aggravation of the skin can lead to bleeding and in some cases an infection surrounding the wound caused by itching, biting and scratching. If left unchecked the infection can cause some serious problems for your dog's health and a visit to your vet. Even if you manage to give your dog flea treatment the infection left behind can still cause problems.
Flea allergy dermatitis
Flea allergy dermatitis is caused by an allergic reaction to the flea's saliva. Symptoms of an allergic reaction include a red rash, skin bumps and scabbing. Flea allergies can spread much further than just the bite – in cases where the dog is infested with fleas the allergic reaction can spread all over and create a very serious problem. Typically, dogs who have allergic reactions to foods are more likely to get reactions from parasites such as fleas.
Both flea treatment and skin treatment need to be given to help the dog recover.
Tapeworms
Dogs can contract tapeworms via a flea which has a tapeworm inside of them. This sounds and is indeed disgusting. Tapeworms are a nasty problem in their own right so to get both fleas and tapeworms is both tragic and horrible.
RELATED: Our Top Rated Worm Treatments
Anaemia
Flea anaemia would class as one of the most severe and possibly last stage of a serious flea infestation on your dog. Flea anaemia occurs when the fleas have been left untreated for so long that they have drained so much blood that the dog can no longer function as they would normally. Pair this with the bite dermatitis and allergy dermatitis and you have a seriously sick dog that will need immediate medical attention.
Flea treatment on its own will simply not do here. Your dog will likely need blood transfusions, antibiotics, physiotherapy to get them active again. If left untreated, anaemia can sadly lead to death which is a real possibility for dogs who are neglected for long periods of time such as strays and those with awful owners.
FAQs
What kills fleas on dogs instantly?
Any flea treatment which gets into the blood quickly will kill fleas almost instantly. For best results on urgent cases we recommend spot-on or tablets.
What do vets prescribe for fleas?
Vets will generally prescribe spot-on treatment to dog owners for best results as they are known to work quickly and are relatively easy to apply and cheap to buy from suppliers.
What is the fastest way to get rid of fleas on a dog?
The best method to get rid of fleas on a dog is to give them treatment which goes into the blood – spot-on and tablets are the best products for this.
Last update on 2023-10-14 / Affiliate links / Images from Amazon Product Advertising API