We all love our dogs; but it can be difficult to really love being in their company when they smell. Dogs don't need to, nor should they, be washed regularly: it can damage their fur and dry out their skin causing irritations. Instead, washing your dogs in a high quality shampoo will help to keep their skin clean and their fur smelling fresh. We've reviewed over 30 different brands which are available in the UK to bring you our list of the best dogs shampoo. Towards the end of this article you will find information on types of shampoos as well as a guide on how to appropriately wash your dog.
Brand
Best Overall
Groom Professional
Best For Fleas and Ticks
ProGroom Natural Oatmeal Shampoo
Best For Really Dirty Dogs
Animology Fox Poo Deodorising Shampoo
Best For Sensitive Skin
Groomers Oatmeal and Honey Shampoo
Image




Best Overall
Image

Best For Fleas and Ticks
Brand
ProGroom Natural Oatmeal Shampoo
Image

Best For Really Dirty Dogs
Brand
Animology Fox Poo Deodorising Shampoo
Image

Best For Sensitive Skin
Brand
Groomers Oatmeal and Honey Shampoo
Image

Best Dog Shampoo Reviews
1. Groomers Oatmeal and Honey Shampoo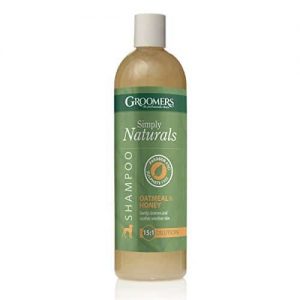 Groomers Honey and Oatmeal is the best shampoo for dogs with sensitive skin. This soap free product is made using natural ingredients to soothe and moisturise your pet; leaving them with a healthy skin and coat afterwards. This ph balanced shampoo contains vitamin-rich honey and rejuvenating oatmeal which will soothe their skin. The fragrance is pleasant and not overpowering.
Groomer's Oatmeal and Honey is an environmentally friendly shampoo free from all the nasty chemicals we recommend to avoid. All things considered, we feel that this one of the best dog shampoos out there and it's not expensive either!
2. Groom Profesional Baby Fresh Shampoo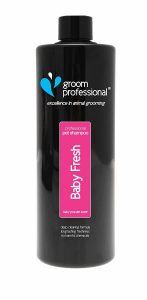 Groom Professional "Baby Fresh" shampoo is the greatest option for a long-lasting scent on your dog's skin and coat. The shampoo contains aloe vera which acts as a natural conditioner and helps to nourish dry skin. After using this product you will notice that the coat is soft, fresh and their skin smells incredible. An ideal shampoo for puppies aged 8 weeks and over. This particular product has been rated 4.8/5 on Amazon with over 4500 reviews; clearly others have loved the scent of this product just as much as we have.
3. ProGroom Natural Oatmeal Dog Shampoo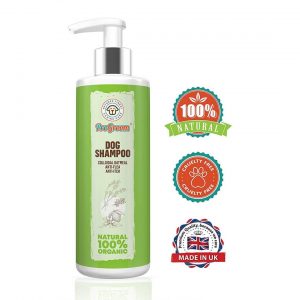 ProGroom Oatmeal dog shampoo is the best vegan and natural dog product on our list. Made with natural ingredients this is ideal for dogs with sensitive skin. The stand out feature of this product is how it contains essential oils from lavender, orange peel, oatmeal and aloe vera extract to name just a few. This natural dog shampoo is wonderful for dry skin as it contains a unique formula of colloidal oatmeal which increases the oil and water binding capacities; this really helps moisturise their skin. Your dog's skin and coat will be left in top condition thanks to the cruelty free ingredients list and the added aloe vera.
4. HWL Oatmeal and Tea Tree Oil Shampoo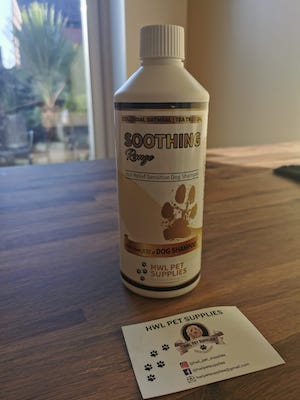 HWL Pet Supplies Oatmeal & Tea Tree Oil is a luxury dog shampoo specifically designed to help dogs which suffer from skin irritation and dry sensitive skin, helping to reduce skin inflammation and itchiness in dogs of all different fur types.
This gentle 500ml shampoo can be used to improve conditions such as dry flaky skin, dandruff, hot spots, fleas and even dermatitis. There are no nasties added to this natural dog shampoo so expect a superb shine and beautiful soft smelling coat.
5. Nootie Cucumber Melon Pet Shampoo

Nootie's pet shampoo is the best soap free option. This aloe vera and oatmeal shampoo heals and moisturises your dog's delicate skin and coat. Nootie have gone further than most oatmeal dog shampoos by adding a pleasant cucumber and melon scent. This ph balanced natural dog shampoo is paraben and soap free so you can be rest assured that they will most certainly not have skin problems post wash. If your dog is taking a skin treatment for fleas and ticks they can safely use this oatmeal and aloe product without the treatment being negatively impacted. We thoroughly recommend this product for most breeds of dogs that do not have specialist fur requirements.
6. Animology "Fox Poo" Deodorising Dog Shampoo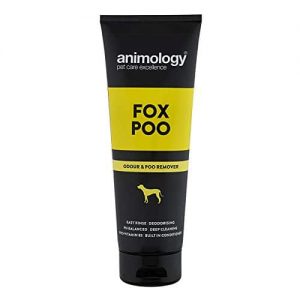 Animology's "fox poo" deodorising dog shampoo is best for removing bad smells out of your dogs coat and skin. It is designed to give genuinely smelly and dirty dogs and really deep clean; from their fur down to their skin beneath. If you've got dogs who are active, hang around in the great outdoors or have especially thick fur (which is difficult to penetrate) then this is the product for you. It combats fox poo, dead fish and any other nasty smells your dog might have picked up.
It's 100% vegan, anti-bacterial and made using materials which will protect your dog's natural pH balanced levels and includes pro-vitamin B5 which acts as a natural conditioner. All in all, we're hugely impressed by this shampoo and would be happy to put it down as one of the best to eliminate bad smells from their fur and skin!
7. DermOpt 6 in 1 Dog Shampoo and Conditioner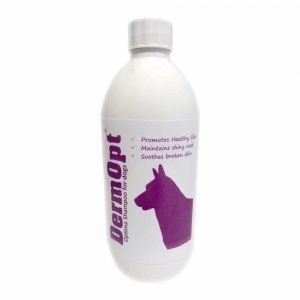 The DermOpt shampoo is best if your pet is suffering from itchy skin. This is a concentrated dog shampoo that needs diluting to suit whatever needs your dog has: be it a thick furry coat; dry, itchy skin; saliva stained fur or a flea-bitten coat. A little goes a long way with this concentrated pH balanced product meaning it is also great value for money. DermOpt uses medical grade ingredients that work in accordance with your pet's skin to lift and remove impurities; thus promoting healthy, pH balanced skin and a silky glowing coat.
8. Chambers and Co Natural Shampoo with Essential Oils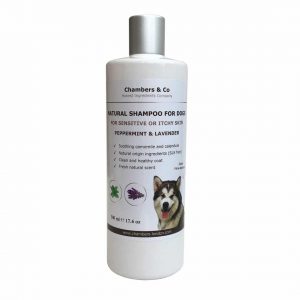 This Chambers & Co natural dog shampoo with essential oils is a coconut based product making this option one of the nicest smelling and freshest shampoos we've had the pleasure to test out. The aroma is top notch and it's so easy to lather in and rinse out of their skin thanks to its formula. Natural ingredients such as camomile and calendula have been used to relieve and treat itchy skin as well as prevent dryness following a wash; a really wonderful product for sensitive skin. This shampoo also contains pro vitamin b5 which acts as the conditioner.
The essential oils and one of the reasons why this smells so good; the pH balanced product is available to purchase in either peppermint and lavender scent or neroli both of which linger on their skin beautifully. We've got to say, we found this particular product to be one of the best smelling shampoos out of all the ones we tested out. When we researched other people's reviews we found that it was overwhelming how many others felt the same. This is highly recommended.
9. Wahl Showman Aloe Soothe Oatmeal Shampoo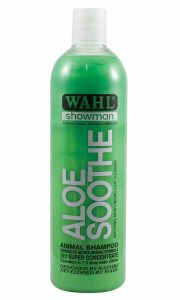 Wahl is a famous brand most commonly known for human shampoo and electrical devices but they've lent their experience and expertise to pet shampoos such as this fantastic oatmeal dog shampoo; a wonderful treat for your dogs skin and coat. This perfectly ph balanced formula includes aloe vera gel, avocado and coconut alongside the oatmeal dog shampoo. It has been designed to calm sensitive skin whilst it lifts grease from the coat. The shampoo contains natural ingredients plus Vitamin E and C.
10. Little Beast Shampoo Bar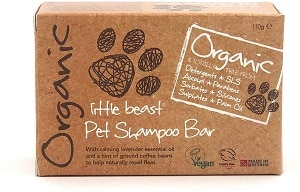 This is our only shampoo bar product on our list; and what a fabulous product it is. Little Beast are a cruelty free company and all of their products are organically made, environmentally friendly and suitable for vegans. The cruelty free bar is one of the best pet shampoos for sensitive skin thanks to the essential lavender and apricot kernel oils. The shampoo bar protects against fleas and ticks naturally as it contains coffee granules; the scent of which remains on your pet's skin. Being a bar can help you to do your bit for the environment also thanks to the plastic-free packaging.
11. Toulifly Lavender Pet Shampoo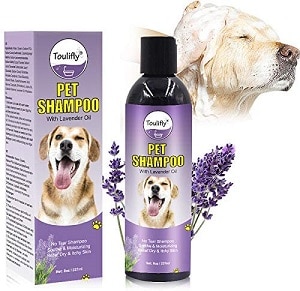 This is one of the best dog shampoos for those with itchy skin. Toulifly is designed to be hypoallergenic for your dog's sensitive skin; natural ingredients such as jojoba will soothe itchy skin too. This cruelty free product contains a higher concentration of coconut derived sodding agent which means a little will go a long way. This gentle soap free formula containing plant derived ingredients is gentle not only on your pet's coat and skin but also their paws and nose. We personally love the lavender scent and it to help with the cleaning process as our pooch remained calmer for the duration and remained on their fur and skin for a while afterwards.
Dog Shampoo Buyer's Guide
Do dogs need to be washed?
A dog's skin and coat are very effective at keeping dirt away and functioning a long time before they have the need to be washed. Dogs are also much better at self-grooming than we are and they can extend the time between washes before the smell and hygiene become a noticeable problem, unlike us. After a time, an unhygienic pet may start to suffer from problems such as bacterial, fungal and skin issues if they are left too long without a bath.
Types of dog shampoos
There is not just one type of dog shampoo that will suit any old dog. Here are the different types which you can read about to determine which one is right for you.
Normal/General Purpose
Normal/general purpose dog shampoo is your absolutely basic, often budget, dog shampoo that doesn't really have any extra benefits other than to clean and make your pet smell nicer.
Hypoallergenic
If you've got a dog with sensitive skin or are prone to allergies then you will need to purchase one of the hypoallergenic shampoos. This is the same sort of principle as those who need to eat hypoallergenic foods. Dogs who are allergic to one thing tend to be allergic to other things. It's not always the case but it is common from what we have gathered from visitors of Jug Dog.
Related: Wet Food for Dogs / Dry Kibble for Dogs
Flea Shampoo
We had only recently completed our recommendations on the best flea treatment before we wrote this buyer's guide for the best dog shampoos so we know a thing or two on dog shampoos designed to treat or prevent (or both) fleas. However, it's worth noting that your pet doesn't have to have an actual flea infestation for it to be worth getting dog shampoo with anti-flea qualities. Be ready for a shampoo that may not be the nicest smelling or the cheapest available though.
Puppy
Puppy skin and fur are a little more sensitive than normal so puppy shampoo should always be purchased to wash a puppy. No exceptions!
Related: Puppy Toys
Medicated
If hypoallergenic shampoo isn't enough and you are aware of a serious skin condition then medicated shampoo will be needed to wash. Medicated shampoo is generally quite rate so chances are you've got this stuff from your vet. Do not give your dog medicated shampoo without veterinarian approval!
Colour shampoo
For show dogs or those with jet black/pearl white fur then there are colour shampoos which bring out their natural colour after a wash. It's a bit niche, a little expensive but for some owners these shampoos are ideal to use before a show. If your dog has sensitive skin or dry skin do check that these colour shampoos are suitable for your dogs skin.
What to look for in a good dog shampoo
Not all dog shampoos are created equal! And not all shampoos will be right for your dog. When we received our numerous shampoos to test we came together to find certain criteria which we could score the shampoo in an effort to find common ground and aspect in which we could compare shampoos with each other to find the superior brands which we would then recommend to yourselves as the best dog shampoos in the opinion of the JugDog team.
The right type
Be sure to read our section on the types of shampoos available and pick the right one for your dog. Then make sure to check the ingredients closely to make sure it will work for your dog; especially if your dog has sensitive skin. You can't really score this feature but it is definitely the first thing you need to check out before committing to purchase and then applying to your dog's fur.
Great reviews
Whether or not the shampoos have great, genuine reviews online is something we use to score any product reviews. If you buy a product which has been well received by a load of people then it does, of course, improve the chances that it will end up being a good product.
Return on investment
This is a difficult one to gauge but in our opinion, it relates to the relative cost of the product you want to buy against others which offer the same or similar performance. The most expensive product doesn't necessarily mean the best product just as much as the cheapest product doesn't mean the best investment. When thinking of buying your dog shampoo consider the price and if it's fair when compared to its competitors.
Nice smell
Some owners prefer shampoos that leave a neutral smell whereas others prefer shampoos that leave dogs smelling wonderful. The products we have listed come in a variety of scents – it's worth choosing a scent you like and seeing how your dog reacts to that.
Doesn't use harsh chemicals
We don't want dog shampoos to have any bad stuff which could cause skin dryness, irritation, inflammation and even hair loss. It's for this reason we recommend as many products without artificial colours and fragrances, alcohols, detergents, animal and petroleum by-products as possible. Using any dog shampoo in the first place isn't 'natural' so by using shampoos that contain only natural ingredients then you're much more likely to have a problem free pooch afterwards and avoid a lot of the issues we've mentioned on this page.
How to use dog shampoos
We've discussed the best dog shampoos at length but how does one go about washing their dogs skin with them? Here we've added a brief guide on how to wash a dog.
Tire them out
We always say that a tired dog is a good dog and this is definitely true when attempting to give them a bath. Take your dog out for a big walk or have some play time with some toys before taking them for a bath so that they are a bit calmer and have less energy to wriggle about in the bath or shower.
Related: Dog Harnesses We Like / The Toys Dogs Love
Brush them down
Brush your dog down to make their coat smoother and to help remove any loose debris from their coat or skin before you wash them. This can be done fairly easily and quickly for those with shorter hair – for those with long hair that malts this step saves you an awful lot of time washing hair which is dead or just about to fall off meaning you can use less water and shampoo and you can thoroughly clean their skin more quickly.
Get all of your products ready
Failing to prepare is preparing to fail! If this is your dog's first ever bath then they may be overly excited and very wriggly – you want to be able to get this bath over quickly and without hassle so save yourself some time by having everything you need to bathe your dog already out and within reach. You don't want to spend all of your efforts trying to calm your dog only to have to leave the room to find a towel leaving a dog to their own devices. Some items we recommend are:
Towels
Shampoo and Conditioner
Nail clippers if you're going to do more than washing
Hose/shower
Hair Comb / brush
Check the water temperature is right
An easy one to overlook. Check the water temperature just like you would when running a baby's bath before putting the dog under the hose. You want it warm, tepid almost, but definitely not hot as dogs don't like either the hot or the cold despite what people may thing.
Related: Hot weather and dogs / Do dogs feel the cold?
Keep them calm
The goal of the first bath is to set the precedent ahead of all future baths/showers so keeping them calm will help them enjoy it and make it much easier to give them future baths. A couple of hints are to make sure that you yourself are calm and that you're speaking to them or distracting them as the water gets there. Keep them calm and happy and they'll eventually realise that there's nothing to worry about here and that they're safe in your hands.
Rinse them down
To begin the actual washing, rinse them down with just water and run your fingers through the fur to make sure that all of the fur and skin is wet. This is to make sure that when the shampoo is applied that it will attach and lather up properly; allowing the skin to be thoroughly cleaned. Avoid getting the water on the face, ears and eyes as these areas don't need to be washed as they can cause irritation and probably cause the dog distress.
Apply the shampoo gently and wash them
Once the dog is nice and wet it's time to apply the shampoo and gently massage it deeply into the fur and skin evenly over the body. Remember to not get it into their eyes, ears and head. Treat their fur like you would your own hair for the best finish.
We would advise scratching their skin where they like whilst washing them to make it feel like a pamper session to be enjoyed. If you have a separate dog conditioner then you'll need to rinse their fur and skin, add the conditioner and then rinse them again. If it's all in one like most of them are then skip to the next step.
Interestingly, we have also written a guide in how to wash a dog without shampoo.
Rinse them thoroughly
Once you're happy with your work it's time to rinse their coat and skin thoroughly before you can even think about drying them. We don't want any shampoo residue left over which can cause problems later on. We recommend using a shower head or a hose to rinse as a bucket may not work evenly and will take a long time. Keep your dog calm here as the end is nigh!
Dry them properly
Leaving a dog to naturally air dry will give you a wet, smelly house because of the scent that is created when your dog's skin is wet. So when bath time is over, use the towel to rigorously dry their fur and skin. You'll never get their skin to be bone dry like we can after a bath but just make sure your dogs aren't dripping running out the house. After that, just keep them off your sofa and bed so they don't spread their dog smells.
If budget allows, try putting their bed next to a heater which is turned on for a rapid dry!
Do not use a hair dryer or an electric heater near your dogs fur as this can burn the skin.
Related: Dog Beds You Should Buy / Waterproof Beds / Indestructible Beds
Give them treats
This point is one to consider throughout the process. Give your dog treats throughout when they are displaying desirable behaviour. If you've been keen on the dog training throughout their lives then they will associate the treats with having a good time and pleasing their owners.
Do it again!
Last but not least it's important that if you've had a bath time be it good or bad to make sure you do it all over again so that it becomes a normal part of their routine.
Last update on 2022-07-02 / Affiliate links / Images from Amazon Product Advertising API