Got a pup who's constantly looking for something to chew and destroys your furniture, shoes and clothes?
Don't want to waste your money on toys that are going to be destroyed in 5 minutes?
We've got you covered with our definitive list of the best toys for teething puppies.
Brand
Kong Puppy Teething Stick
BOMPOW Durable Puppy Toys Teething Set
Image



Image

Brand
Kong Puppy Teething Stick
Image

Brand
BOMPOW Durable Puppy Toys Teething Set
Image

We've already covered the best puppy toys but this article is designed specifically for puppies who are teething and constantly looking for something to chew. We've curated a list that contains both quality and variance so you won't see the same kind of toy over and over again.
Teething Toys For Puppies Reviews
1. Nylabone Dura Chew Toys
Nylabone is one of the best brands that come into most dog owners heads when they think about teething chew toys for puppies. Their dura chew toy is perhaps their best offering for teething puppies as it has a textured skin which helps clean their teeth and provide a soothing feeling for aching gums. It's extremely durable and won't splinter no matter how hard they try even with their first set of razor-sharp teeth.
If you're worried whether they'll be interested or not then don't, the subtle beef flavour makes them salivate just to get at it.
With sizes to cater the smallest and largest puppies and a price point that's so cheap that anyone can afford, the Nylabone Dura Chew should be included in your shortlist.
Nylabone Dura Chew
MADE OF DURABLE NYLON – long lasting dog chew toy challenges even the most aggressive chewers and discourages destructive chewing
2. Kong Puppy Teething Stick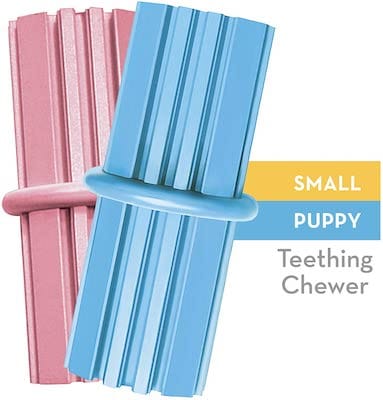 The Kong puppy teething stick looks like a product designed in a lab to be the most optimal toy on the market and some may argue that it is the best chew. The durable rubber design makes it so that different areas of the toy can reach different parts of the mouth to clean and sharper every tooth your pup has and helps to clear any plaque or tartar build-up while keeping them entertained.
The ridges are patented so you can't get them anywhere else making it an unique experience and product. The cost is slightly higher but we feel it's worth every penny. The rubber used is responsibly sourced and non-toxic.
Being a Kong product it's also designed to work with the Kong stuff which can be sprayed into the gap making it a tasty treat and an enjoyable toy. Suitable from 8 weeks and recommended to upgrade to Kong's other rubber toys at 9 months and above.
3. BOMPOW Durable Puppy Toys Teething Set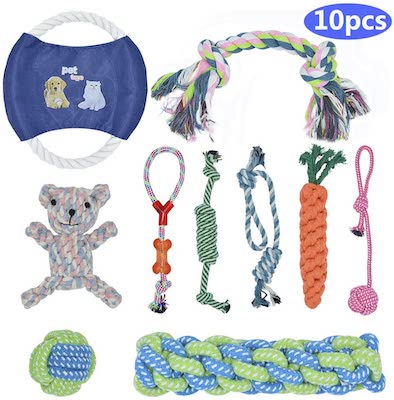 If you're looking to save some money and give your puppy a choice of toys then teething sets are a good place to start. The BOMPOW set contains of assorted rope-based toys that can be used alone or with the owner for tugging play. Rope based toys can be a little on the messy side as the fibres can break off over time but it does provide a satisfying experience for your pup as their instincts to rip and tear is provided.
The cotton is a natural product and non-toxic so if you do accidentally ingest it it won't cause any harm but they shouldn't be allowed to chew too much unsupervised – once one of the toys has been destroyed it should be binned.
Included in the set:
frisbee
ball
carrot
bear
hammer
corn cob
candy knot
rope with two knots
Y-shape rope
BOMPOW Durable Puppy Toys Teething Set
Safe and Natural Cotton Material Dog Toys: Made of natural and non-toxic premium cotton, this dog toy set is eco-friendly and healthy for chewing of your pet dog. A wonderful gift for your puppy
4. Nylabone Puppy Teething Rings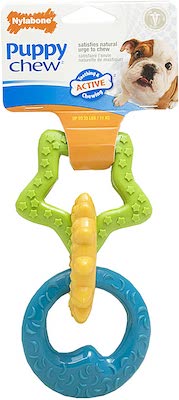 There's a reason why Nylabone keeps getting mentioned in the same place as a puppy chew toy – because they're good at it and owners love them. These rings look like they could be made for human babies and perhaps there's a reason for that!
These rings are designed for puppies who no longer have their first set of teeth but have moved on to permanent teeth after around 3 months or so. All three rings have a different shape and dimpled/grooved texture to enable a pup to soothe every tooth by adjusting their chewing angle. These are fantastic for teething pains and to soothe gums in awkward positions.
These are cheap, effective and very tough and can withstand even the most aggressive chewer for years. The only drawback is that they're not flavoured.
Sale
Nylabone Puppy Teething Rings
FOR TEETHING PUPPIES - made with soft, durable material designed specifically for teething puppies who have not formed any adult teeth
5. Focuspet Dog Rope Toys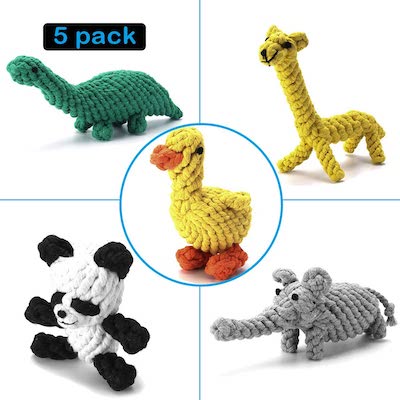 We love these toys because they blend durable rope with an animal shape to help with teething pains and to keep their teeth clean but to also attract their natural instincts to rip and tear animals safely. Despite being adorable, puppies are still attracted somewhat to attack and maim small animals, this is why teddy bears in the household can be destroyed by your little housemate.
This pack of 5 means that if they managed to get through one then there's another 4 to get through. The rope is made with non-toxic cotton so there's no risk of digestive problems if they become a little overzealous with their chewing.
A great little set for hunting/working dogs to keep busy and satisfy their curiosity safely.
No products found.
6. Pet-Fun Mango Chew Toy and Treat Dispenser For Puppies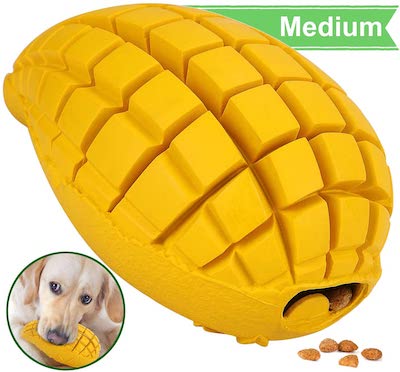 This is a competitor to the Kong Classic but perhaps a little better depending on how you see it and if you already have a Kong to understand the comparison. The square-shaped ridges on the outside of the mango provide essential teething relief from pups, they will try and bite the edges of the cubes and angle to clean the sides of all teeth.
Peanut butter or any soft, pate like treats can be plastered in the ridges to give them a reason to keep going and provide entertainment for hours and hours. Lastly, the air holes and hollow entry which can be filled with any treat of choices gives them a puzzle to be solved that will stimulate their brain and give them something different to do if they aren't interested in chewing.
It's a little on the expensive side but it is a fairly large and robust toy which thanks to it's tough, non-toxic rubber means it's unlikely this toy will ever break and let you down.
Pet-Fun Large Mango Chew Toy and Treat Dispenser For Puppies
♥ Suitable for Medium&Small Dogs up to 20Kg. Durable dog chew toy with mango scent, rolls and bounces erratically when played & chased, satisfies dogs' instinctual needs for chewing & play, provides mental stimulation, beating boredom, destructive chewing, & separation anxiety.
7. Rosewood BioSafe Puppy Ring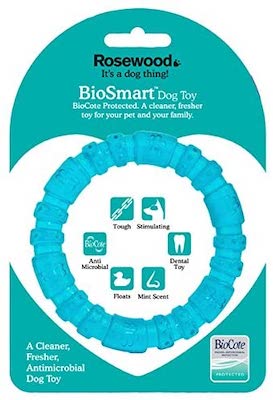 If you want to keep it cheap and simple you go for the Rosewood puppy ring – it is also available as a bone, ball and dumbbell too. The ring is ridged with a girth that's suitable for small mouths and large ones depending on the size. As it is a ring it is not a simple case of fitting it all in the mouth and chewing – there's a bit of a challenge there too. This allows for all teeth to get some attention as they get to grip with the ring.
For a mere £4 this toy can provide unlimited fun as the rubber is more or less chew proof. It will easily outlast any teething puppy stage.
8. Bibetter Durable Puppy Squeaky Chew Toys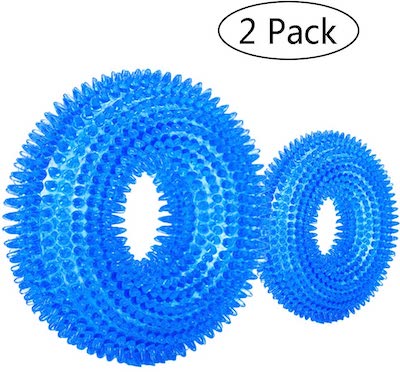 For pups who like a bit of squeak in their toy (who doesn't) then why not give the Bibetter spiked ring a go. The spikes all around the ring really get in between the teeth and massage the gums to really help teething pups soothe themselves. The non-toxic thermoplastic rubber makes it almost bulletproof and safe for them to chew on all day long.
Comes in orange and blue and perfect for both puppies and adult dogs. Can also be used as a tugging toy and a fetch toy alongside it's sterling teething relief.
Bibetter Durable Puppy Squeaky Chew Toys
Nontoxic material: Our dog toy is made of TPR(Thermoplastic Rubber), good elasticity, bite-resistant and nontoxic, safe for your pet grinding and cleaning their teeth.
9. Rosewood Cooling Teething Relief Toy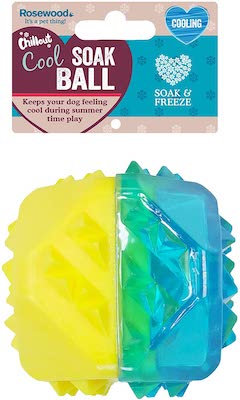 Another quality product by Rosewood and this time with a big difference from all the others. This toy is designed to be used with water and frozen overnight so that puppies with serious teething pain can get some instant relief. It's a wonderful idea that really works and so easy to prepare it's daft not to have this as a backup.
We say backup because once it's thawed it becomes a standard toy, not bad but not great. We recommend having this always ready to go and especially during warmer months when they need both cooling down and teething relief. Think of it as free teething gel.
10. falllea Rubber Chew Ball Molar Bite Toy With Suction Cup
Here's a very niche toy that we absolutely love. It's a bumpy rubber ball that can be attached to the floor so your pup can tug away and get the molars a workout – something ordinary puppy chew toys can do because of how back they are. It's really effective at not just relieving teething pains but to also give them a bit of a workout while they do it.
You will need some kind of a hard floor for it to work and aggressive chewers and strong breeds can make short work of the rope (Pitbulls etc) but for anyone else this is amazing alongside their other toys for a bit of variety.
As a bonus, the ball itself is a pretty good toy and there are ridges to put in tasty treats such as peanut butter, too.
Teething Toys for Puppies buyer's guide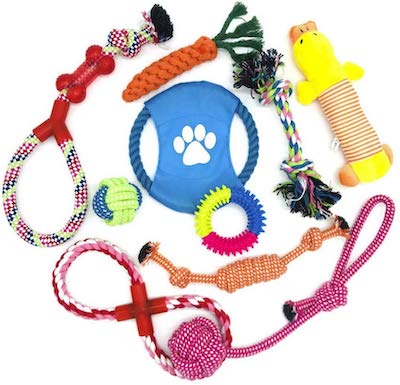 Welcome to our teething toys for pups and adolescent dogs buyer's guide. Alongside our main best puppy toys page we give some guidance on what some of the best toys to relieve teething pain and keep their mouth clean are and what are the most effective ways to use them.
Do puppies need teething toys?
Teething is a natural process for puppies as they get their first set of teeth before being replaced after around 3 months. Before they can be properly trained, a puppy will invariably try and chew everything in sight out of boredom, teething pains and due to natural instincts. At this young age you can't train the desire to chew out of them but owners can safely redirect this desire towards a toy that will not only keep them occupied but allow them to relieve the pain without destroying your furniture and so on.
Teething toys can help calm a pup down and help keep their breath fresh.
Therefore, we would say that yes a puppy should have a teething toy to help them out otherwise it will be you the owner who has to face the consequences!
What to look for in a good teething toy
The key feature of a great teething toy is that it doesn't get destroyed easily, provides a challenge, has ridges, dimples, spikes and other external features to allow every tooth in their mouth to get some attention.
Basic chew toys for puppies won't draw their curiosity and could easily be ignored so bright colours are encouraged. Toys with a flat surface are unlikely to reach all of the nooks and crannies between the teeth and around the gums which won't relieve all of their pains and gripes.
Puppies can chew without limits and won't give up if they enjoy it so special attention needs to be given to what it's made of. Durable non-toxic rubber is the material of choice for most manufacturers as it can easily bend with their efforts and chunks won't come off with a strong bite. Although rope toys are highly durable, they are somewhat flimsy by design and unsuitable for breeds with more powerful jaws such as Pitbulls, German Shepherd and the like.
Lastly, any toy designed for puppies should provide some kind of a challenge. You will notice that many of the items we've chosen for the shortlist have peculiar shapes or have ridges and hollowed out areas that your dog has to work to get to or adjust their grip and angle to be able to bite and chew that part. These challenging features are not only a better experience but they can provide essential mental stimulation at such a young age.
What can I give my puppy for teething?
There's a couple of things you can give your puppy who's teething – teething gel can cool and soothe the gums, ice cubes can do more or less the same but it is chew toys that are the most effective and safest method to help them deal with it.
Can you use baby teething toys for puppies?
In theory yes, but baby toys will not have the toughness, ridges and bumps to really get to grips with large and sharp teeth that dogs do. Puppies will make short work of baby toys.
Last update on 2023-10-13 / Affiliate links / Images from Amazon Product Advertising API