Puppies are very playful animals; they are energetic, excited and inquisitive bundles of joy. In order to channel this incredible energy positively – dog toys are a great investment. A puppy is constantly learning and exploring so having a selection of engaging toys available can ensure that they are mentally stimulated without them trying to entertain themselves with your items. The right dog toy will be both mentally and physically stimulating for your puppy. In an ideal world you'd spend all day playing with your puppy to keep them entertained: unfortunately, this might not be possible, so in order to occupy their time it is best to provide them with a range of toys rather than leaving them to choose their own toys which may end up being your belongings.
Another reason to invest in toys is to support teething puppies. Puppies grow rapidly and one of the main features of a growing puppy is, of course, their teeth. Puppies have sharp teeth when they're young which benefit from constant maintenance; to protect your favourite shoes and your TV cables, it is worth investing in at least one durable teething toy that your puppy can chew. So, whether you're looking for the most durable toy for aggressive chewers or a toy that has been creatively crafted to entertain your little dog for a long length of time: this is our guide to the best puppy toys.
Best Puppy Toys UK
1. Kong Puppy Rubber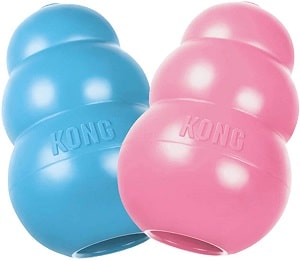 The best puppy toy has to be the Classic Kong – puppy addition. Available in baby pink or baby blue, this rubber toy for dogs can be filled with peanut butter, puppy kibble or the Classic Kong Easy Treat, Snacks or Ziggies (rights reserved). The product is dishwasher safe which is ideal to help make sure all of the food and bacteria has been removed between uses. The Kong Pupper Rubber formula is designed and made with a puppy's growing teeth in mind: it is extremely durable even for the most aggressive chewers. This long-lasting teething toy will make sure your puppy's instinctual needs and mental stimulation are adequately satisfied: this toy helps solve chewing, separation anxiety, teething, boredom, digging, barking and more.
The Kong Puppy Rubber has been expertly designed and made to make dogs really work for their treat. Not only that, the shape creates an unpredictable bounce which makes a game of fetch even more fun to play with your puppy. With over 10,000 Amazon ratings averaging 4.6 and recommended by veterinarians and dog trainers worldwide; you can see why the Kong Puppy Rubber is one of the best toys for your furry friend. With all of those fantastic features and priced below £4, we highly recommend treating your puppy to a Kong toy.
2. Nylabone Puppy Teething Toy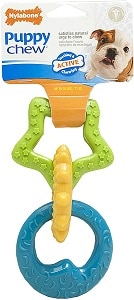 Nylabone are another brilliant brand when it comes to toys and treats for your puppy. The Nylabone puppy rings are best for teething puppies as the rings have been made with soft, durable rubber so that your puppy can chew and play with it all day long. This teething toy is colourful with a green star, yellow ring and blue disk so it would make a lovely gift or would simply look nice amongst the growing pile of toys for dog and puppy already in your home. This toy is also great for dental hygiene: while your puppy is chewing the rubber rings, the tiny bristles act like a toothbrush to clean teeth and prevent a buildup of plaque. This is specifically for puppies upto 11kg rather than dogs with adult teeth or aggressive chewers.
A unique feature of this particular toy is that the non toxic rubber is scented which will make it even more appealing to your puppy (rights reserved by Nylabone for this unique feature). The delicious bacon flavour is ever lasting so your puppy can enjoy the taste when they're chewing. This feature also makes it easy for your puppy to find their chew rings when they get the urge to chew. The durable material, bright colours and bacon scent make this a really fun toy for teething puppies to play with and chew; it's well worth giving your puppy this toy to chew on to protect your belongings.
3. Pet Tek Interactive Bone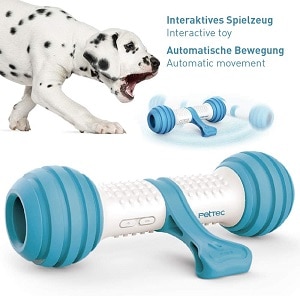 This is an incredible interactive toy to keep your puppy entertained. This play bone by Pet Tek keeps your puppy entertained all day and encourages your dog to move whilst also appealing to their natural hunting instinct. Although this is one of the more complex toys on the list; rest assured that it is easy to use. Simply charge the play bone and switch it on: the play bone moves independently and automatically in unpredictable patterns for up to 4 hours keeping your dog busy whilst you're out of the house. The Play Bone zigzags, rotates and wags whilst also being shock-proof and bite-resistant. Although the play bone is made from non toxic material and has different surfaces to support blood to the gums this isn't a permanent chew toy and isn't suitable for aggressive chewers. This is a toy to keep your puppy mentally stimulated and challenged throughout the day to prevent boredom – we would recommend also having a rope teething toy available to your puppy to prevent them chewing the interactive play bone too much.
4. Mekeet Dog Ball Chew Toy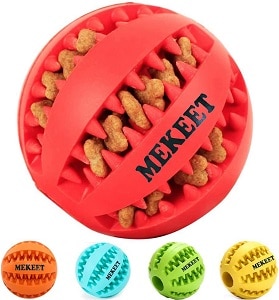 This toy is both a dog ball and chewing toy and tooth cleaning device all in one. The ball is suitable for puppies and dogs alike: it is made of tough and durable rubber so the non toxic material is bite resistant which is ideal when your puppy is regularly chewing. You can use this toy in a number of ways: you can play fetch with the ball; you can stuff the ridges with peanut butter or kibble to encourage slower eating habits to develop; finally they can clean their teeth while they're chewing – the anti-skid surface design effectively helps to clean teeth. The ball is available in red, orange, yellow, green and blue and is priced at £5 so it's definitely worth getting one for your dog to stay entertained throughout the day.
5. OKPOW 10 Pack Rope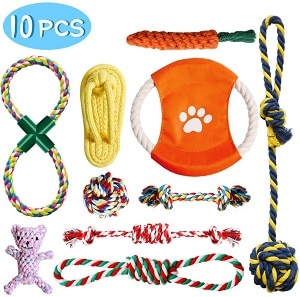 This multipack of puppy toys contains 10 safe puppy playthings made from natural cotton rope which means you can confidently leave your pet to entertain themselves with and chew these non toxic pieces. Puppies love to chew rope and these rope toys are safe, durable and bite-resistant which will help to alleviate some of the pain and pressure in your puppy's gums whilst they're teething. All of the items within the pack are bright and fun designs: from a carrot shape toy to a rabbit and even a tug of war style of chew toy. The variety of shapes and designs will make sure that your puppy is kept entertained. Not only will these toys help to discourage destructive chewing, they will also help encourage positive play between you and your young dog and can even be used as a training toy as a reward for positive behaviour. For under £14, you can have a great variety of toys to keep your puppy entertained throughout the day.
6. Hana Panda Heartbeat Puppy Toy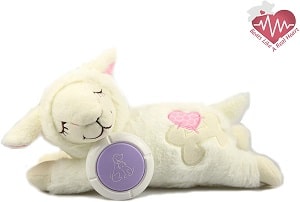 The Hana Panda Heartbeat Puppy Toy is a behavioural aid which has been made to help puppies sleep through the night and transition from their littermates to your home. This is a particularly good toy for anxious puppies that want a little extra comfort and reassurance. The heartbeat feature of the toy requires 2 AA batteries and is easy to turn on and off by pressing the large button. The sound lasts for 2 hours before turning off: by which time your puppy will be in a deeper sleep. The plush toy itself is made from a soft and machine washable material. Although this has been carefully crafted with a concealed zip: the nature of a plush toy is that it is not as durable as other toys on the list. This toy is specifically to accompany a puppy when they are going to sleep rather than to chew. If you want the best puppy toy help settle their anxiety, then this is the one for you.
7. EEToys Squeaky Toy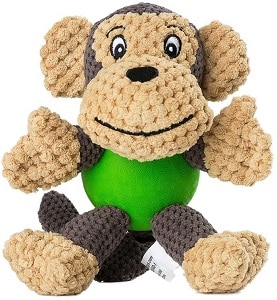 These squeaky puppy toys are available in 3 cute designs: a monkey, a hippo and an elephant. The head and the centre of the animal dog toy squeaks when pressure is applied which will provide long lasting entertainment and help to fight boredom. The high quality rubber material surrounding the squeaker is non toxic and has been designed to make sure that your dogs are not harmed when they chew. The spikes on the material help to remove plaque and tartar when your dog chews it which keeps teeth clean and helps to freshen their breath. You can leave your puppy to play independently with this squeaky toy or you can use the toy to bond together both inside and out of the house. Some owners can find the squeaking aspect annoying but if this doesn't bother you then these cute animal chew toys are ones your dogs will love to get their teeth into.
8. Rosewood Cooling Outdoor Teething Toy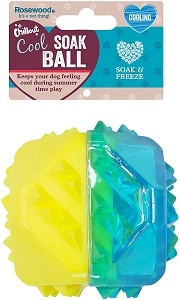 This tough, rubber toy has a really unique feature that makes it stand out from the rest: you can fill it with water and freeze it overnight to create a cooling outdoor dog toy. This is ideal for keeping your dog entertained outdoors during the warmer months. Make sure to keep it outside if it has been frozen as the water will create puddles as it melts. The non toxic rubber has ridges which help to massage growing teeth and sore gums. Many reviews praise the toy and several have said their dog is just as intrigued by the plaything whether it contains frozen water or whether it is empty; meaning that you can use this toy for indoor play too without creating puddles of water as it melts. The irregular shape means that it bounces in unpredictable ways which will also intrigue your puppy as they toss it around. If your young dog is teething during warmer months and enjoys spending time outside then this is the best toy to get to keep them busy and entertained whilst getting some fresh air.
9. Zendix Chew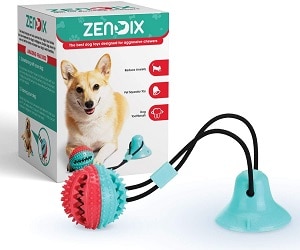 This contraption is a chewable toy, puzzle and treat dispenser all in one and is best for keeping your young dog entertained for a long amount of time. The whole piece is created with non toxic rubber and rope which means that not only is it perfectly safe for your furry friend to chew but it will actually benefit their dental hygiene and keep their teeth clean. There are three main sections to device: a suction cup which allows for a tug of war; the chewable rope; and a ball which contains a squeaky toy, rubber bristles and can be filled with peanut butter or kibble. This is a durable and tough rubber and rope invention that can bear the force of even the largest dogs and you are offered a lifetime guarantee with Zendix so if you're not 100% happy with the product and want your money back then you can get a refund.
10. Trixie Dogs Activity Flip Board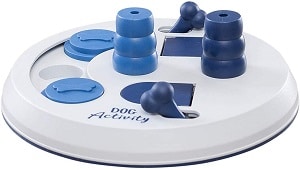 This is the best apparatus for keeping your young pup mentally stimulated and engaged. The Trixie Activity Flip Board is available in three training levels (each increasing in difficulty and challenge) and five different styles. Each of the sturdy boards work by stimulating your dog's mind to encourage them to concentrate and discover their reward: a small treat or kibble. This flip board can be used as a bonding piece initially while you show your new furry friend how the device works. In time, once your pup is more familiar with the apparatus, this board will help keep them mentally challenged and distracted while on their own in the house. This is not a teething utensil so if your young pup is teething it is best to provide a specific chewable toy alongside the board to help prevent any damage to the activity board if they are being left unsupervised.
See here for our list of indestructible dog toys
It is important that your puppy's toys tick all of the right boxes to keep their mouth healthy, to keep them safe from choking or ingesting toxic materials and of course a toy that not only keeps them occupied but their mind engaged.
What is the difference between toys for puppies and adult dogs?
A toy designed specifically for a puppy tends to be made of more durable material to withstand lots more chewing from tiny but sharp teeth. They tend to be much more fun, colourful and engaging to really test their growing minds and help them develop and enhance their problem solving skills. If you give your dog a great variety of different types of playthings when they are young they will likely enjoy toys when they're older which can help owners to distract them if need be in later life.
Different kinds of toys for puppy
When it comes to getting the right item for your new puppy it can feel overwhelming. There is such a wide variety, in all different shapes and sizes and they all serve different purposes. We have outlined the different categories and subcategories of puppy's toys to help bring some clarity.
Chew

Bones
Rubber
Frozen food (fruits etc)
Rawhide

Puzzle

Treat dispensers
Hide and seek
Brain games

Cuddly
Interactive
Calming

Heartbeat mimicking
Heat up

Training
All of these toys serve a different purpose: chew will help to alleviate teething pains; interactive will keep your pup mentally stimulated; cuddly and calming can help relax an anxious pooch and puzzle devices can be filled with a treat your pup loves. Although it can be expensive to get a lot of toys considering a puppy itself is expensive enough it is a good idea to have a broad range of accessories and playthings. The more items they have to safely interact with to meet a range of their needs… the less likely they'll be to nibble on your treasured belongings.
What makes a good puppy toy?
Made out of safe materials
Along with chewing, puppies can often swallow and consume parts of a toy if it's the type that wears away and breaks apart. This can often not be avoided, especially if they are interacting with the item without your supervision, so try to buy puppy toys made out of non-toxic materials, so even if they do swallow some of the toy no harm will come from it.
Engaging
While they are young, it's important to train your pups. While they're young they learn and grasp things really easily: from how to sit and wait for their meal to fetching and returning balls in a field. To encourage their learning and support this training further you can get toys for your pup that can really test their brains. These are some of our favourites – the sorts of toys where there may be a treat inside and the young dog has to perform a specific action or solve a basic puzzle to get there. These brain engaging devices keep them entertained, mentally engaged and have a real reward at the end!
Robust
Purchasing a robust gadget is a feature more for the owner than the pooch. Puppies can, and will, gnaw non stop so if you get a puppy toy that isn't strong or robust then you may find yourself having to buy new toys over and over again which can be very expensive. Look for toys that will last you a long time: purchasing from a reputable brand and buying specialised products will help. Some of the items in our top 10 may seem a little pricey, but they have been designed with to last your pets from a young age all the way through to when they are old.
Good for teeth and gums
A good toy should be shaped in a way that it cleans your dog's teeth while they interact with it. For example bristles and spikes shaped specifically into the durable and safe rubber to get within their teeth. Not all puppy chew toys are like this, some are made from rope which can also be beneficial to their teeth but in different ways, so do try and rotate them so that they get time with the clean teeth specialist toy from time to time.
Fun!
Perhaps the most important feature from the perspective of the pup is that the toy is fun to interact with whilst having an interesting shape and vibrant colours to grab their attention! The best playthings will be the ones that keep your furry friend engaged or a long length of time because they enjoy playing with them. The unique feature of your puppy's favourite toys could be the scent, shape or unpredictable bounce: something that grabs their attention and keeps them hooked on wanting more.