As part of our mega article on the best dry puppy foods, we've already given a brief review on why we think Harrington's is a great choice of kibble. This article is a little more of an in-depth look at the food and whether or not it's suitable for you and your pup.
A little about Harringtons as a brand
As a brand, Harringtons are highly visible and available to buy from most pet stores and supermarkets and of course online.
Harringtons are one of the oldest manufacturers of animal foods in the UK with their history going way back to the 19th century. However, it wasn't until 2008 they entered the puppy food market using their vast experience of milling and mass production. They now cater for dogs, cats, rabbits and even guinea pigs.
Their visibility has naturally made them one of the most popular with a lot of searches online to see how good they are and if they're worth moving over to. This is natural as most people find supermarket brands to be low quality due to their mass production.
Harringtons Dry Puppy Food Complete Review
Ingredients breakdown
We can confirm that Jeff has indeed tried and eaten a fair bit of Harringtons puppy food so this is a true account of our experience. The flavour he had was turkey and rice.
This food is suitable for puppies 3 weeks and up.
Harringtons tagline is a natural choice and you can clearly see it in the ingredients they use. They've used turkey as the main meat ingredient which is tough and full of lean proteins which is ideal for a pup over red meats such as beef or lamb. The total amount of turkey is around 26% with 6.5% of that coming from turkey meat meals. This is a good portion which is not over the top and not too little – too much protein and meat is not great and can lead to some digestive problems especially in puppies.
Next key ingredient is seaweed, something we all know as smelly but absolutely packed full of nutrients that it's gathered over time from the sea and from being exposed to the sun. The seaweed provides your pup with essential vitamins and minerals from a natural and edible source rather than being pumped in through additives.
Prebiotics are provided in this food which is an underrated ingredient in the Harringtons dry puppy food mix. Prebiotics, along with other minerals, help keep the puppy's gut healthy and moving along. A puppy's digestive system is very young and delicate so they need all the help they can get now they are no longer on mother's milk. Not all brands offer prebiotics in their kibble so we wanted to make a point of this bonus.
Vitamin E, Omega 3 and 6 have been added to the blend which plays a key part in growing healthy joints and cartilage. They also help keep the colon healthy. This can not only help the puppy grow at their normal rate but also reduce growing pains and potential joint pains in dogs susceptible to arthritis in later life. It may seem odd but a lot of the nutritional choices you make in early life plays a significant role in their health as an adult and beyond. We're really pleased that Harringtons dry puppy food offers this.
Rice is the main source of carbohydrates which accounts for 15% of the recipe. It's easy on the digestion but not hypoallergenic or grain-free. However, it is free of soy, dairy and additional preservatives, flavouring and preservatives.
Lastly, Yucca extract is included to reduce the nasty odours in puppy poo but also help reduce painful bloat which can be caused by certain foods.
What's the kibble like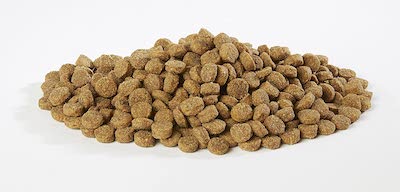 The Harringtons dry puppy food kibble is naturally small to help puppies with milk teeth to break it down and to swallow easily. Being dry, it does require some chewing and access to fresh water but it soft enough to munch on without the intervention of wet food. Jeff has always had a wet and dry mix but that is the choice of the owner and the pup. Harringtons' dry food for puppies is a complete meal so they won't be missing out on any important nutrition if they were to be fed this exclusively.
We'll never know how tasty it actually is but Jeff never complained so it can't be all that bad. The main source of flavour is from the natural ingredients and the addition of citrus extracts and herbs.
Is it hypoallergenic and grain-free?
Harringtons puppy kibble is not grain free or hypoallergenic but it is free of soy and dairy which can be a key cause of allergens. However, as the ingredients are all naturally sourced the risk of allergies or adverse digestive problems are very rare.
Is it cheap?
Harringtons puppy kibble sits in the low end of the price spectrum as they benefit from existing mass-production techniques and great partnerships with bulk selling through large UK supermarkets.
Ingredients list
Maize, Turkey Meal (20%), Rice (15%), Meat Meal, Porridge Oats, Poultry Fat, Digest, Beet Pulp, Linseed, Minerals, Kelp (0.2%), Yeast (0.1%), Citrus Extract (0.04%), Yucca Extract (0.01%)
How much should I feed my puppy?
Harringtons provide a feeding guide which is as follows according to weight. The daily serving can be spread however you like, just divide the serving with the number of meals. (2 meals a day, 3 a day etc).

Weight: 3kg – Daily serving 50g-100g
Weight: 5kg – Daily serving 100g-200g
Weight: 10kg – Daily serving 200g-400g
Weight: 20kg – Daily serving 400g-600g
Weight: 30kg – Daily serving 600g+
Conclusion
Harrington dry puppy food is a fantastic product for your pup. It's the ratio of low price to quality is one of the best in the UK market and can be enjoyed by any breed and size. It's not hypoallergenic or grain-free, however.
Sale
Harringtons Dry Food For Puppies
1. THE NATURAL CHOICE - At Harringtons, we believe every dog deserves natural food that's balanced, wholesome and tasty. From puppies to seniors to special diets, we make a range that's perfect for you.
For a full list of the best dry puppy food click here.
Related Articles
Last update on 2022-08-15 / Affiliate links / Images from Amazon Product Advertising API