The advancement in technology has benefited us all. We can see it every day in our lives from our mobile phones, automobiles all the way down to how we interact with our beloved pets. Canine surveillance is now commonplace with many owners adopting the use of dog cameras to keep an eye on them while out of the house.
With the advancement of camera and video recording technology people are now able to stream and film practically everything they do even during extreme sports – this technology has now trickled down to our dogs who are able to carry small high definition cameras on their collars without impeding their movement enabling us to get a sneak peek of what a dog sees every day when they're on the go.
In a rush?
If you're just looking to find out what the best dog collar camera is then it's the GoPro Fetch harness when used with a GoPro camera.
For something cheap and cheerful try the Auoker Dog Collar Camera
What is a dog collar camera?
Dog collar cameras are a particular product made specifically to capture movement clearly from the viewpoint of a collar. They are small in size with flat surfaces so that they sit flush on the dog's neck to capture what's in front of them and to handle being swung around. There are also models which attach to a harness to be able to record on the back of the dog.
The most common dog collar cameras do not live stream and instead save a recording to a memory disk such as an SD card but there are some which offer streaming services with a SIM card (and extra cost).
What are the benefits of using a collar video recorder?
Dog collar action cameras are a luxury item for sure and not a necessity for any dog owner, yet they still offer quite a lot of benefits to an owner.
To us, the biggest benefit is the ability to let the owner see what a dog sees in the home and outdoors. With a camera you can clearly see what gets their attention and what kind of paths they like to take. This is pretty much just a bit of fun, really, but the small nuggets of information you can get from the recordings can help with training and troublesome spots on walks.
The fun part comes from seeing how much your dog looks at and enjoys everything around them. Ever wanted to see what it's like going at full dog speed chasing a ball in the park? Well, now you can.
Fun aside, certain models offer security in the forms of a live stream and GPS location which can help you find a lost dog if you need it. These are definitely on the higher end of the collar cam market but they do exist.
Last and by no means least, a collar camera will record what's in front of it without the need to turn it on or hold it which lets you capture special moments much easier in a way which can be unforgettable. These cameras are a convenient way to capture moments you would not have been prepared for otherwise such as playtime with a new baby, a special dog walk or a hiking session.
Ever wanted to get a video or a picture but by the time you got your phone out the moment's passed? Or seen something during a walk and just forgot to capture it? Well, as long as your dog's with you and the camera's there then worry no more.
What are the best dog collar cameras in the UK?
Here is a small selection of dog collar mounted cameras you can buy in the UK.
GoPro Fetch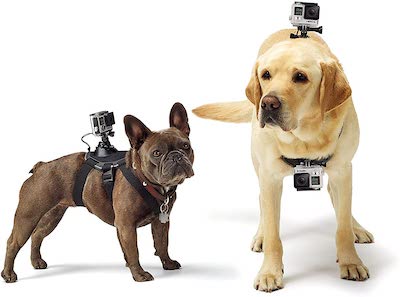 GoPro is a brand most people are familiar with in the world of outdoor and extreme sports. It records crystal clear quality in the toughest and roughest of situations – a dog running around is a doddle. However, we're not here to review the GoPro camera as you can go to any tech site for that. Instead, we want to focus on the GoPro fetch which is the dog harness that a GoPro attaches to to make it into a dog camera.
The GoPro fetch attaches comfortably to dogs weighing between 7 and 54g and uses a rigid, flat plastic top (or bottom) which the GoPro attachment sits on to enable a more stable video recording during motion. It is not a fully functioning harness as it does not have the proper O rings or the level of comfort to be able to attach a lead to for long periods.
When it is chest mounted it gives the same angle as a dog collar would but it won't swing around as much due to the harness straps.
Because of the quality of the GoPro camera itself and the stability the harness offers when mounted on the chest over regular dog collars, the GoPro fetch is head and shoulders above the rest in this department, however so is the cost.
No products found.
Auoker Dog Collar Camera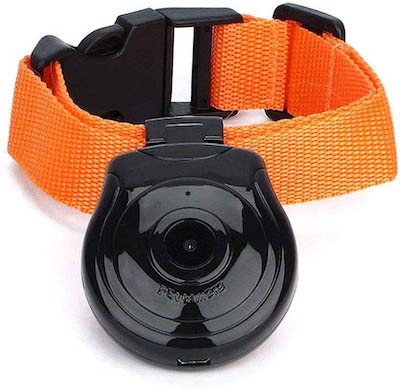 This is your best bet in terms of entry level cameras as the whole thing can be purchased for £30-£40 which is quite cheap for this kind of technology. It is quite basic and it is a product which is often relabelled under a different brand but it will do the job just so you can see what a dog camera is like.
The images are misleading as it suggests it can live stream but it can't. It only records to an SD card which can then be played back on a mobile device. To make it easy to get the video you want the camera can be set to record in 10, 20 and 30 second intervals to reduce the pain of editing.
The device itself is quite robust and tough as is the collar itself. The camera module is light but a bit large for small/toy dogs so be aware. This is pretty much the case with any camera of this kind, however.
Hi.PET Digital video and audio camera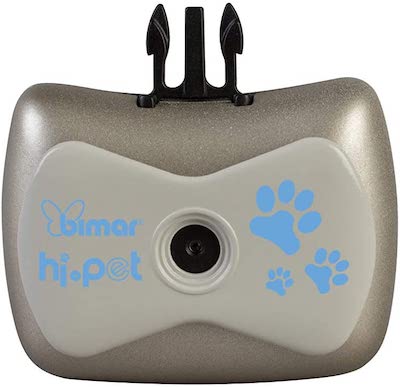 The camera collar from HI.PET has been on the market for a while and offers owners a reliable camera with a steady track record. The collar is wide and adjustable but can leave a lot of excess for small dogs. This we didn't like.
The recording quality is decent and uses an SD card to store the footage. It's not the best but it is functional and you can make some decent clips with it. What is most impressive is perhaps the battery life, this bad boy can go on and on and on.
Related Articles
Last update on 2022-05-19 / Affiliate links / Images from Amazon Product Advertising API