For some people they feel having their dog sleep outside in a dog house is the best option for them. There are many solutions to some issues people have with keeping their pets indoors but we understand there are a variety of reasons why you may want to use an outdoor dog house. One of the main issues dog owners then face is insuring their dog house is warm enough for their furry friend in the winter. We have gathered 10 tips to make your dog house warmer.
10 Tips on making a dog house warmer
1. Insulate the dog house
The first step to take to make your dog house warmer is to insulate it to help keep the heat in and prevent the temperature dropping inside the house at night. You could purchase a dog house with already insulated walls. Alternatively, you can insulate your dog house yourself using thick weather-resistant foam sheets and a staple gun or glue. Begin by cutting your foam to the size of all 4 walls of the house and extra for the roof. If using glue, ensure it is weather-resistant and wait until the glue has fully dried and is no longer giving off fumes before the dog returns to their house. If using a staple gun you will need to be able to remover one of the walls to ensure none of the staples has gone through to the inside of the house as this could harm your dog.
2. Raise the dog house off the ground.
Raising the dog house will benefit your dog in several ways: firstly it minimises moisture and condensation from the floor of the house; it allows air circulation below the house and finally during rainy days and nights a raised dog house helps minimise the amount of mud and water getting into the house. Again, you can buy raised dog houses. Alternatively you can use concrete slabs under the house to keep it elevated off the ground. Begin by clearing the area where the house will go, cut the grass to create a smooth and flat base area, stack your concrete slabs, place your dog house back on top of the slabs.
3. Get rid of any draughts.
To ensure your dog is safe and warm enough in their outside home, you must minimise any existing draughts to help maintain a warmer temperature throughout the night. Begin by laying draught excluders around the base of the dog house to prevent the heat escaping though any gaps here. Then take a sheet of plastic, or a specific pvc kennel draught screen, and attach this to the inside of the entrance to your dog's house. Again, if you use a staple gun to attach this then ensure there are no parts of the staple sticking out unsafely for your dog.
Faux Fur Draught Excluder
Luxury faux fur draught excluder by British designer, ICON – dimensions measure approx 90cm (W) x 20cm (H)
4. Carpets and rugs inside or a heated kennel pad.
A quick and easy way to insulate your dog house and keep you dog warm is to lay a rug or part of a carpet on the floor of your dog house. This simple addition will help keep the warmth in, be nicer for your dog to sit and lie on than the base of the house and reduce the cold outside air getting in. For a more luxurious dog house base, you could use a heated kennel pad on the floor of the house. This will be more expensive but definitely more effective in those winter months.
5. Weatherproof and waterproof the exterior.
We have already explored insulating the outside of your dog house with foam to help keep the heat in, but you may want to consider further additions to the exterior of your dog house to minimise the effects of the colder weather and rain on your dog. If possible, you could move the dog house under a roof or other shelter to prevent rain, hail sleet and snow from down into your dog's house. Alternatively, you could add a waterproof sheet over the dog house and foam insulation as a way of reducing the effects of the weather and a further way to maintain the warmth inside. Do ensure there are gaps so that your dog is able to leave and return to the house easily.
6. Place the dog house away from direct wind.
As alluded to above, the location of your dog house can minimise the impact of the weather and water on your dog's house. Consider moving them closer to the house, beside a garage or shed or even in the corner of your garden so that two sides of the dog house are protected by fences. Each of these will help keep your dog house out of direct wind; which in turn will help to keep the dog house warmer in the winter.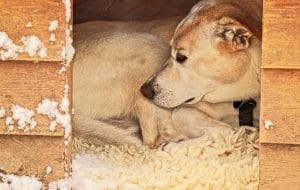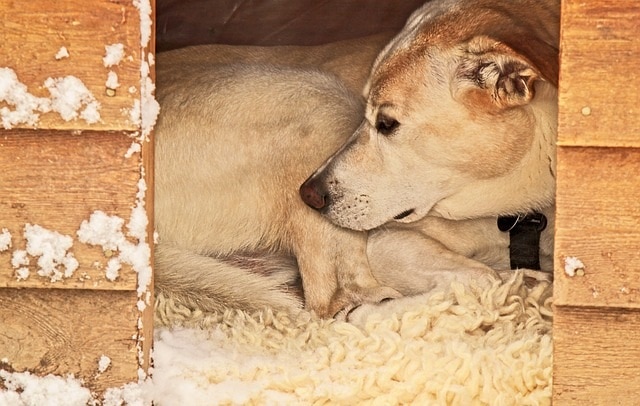 7. Dogs beds and plenty of bedding.
Another step to keeping your dog warm within their dog house is to invest in a sturdy and thick dog bed that they can get cosy on. Blankets will also help to keep your dog warm in the cold winter months outside. These steps will again allow your dog to avoid direct contact with the base of their dog house which is often the coldest part of the dog house in winter.
8. Raised dog beds.
As we mentioned earlier about raising the dog house itself, another option is to raise the dog bed. Heat quickly disperses intothe ground so if your dog's bed is raised within their house, less heat will escape from under them into the ground.
9. Buy a heater for them
Vets agree that indoor dogs should not be left outside when the temperature drops below 7.5 degrees Celsius. However we understand that for some dog owners it is not an option to bring your dog inside even on the coldest nights. In this case, you may want to invest in a heater for your dog house. There are heaters you can buy and attach to the inner walls of the dog house but please ensure these are high quality products that have passed all safety tests before putting them in your dog house to avoid potential fires.
10. Buy a ready made insulated dog house.
The best possible solution that covers all of our tips for keeping your dog house warm is to invest in a readymade insulated dog house. These are expensive but incorporate all elements that we have explored in the article: insulated walls, raised off the ground, weatherproof exterior and some have safe integrated heaters. If you are wanting to keep your dog outside during cold winter months, especially if their breed isn't used to the cold, then we highly recommend investing in a purpose-built insulated dog house.
Cozy Pet Insulated Dog House
COZY PET X-Large Insulated Dog Kennel. L 130 x H 99 x D 88 cm (L 51.25 x H 39 x D 34.75 inches). The Door Dimensions are: H 67 x W 15 cm (H 26.5 x W 15 inches)
Conclusion
Overall if your dog being in your house isn't an option for your family then a dog house becomes the logical next step. However, do ensure your pet is warm enough by following the tips we have outlined about. It can be expensive but knowing your dog is warm and protected from the elements certainly makes it a worthwhile investment.
Related Articles
Last update on 2022-08-15 / Affiliate links / Images from Amazon Product Advertising API