Our pets are our world, and when they're unwell we want to do all we can to fix it. An upset stomach for your dog will impact the household in more ways than one and we know you'll be keen to find the right food for their sensitive stomachs.
Is the current brand of wet food your dog's eating not agreeing with them?
Has your vet advised you to change your dog's diet but you don't know where to start?
We've got you covered with a top 5 list of the best you can get in the UK and a complete buyer's guide to help understand the subject of food for sensitive tums.
Brand
Lily's Kitchen Recovery Recipe For Sensitive Digestion
Royal Canin Dog Food Sensitivity Control
Purina Pro Veterinary Diets Renal Function Canned Food
Hill's Science Canine Adult Health Poulet Wet Food
Forthglade Salmon Wet Food
Image





Brand
Lily's Kitchen Recovery Recipe For Sensitive Digestion
Image

Brand
Royal Canin Dog Food Sensitivity Control
Image

Brand
Purina Pro Veterinary Diets Renal Function Canned Food
Image

Brand
Hill's Science Canine Adult Health Poulet Wet Food
Image

Brand
Forthglade Salmon Wet Food
Image

Top 5 Wet Food For Dogs with Sensitive Stomachs Reviews
Here's a list of 5 quality brands for you to consider:
1. Lily's Kitchen Recovery Recipe For Sensitive Digestion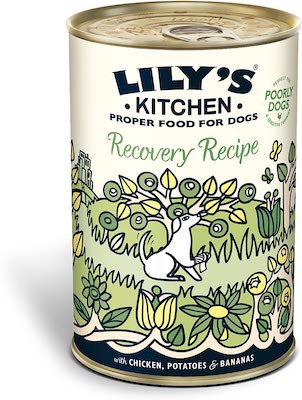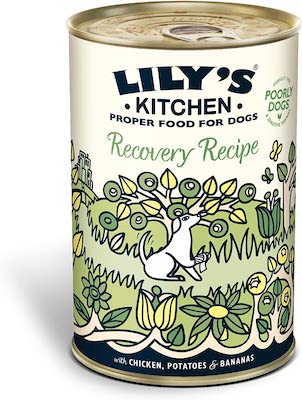 Lily's Kitchen is a brand we love at JugDog and our own dog Jeff has been munching their products for years now. They sell a wide array of dog products: from treats to specialised meals. Their recovery recipe is designed for dogs recovering from an illness and it is perfect for pooches with a sensitive stomach and delicate digestion. The main ingredients are lean chicken (which is low in fat), potatoes (to give them energy without the grains) and bananas which are known to be fibrous and provide potassium, vitamins B & C and prebiotics.
It's a tasty meal which has a limited number of ingredients to limit the possibility of an upset stomach at a price everyone can afford which ticks every box highlighted in the buyer's guide.
Ingredients
50% Fresh Chicken, Potatoes (11%), Bananas (9%), Vitamins & Chelated Minerals, Prebiotics FOS & MOS
Sale
2. Best wet dog food for sensitive stomach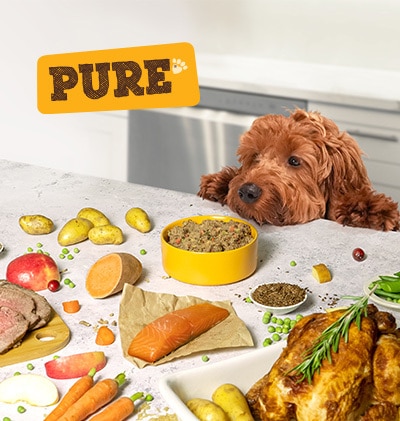 When looking to solve your dog's sensitive stomach, you need to keep things simple. Strange, artificial ingredients can wreak havoc in the digestive system, so stick to natural, simple food to keep things settled. And Pure is simplicity at its best.
Pure has a limited, but still just as tasty, ingredient list full of meat, fruit and veggies to provide total nourishment from the inside out. With balanced fibre levels and nutrients such as omega-3 and prebiotic chicory root, every recipe is designed to be gentle on the tum and promote healthy digestion.
It's different from most dog food, as the ingredients are finely chopped with the moisture removed, preserving and locking in the nutrients. To serve, you then add warm water back into it to create a tasty wet food. As a result, the food has a longer shelf life, is convenient to store and allows your dog to enjoy warm, delicious dinners every day.
Pure have had countless success stories from dogs with sensitive stomachs, so it could be just the thing you need to help your dog's delicate digestion.
3. Royal Canin Dog Food Sensitivity Control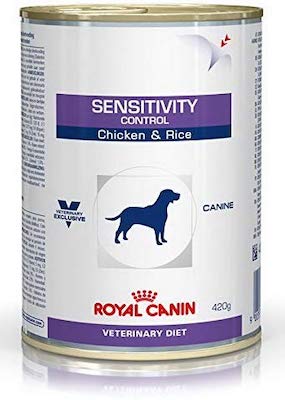 Royal Canin is a renowned brand which has a niche for making foods for special needs such as sensitive tums. Using their chicken & rice recipe as an example, it includes fish oils to help give your dog a healthy stomach lining. Another benefit of this dog food is that it contains a limited number of individual ingredients to limit allergies and the risk of aggravating a chronic disease your dog may have.
This dog food's blend's goal is to be able to be digested easily rather than actively improve gut health and perhaps best for dogs who have a delicate tummy but not necessarily a chronic disease – it is not suitable for dogs with pancreatitis.
Lastly, as it is hypoallergenic, Royal Canin Dog Food Sensitivity Control is a fantastic choice for dogs who may also have skin problems alongside their sensitive stomach as it has been observed to improve the quality of their fur and reduce skin problems.
Ingredients
Chicken meat, chicken liver, rice, fish oil, sunflower oil, cellulose fibre, minerals, taurine, Fructo-Oligo_Saccharides(FOS), marigold extract (rich in lutein), trace elements (including chelated trace elements), vitamins.
4. Purina Pro Veterinary Diets Renal Function Canned Food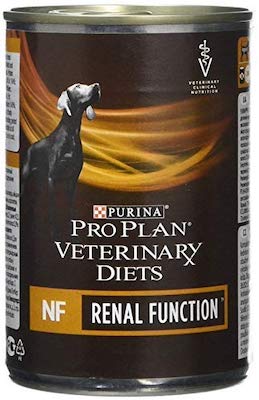 Purina Pro Plan dog food is one of the hidden gems of the pet food world as it's rather specialist and somewhat pricey. It doesn't directly target the stomach but it does penetrate the digestive system overall to boost gut health and reduce incidents of a dicky tummy.
This blend has phosphate restriction to support kidney function which is a key part of a dogs anatomy as it helps work through toxins they've digested. Restricted but high-quality protein which helps reduce the risk of pancreatitis and reduce the number of toxins entering the body.
Lastly, Purina Pro Plan canned dog food includes omega fatty acids which help the colon get things moving for a healthy stool at the other end – no more soft stools! The best choice for any dog on a specialist food diet and for owners who want to be assured they're giving their loved pets a quality dinner which will not just reduce the risk of digestive issues but gradually improve and manage it.
Ingredients
Meat and animal derivatives, cereals, oils and fats, eggs and egg derivatives, various sugars, minerals. Protein sources: liver, heart, maize, egg powder, rice, turkey`
5. Hill's Science Canine Adult Health Poulet Wet Food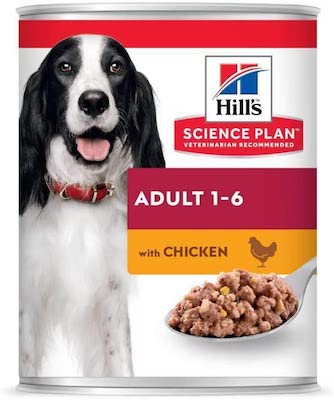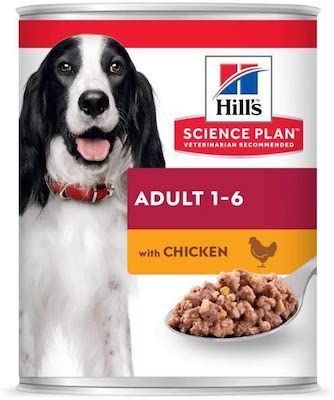 Hill's Science is a brand you often see in Vet's offices as a brand they encourage. Their science plan blend (we've highlighted chicken as beef is fattier) promotes healthy muscle development with reduced and balanced sodium (salt) and phosphorus to encourage easy digestion and healthy stools in dogs. This dog food also includes clinically proven antioxidants to reduce the stress on the kidneys and omega 3 fatty acids to help create a healthy gut that keeps things moving along.
It's a tasty recipe for owners of dogs who are particularly sensitive to what goes in their mouth but need something that tastes more like their normal recommended wet dog food. Hill's is the best dog food for sensitive pooches.
Ingredients
Composition: Chicken, pork liver, maize, barley, beef, soybean meal, whey powder, digest, vegetable oil, minerals.
Technological Additives: per kg: Vitamin A 12,611IU, Vitamin D3 341IU.; Sensory Additives: None stated; Nutritional Additives: Per kg: 3b103 (Iron) 10.9mg, 3b202 (Iodine) 0.3mg, 3b405 (Copper) 1.0mg, 3b503 (Manganese) 2.4mg, 3b603 (Zinc) 34.6mg; coloured with iron oxide.
Analytical Constituents: Protein 6.4%, Crude Fibres 0.33%, Crude Oils and Fats 4.1%, Crude Ash 1.3%, Moisture 75.6%.
Wet Dog Food For Sensitive Stomachs Buyer's Guide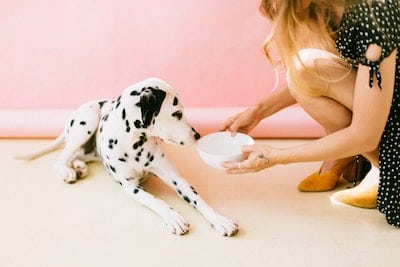 It's a myth that dogs can eat just about anything and be totally fine, some dogs can, unfortunately, have a sensitive stomach which can react in negative ways to certain ingredients in dog foods which can cause a deal of discomfort and thus the maximum nutritional benefits from those foods will not be absorbed.
Canines may be born with sensitive stomachs (congenital) and others can develop it later in life, little is known about exact causes- however one thing is common in both humans and dogs when it comes to easing it; an improved diet free of common ingredients linked with the condition.
You have probably landed on this page because you already know or suspect your dog has a sensitive tummy but we feel it can help a great deal for owners to help manage the condition if you were to educate yourself on the subject – this is the aim of our sensitive stomach dog food buyer's guide.
What are the symptoms of sensitive stomachs?
As you can imagine, the stomach is at the heart of the digestive system so the symptoms are commonly associated with waste management and are fairly easy to spot. However, a single incident of a dodgy tummy does not mean they have a chronic issue – they may well have just eaten something that didn't agree with them. We've all had a dodgy curry and a few days later all is well.
Anyway, if your dog does indeed have a sensitive stomach and you're wondering if a change in dog foods may help, keep an eye on the following symptoms if they keep reoccurring.
Lack of appetite
Lethargy/low energy
Diarrhea
Vomiting
Stomach gurgling after a meal
Excessive and pungent gas
Blood in stool
It's unlikely for a dog with a sensitive stomach to just have one of these symptoms, they're likely to have several if they have a chronic problem that requires treatment and a drastic change in their dog food. It's important to never panic when a dog is unwell in the first 24 hours so we'd recommend observing them over a few days to see if the symptoms persist and if they do the first thing we'd try and improve is their diet following a trip to the vet.
What can cause sensitive stomachs in dogs?
It is unclear what exactly causes sensitivity in dogs, but there are certain commonalities in a lot of cases which are irritable bowel syndrome, gastroenteritis, pancreatitis, colitis and malabsorption disorder and there are certain dog foods which can help ease the symptoms.
Irritable bowel syndrome
Dogs can develop chronic irritable bowel syndrome just like humans and the causes and treatments can be largely the same. IBS is a condition which makes the bowel inflamed and unable to process food properly leading to a lack of absorbed nutrition and diarrhea among other related symptoms.
IBS is a chronic disease which has no cure but it can be managed with an improved diet including dog food for sensitive stomachs and therapy. However, you should never self diagnose or simply change the food if you suspect IBS – you must consult a vet.
Pancreatitis
Pancreatitis is the term for the inflammation on the pancreas. The pancreas is not the stomach but it does sit next to it and does aid in the digestion of food. Pancreatitis can be caused by super high-fat foods and overweight dogs are at high risk. We've listed it here as a cause of a sensitive stomach because it can be caused and prevented with a good choice of dog food.
Gastroenteritis
Gastroenteritis is a term to describe the inflammation of the stomach and intestines and one of the most common causes of a sensitive stomach at times when it is not permanent and chronic. It can be a leading symptom of a pup who has been fed a poor diet full of fat and toxins, although viruses/bacteria is also a cause.
Vomiting, diarrhea, painful stomach cramps and a lack of appetite are the symptoms which are pretty much shared with everything else in this list. Luckily, there is a cure if it has been diagnosed early enough with a change in diet and veterinarian prescribed medicines and antibiotics.
Always watch what your dog eats to prevent this and don't feed them cheap low quality dog food.
Colitis
Colitis is a term which describes the inflammation of the colon which interrupts the dog's ability to process waste effectively which results in soft stools and diarrhea. It can be acute (comes on quickly) or chronic (lasts longer and can recur even after recovery). There are a whole host of causes which include parasites, worms, stress, pancreatitis (we've mentioned earlier), IBD and bowel cancer.
It is a serious condition that requires a vet's attention to help recover with improving your dog's food choices further down the line.
Malabsorption Disorder
Malabsorption disorder in dogs impedes their ability to be able to effectively absorb the nutrition from their food regardless of the quality of the food itself. It is caused by exocrine pancreatic insufficiency (EPI) or small-intestinal disease.
The key symptom of this condition is weight loss and diarrhea. This isn't technically a cause of a sensitive stomach but they are so related that it's worth adding it as a short footnote.
What kind of things should we look for in wet food to help dogs with sensitive stomachs?
Writing this buyer's guide we have learned a tremendous amount about the key features which separates the good from the not so good when it comes to feeding a dog who does not have a fully functional and problem-free digestive system.
From our findings, we have created this list that you can use to compare with the recommendations we've given at the top of the article or with ingredients label while you're in a store offline or online.
Low fat
Most dog foods use animal proteins as their source of protein which can be mixed with grains to complete the recipe, which is natural and matches their dietary requirements,
Too much fat can put a huge strain on the pancreas and kidneys which can lead to pancreatitis and gastroenteritis if it's their normal diet over a sustained period of time. Not only that, fat isn't the best source of energy – carbohydrates are better for that within limits.
Animal proteins can be fatty, especially red meats such as beef, lamb and especially raw meats. We highly recommend sticking with white meat and fish as they're naturally lean and low in fat. Some
No artificial colours, flavours or preservatives
There is a direct link with artificial additives causing all sorts of problems not just with a dog's stomach. Rarely will a brand outright say they have added additives, instead brands that have not added any will definitely label it. What's the takeaway here? If the wet dog food you're considering doesn't state there are no additives in their meal then assume there are some present.
Fewer ingredients
The more unique ingredients in the wet food means an increased risk it could aggravate a sensitive stomach, if you've already looked at our top wet foods for sensitivity you'll see that the ingredients list is relatively short – they have key ingredients and that's about it and that's the key for easy to digest and palatable foods.
You may feel that this seems counterproductive and that easy to eat wet foods should be complicated as their condition is complicated but it is simply not the case. Long ingredients list should be a red flag to investigate further.
Natural ingredients
It's desirable for ingredients to be as close to their origins as possible and not modified or processed much, if at all. Ideally, we want the ingredients to get from the fields or the animal, cooked, and then blended. That's not always possible but that really is the dream goal.
Often, it is the modifications and additional ingredients that are 'man-made' that can cause digestive problems for your prized pooch. Rarely would a dog have a problem digesting natural foods without an underlying, unrelated, issue.
Consider this – why do so many humans have adverse effects from a kebab but nothing seems to happen if you were to eat raw (washed) vegetables?
Conclusion
It's easy to get flustered and frustrated seeing your dog unwell with a potentially sensitive stomach but know that there is plenty of information and guidance online to help you find decent wet food to alleviate the symptoms and manage the condition whether it is temporary or permanent.
We hope that our top list and buyer's guide can help you as an owner to relax in the fact that you're making a sound purchase that will genuinely bring some positive change to your beloved pet.
Related Articles
Last update on 2023-10-14 / Affiliate links / Images from Amazon Product Advertising API