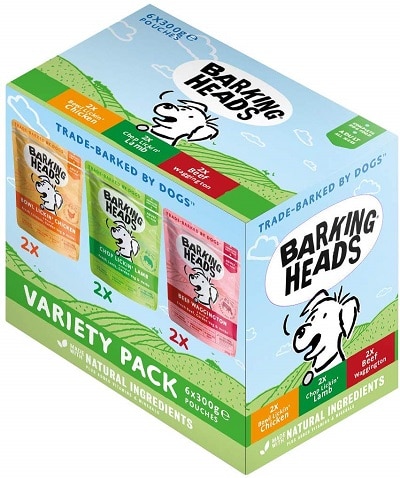 Barking Heads are a company which started in 2008 based in Hemel Hempstead which make quality wet dog and cat food. In this article we will be reviewing their range of adult wet dog food as part of our best wet dog food page, specifically their variety pack which contains chicken, lamb and beef flavours.
Packaging
The food is packed in attractive foil pouches which are easy to open, seal and put away. They are much more user friendly than cans and you won't need any tools to open them. Pouches are also great to keep the food fresh for longer – you may not think it but dogs do prefer their food to be nice and fresh and not aired too much as it can impact the tenderness of the meat, the moisture and of course the taste.
However, Barking Heads sadly do not use recyclable packaging which is really disappointing.
What's the food like?
The wet food inside is seriously fresh and really well mashed up giving a perfect blend of wet enough to make eating easy but chunky enough that it's not a dribbling mess. Barking Heads have taken the time to add the right ingredients to get this constitution which makes it perfect to use a solo meal or mixed in with dry food. A request we often get on the back of our popular review pages.
The food is slow-cooked which prevents it becoming dry, although it's rare to find any wet food which is 'dry' there are brands out there who cook their food quickly and then throw in jelly, later on, to make up for it. Barking Heads have not done that with their adult wet food pouches and we're keen to point that out in this review.
Jeff gobbled it all up quickly and did not need to scoff or chew, afterwards he didn't even need to drink much water as a result of a dry mouth which some brands can cause.
What does it taste like?
We rely on our Jeff to tell us what it tastes like and from what we can gather he loved them all but he did seem to have more of a preference for the chicken flavour as he was noticeably licking the bowl when it was empty whereas with lamb and beef he walked away after finishing his meal. In every meal, Jeff ate the whole portion.
Is it healthy?
In our massive wet dog food review roundup, we highlight what makes a wet food a good one and we're pleased to say Barking Heads adult wet food passed the test. They use natural ingredients free from artificial stuff, it's grain-free and has vitamins and minerals thrown in. It's not the healthiest food we've ever seen and it isn't a suitable wet food for dogs with sensitive stomachs but it's more than enough for dogs without dietary requirements. It's also low in calories and full of protein from animal meat which matches their natural diet.
What are the ingredients?

Bowl Lickin' Chicken Flavour:
Fresh Deboned Chicken (60%), Chicken Broth (25%), Peas, Sweet Potato, Carrot, Courgette, Sunflower Oil, Salmon Oil, Seaweed, Lucerne, Parsley, Celery, Chicory Root, Nettle, Turmeric, Aniseed, Minerals.
Beef Wagginton flavour
Fresh Deboned Beef (60%), Beef Broth (25%), Chickpeas, Parsnip, Spinach, Apple, Orange, Sunflower Oil, Salmon Oil, Seaweed, Lucerne, Parsley, Celery, Chicory Root, Cinnamon, Turmeric, Aniseed, Minerals. Chop Lickin' Lamb Flavour: 85%
Chop Lickin' Lamb Flavour
Fresh Deboned Lamb (60%), Lamb Broth (25%), Sweet Potato, Spinach, Courgette, Peas, Sunflower Oil, Salmon Oil, Seaweed, Lucerne, Parsley, Turmeric, Aniseed, Mint, Fenugreek, Minerals
As you can see the composition is pretty much the same between all three flavours with 60% of the ingredients being meat, 25% a broth and then a variety of vegetables and minerals.
What about after eating it?
Jeff has a mildly sensitive stomach so we don't tend to feed him just anything. We're pleased to report that he had healthy stools over the following days after consuming Barking Heads and was full of energy. At the end of the day, that's all that matters when it comes to food.
What have others said about it?
Here are a couple of other reviews of Barking Heads Wet Dog Food:
BeanieLuck, Amazon:
"My girl went absolutely nuts for this food. There was never any left in the bowl.
I had a few flavours of this to test, my girl enjoyed the beef, hated the turkey and wouldn't touch it, curled her lip in disgust at the chicken despite the fact that chicken is her favourite meat, and despite hating lamb as meat her favourite of the 4 we had to test was the lamb. I was a bit baffled but who i am to question what she likes lol
The ingredients are amazing, 85% meat so i cannot fault on that. Nice addition of sweet potato which was great as my dog has a grain allergy, and some added vegetables.
The only thing i have to criticise is the use of non-recyclable packaging which frankly in this day and age is unacceptable.
My dog loved the lamb one so much I've bought her additional pouches and will probably keep buying it as she is doing really well on it."
Natasha Bourne, Amazon:
"My puppy became a bit tricky with eating when she turned 5 months I think it could be the combination of hormones and teething as she is entering the adolescent stage. She has been on Barking Heads Puppy one since we got her because she is eating less so I started to introduce this wet version into her kibble and she absolutely loves it. I don't want to change the brand because it will be a lot of transition we would have to do and I know this brand is really good and a puppy always happy with it so a bit of variety in texture and smell keeps her excited."
Conclusion
We would most certainly recommend Barking Heads adult wet dog food to any owner. Jeff has let us know that he found it easy to chew, tastes great mixed with his dry food and was full of energy with healthy stools thereafter. What more could you ask for?
Related Articles
Last update on 2023-10-13 / Affiliate links / Images from Amazon Product Advertising API