Pomeranians are very small dogs who adapt well to apartment living and are fairly low energy overall. They can often be found resting and cuddling a lot. With this in mind, it's important to ensure they have a good, solid bed to rest on so they don't develop any aches and pains from their frequent naps.
They're not known to be destructive so owners can be safe in the knowledge that investing in a good bed won't be ruined by over active chewers. However, they are a hairy breed who can lose a lot of hair so a washable and easy to clean bed should be at the top of your priority list when shopping for a dog bed for your Pomeranian.
Best Dog Beds for Pomeranians Reviews
1. Pet Fusion Memory Foam Pom Bed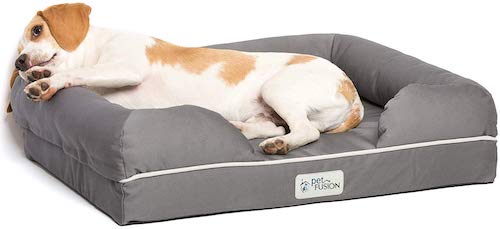 The Pet Fusion Memory Foam dog bed is the number 1 bed we also recommend to owners of practically any breeds. The first and most important reason why we think it's such a good bed for Pomeranians is that it uses memory foam on the inside and is extremely comfortable that doesn't lose its softness over time. In fact, it adjusts itself to the weight and shape of your dog.
Secondly, it has a water resistant, removable and machine washable cover which makes it easy to shake outside to get rid of the Pom's hairs or just throw it into the washing machine for a proper clean.
The boosters on the side help your Pomeranian to rest their head and be a little comfortable or lay next to them like a pseudo-enclosed bed.
We can't express how much we love this bed and we have used it on our own dog for over a year now and we've never heard our dogs complain and neither have over 6,000 verified customers on Amazon.
Read the full Pet Fusion Memory Foam Bed Review
2. Rosewood Luxury Square Pomeranian Bed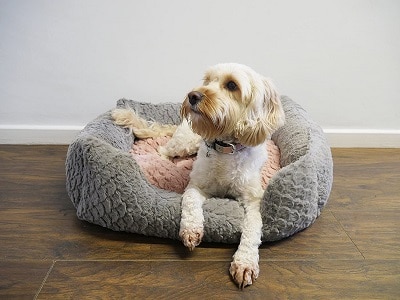 If you're looking for something a little more classic and perhaps lighter on the wallet then the Rosewood square bed is ideal for Pomeranians.
The plush middle cushion helps support their skeleton and joints so they don't get stiff or achy after a long rest but also provide warmth in the cold. The material may, however, attract a lot of their hairs and may need regular washing. Luckily, the whole thing is machine washable and you can always put a dog towel over it.
The inner cushion is reversible which means it can be gray or pink. This can extend the time between washes whilst also offering an aesthetic option. Some may prefer pink if they have a female Pom.
The raised sides allow your Pomerian to rest their heads and exercise good posture or they can use the sides to curl into a comfy ball if they're committing to a proper sleep. Despite not being known as destructive, the beds are well stitched and fairly tough and should last a long time.
This is a luxury bed without the luxury price tag but perhaps missing some of the premium bed technologies which are out there.
3. Bunty Mocha Dog Bed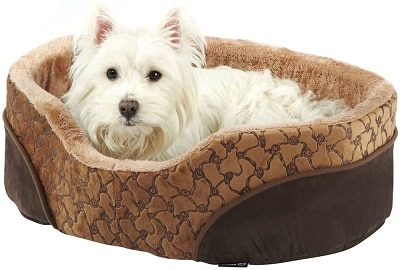 For something with a little more structure we recommend the Bunty mocha bed. We spoke to a few Pomerian owners about their experience and they said that they enjoyed curling up right in the middle to snooze but also to rest their head on the lowered middle portion.
What was immediately apparent is just how soft the bed is to touch and many owners said they would love it if their own bed was made from the same stuff. Pomeranians don't have a sense of luxury but they seemed to really love it.
The Bunty Mocha bed is hand washable which eliminates the problem of Pomeranian hairs covering it over a period of time.
If you notice your Pom has a taste for beds with raised walls then this is perhaps one of the best as it is as close to being an enclosed bed as it gets without being an actual enclosed bed. Excellent value for money and really does feel like a luxury product.
4. Loving Care Ultra Supreme Nesting Style Pet Bed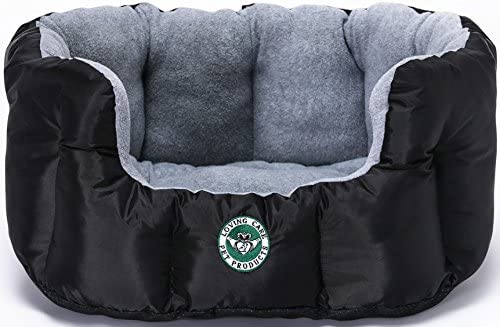 If your Pomeranian is a nester then this is the bed for you. The walls were super high for an incredible snuggling experience. However, for us experts on the best dog beds this isn't the most impressive feature of this bed.
Indeed, what we like about it the most is the quality of the materials used in its construction. On the outside is wind and moisture resistant polyester which (believe it or not) and ideal bed to be used both indoors and outdoors. Not too many people let their dogs sleep outside but if you did this would be perfect for that.
The pillow on the inside is 3 inches thick which is heat retention microfibre and durable polyester on the other side coated with teflon so it is seriously tough. Even if your Pom isn't destructive these hardy materials means it will be a long time before they are replaced.
To tackle your Pom's pesky loose hairs, the cushion and outer bed are both machine and tumble dryer friendly so you can wash one or both at the same time. The outside material can easily be wiped down so you'll only need to wash the cushion, really.
This bed isn't overly expensive but it is a very good investment. It's perhaps not the best looking bed we've reviewed in this article as it's a bit blocky but perfect for those who are only after performance and not aesthetics.
5. Hollypet Coral Velvet Self-Warming 2-in-1 Foldable Cave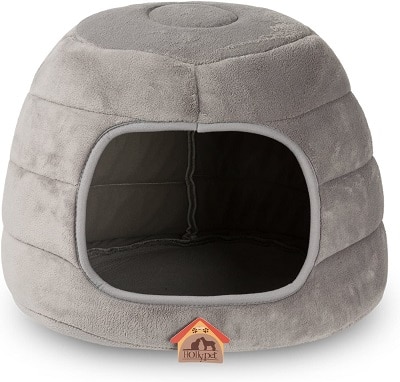 The final bed on our list is an enclosed dog bed for Pomeranians who like to burrow deep when they sleep or feel safe in a little den. This foldable cave is not just designed to keep them warm but to also help them feel safe and ideal for Poms who may suffer a little from separation anxiety. It's a 2-in-1 which means you can take the top off and it converts into a regular bed with high walls.
The outside material is coral velvet which is luxuriously soft and warm and on the inside is high elastic foam. This is suitable all year round and perfect for people who may get their Pom to sleep in a cold part of the house such as the garage, kitchen or even on cold tiles.
The price isn't too bad and can be found in the region of £20 and despite being enclosed, the problem of loose Pomeranian can be resolved as the whole thing is machine washable. It's advertised for cats and small dogs so Pomeranians are lucky to be able to have access to the bed when many breeds are just too big!
Dog Beds for Pomerians Buyer's Guide
Pomeranians do not have as many specific needs for their beds like other breeds do such as Pugs. They are a light breed who don't suffer from too many genetic ailments which affect their joints but they still need a comfortable bed so they don't develop any from a poor night's sleep.
However, Pomeranians are known for being hairy and can shed a lot in the house and over their beds. This can lead to a bed which can get hairy and smelly very quick and maybe even uncomfortable.
Do Pomeranians need specific beds?
Not really, the type of bed which is good for a Pomeranian really depends on their tasted and how they like to sleep. If your Pom was crate trained they may prefer an enclosed bed otherwise any regular bed type will do for them.
But, as we've alluded to quite a bit, Pomerians are moderate shedders which means they lose hair constantly and have a large deshedding event around twice a year. This means that the bed will need to be cleaned regularly to maintain its quality and to avoid bad smells. This means that people looking for a good investment should only consider beds which are machine washable.
The only time a specialist bed may be needed is if they're prone to allergies and therefore a hypoallergenic bed is the only real choice.
Pomeranians are generally free from many genetic problems some dogs face such as joint problems, obesity and breathing problems which means that owners can relax in terms of getting an expensive specialist bed. That being said, it's still important to get a good bed which offers a lot of comfort to ensure these problems aren't caused by an uncomfortable resting place.
Related Articles