All pets have little quirks that make them special. But Pugs and Pomeranians gotta have some of the quirkiest qualities of all. It's these weird habits, cute puppy-dog looks, and curious antics that we know and love about 'em – and what makes Poms and Pugs some of the most agreeable and cuddly canine companions.
Want to share a PAW-fect life with your Pug or Pom? Just sprinkle some tender love and care…and a place to sleep! Investing in a specialised bed for these two breeds keeps them healthy and well-rested.
We have already covered the best dog beds for Pugs. It's Pomeranian time now! Pomeranians are small dogs with big personalities and deserve a bed reflecting their regal status.
Choosing one can be confusing, thanks to the overwhelming number of choices. Welp, no worries. I'm here to assist you with making the right best choice to ensure your precious little pooch is happy and your wallet isn't empty.
How much do dog beds cost for Pomeranians?
Depending on the size of your dog, materials, and preferred features, good dog beds for Pomeranians can cost over $30 to $200. You can find a basic bed with a simple design for as little as $40 at pet stores or online.
Top 7 Dog Beds for Pomeranians
1. Furtime Rectangle Dog Bed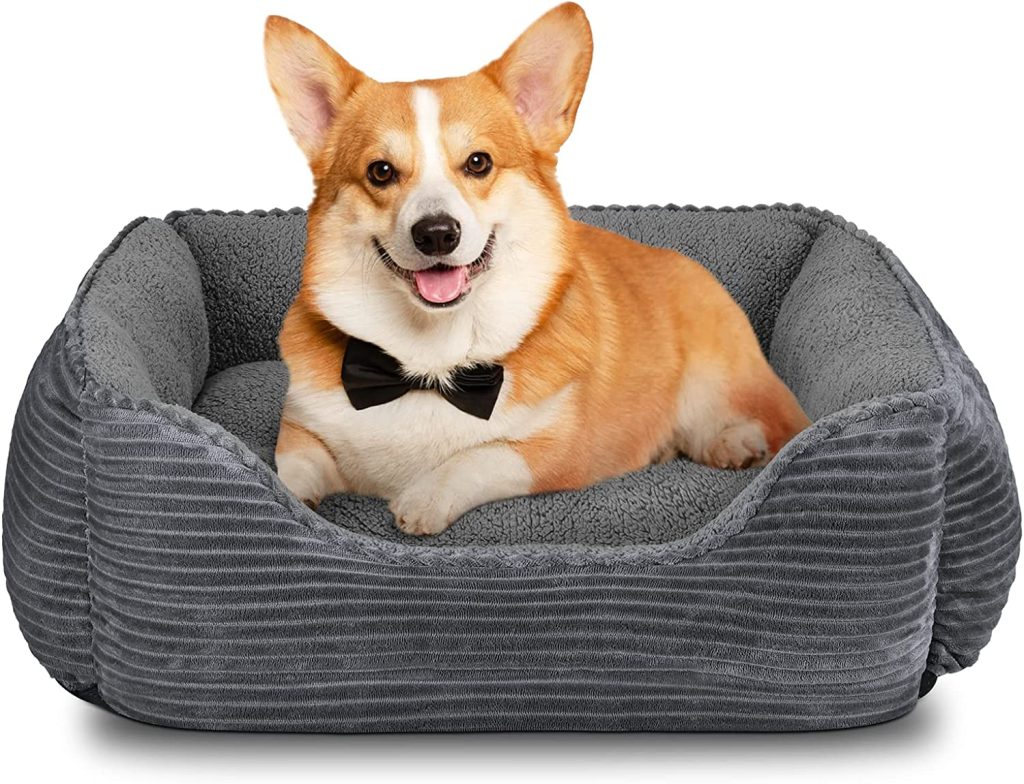 The Furtime Rectangle Dog Bed is the best dog bed for Pomeranians in the UK. It's made from high-quality materials with comfort in mind, so you can rest assured knowing that your pomeranian is comfortable.
The product features a stylish and modern design that complements home décor. It resembles the letter "U," but unlike the flat ones, the Furtime Rectangle offers substantial space to move around without falling off the bed.
Pomeranians are a playful breed, so having an anti-slip bottom is a huge plus since it prevents my dog from sliding the bed around.
This dog bed is available in 4 different sizes; for Pomeranians, I suggest the small size. You can simply fold it and carry the bed on your next vacation.
Buy Furtime Rectangular Dog Bed on Amazon UK
2. Okpow Donut Dog Bed
The Donut Dog Bed is an ultra-soft and cosy bed that is perfect for your furry friend. It's made with a gentle plush fabric that won't irritate your pet's skin. The doughnut-shaped design offers a relaxing spot for your pet's head to rest, while the elevated edges provide support and security.
A cute doughnut being your buddy's new cosy partner sounds fun, doesn't it? The non-slip and waterproof bottom seals the deal here as well. The bed is also machine-washable for easy care.
This one also comes in four sizes, but it's generally smaller, so I recommend choosing the large variant. It's not much bigger than the medium but will give your pom more room to wander around. The bed is vacuum compressed when shipped, so remember to fluff it up after you unbox it.
Buy Okpow Donut Dog Bed on Amazon UK
3. DZ Aimier Dog Bed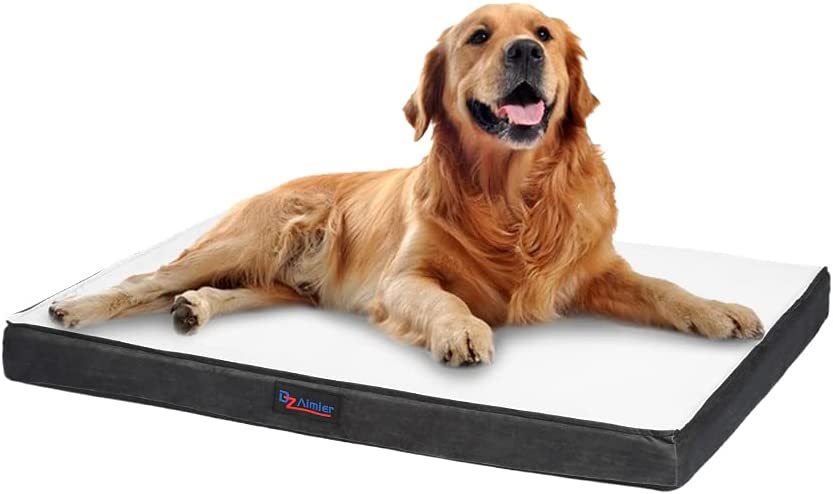 The dog bed by DZ Aimier has made it the favourite of many paw parents thanks to its durability, portability and ease of washing. With a single size available that spans 29.5 inches, this bed is aimed at smaller dogs. And I find it a perfect fit for Pomeranians.
While the material is not furry as in the Donut one, this bed is comfortable for dogs, with a soft, padded surface that will keep them cosy.
Cleaning it is easy-breezy since you can put it in the machine as a whole. Use the built-in tumble dryer in your washing machine instead of air drying the bed. Pat out any moisture that may be left. You can use apple cider to eliminate the odour if any.
Buy DZ Aimier Dog Bed on Amazon UK
Read More: Best Indestructible And Chew Proof Dog Beds UK 2021
4. Furhaven Orthopaedic Sofa Dog Bed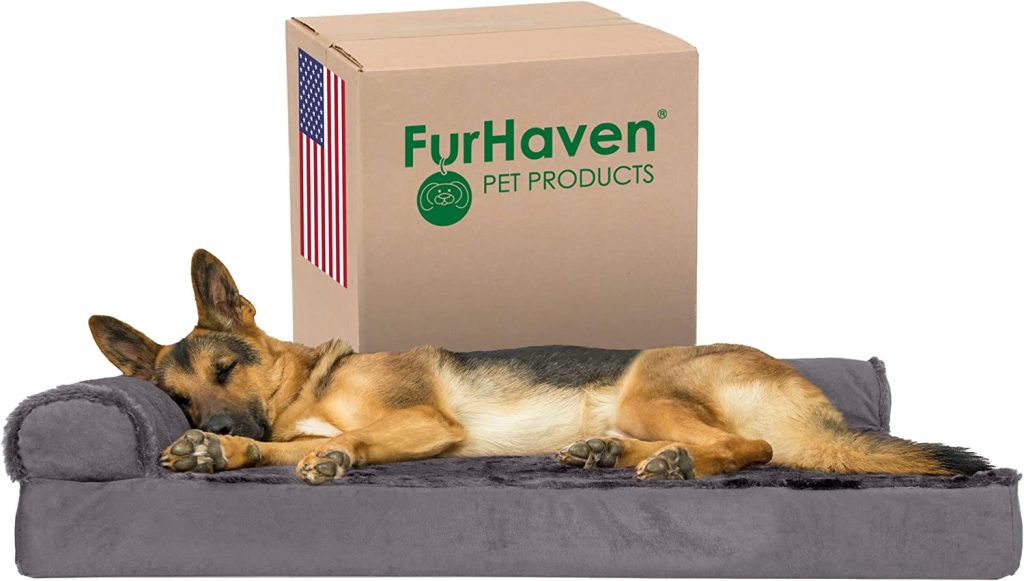 Check out Furhaven's sofa-style dog bed. This L-shaped pet bed is perfect for dogs who love to snuggle. The soft, padded surface and raised bolsters that provide support and security.
It offers several customisations, including the choice of filler material. You can choose from memory foam, cooling gel foam and orthopaedic foam. The orthopaedic design is ideal for dogs with joint pain or other mobility issues.
It is quite convenient that the included removable cover is machine washable, which saves me hours of manual washing. The Furhaven Orthopedic Sofa Dog Bed comes in various colours and sizes to fit any pet and home.
Buy Furhaven Orthopedic Sofa Dog Bed on Amazon UK
5. Bedsure Orthopaedic Dog Bed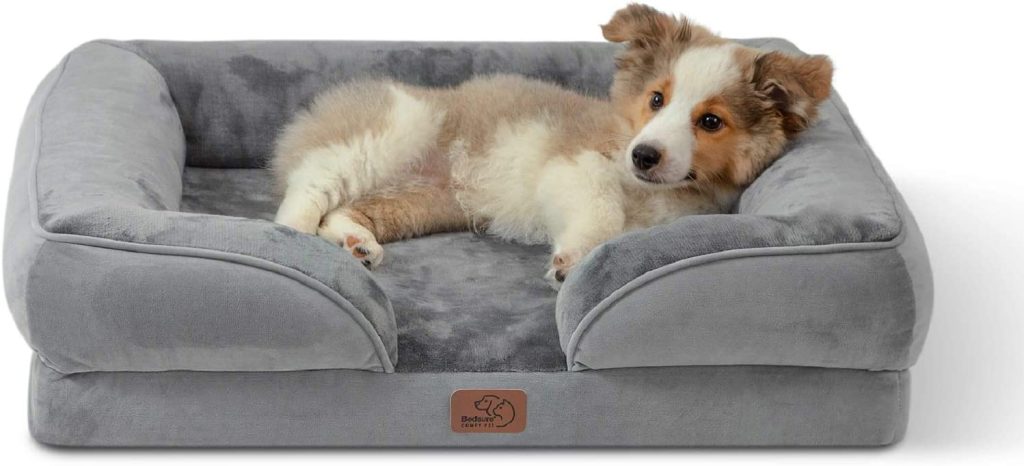 The Bedsure Orthopaedic Dog Bed is the best choice for senior Pomeranians. It is carefully designed to support your dog's joints and muscles, reducing pain and enhancing comfort.
The high-density memory foam used in the construction of this bed contours your dog's body to provide them with the best support and comfort possible.
Ventilated from the ground up, the foam will keep your dog comfy and cool. The bed has a detachable, machine-washable cover composed of plush, soft material.
While the bed is great even for younger dogs, it's especially beneficial for older ones. Give your Pomeranian the gift of comfort with the Bedsure orthopaedic dog bed.
Buy Bedsure Orthopedic Dog Bed on Amazon UK
6. BarkBox Dog Bed, 2-in-1 Memory Foam Donut Cuddler Dog Bed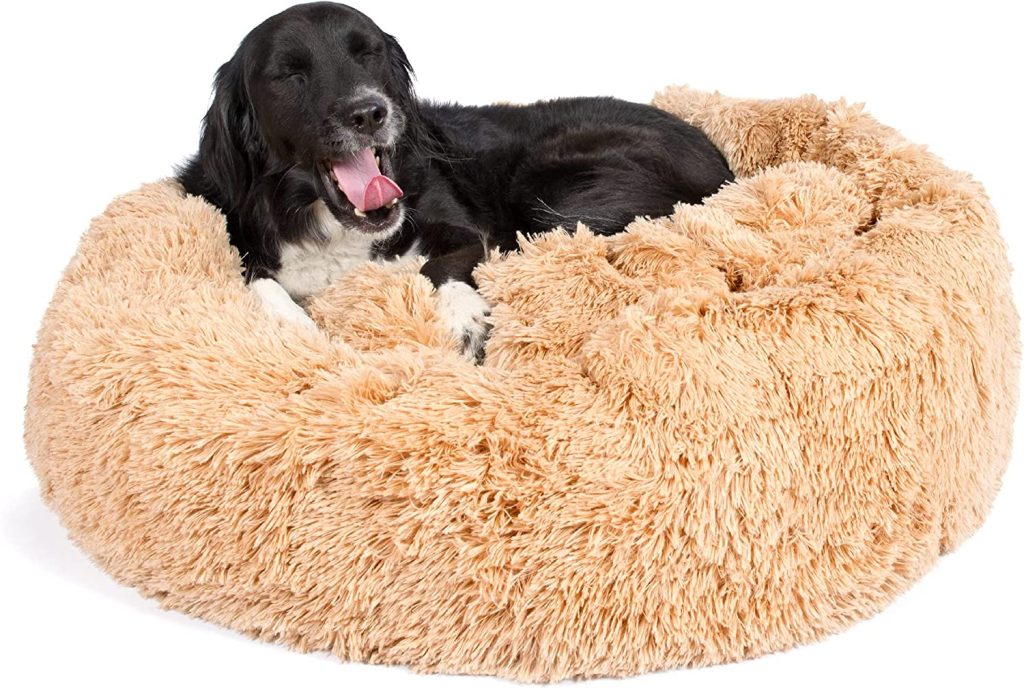 The BarkBox Dog Bed is a 2-in-1 Memory Foam Donut Cuddler Bed that is perfect for your furry friend. The bed is made with a memory foam core that is comfortable for your dog and supports its joints and muscles.
It's also covered in a soft, plush fabric that is comfortable for your dog to lie on, like the Okpow's Donut bed. The bed has a removable cover that is machine washable for easy care.
You also get a water-resistant liner that helps to protect the memory foam from accidents. The bed is available in two sizes, small and large, to fit your dog's needs. The small size is ideal for dogs up to 25 pounds, and the large size is ideal for dogs up to 50 pounds.
Buy BarkBox 2-in-1 Dog Bed on Amazon UK
7. Hollypet Coral Velvet Foldable Cave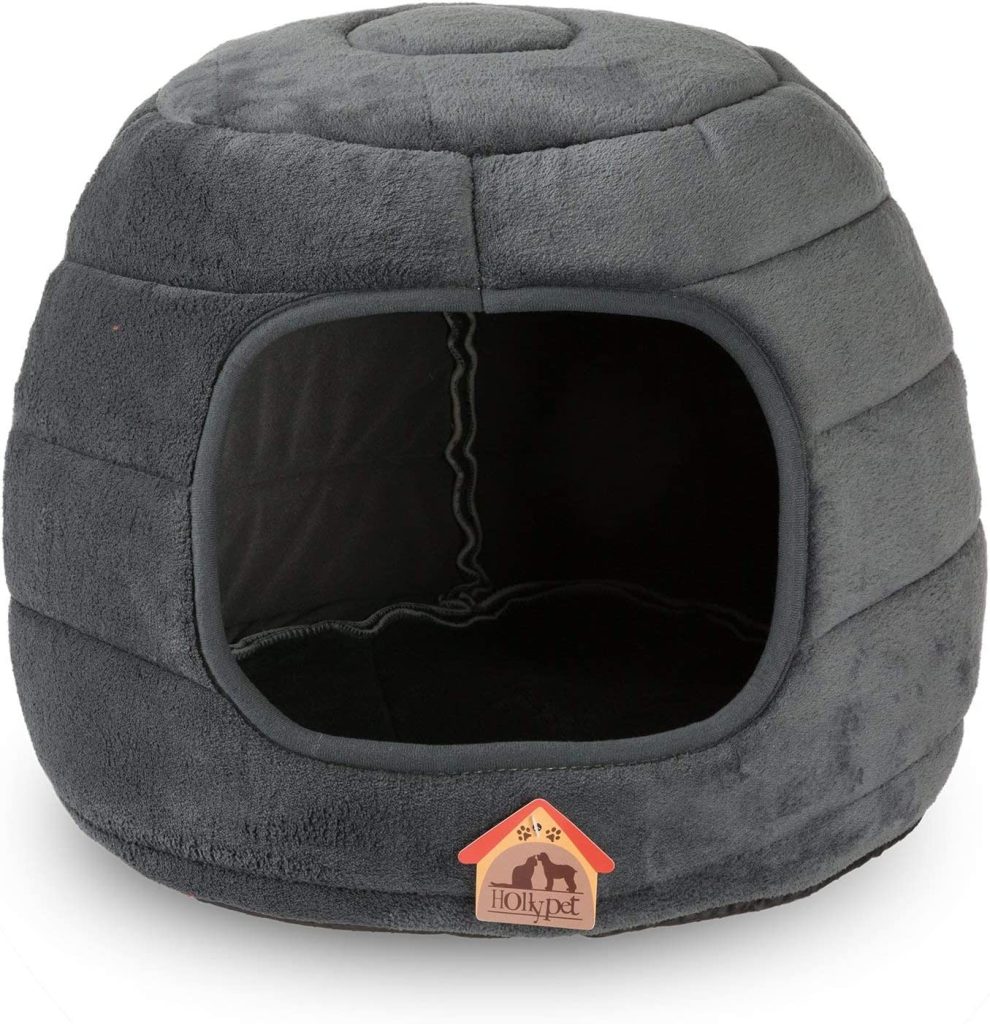 Hollypet Coral Velvet Foldable Cave for dogs is a cosy, comfortable cave-style dog bed. It is made of soft and durable coral velvet fabric and is lined with a thick layer of padding for your dog's comfort.
The bed has a removable and washable cover for easy care. It also has a built-in pillow for your dog's head and a raised edge around the bed for added support. The bed is easy to assemble and folds flat for easy storage.
Buy Hollypet Coral Velvet Foldable Cave on Amazon UK.
How to choose a dog bed for a Pomeranian Dog?
A dog bed shapes your dog's daily life, so it is important to choose the right one for your Pomeranian. Here are a few things to consider when choosing a dog bed for your Pomeranian:
1. Decide on a budget and stick to it.
A wide variety of beds are available on the market, each with its unique price tag. Decide on a budget for your purchase and look for options only in that budget. It will make it easy for you to compare products.
You should aim for a bed under $100 unless your dog has specialised needs like orthopaedic foam.
2. Size of bed
Make sure to measure your dog before purchasing a bed, and remember that Pomeranians may need a smaller bed than other breeds. Pomeranians should have a big enough bed to stretch out in but not so big that they feel lost.
You can find bed size charts online or ask a staff member at the pet store for help.
3. Material used for construction
Pomeranians are small dogs with big personalities and deserve a bed just as comfy as they are! Look for a bed made from soft, cosy materials like fleece or plush. The material of the bed is important for both comfort and durability.
You should also consider how easy the bed is to clean, as some materials are easier to clean than others.
4. Shape of the bed
Pomeranians are small dogs who love to cosy up on their beds. The best suitable shapes for poms are–
Round Beds: Round or oval beds are also ideal for dogs who suffer from joint pain, as they offer support all around the body.
Donut Beds: With a raised edge, this help to keep your dog warm and snug.
Rectangular Beds: These offer plenty of space to move around, and the firm sides offer support for the head and body.
Orthopaedic Beds: They offer support and comfort and are often made from memory foam which contours to your dog's body.
5. Extra features to look out for
When choosing a dog bed, it's important to consider your pet's needs and preferences. If your dog is restless, you may opt for a bed with raised sides or a bolster to help keep them in place.
Or, if your dog tends to get hot while sleeping, look for a bed made with cooling gel or fabric. Also, look for a bed with a removable cover that can be machine-washed.
Read More: All Kinds of Dog Beds Discussed in Detail
Frequently Asked Questions
1. How to keep your Pomeranian's bed clean?
You can keep your dog's bed clean with a regular cleaning schedule. Wash your Pomeranian's bedding once a week or twice if they're a particularly messy eater. Using light-coloured bedding helps in spotting dirt and stains early.
Additionally, look for home remedies, such as apple cider, to remove bad odour without spending extra bucks.
2. How often should you replace your Pomeranian's bed?
Ideally, you should replace your Pomeranian's bed every 6 to 12 months. It'll ensure that the bed stays comfortable and supportive and that any dirt or hair is removed. If you have a particularly active Pom, you may need to replace the bed more often.
Read: How often should you get a new dog bed?
3. How to make sure your Pomeranian is comfortable in their bed?
To keep your dog comfortable in their bed,
Add some blankets or pillows. This will make it cosier and more inviting for your Pomeranian.
You can also use a pet bed warmer to make it even more comfortable.
Place the bed in a spot that your Pomeranian feels comfortable in. It could be near a window so they can watch the birds outside or in their crate if they feel more secure in that space.