Orthopedic dog beds are primarily designed to help elderly dogs or dogs with mobility issues to have a bed which is comfortable enough to ease discomfort and pains they may have to help give them a good night's sleep and a comfortable rest. The same way us humans may invest in an orthopedic mattress as regular mattresses can aggravate aching joints and make people wake up feeling stiff.
However, all dogs can benefit from orthopedic beds in the UK and may well end up being the best dog bed they've ever had regardless of an existing condition or old age.
In this article we will help you find the perfect bed for your pup as well as offer a buyer's guide to help you learn more about these specialist products and why they can be so effective in the home.
Best Orthopedic Dog Beds Reviews
1. Pet Fusion Ultimate Memory Foam Dog Bed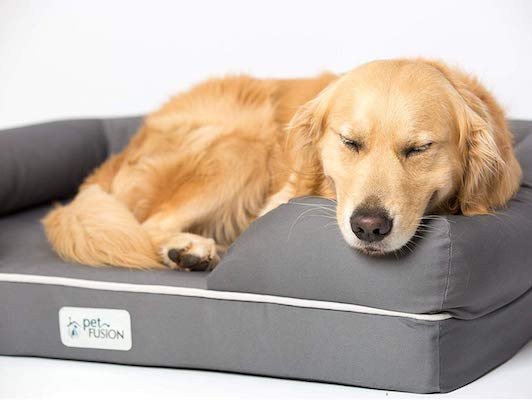 Time and time again we have put this fantastic bed at the top of our bed product roundup lists and the reason for that is simple – it's got the best materials, it's extremely comfortable, the covers are washable and of course – it offers orthopedic support.
This bed uses memory foam which adapts to your dog's weight and shape giving them a bed which is borderline personalised. The memory foam is firm and just squidgy enough to ease joints and aching muscles.
Aside from the orthopedic support, we recommend this bed because of how easy it is to wash and the overall quality. It's not the cheapest bed you'll find but it offers excellent value for money.
Read the full Pet Fusion Memory Foam Bed Review.
2. The Dog's Bed Premium Plush Orthopedic Memory Foam Waterproof Dog Bed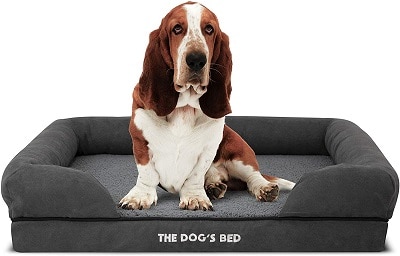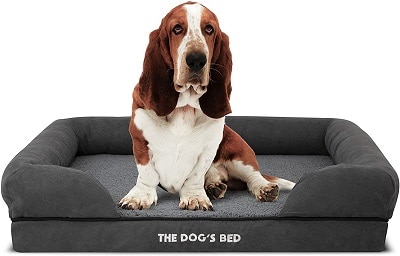 The Dog's Bed brand uses 5mm thick memory foam to offer premium level of comfort and support for dogs who may be recovering from injury, are experiencing joint problems or just not as nimble as they used to be in their younger days,
This bed also has walls which surround the main cushion for them to be able to position themselves to rest their head to make it even more relaxing.
The materials used to make this bed are similar to what you'd expect in a five star hotel with covers which are removable and washable making it easy to keep it fresh for your prized pooch.
This is a medical grade dog bed and a perfect product for owners of dogs with hip dysplasia, arthritis, muscle stiffness and aged joints and comes in a variety of sizes to cater for practically any breed.
3. Knuffelwuff Laser Quilted Synthetic Leather Orthopaedic Madison Dog Bed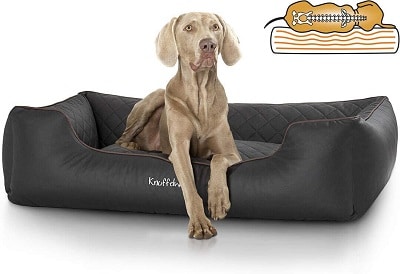 If you want an orthopedic dog bed with a touch of class then Knuffelwuff is the way to go. You can tell just from the image just how luxurious and posh this is but don't be fooled by the appearance, underneath is a high performance orthopedic memory foam cushion which provides the excellent support a dog with mobility and muscle problems needs to have a peaceful rest.
This is one of the only dog beds which uses synthetic leather as the outside material and what this provides is a surface which is easy to wipe down to keep clean but also offer a little bit of a cooling effect when they lay on it.
One of the perks of this bed is how it can enhance a home's decor and doesn't need to be placed out of sight when you have guests. The dog probably doesn't care about the way it looks but owners might.
It works just as described and whether your dog wants to sleep on their side, on their back or curled up the memory foam inside will adapt to their shape and help keep the spine straight and their joints weightless.
Read More: Beginner's Guide to Top 6 Dog Beds for Pugs in UK 2023
4. Bedsure Orthopedic Dog Mattress
For those who want an orthopedic dog bed which will fit in a crate then the Bedusre model is fantastic as it's a rectangle shape without the walls which will fit right into most crates on the UK market.
However, it's not all about the shape and compatibility it's also about the quality. The mattress uses egg crate designed foam which provides the firmness and adjustability to help keep the spine straight when they're on their side. The egg crate designed also makes the foam breathable which keeps it cool in the heat and warm in the cold.
On the outside is high quality Oxford material which gives it the premium look and feel and marries the memory foam to make it a luxurious bed without the price tag. The cover is completely removable and machine washable making it easy to be fresh all year round.
5. Milliard Quilted Padded Orthopedic Dog Bed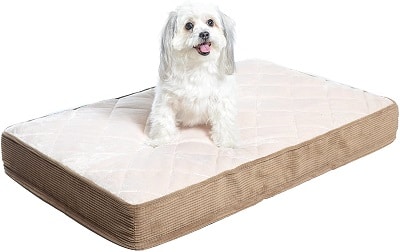 For those looking for a budget option you need look further than the Milliard Quilted Padded Orthopedic Dog Bed which does offer memory foam comfort for a fraction of the price. The design is the same as the Bedsure model which egg crate which provides the shock absorption and ability to adjust itself to the weight and shape of your dog.
The quality of the bed in terms of comfort and support is top notch but it does lack on certain areas such as no surrounding walls to rest their heads on, plus there isn't much in terms of design for the product and looks a bit bland. This may not be important to some owners and certainly isn't for the dogs themselves.
The cover is removable and washable which makes it easy to keep clean and free from major hair build up. Milliard also offers a money back guarantee if you're not happy which is always a bonus. This bed is ideal on its own or inside a crate so long as there is enough room above their heads.
Overall, this DOES offer orthopedic support and it is pretty much one of the cheapest models we've seen in the UK so it's a really cost effective solution for dog owners with modest budgets.
Orthopedic Dog Bed Buyer's Guide
Welcome to the JugDog orthopedic beds for dogs buyer's guide. Here we go into detail about what exactly these specialist beds are, who they're designed for and what kind of benefits can be enjoyed with using one.
What is an orthopedic dog bed and how does it differ from normal dog beds?
The word orthopedic (or orthopedic) means to manipulate the musculoskeletal system positively. The word orthopedic can be attached to a product which aims to positively improve or manage the diseases and conditions which can impair an organism's muscles and skeletal systems, In this specific case, it is applied to dog beds.
An orthopedic dog bed is a bed which has been made in a specific shape or using specific materials which gently improves and alleviates their overall posture by easing the pressure of the spine and joints as they rest.
Orthopedic dog beds work by helping dogs be able to sleep in a positive position which doesn't aggravate the spine or joints and helps them 'float' on the bed rather than having their weight push down which makes them sleep in an uncomfortable position. By having a bed which gives greater support it can allow the dog to relax and not use their muscles to keep them in position – this gives them a much needed rest.
The key differences between orthopedic beds and regular beds is usually found in the foam or cushion on the bed. Orthopedic beds typically utilise memory foam which adapts to their weight to evenly distribute it and create a feeling of weightlessness.
Read More: How often should you get a new dog bed? How to make the transition?
Who can benefit from an orthopedic dog beds
ALL dogs can benefit from an orthopedic dog bed. Orthopedic dog beds are probably the most superior beds on the market because their sole purpose is to create a better resting period. They adapt to any dog to support their body so they can relax their muscles and not wake up with aches and pains.
However, there are certain dogs who would benefit the most from these kinds of beds and they are dogs with musculoskeletal problems such as hip dysplasia, arthritis, spinal anomalies, stiffness and elderly dogs with aching joints. Dogs with these kinds of conditions can get some temporary relief as the bed takes the pressure off the joints so they can fully relax. They won't be healed but it will help them get a better night's sleep and a bit of a break.
Dogs don't just use beds to sleep during the night, they can use them all day long to rest. If you buy an orthopedic dog bed then you're giving your dog somewhere they can always go to if they're having a bad day with their joints or back. On top of that, your dog can sleep for longer which will help them feel less tired and more likely to move around which greatly helps with delaying the effect of certain diseases which cause the problems in the first place.
Are orthopedic dog beds worth it?
If you have a dog who has clear physical issues and finds it uncomfortable sleeping and resting on whatever they're currently using then yes. However, for healthy dogs with no issues then it can be seen as a luxury item. That being said, they would still experience the benefits.
However, orthopedic dog beds can be expensive and destructive dogs will tear them apart as they are not made to be tough, you should get an indestructible dog bed for that. Also, orthopedic dog beds don't tend to be waterproof so if you have an incontinent dog then consider reading our guide on how to make a dog bed waterproof or simply buy a waterproof dog bed.
Is orthopedic or memory foam best for dogs?
Most orthopedic dog beds are made with memory foam and most memory foam beds are orthopedic by nature therefore both of the are more or less the same and great for any dog.