Bringing a new Pug puppy home and want to make sure they sleep in the best bed for their breed?
Has your furry friend's bed seen better days and you want to give them a proper upgrade?
Wondering if there are beds made especially for Pugs which can help with their joint, breathing and weight problems?
If you're looking for the answer to any of the above questions then you've come to the right place.
Brand
Best on a Budget
The Dog's Bed
Image




Best Overall
Image

Best For Crates
Image

Best on a Budget
Image

Best Raised
Image

Best Dog Beds For Pugs Reviewed
1. Pet Fusion Memory Foam Bed (Small for Pugs)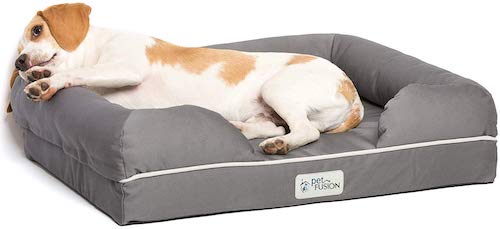 The Pet Fusion Bed has long been our recommendation for practically any breed of dog and it is well suited for Pugs are they have key features we recommend – memory foam to support their weight, bolster sides to support their heads, removable covers to keep it allergen-free and supreme comfort to help with separation anxiety.
The only drawback is that it is somewhat on the expensive side and it is not made to be hypoallergenic but the fact that it has removable covers somewhat cancels that out.
It has been positively reviewed over 5,800 times and quite frankly one of the best on the market in every sense and a wise purchase for your prized Pug.
2. Brindle Solid Memory Foam Orthopedic Dog Bed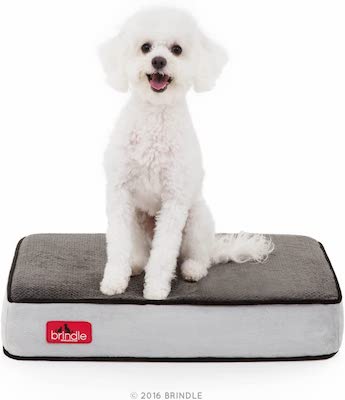 This is a strong bed for a Pug as it ticks almost every box we highlighted in the buyer's guide. It has memory foam which will help support your Pug's portly frame and help with hip dysplasia and provides a comfortable place to rest which can help then they're feeling lonely.
The material is hypoallergenic which helps tremendously to keep infections and adverse reactions away from the skin, ears and eyes. On top of that, the velour cover can be removed and washed easily.
However, it does not have any side bolsters to support the head which is a little disappointing, however, this could be perfect for owners who are using crates for their Pugs.
3. KOPEKS Sofa Bed for Pugs (Medium or Large)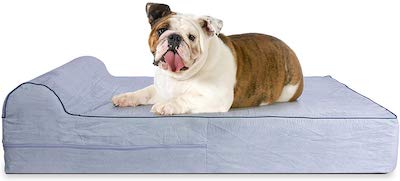 Spoil your Pug rotten with a KOPEKS bed…if you can afford it. This has the distinction of having every single desirable attribute highlighted in the buyer's guide – it has memory foam to give them a firm but comfy rest to ease the pressure on joints. It's got raised bolster sidewalls for them to rest their heads on and breathe easier and the velous material is hypoallergenic with the covers being removable and washable.
The only downside is that it's quite expensive. Then again, all of these specialist dog beds are.
4. The Dog's Bed, Premium Plush Beds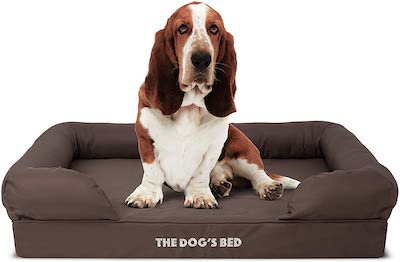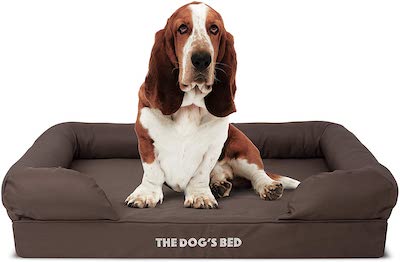 A somewhat budget bed for Pugs is the Dog's Bed plush bed. Comes with a really comfortable plush cover laid over a firm memory foam filling providing a sumptuous rest day or night. The waterproof cover is not hypoallergenic but they are removable and washable which can help stop the build up of materials which can cause allergies such as dust and mould. Bolster sides are provided offering a nice pillow to rest your Pug's head and give them an easier breathing position and reduce snoring.
A good choice for those who want a serviceable option on a budget.
The Dog's Bed, Premium Plush Beds
Medium: 77 x 60 x 7.5cm with 19cm bolster sides. Colour Chocolate Brown with Brown Piping. Waterproof protective inner & durable Oxford outer. 5cm base of high stability foam and 2.5cm top of high density, extremely comfortable, high-care, orthopaedic memory foam with covers designed so that your bed fits your home decor seamlessly and your dog can stay close to the family
5. Veehoo Raised Dog Bed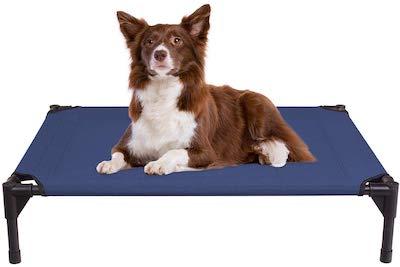 Raised dog beds are really basic and there's not much to say about them other than their excellent ability to help dogs rid themselves of heat as it seeps out of their skin and out through the mesh material. Despite looking like they're uncomfortable, dogs do seem to like it and often instinctively go to this bed when things get a little warm for them.
Out of all the raised dog beds, it's the Veehoo range we keep going to because they're well made and cheap. Just remember, your Pug may not use this to sleep through the night so it's recommended to have this as a secondary bed specifically to tackle the heat.
Veehoo Raised Dog Bed
Material: Textilene Mesh and Powder-Coated Steel. Size: 32"x25"x7" (81x64x18 cm). Can hold a maximum weight of 150 pounds (68kg); Suitable for a normal adult English Bulldog, Samoyed etc.
6. JOYELF Warm Bed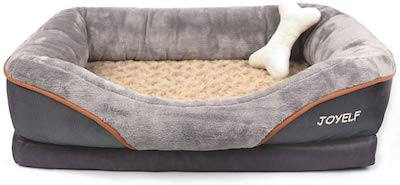 For Pug owners with cold houses or to be used in the winter, we recommend the Joyelf bed. It has memory foam filling like most beds we recommend and bolster sides for them to rest their heads but the extra effort has been made to make the bed itself warmer and thicker which can help a lot on cold days. Don't forget, cold weather is no good for joints so extra warmth can go a long way to make them extra comfy and snug.
JOYELF Warm Bed
HIGH-QUALITY MATERIALS: ①Solid Memory Foam base for perfectly to your pet's body for maximum comfort ②Memory Foam using flame retardant material③The Bottom Material of the dog bed comes with built-in nonslip rubber backing and waterproof coating④Inner waterproof cover perfect for senior dog with occasional accident ⑤The fabric offers unmatched warmth and comfort;⑥The bolster is filled by PP cotton generously which is relax breathable and good resilience
7. Loving Care Lounger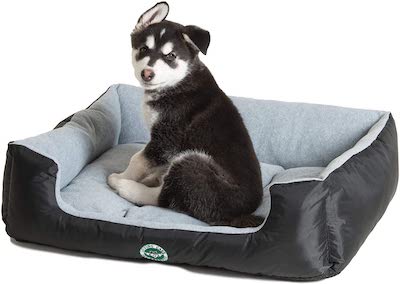 This stunning bed is one of the most comfortable beds on the market and would be a delight for any Pug. One of the biggest perks of this bed is that even the smallest size is quite huge with more than enough space for even the biggest Pug to get comfy. It's made with waterproof and hypoallergenic materials which is a huge plus point and has the bolster sides to enable them to relax their heads.
A really solid purchase for a bed offers loads of space and comfort.
Loving Care Lounger
Great for ALL Weather. Reversible COOL on reverse side. Size: Large=80 cm x 65 cm, Faithful GREY. Loving Care Pet Products Ultra Supreme LOUNGER Style Black and Grey Dog Bed Cat Bed Pet Bed basket. Available in 3 Sizes and 7 Colours to Suit Most Pets and Homes. Made from same durable superior materials as our Nesting Beds B00SW7NHE4 and Crate Mats B01LW4AP0B. We donate a portion of our sales and product to pets in need and pet charities.
8. Easipet Waterproof Dog Bed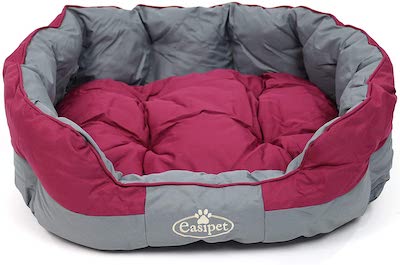 The Easipet waterproof dog bed is on the list because it's amazingly cheap for a small breed such as the Pug and offers adequate comfort for the specific breed. It's waterproof and has raised sides and that's about it but it's so cheap it's easy to overlook what it doesn't have to be honest.
It's rounded which makes it perfect for breeds who like to curl up (pugs) when they sleep to save hear from escaping and from rolling out if they sleep on their backs.
9. PawHut Luxury Sofa For Pugs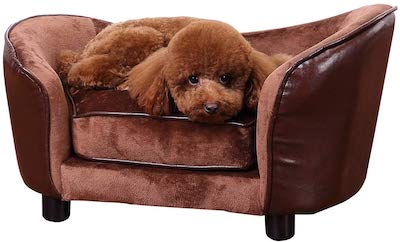 If you aren't interested in memory foam, raised sides and just want something that looks cool and expensive for your Pug then here it is. This luxury sofa is scrumptiously comfortable and has the added benefit of being raised off the ground which makes it marginally better at keeping dogs cool than ones which go on the floor.
The washable cushion is removable which can help keep allergies at bay and the filling is firm enough to offer some joint support. However, the raised sides aren't great for resting chins and getting in and out can be a pain if they already have hip problems.
Sale
10. P&L Heavy Duty Bed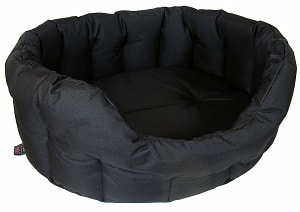 Lastly, we wanted to give a special mention to an indestructible dog bed for Pug owners who keep finding their beds destroyed. There are more comfortable beds, of course, but none as tough as this.
Dog Beds for Pugs Buyer's Guide
Although any of our selection from the main best dog beds shortlist will be fine for Pugs, they are perhaps not the absolute best choice for the Pug breed specifically. This may sound like a daft statement but we feel it's justified.
The humble Pug is a breed with particular features that need to be catered for in all manner of ways from walking, grooming and even sleeping arrangements. They have been purposefully bred in such a way that many of their desirable features can cause discomfort and some things which seem to be trivial a laborious effort for them, sadly.
However, there are products out there which are designed in a way that they can make a Pug's life a little easier. Here, we take a look at why Pugs may need a specialist bed in the home.
Hip Dysplasia
Thanks to years and years of selective breeding and potential inbreeding, Pugs are liable for a whole host of hereditary issues with hip dysplasia being one of them. Pugs are born with normal hips but the muscle development lacks surrounding the hip socket which can lead to grinding and unevenness.
Obesity has also been linked with the development of hip dysplasia and as we all know Pugs are no spring chickens. This has led to Pugs being one of the most common breeds to suffer from this condition which could affect them for their whole life.
Hip dysplasia can cause stiffness and pain to move, especially first thing in the morning.
How can a dog bed fix this? Well, even the finest dog bed won't fix this but it can ease the symptoms and reduce the pain the Pug can be in and to some extent slow down the condition.
What we want to see in a good bed for a Pug is a bed that is both soft and firm at the same time – the ultimate bed type for Pug hip dysplasia is a bed with memory foam. Memory foam will offer a soft cushion but firm enough that it's quite easy for a Pug to get into a comfortable position and stay there without having to worry about the foam filling sagging.
Breathing problems
Being a severe brachycephalic breed, Pugs have short muzzles and a flat face. Pugs have been specifically bred this way to acquire their cute look which has made one of the most popular breeds on the planet. Sadly, this cute look has a big cost which is a host of breathing problems. These breathing problems can cause a lot of stress, discomfort and anxiety for the Pug, particularly when they are engaging in physical exercise and when the temperature is above average. A comfortable bed won't magically solve these problems but they can make it slightly easier to breathe when relaxing and sleeping.
The best Pug beds to help with their breathing issues are bolster beds which are beds with sidewalls. This enables the Pug to rest their head on the side which can straighten out the airways and allow them to breathe a little easier.
They struggle with heat
Because of the breathing problems and obesity Pugs are no fans of any temperature above room temperature. There's no denying that and it really highlights the great cost of selective and inbreeding that Pugs have to pay. Moving on, a particular dog bed option can help a Pug be able to rest and stay cool at the same time – for this, we recommend an elevated dog bed for your Pug to have around during warmer weather.
However, this is not the ideal bed all year round as elevated are a little hard and uncomfortable but it can help keep them cool as the heat dissipates easier away from the Pug's body whereas a regular bed will only make them warmer. Other alternatives are a water bed or a cooling mat
They get allergies easily
As if the issues we've already mentioned aren't enough, Pugs are also prone to a variety of allergies namely ear and eye allergies. Pugs have floppy ears which can be a precursor to infections and their bulbous eyes make them extremely prone to eye infections. Jeff, being half of a Pug often gets ear infections for the same reason.
Luckily, thanks to the advancement in textile technology hypoallergenic dog beds are now widely available to Pug owners and an essential feature on your next purchase for your furry friend. These beds are designed to keep dust mites, mildew and mould spores from growing and infect your precious Pug.
Dog beds with removable covers are also great for dogs with allergies as it makes it easier to wash the beds more often.
They're heavy!
Pugs are heavy and it's not evenly distributed throughout their body which can cause flimsy beds with rubbish filling to sag and put uneven pressure on the heavier parts of their body namely their head and their neck. This can make some of the other points we've already made more of a challenge such as breathing problems and hip dysplasia.
To counter this, it's recommended to get a memory foam dog bed or a bed that's rated as firm to be able to support their weight over a long period of time. Cheap dog beds are, sadly, not really the best option for pugs but to be fair if saving money was a goal you probably wouldn't have got such an expensive breed in the first place.
Prone to separation anxiety
Pugs are bred to be companion dogs, some would say lapt dogs. This means that they are very clingy and struggle somewhat with being away from owners leading to an increased risk of separation anxiety. No bed will make anxiety go away, you'll need training for that, but a comfortable bed will still go a long way to make them feel more relaxed and more likely to want to sleep and rest while you're away.
A quality bed will potentially make them look forward to sleeping which can only be a good thing!
Conclusion
As we've already mentioned at the beginning of the buyer's guide, you could get away with using any of our recommended best dog bed recommendations for your Pug, but it would not be optimal. We recommend these key features in whatever bed you go for
Memory foam or a firm filling to support their weight o help with sagging over time
Bolster bed or beds with sidewalls to support their heads to encourage easier breathing
Hypoallergenic materials to reduce the risk of allergies to ears and eyes
A secondary raised dog bed to help during warm temperatures
Last update on 2022-05-19 / Affiliate links / Images from Amazon Product Advertising API