Are you looking to invest in the best bed for your dog but you're unsure which model is actually worth the money? Are you tired of seeing your pooch refuse to use their bed or are you having to replace it constantly because of poor quality? Here at JugDog we have all the answers and recommendations for the best pet bed to invest in.
Name
The Ultimate Bed
PetFusion Memory Foam Bed
Best For Toughness
Heavy Duty Oval Bed
Cheap and Cheerful
Feandrea Dog Bed
Image



The Ultimate Bed
Name
PetFusion Memory Foam Bed
Image

Best For Toughness
Image

Cheap and Cheerful
Image

Dogs spend a lot of time sleeping and relaxing so getting one of the best doggy beds is extremely important. Dog beds come in various shapes, sizes and materials to suit all sorts of breeds and medical requirements if there are any. When shopping around for the best dog bed take your time to assess what will suit your pet and your home.
Best Dog Bed Reviews
Below begins our list of the doggie beds we've been sent, tested and reviewed via our faithful jug, Jeff. We have only included ones we deem to be 'good'. Our list consists of a variety of beds from the cheap to the expensive and from the simple to the fancy.
1. PetFusion Memory Foam Dog Bed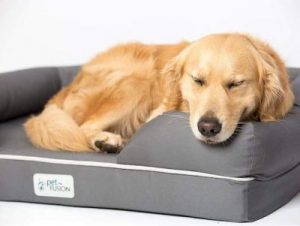 The UK PetFusion Memory Foam bed is undoubtedly one of the best. This dogs bed is made with the same memory foam technology that human beds have to really comfort your pet. PetFusion have made this bed for orthopaedic purposes first to help those with joint pain or maybe even recovering from injury; a great option for older dogs. That being said, a memory foam bed is a comfortable bed for dogs young or old.
This memory foam dog bed is also water resistant and designed to slow absorption in the material for those accidents in life, making it an ideal bed for young pups who are not house trained yet or older dogs in the later stages who just can't hold on any more. The machine washable cover makes washing the bed easy to clean.
Assembly is simple; put the memory foam base into the covers and close the zip.
The bed in the image is a small but it does come in small (64 x 51 x 14 cm), large (91 x 71 x 23 cm) , X large (112 x 86 x 25 cm) and XX large (127 x 102 x 33 cm) sizes to cater for most dogs. It's an ideal dog bed for Pugs.
This bed is not the cheapest and we wouldn't expect it to be either due to its high quality memory foam mattress. The machine washable cover comes in two colour options: grey or brown.
PetFusion are so confident about their product that they offer a 12 month guarantee. This is tear resistant but not particularly chew resistant but it was not designed for that, this is a bed for comfort and orthopaedic and not for longevity, check out our toughest bed section for that.
Read the full PetFusion Dog Bed Review here.
2. FEANDREA Dog Bed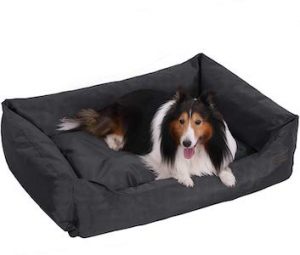 The Feandrea dog bed sofa is an absolutely spectacular bed for quite a few reasons. Firstly, the high quality materials used which helps make this bed be tear and friction resistant; this bed should last quite some time. Secondly is the "PP padding" and Oxford fabric which makes it allergen resistant so your pooch has a better rest.
The construction of the bed is solid and has raised edges to give more of a natural "den" feel and a place to rest their head if they needed to. Our dog often uses the sides to put his chin so it seems to be a great design feature.
It is easy to clean: a wet cloth is enough to clean this bed saving time and money and saves on the structure of the bed weakening with repetitive machine washes.
The price point of this bed is up there with the best of them in terms of value for money, even when it's not on offer.
3. The Dog's Balls Premium Bed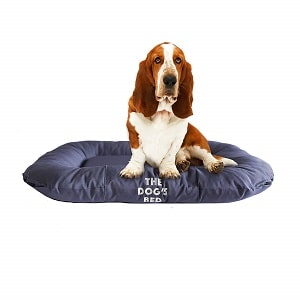 Designed with comfort, safety and durability in mind the Dog's bed by The Dog's Balls is a cracking quality bed/mattress. Made using quality Oxford fabric which makes it waterproof and robust to keep it's bright colours wash after wash. With different sizes and colours available this bed can suit almost any decor at home. This bed is also notable for being highly portable as it can be rolled up with ease.
This bed is rather flat with no raised edges around however it still does provide a good place to rest their heads if need be because the middle bit sinks somewhat so don't be put off by this.
The best feature is how tough and durable it is; it's easy to wipe clean of loose hair and any stains. It has a removable machine washable cover for a complete and thorough wash.
We did find, though, that it just wasn't quite as comfortable for a large pet because it is not as dense as some of the others; this is certainly not an orthopaedic dog bed.
However, with a 1-year warranty and a very attractive price point this is still well worth a look.
4. Snoooze Antibacterial Orthopaedic Donut Bed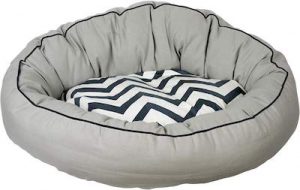 Antibacterial material and orthopaedic support makes this a top choice for elderly dogs. The Snoooze dog bed is easy to clean and also has a good construction so it stays comfortable and holds its shape for longer; giving you great value for money.
The Snoooze antibacterial orthopaedic model offers one of the rarest sets of features in this list: the only antibacterial bed for dog. We simply don't know exactly how it works but it has been verified in several places that it is one of the cleanest and easiest to clean dog beds in all of the land. It is easy to wipe down and has removable covers that are machine washable. Many reviewers have noted how much their prized pooches stretch out when using the bed.
However, what we would mention to bring this review to an end is that the bed is rather flimsy, which could be ideal for your pet, but we would exercise caution and read the reviews on Argos and Amazon before pulling the trigger.
5. Veehoo Raised Dog Bed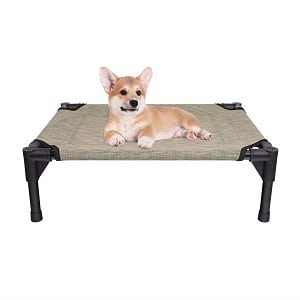 Raised dog beds offer a completely different product to the best dog bed conundrum. They look skeletal and uncomfortable but quite frankly dogs seem to like them as they keep them cool and warm all at once because it doesn't lose or steal heat from the ground.
Our entry-level raised dog bed is by Veehoo. Simple, practically indestructible and very cheap. Keeps them cold in the summer and warm in winter by taking them off the ground. A bit plain looking and basic but if you're wanting to try out raised beds before making a more luxurious choice then try this bed first.
There is a size and colour for absolutely everyone available on Amazon. The Veehoo raised dog bed is also an indestructible dog bed that is the easiest of any dog bed to keep clean as there's really nothing on it to get dirty. On top of that, it is also waterproof which is best for young pups or messy pets.
Assembly is easy and it is just as easy to dismantle and move around as well. It's one of the cheapest dog beds on the market as well and ideal for those on a budget who want a bed that's going to last.
6. P&L Heavy Duty Softee Bed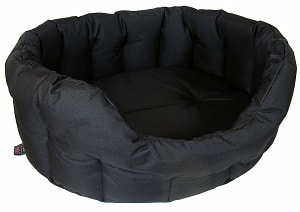 The P&L heavy duty softee dog bed is one of the best for a large pet. This bed is deep, good value for money and it comes with heavy duty waterproof materials.
It's made out of 100% polyester which we know to be tough and it is lacking memory foam – this is what's stopping it from being one of the best. You could always add blankets to keep your pet snug.
The bonuses of being 100% polyester mean it's rather tough to break down for even the most aggressive of dogs and makes it easy to wipe down, clean and keep clean. Odours have a tough time attaching to polyester so the frequency of washing is reduced greatly.
It is quite deep which large dogs love. Available in a range of colours to suit any taste and decor. If you want to know more about this UK manufactured bed why not get a sneak peek inside the chaps over at P&L to see just how much love they put into every heavy-duty softee bed? You can find it in the video tab for this review.
7. Max Quattro Dog Bed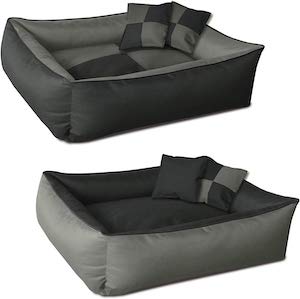 The Max Quattro is a really good bed! It's nice and deep with raised walls which makes it pretty den like which most dogs will love. The materials make it water resistant, tough and insulating giving your dog a nice and toasty sleep. Particularly, we were impressed with the high level of stitching which gives it a really tough finish which is quite resistant to scratching and clawing.
It has hundreds of positive reviews on Amazon which should help you decide whether to part with your hard earned cash for this bed in a world with thousands of alternatives.
However we think that the large range of different sizes and colours will make it more likely that you can buy a dog bed that's perfect for your larger than usual dogs that isn't just a boring colour.
A premium choice that would be good enough for humans. Made of tough stuff to be somewhat chew resistant and it's water resistant, has changeable colours as shown in the image above. The price point of the Max Quattro is reasonable but we wouldn't say it's either cheap or expensive to be honest – your personal budget will determine whether it's cheap or not.
8. Brindle Soft Memory Foam bed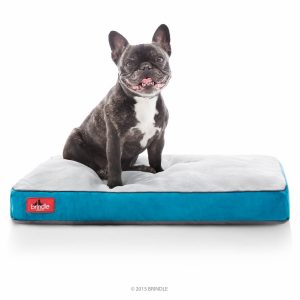 The brindle soft memory foam dog bed is an excellent entry level orthopaedic dog bed which comes in a variety of colours and sizes to brighten up any room it's placed in. Easy to wash in hot or cold water to get rid of any smell it may gather. However, this bed isn't the most chew proof bed you can find and not recommended for naughty dogs!
9. KosiPet Deluxe High Density Mattress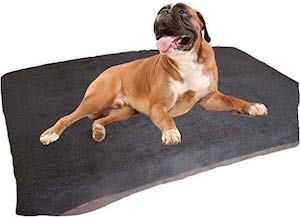 This entry level memory foam mattress is an ideal solution to have around the house and inside a dog crate. It's huge, waterproof, easily washed and super comfy: best of all it's so cheap.
This bed is surprisingly dense for a cheap bed and is not an uncomfortable lay by any means.
It is a bit simple though with the lack of raised sides. There are more comfortable ones out there but your pet may well prefer the simple bed and it can be upgraded with a few machine washable blankets should you wish.
The unique selling point for the UK KosiPet pet mattress, though, is how versatile the product is – we find that this could be used to pad the boot of the car, or to turn the pet crate into a cosy den for your pooch.
10. Wolfybeds Luxury Wraparound Bed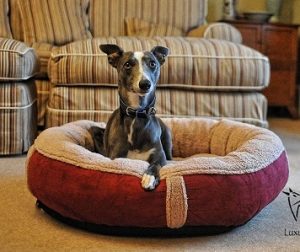 If your end goal is to give your dog a comfortable bed and they are not destructive or likely to wreck it with mud and water then the Wolfybeds wraparound ticks all those boxes by offering a luxurious and warm experience.
What makes this bed particularly comfortable is the thick quilting all around, luxury faux fur suede, a nice depth and a bolster cushion which makes it softer and ideal for older dogs. The high walls also provide a resting place. The fully removable and machine washable cover gives it a long shelf life over time and gives you less of a headache if it starts getting that canine funk that can develop overtime.
Clearly, this bed is not indestructible or waterproof; this dog bed is more aimed towards luxury seekers and to keep your furry friend snug.
The Wolfybeds Wraparound dog bed is quite spacious and has plenty of room to maneuver on the sides, the pictures don't show it but the dip inside the oval is quite deep. Due to it's donut shape, this is a good dog bed to be placed in cold rooms and inside crates if you wanted.
All in all, the Wolfybeds faux fur donut shaped pet bed is scrumptiously comfortable and warm but it is not designed for boisterous dogs so bare that in mind. It is not the cheapest bed but nowhere near the most expensive either so it strikes a balance with plenty of customers be it on a budget or not.
Dog Bed Buyer's Guide
What is a dog bed?
A dog bed is a place where your dog can rest, relax and of course sleep. Most dog owners out there will have some kind of a sleeping area specifically for their furry friend which may come in the form of a mattress, basket or even a burrow to mimic their natural instincts to find a den.
The most common feature of a dog bed is softness which isn't too different from the beds that you and I will sleep in. A dog bed allows your dog to rest in comfort and to keep warm as they are elevated from the floor while avoiding health problems associated with a bad sleep on a hard floor.
How have dog beds changed?
Dog beds have evolved quite a bit over time and now manufacturers even offer luxury dog beds and memory foam mattresses. But, getting a new bed for the dog doesn't necessarily mean that they'll jump right in and use it without hassle, it can take a while for a dog to get used to anything new. Be prepared to put some work in to help the dog get used to the new bed, especially if this new purchase will be their first new bed.
Should dogs sleep in a bed?
Whether or not you let your dog sleep in their own dog bed or to co sleep with you is down to personal choice and your individual circumstances. Some dogs may even share the same bed. However, what we would say with certainty for all dog owners is that ALL dogs should sleep in comfort whether that is a dog bed, dog mat in a crate or even on your own bed. Regardless of WHAT they sleep on it should certainly not be on the floor or in the cold as it could have a detrimental effect on their health.
To not sleep on comfortable bedding can lead to joint problems and even depression. Better quality sleep leads to a happier dog so our opinion is that yes, a dog should definitely sleep in a bed or a comfortable equivalent.
What to consider before buying a dog bed?
Dogs spend a long time sleeping and in their bed. As you can probably guess, we are firm believers of never buying just any old tat for your dog and buying the best products will lead to a much happier dog and a better relationship between you and your dog. With this in mind, we've created this handy checklist for you to glance over to help decide which type and which bed is best suited for you and your dog.
What is it going to be made of?
The materials used by dog bed manufacturers vary quite a bit and there may be a particular material that your dog loves or hates. You may also want to consider where the dog bed is going to go in the house and therefore need to consider the particular material used. These are some materials the best dog beds are made of:
Suede
Foam
Polythene
Vinyl
Cotton
Shag
Wool
Chaise
Oxford
Polyester
and much more…
The material is a key factor in whether or not it will cause an allergic reaction to some dogs. Visit our page on hypoallergenic dog beds for more information.
What's it for?
We've categories our beds as well as we can to ensure there's one for every type of need. Before parting with your hard earned cash think what the bed is for, first. Is it to replace an old bed? Is it to help dogs stay cool in the summer? Is it for an ageing dog with painful joints and you need the best dog bed for arthritis? Or perhaps you have a giant breed of dog and need the best dog bed for larger dogs. There's pretty much a dog bed for every occasion so be sure to get one specifically for your dog.
What makes a good dog bed?
Not all dog beds sleeping bedding are made equal, some are made differently than others and serve a different purpose such as orthopaedic beds or raised beds, some beds are made with different materials such as suede, leather and nylon whilst other beds are made flat without walls and others are made to be burrowing beds. But, all things considered what are essential features of a dog bed to make it a top choice? Let's explore:
Well constructed
Good dog beds should be well made with a decent construction. This means excellent stitching using quality materials enabling the best dog bed to hold its shape well. Dogs will use the bed an awful lot they'll be moving about which means any dog bed made poorly with poor materials will just be ruined in no time at all. A good construction helps with being crate friendly.
Easy to wash
Dogs can get very smelly and will transfer that smell onto the dog bed. Even if they're relatively clean pooches they will still sweat on the bed. Sometimes, accidents can also happen like soiling themselves or be sick on the bed. With this in mind, make sure to find a dog bed that's easily washable – they don't necessarily need to have a removable cover but having clear washing instructions is a clear bonus.
Comfortable
Perhaps the most important factor from the point of view of the dog. Make sure you get a bed that's comfortable. This means having extra support in the bed itself to handle the weight of the dog so that they're 'floating' in the bed. Think about what makes your own bed comfortable and then apply it to your dog's new bed.
If the bed is really comfortable they may end up sleeping on their backs on it.
Strong
The bed doesn't need to be indestructible but being well made and tough is important. Strong beds should be somewhat chew and scratch resistant and not be destroyable in few minutes of chew time. At some point your dog may try and chew the bed, make sure yours can handle it.
Your thoughts
We're always looking for feedback to help keep the JugDog community fresh, active and forward-thinking. Have you purchased any of these beds and would like to add some thoughts to the review? Perhaps you had a particularly good or bad experience and feel that other readers really need to know? Maybe you've got one of the above beds and found it to be amazing and just wanted to put other potential owners at ease. Lastly, is there a bed you have that isn't on the list and think it needs to be included?
Whatever your thoughts, we want to know! Please share any thoughts with us in the comments section below!
Last update on 2023-10-18 / Affiliate links / Images from Amazon Product Advertising API