Name
Cheap and Cheerful
Bunty Dog Bed
Best For Toughness
Heavy Duty Oval Bed
Best Orthopaedic Bed
KOPEKS Orthopaedic Dog Bed
Image



Cheap and Cheerful
Image

Best For Toughness
Image

Best Orthopaedic Bed
Name
KOPEKS Orthopaedic Dog Bed
Image

Dogs can spend a lot of time sleeping and relaxing so getting one of the best dog beds is extremely important. Dog beds come in various shapes, sizes and materials to suit all sorts of breeds and medical requirements if there are any. When shopping around for the best dog bed take your time to assess what will suit your dog and your home.
Do you need a specialist bed for your dog?
Check out our other dog bed product guides:
JugDog has gathered our picks of great beds for dogs for your viewing to give you a wide choice to suit whatever you're after. We've looked at a wide range of features and tested all of them or have gathered feedback from partners who have tested them. When looking at the dog bed market overall we've been careful to choose more than one 'top bed' so that we have recommendations for a few different types of dogs and needs such as orthopaedic beds, raised beds and so on.
Why trust Jug Dog reviews?
We pride ourselves on being real and honest with our reviews and
product guides
. We are real owners with a real dog you can see over at our gallery and the official mascot of Jug Dog. We will only advise on products that we have personally tried ourselves! If you want to know more why not send us a message on Facebook, Twitter or Instagram!
Best Dog Beds in the UK
To save you from having to trawl through thousands of words of text, we've collated four different categories of beds in an easy to digest table to make it easier to find what our recommended best beds are. We've looked at the best value for money (cheapest), best for toughness, best for orthopaedic support and lastly the best overall winner. Because there isn't just 'one bed for all dogs' out there it's important to get the right one that fits your budget, home and of course the dogs needs. As we review more and more beds we will keep the table up to date in the event a new 'best' is found.
We've tried and tested and curated opinions on every single bed here. Hell, we've even reviewed beds that didn't even make the cut. We're experts when it comes to dog products.
The Ultimate Buyer's Guide
Our dog bed buyer's guide is unrivalled on the web and you'll find no better resource to help you find the perfect match for you and your pooch.
We will scour everywhere each bed is available at and list their link to the product page so that you have the ultimate choice of where to spend your money.
Dogs come in many shapes and sizes, as do dog beds. We will list all colours and sizes available for you.
Has someone done a video review which gives a better insight into the bed than text and pictures? If there is one we will show it.
Below begins out list of the beds we've been sent, tested and reviewed via our faithful jug, Jeff. We have only included beds we deem to be 'good' as obviously the page is about the the best dog beds available now in the UK. We've included as many different types as possible and from different price ranges to keep every visitor happy.
So, in no particular order:
1. PetFusion Memory Foam Dog Bed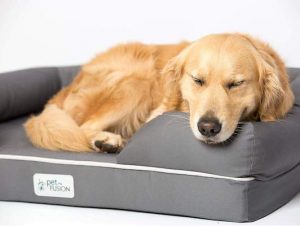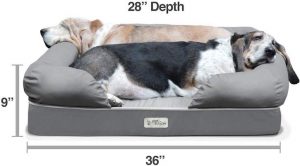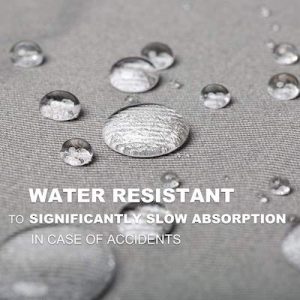 The Pet Fusion Memory Foam Bed is the ultimate dog bed that ticks practically every box there is. It's not cheap though, but if you want only the best for your pooch then this is it.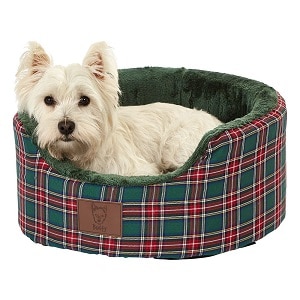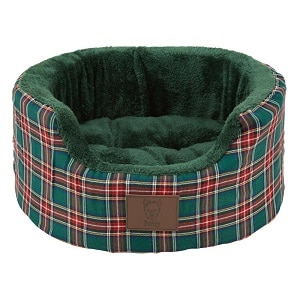 The Bunty Pet Basket is the ultimate dog bed for those on tight budgets with dogs who are not destructive. It's nice and snug, well made and has an exceptional price. Sometimes it's the simple products which are the best!
3. SONGMICS XL Dog Bed Sofa
The Songmics XL dog bed sofa is an absolutely spectacular bed for quite a few reasons. First and foremost are the high quality materials used which helps make this bed be tear and friction resistant – this bed should last you and your dog quite some time, secondly is the "PP padding" and Oxford fabric whatever they are which makes it allergen resistant so your pooch has a better rest.
The construction of the bed is solid and has raised edges to give the dog more of a natural "den" feel and a place to rest their head if they needed to. Our dog often uses the sides to put his chin so it seems to be a great design feature.
A wet cloth is enough to clean this bed saving time and money and saves on the structure of the bed weakening with repetitive machine washes. The dark colouring of the bed also makes it less obvious if there are any stains.
The price point of this bed is up there with the best of them in terms of value for money, even when it's not on offer. Overall, this bed ticks all of the boxes and is a strong contender for the best dog bed and well worth a look.
4. Wolfybeds Luxury Wraparound Bed
This exquisite dog bed by Wolfybeds is made with fleece and faux suede with a donut design which gives a comfortable raised outer wall for extra comfort and cozyness. Has a fully removable cover for easy washing. Tougher than most beds but not indestructible. As it is round it is not perfectly compatible with dog crates and cages.
5. KosiPet Deluxe High Density Mattress
Not strictly a bed, but this entry level foam mattress is an ideal solution to have around the house and inside a dog crate thanks to it's square shape. It's huge, waterproof, easily washed and super comfy and an ideal solution for large breeds or even smaller bread if you want to spoil them with a lot of space. Best part? It's so cheap for what you get. Does not offer any joint support so this is a very basic but great value for money dog mattress.
6. The Dog's Balls Premium Bed
Designed with comfort, safety and durability in mind the Dog's bed by The Dog's Balls (yes, that's the company's name) is a cracking quality dog bed/mattress. Made using quality Oxford fabric which makes it waterproof and robust to keep it's bright colours wash after wash. With different sizes and colours available this bed can suit almost any decor at home. This bed is also notable for being highly portable as it can be rolled up with ease.
7. Snoooze Antibacterial Orthopaedic Donut Bed
Another donut bed in the list and this one's a cracker. Antibacterial material and orthopaedic support makes this a top choice for elder dog's who may have a weak immune system and prone to soil themselves. Comfortable and easy to clean, the Snoooze dog bed also has a good construction so it stays comfortable and holds it shape for longer giving you great value for money.
ALSO READ: Flea Treatment For Dogs
8. Veehoo Raised Dog Bed
Our entry level raised dog bed is by Veehoo. Simple, practically indestructible and very cheap. Keeps them cold in the summer and warm in winter by taking them off the ground. A bit plain looking and basic but if you're wanting to try out raised beds before making a more luxurious choice then try this one first.
9. PetFace Seriously Strong Dog Bed
Our first entry in the chew resistant category is the Seriously Strong mattress by PetFace. Not indestructible but should keep persistent chewers at bay presumably as you train them to stop doing it. Is it the most comfortable, cozy, cheap or luxurious? No but it is mighty tough and that alone may trump all the other features for some owners. It's not like it's not comfortable though but it isn't it's forte when compared to the others we've named here.
Can be easily wiped clean
10. Orthopaedic dog sofa
This luxurious dog sofa is ideal for those with elderly mutts who just want to relax! Has thick foam for squishiness and to help keep it shape. It's not classed as a raised bed but the elevated entrance helps adding that extra level of relaxation and eases the pressure on joints. Perfect for dogs in need of an orthopaedic solution.
11. P&L Heavy Duty Softee Bed
This masterpiece brings some top bonuses together – it's very durable (not indestructible) and comfort thanks to its burrowed design and tough materials. It's also waterproof and resistant to odours to boot! This is one of JugDog's top choices for an allrounder.
12. Max Quattro Dog Bed
Another bed that tick a lot of our boxes is the Max Quattro 2 in 1 dog lounger. A premium choice that would be good enough for humans. Made of tough stuff to be somewhat chew resistant and it's water resistant, has changeable colours as shown in the image above. A great dog bed.
13. Rosewood Jumbo Cord Plush Dog Bed
Another bed that does exactly as it says on the tin. Burrowed design with high walls for extra comfort and fancy plush innards and cushions for comfort. Not very chew resistant or waterproof but it sure is comfortable! Also machine washable.
14. Brindle Soft Memory Foam bed
The brindle soft memory foam dog bed is an excellent entry level orthopaedic dog bed which comes in a variety of colours and sizes to brighten up any room it's placed in. Easy to wash in hot or cold water to get rid of any smell it may gather. However, this bed isn't the most chew proof bed you can find and not recommended for naughty dogs!
Dog Bed Buyer's Guide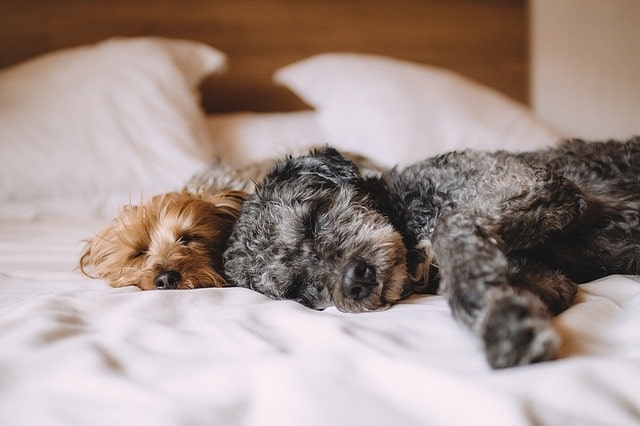 What is a dog bed?
A dog bed is a place where your dog can rest, relax and of course sleep. Most dog owners out there will have some kind of a sleeping area specifically for their furry friend which may come in the form of a mattress, basket or even a burrow to mimic their natural instincts to find a den. The most common feature of a dog bed is softness which isn't too different from the beds that you and I will sleep in. A dog bed allows your dog to rest in comfort and to keep warm as they are elevated from the floor while avoiding health problems associated with a bad sleep on a hard floor.
Dog beds have evolved quite a bit over time and now manufacturers even offer luxury dog beds and memory foam dog beds. But, getting a new bed for the dog doesn't necessarily mean that they'll jump right in and use it without hassle, it can take a while for a dog to get used to anything new. Be prepared to put some work in to help the dog get used to the new bed, especially if this new purchase will be their first new bed.
Should dogs sleep in a bed?
Whether or not you let your dog sleep in their own dog bed or to co sleep with you is down to personal choice and your individual circumstances. However, what we would say with certainty for all dog owners is that ALL dogs should sleep in comfort whether that is a dog bed, dog mat in a crate or even on your own bed. Regardless of WHAT they sleep on it should certainly not be on the floor or in the cold as it could have a detrimental effect on their health.
To not sleep on comfortable bedding can lead to joint problems and even depression. Better quality sleep leads to a happier dog so our opinion is that yes, a dog should definitely sleep in a bed or a comfortable equivalent.
Where should I put the dog bed
Where you place the dog bed is up to you and there are no hard and fast rules on this. Some people let them sleep in their own bedrooms (co-sleeping) while others leave them to sleep in a different room entirely. Kitchens and middle rooms are popular choices. Just make sure he is never too hot or cold, has access to water and natural light and won't be disturbed by noises from the outside which could cause anxiety.
Here are some pointers to where dog beds shouldn't be:
Rooms with a constant draft
Rooms with constant noises and distractions which could wake them up
Rooms which are damp or constantly wet (sheds etc)
Rooms which can get too hot or cold
Near the entrance or exit to a house
Rooms without natural light
Near other animals
The resident dog of JugDog.co.uk sleeps in the middle room, in the corner with plenty of access to wide open spaces to the kitchen where his water bowl is and a window for natural light. He seems to like it and he's able to have an undisturbed night's sleep every night with a temperature which is always constant thanks to our Hive system (highly recommended!).
What to consider before buying a dog bed
Dogs spend a long time sleeping and in their bed. As you can probably guess, we are firm believers of never buying just any old tat for your dog and buying the best products will lead to a much happier dog and a better relationship between you and your dog. With this in mind, we've created this handy checklist for you to glance over to help decide which type and which bed is best suited for you and your dog.
What is it going to be made of?
The materials used by dog bed manufacturers vary quite a bit and there may be a particular material that your dog loves or hates. You may also want to consider where the dog bed is going to go in the house and therefore need to get one made out of a particular material. These are some materials dog beds are made of:
Suede
Foam
Polythene
Vinyl
Cotton
Shag
Wool
Chaise
Oxford
Polyester
and much more…
What's it for?
We've categories our beds as well as we can to ensure there's one for every type of need. Before parting with your hard earned cash think what the bed is for, first. Is it to replace an old bed? Is it to help dogs stay cool in the summer? Is it for an ageing dog with painful joints and you need the best dog bed for arthritis? Or perhaps you have a giant breed of dog and need the best dog bed for larger dogs. There's pretty much a dog bed for every occasion so be sure to get one specifically for your dog.
What's your budget?
If you've already glanced over our best dog bed shortlist you'll notice that not all beds are created equal and they are certainly not priced equal either. As the quality and features go up so does the price and some of them can be well over £100. Consider to yourself just how much you are able to spend on a bed without getting into financial problems or the need to cut back on other things. Dog product costs rack up quite quickly and some people can get into serious debt so be sure to set a definite budget before you begin your request – then you can decide what is the best value for money bed using that budget.
Where's it going?
The placement of the dog bed is a crucial part of finding the best dog ever for you. If your dog sleeps in the crate then there are crate dog beds out there which are more suited but if your dog sleeps in a room with a cold floor then another may be better. Some people keep their dog asleep outside in a kennel and they will need a specialist bed if they're going to be having a good experience. Make a note of the potential location before you start your purchasing journey online.
What makes a good dog bed?
Not all dog beds sleeping bedding are made equal, some are made differently than others and serve a different purpose such as orthopaedic beds or raised beds, some beds are made with different materials such as suede, leather and nylon whilst other beds are made flat without walls and others are made to be burrowing beds. But, all things considered what are essential features of a dog bed to make it a top choice? Let's explore:
Well constructed
Good dog beds should be well made with a decent construction. This means excellent stitching using quality materials enabling the dog bed to hold its shape well. Dogs will use the bed an awful lot they'll be moving about which means any dog bed made poorly with poor materials will just be ruined in no time at all. A good construction helps with being crate friendly.
Easy to wash
Dogs can get very smelly and will transfer that smell onto the dog bed. Even if they're relatively clean pooches they will still sweat on the bed. Sometimes, accidents can also happen like soiling themselves or be sick on the bed. With this in mind, make sure to find a dog bed that's easily washable – they don't necessarily need to have a removable cover but having clear washing instructions is a clear bonus.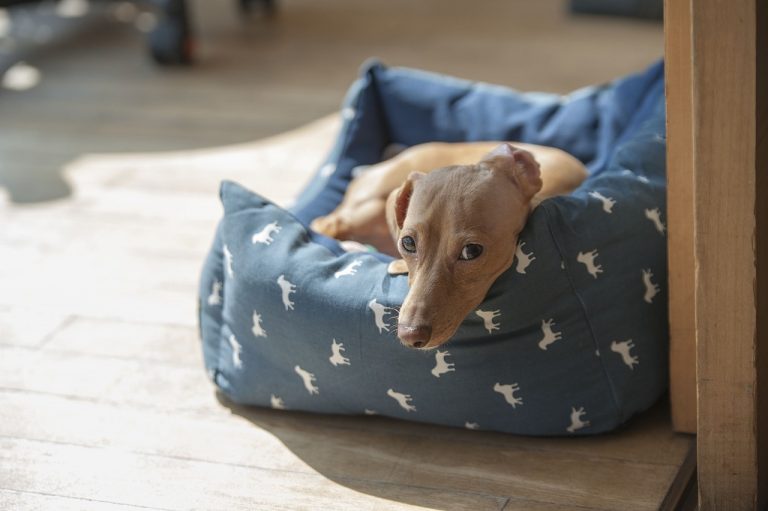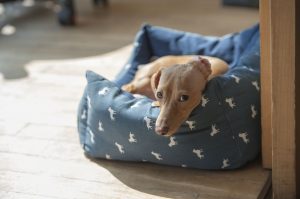 Comfortable
Perhaps the most important factor from the point of view of the dog. Make sure you get a bed that's comfortable. This means having extra support in the bed itself to handle the weight of the dog so that they're 'floating' in the bed. Think about what makes your own bed comfortable and then apply it to your dog's new bed.
Strong
The bed doesn't need to be indestructible but being well made and tough is important. Strong beds should be somewhat chew and digging resistant and not be destroyable in few minutes of chew time. At some point your dog may try and chew the bed, make sure yours can handle it. For tips on keeping nails trim and beds in one piece check out our best dog nail clippers page.
Types of dog beds
Dog beds come in all shapes, sizes, materials and use so we've categorised them for you for easy navigation and perhaps as an aid so you know what you're looking for.
Cheap dog beds
Cheap dog beds are just that. Entry level, nothing fancy but enough about them to do their job. Cheap dog beds are handy for those who want to find out of their dog will take to a dog bed before deciding on a better investment down the line. Or of course, great for those on a budget in general. We believe that a cheap dog bed is better than no dog bed so if you're budget can't stretch to any of the others but you're getting something then we feel you're being the best dog owner you can be. Our most recommended and best dog bed is the following:
Luxury dog beds and sofas
Luxury dog beds and sofas UK aren't just the same beds but with fancier materials and maybe a posh looking pattern. Luxury dog beds usually are made to last and built for total comfort. Some beds you can find are made to be luxuriously comfortable made with only the best materials for your pampered pooch. Typically, you'll find features such as memory foam or even a heating system inside. There will be less plastic involved and a little more organic materials. The above image is an example of a luxury dog bed and is available from Amazon and other retailers.
Raised/elevated dog beds
Raised or elevated dog beds are ideal for keeping a tidy house and for keeping your dogs cool as the heat escapes easier. Raised dog beds are ideal for kennels and houses which get warm or for those who live in warmer climates than most. Perhaps not for everyone but one to try out if you feel it might help especially for dogs that need cooling down. It may not look overly comfortable but dogs seem to naturally like lying down on one of these due to the elevation allowing them to get rid of heat easier. At some point, we may write a whole article on the best raised dog beds but for now here's our recommendation to get started:
Orthopaedic dog beds
Orthopaedic dog beds are designed to be more comforting for hounds with muscular problems, joint problems, arthritis and/or the aged. Designed to be comfortable and help with circulation and ease their weary bones. Orthopaedic dog beds can also be used to prevent these problems from surfacing in the first place much like how orthopaedic human beds work. This kind of bed usually has a much stronger structure so that it doesn't sag and may use quality foam such as memory foam which adapts to your dog's body. Not cheap but usually very, very effective. Typically NOT ideal for dogs who chew their beds as they are rarely made to be tough. Here's our best orthopaedic bed recommendation:
Dog crate mats
Dog crate mats are a type of dog bed which are shaped specifically to provide comfort at the bottom of a dog crate or cage. We've reviewed the best dog crates here. Although you can usually fit a normal dog bed into a crate without issue (we did this), some people may prefer to get something that fits perfectly. As we recommend Ellie-Bo dog crates it seems fitting to also recommend Elli-Bo sherpa dog crate mats to go with them. Don't expect mega comfort, raised sides or memory foam in a dog crate mat. Make sure they're machine washable! Anyway, here's our recommendation:
Novelty Dog Bed
Novelty dog beds are like the above picture. A dog bed that's designed to be quirky, fun and resembling some kind of a novelty character. They're unlikely to be particularly good beds as the focus is really on the novelty but if your dog doesn't have any specific requirements then why not eh.
Waterproof Beds
Waterproof dog beds are, as you can guess, beds which are designed to resist and wick water off. We have a dedicated page for these types of beds.
RELATED: Waterproof Beds
Dog beds for kennels
Any bed can be used effectively for kennels. However, due to how often they get used they need to be hardwearing, easy to clean and of course comfortable which is why raised dogs beds and dog crate mats are commonly used in kennels. Any size and shape of dog can use them, they're extremely hard wearing and can be complimented with blankets and towels. If you're a kennel owner and need a good solution then we'd recommend the following best dog bed for kennels.
Your thoughts
We're always looking for feedback to help keep the JugDog community fresh, active and forward thinking. Have you purchased any of these beds and would like to add some thoughts to the review? Perhaps you had a particularly good or bad experience and feel that other readers really need to know? Maybe you've got one of the above beds and found it to be amazing and just wanted to put other potential owners at ease. Lastly, is there a bed you have that isn't on the list and think it needs to be included?
Whatever your thoughts, we want to know! Please share any thoughts with us in the comments section below!
Last update on 2019-06-01 / Affiliate links / Images from Amazon Product Advertising API