Dogs can spend a lot of time sleeping and relaxing so getting one of the best dog beds is extremely important. Dog beds come in various shapes, sizes and materials to suit all sorts of breeds and medical requirements if there are any. When shopping around for the best dog bed take your time to assess what will suit your dog and your home.
Getting a new bed for the dog doesn't necessarily mean that they'll jump right in and use it without hassle, it can take a while for a dog to get used to anything new. Be prepared to out some work in to help the dog get used to the new bed, especially if this new purchase will be their first new bed.
JugDog have gathered our picks of great beds for dogs for your viewing to give you a wide choice to suit whatever you're after. We've looked at a wide range of features and tested all of them or have gathered feedback from partners who have tested them. When looking at the dog bed market overall we've been careful to choose more than one 'top bed' so that we have recommendations for a few different types of dogs and needs such as orthopaedic beds, raised beds and so on.
Below is a regularly updated table of the best of the best.
Name
Best Overall
PetFusion Memory Foam Bed
Cheap and Cheerful
Bunty Dog Bed
Best For Toughness
Heavy Duty Oval Bed
Best For Orthopaedic Support
Relaxing Sofa Bed
Image




Best Overall
Name
PetFusion Memory Foam Bed
Image

Cheap and Cheerful
Image

Best For Toughness
Image

Best For Orthopaedic Support
Image

What makes a good dog bed?
Not all dog sleeping bedding are made equal, some are made differently than others and serve a different purpose such as orthopaedic beds or raised beds, some beds are made with different materials such as suede, leather and nylon whilst other beds are made flat without walls and others are made to be burrowing beds. But, all things considered what are essential features of a dog bed to make it a top choice? Let's explore:
Well constructed
Good dog beds should be well made with a decent construction. This means excellent stitching using quality materials enabling the dog bed to hold its shape well. Dogs will use the bed an awful lot they'll be moving about which means any dog bed made poorly with poor materials will just be ruined in no time at all. A good construction helps with being crate friendly.
Easy to wash
Dogs can get very smelly and will transfer that smell onto the dog bed. Even if they're relatively clean pooches they will still sweat on the bed. Sometimes, accidents can also happen like soiling themselves or be sick on the bed. With this in mind, make sure to find a dog bed that's easily washable – they don't necessarily need to have a removable cover but having clear washing instructions is a clear bonus.
Comfortable
Perhaps the most important factor from the point of view of the dog. Make sure you get a bed that's comfortable. This means having extra support in the bed itself to handle the weight of the dog so that they're 'floating' in the bed. Think about what makes your own bed comfortable and then apply it to your dog's new bed.
Strong
The bed doesn't need to be indestructible but being well made and tough is important. Strong beds should be somewhat chew and digging resistant and not be destroyable in few minutes of chew time. At some point your dog may try and chew the bed, make sure yours can handle it.
Types of dog beds
Dog beds come in all shapes, sizes materials and uses so we've categorised them for you for easy navigation and perhaps as an aid so you know what you're looking for.
Cheap dog beds
Cheap dog beds are just that. Entry level, nothing fancy but enough about them to do their job. Cheap dog beds are handy for those who want to find out of their dog will take to a dog bed before deciding on a better investment down the line. Or of course, great for those on a budget in general.
Luxury dog beds
Some beds you can find are made to be luxuriously comfortable made with only the best materials for your pampered pooch.
Raised dog beds
Raised or elevated dog beds are ideal for keeping a tidy house and for keeping your dogs cool as the heat escapes easier. Perhaps not for everyone but one to try out if you feel it might help.
Orthopaedic dog beds
Orthopaedic dog beds are designed to be more comforting for hounds with muscular problems and/or the aged. Designed to be comfortable and help with circulation.
Best dog beds you can buy now
PetFusion Memory Foam Dog Bed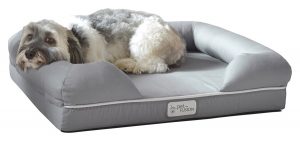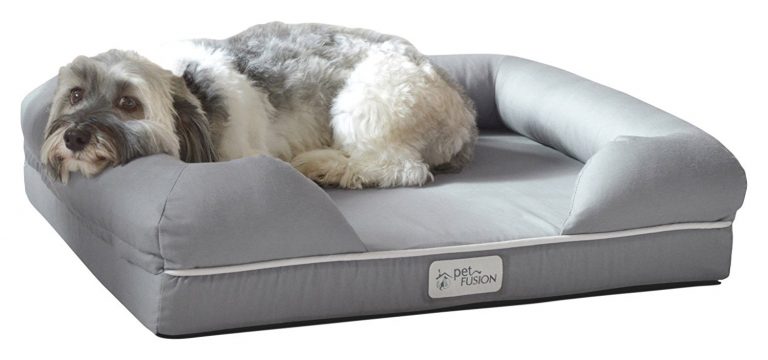 One of the best dog beds on the market today. Memory foam and orthopaedic support, removable covers to make washing a doddle, made using premium quality components making its a very well made bed which will last you and your pooch a long time. PetFusion are so confident about their product that they offer a 12 month guarantee. This is tear resistant but not particularly chew resistant.
PetFusion Ultimate Solid 6.5cm WATERPROOF Memory Foam Pet Bed for Small Dogs & Cats (64x51x14cm orthopedic mattress; Grey). Replacement covers & blankets also avail
PREMIUM COMPONENTS: (i) SOLID 6.5cm MEMORY FOAM base for superior overall comfort, reduced joint pain and improved health, mobility, & energy. (ii) Recycled 'green' polyfill support bolsters are generously filled. (iii) Durable & comfortable polyester (65%) & cotton (35%) twill
SMART DESIGN: (i) Base & bolsters provide optimal support and comfort. (ii) Water resistant & tear resistant cover. (iii) Non-skid bottom. (iv) Blends in seamlessly with your décor. (v) Replacement covers available separately
EASY TO CLEAN: (i) Removable cover is machine washable. (ii) Simple to spot clean & remove hair. Tumble dry on gentle setting. Do not use bleach when washing
Bunty Pet Basket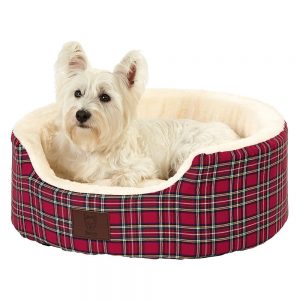 The Bunty pet basket is the highest reviewed dog bed on Amazon and with good reason. A simple burrowed in design with high cozy walls to make your dog extremely comfortable. Not the sturdiest bed thanks to its plush innards or a particularly chew proof bed but it is on the cheap side and available in 3 sizes.
Sale
Bunty Heritage Tartan Soft Fur Fleece Dog Bed Washable Pet Basket Mat Cushion - Green - Small
The Bunty Heritage dog beds are designed with comfort in mind with its high sided walls making this one of the most comfy and cosy beds on the market.
Created using ultra soft plush fur, our Heritage beds make your pet feel at home anywhere, the outer material is strong polyester in a tartan pattern.
The rubber-gripped bottom provides a firm foundation and adds an extra layer of insulation.
SONGMICS XL Dog Bed Sofa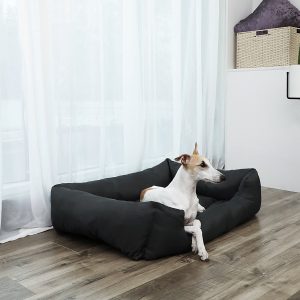 The Songmics XL dog bed sofa is an absolutely spectacular bed for quite a few reasons. First and foremost are the high quality materials used which helps make this bed be tear and friction resistant – this bed should last you and your dog quite some time, secondly is the "PP padding" and Oxford fabric whatever they are which makes it allergen resistant so your pooch has a better rest.
The construction of the bed is solid and has raised edges to give the dog more of a natural "den" feel and a place to rest their head if they needed to. Our dog often uses the sides to put his chin so it seems to be a great design feature.
A wet cloth is enough to clean this bed saving time and money and saves on the structure of the bed weakening with repetitive machine washes. The dark colouring of the bed also makes it less obvious if there are any stains.
The price point of this bed is up there with the best of them in terms of value for money, even when it's not on offer. Overall, this bed ticks all of the boxes and is a strong contender for the best dog bed and well worth a look.
SONGMICS XL Dog Bed Pet Sofa Non-slip bottom 300 x 300 D Oxford cloth 100 x 70 x 28 cm Black PGW28H, XL
TAKE CARE OF YOUR CANINE COMPANION: Your dog will live the high life with this luxurious sofa
PEDIGREE PRIVILEGE: Make your puppy even happier with its own tear- and friction-resistant space; PP padding and Oxford fabric provides a soft and allergen-free zone so he can rest peacefully
A BLOW CUTTING FINISH: The sides of the sofa bed are raised for use as a headrest; one open end for easy access; bottom fabric with non-slip rubber dots is resistant to cold and moisture
Wolfybeds Luxury Wraparound Bed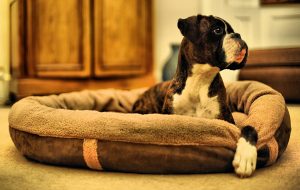 This exquisite dog bed by Wolfybeds is made with fleece and faux suede with a donut design which gives a comfortable raised outer wall for extra comfort and cozyness. Has a fully removable cover for easy washing. Tougher than most beds but not indestructible. As it is round it is not perfectly compatible with dog crates.
Sale
Wolfybeds Luxury Wraparound Fleece Dog Bed Size Medium
**Search for Wolfybeds site for details on our bed personalisation service. Special offers and discounts available!!**
Wolfybeds Medium luxury fleece and faux suede wraparound dog bed 79cm x 79cm (31" x 31")
With bolster cushion for additional support - essential for older dogs
KosiPet Deluxe High Density Mattress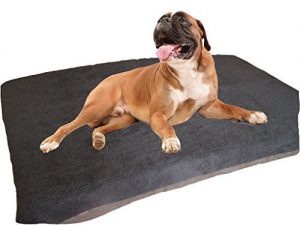 Not strictly a bed, but this entry level foam mattress is an ideal solution to have around the house and inside a dog crate thanks to it's square shape. It's huge, waterproof, easily washed and super comfy and an ideal solution for large breeds or even smaller bread if you want to spoil them with a lot of space. Best part? It's so cheap for what you get. Does not offer any joint support so this is a very basic but great value for money dog mattress.
Sale
The Dog's Balls Premium Bed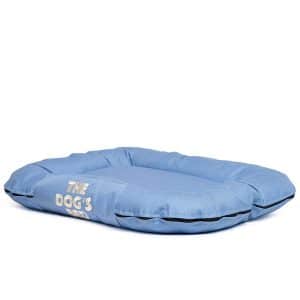 Designed with comfort, safety and durability in mind the Dog's bed by The Dog's Balls (yes, that's the company's name) is a cracking quality dog bed/mattress. Made using quality Oxford fabric which makes it waterproof and robust to keep it's bright colours wash after wash. With different sizes and colours available this bed can suit almost any decor at home. This bed is also notable for being highly portable as it can be rolled up with ease.
Snoooze Antibacterial Orthopaedic Donut Bed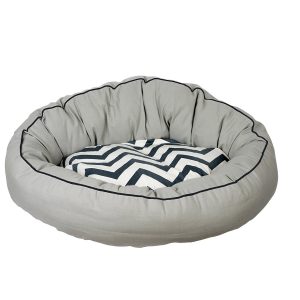 Another donut bed in the list and this one's a cracker. Antibacterial material and orthopaedic support makes this a top choice for elder dog's who may have a weak immune system and prone to soil themselves. Comfortable and easy to clean, the Snoooze dog bed also has a good construction so it stays comfortable and holds it shape for longer giving you great value for money.
Snoooze Antibacterial Orthopaedic Donut Dog Bed
This Snoooze Dog Bed is antibacterial & orthopaedic, it reduces odours and minimizes bacteria whilst providing full support to your dog during rest.
This bed stays plump for longer making it a long-lasting comfort for your pet during bedtime
This bed assists in preventing allergies, muscle aliment and helps protection against bacteria
Bunty Raised Dog Bed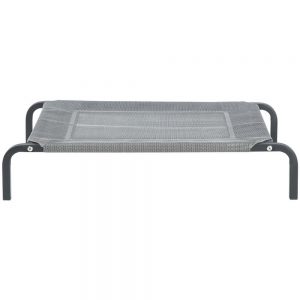 Our entry level raised dog bed is by Bunty. Simple, practically indestructible and very cheap. Keeps them cold in the summer and warm in winter by taking them off the ground. A bit plain looking and basic but if you're wanting to try out raised beds before making a more luxurious choice then try this one first.
Sale
PetFace Seriously Strong Dog Bed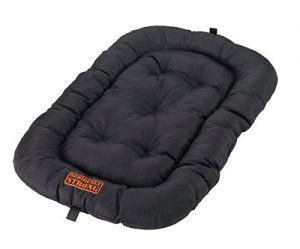 Our first entry in the chew resistant category is the Seriously Strong mattress by PetFace. Not indestructible but should keep persistent chewers at bay presumably as you train them to stop doing it. Is it the most comfortable, cozy, cheap or luxurious? No but it is mighty tough and that alone may trump all the other features for some owners. It's not like it's not comfortable though but it isn't it's forte when compared to the others we've named here.
Can be easily wiped clean
Petface Seriously Strong Dog Mattress Wipe Clean Padded Puppy Bed (Small)
Our Seriously Strong Mattresses are versatile enough to use in your car, your pet carrier or as a relaxation mat in your home. These dog beds are NOT indestructible against persistent chewers, puppies with baby teeth or mischievous pets.
Colour: Black.
Small - Length: 43cm/17". Width: 69cm/27"
Orthopaedic dog sofa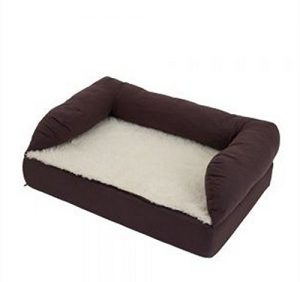 This luxurious dog sofa is ideal for those with elderly mutts who just want to relax! Has thick foam for squishiness and to help keep it shape. It's not classed as a raised bed but the elevated entrance helps adding that extra level of relaxation and eases the pressure on joints. Perfect for dogs in need of an orthopaedic solution.
Sale
P&L Heavy Duty Softee Bed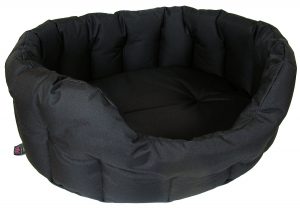 This masterpiece brings some top bonuses together – it's very durable (not indestructible) and comfort thanks to its burrowed design and tough materials. It's also waterproof and resistant to odours to boot! This is one of JugDog's top choices for an allrounder.
Sale
Max Quattro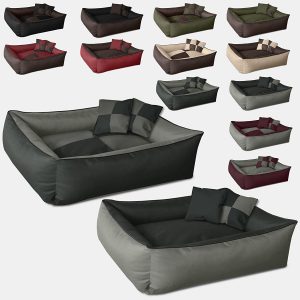 Another bed that tick a lot of our boxes is the Max Quattro 2 in 1 dog lounger. A premium choice that would be good enough for humans. Made of tough stuff to be somewhat chew resistant and it's water resistant, has changeable colours as shown in the image above. A great dog bed.
Sale
Rosewood Jumbo Cord Plush Dog Bed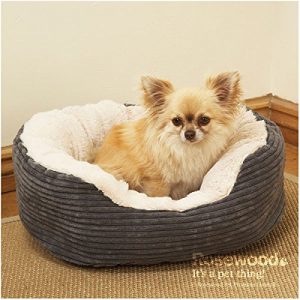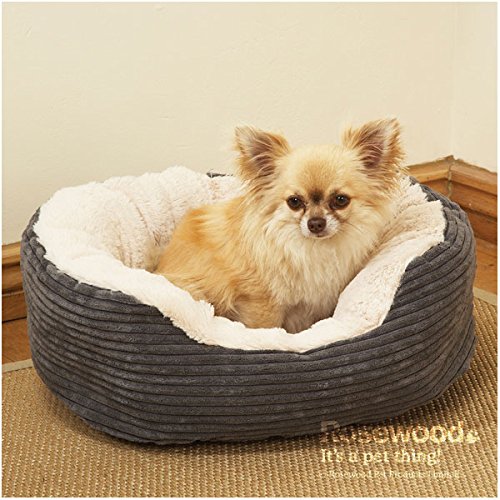 Another bed that does exactly as it says on the tin. Burrowed design with high walls for extra comfort and fancy plush innards and cushions for comfort. Not very chew resistant or waterproof but it sure is comfortable! Also machine washable.
Sale
Brindle Soft Memory Foam bed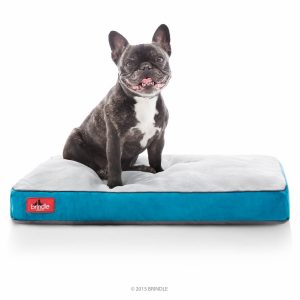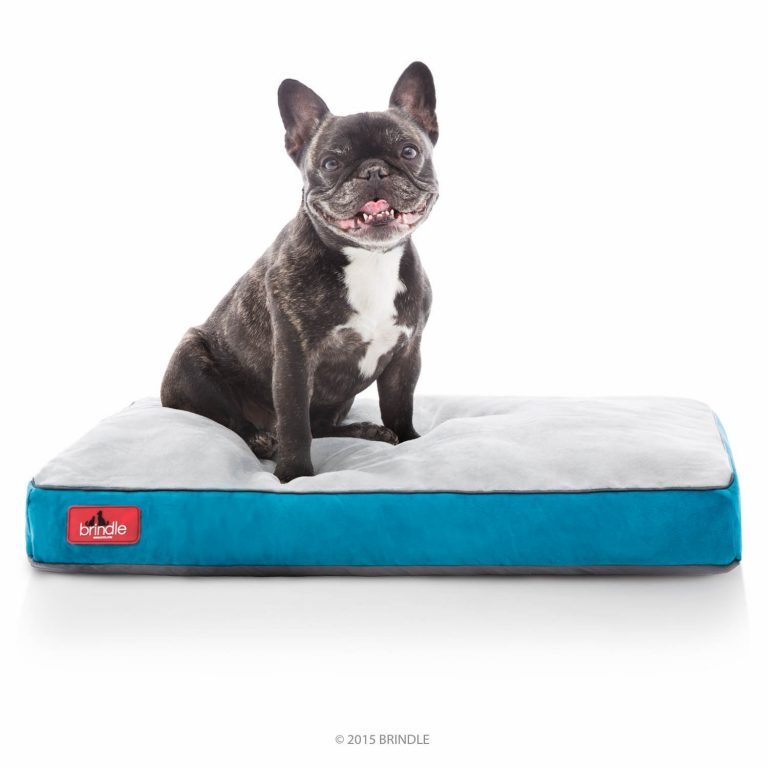 The brindle soft memory foam dog bed is an excellent entry level orthopaedic dog bed which comes in a variety of colours and sizes to brighten up any room it's placed in. Easy to wash in hot or cold water to get rid of any smell it may gather. However, this bed isn't the most chew proof bed you can find and not recommended for naughty dogs!
Last update on 2018-07-20 / Affiliate links / Images from Amazon Product Advertising API