Do you suspect your dog is getting allergies from their bed and want to get them a new one that won't cause more?
Are you trying to be cautious and want to ensure your dog never gets allergies in the first place?
Want to make sure that not only are you buying a hypoallergenic bed but a GOOD one?
You've come to the right place. We've curated and reviewed a definite list of the best hypoallergenic dog beds available in the UK. This list details the qualities of the best anti-allergy dog beds that will stand the test of time.
Image




Best Overall
Image

Greenest
Image

Toughest
Image

Best For Crates
Image

Hypoallergenic Dog Bed UK Reviews
Below is a shortlist of the beds we feel offer the best comfort and protection for your dog.
1. Pet Fusion Dog Bed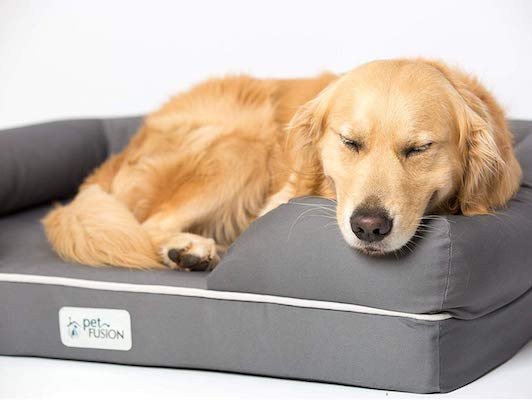 Pet Fusion dog bed is the best hypoallergenic dog bed in 2023. It's made with thick memory foam filling and a woven cotton removable outer cover making it a perfect choice. It's also waterproof which can protect against allergens transferred through liquids such as muddy water from a walk.
The washable outer cover also makes it really easy to clean. Its USP isn't even its allergy busting design but the fact that it's outrageously comfortable that's suitable for both younger and older dogs and even wet dogs as it's also waterproof and washable. Easy to wipe down with antibacterial wipes, too.
You can't go wrong with this bed quite frankly but it may well be on the more expensive side so not ideal for pooches who like to destroy things. They'll love it so much they may end up sleeping on their backs.
Pet Fusion Dog Bed
PREMIUM DOG BED: Solid memory foam based for superior comfort, reduced joint pain and improved health, mobility and energy. It is also an idea calming bed for dogs who suffer with anxiety
2. JOYELF Large Memory Foam Dog Bed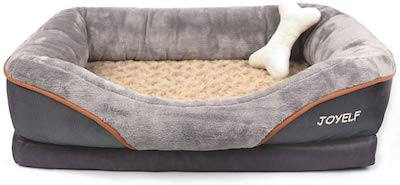 The filling of the Joyelf dog bed is thick memory foam which is very resistant to mites and fleas as well as moulds and bacteria transferred through liquids. It's one of the best anti-allergy dog beds on the market. It's easy to clean by removing the cover and chucking it into the wash, however, it may not be easy to wipe it down.
We don't recommend beds just because they do the job at hand we also push the ones that do the task and much more and Joyelf does that by offering a really comfortable experience to your furry friend with bolster sides, soft walls and a firm mattress. The memory foam base makes it one of the best on the market for your pet.
A solid pet bed with a reasonable price point to delight any owner with pooches with sensitive skin and fur.
Sale
JOYELF Large Memory Foam Dog Bed
HIGH-QUALITY MATERIALS: 1.Solid Memory Foam base for perfectly to your pet's body for maximum comfort. 2.Memory Foam using flame retardant material. 3.The Bottom Material of the dog bed comes with built-in nonslip rubber backing and waterproof coating. 4.Inner waterproof cover perfect for senior dog with occasional accident. 5.The fabric offers unmatched warmth and comfort; 6.The bolster is filled by PP cotton generously which is relax breathable and good resilience.
3. Beco Bed

We've covered the materials which bust allergies extensively in the buyer's guide and yet not too many go for hemp as the core material of the product. The Beco Bed is one that does make use of this fantastic material. The external cover is made with hemp and cotton which wards off allergens such as dust mites, bacteria and fleas.
It's made with recycled plastic bottles hence why the word eco is emphasised in Beco's logo. Despite the covers not being removable you can still throw the whole thing in the wash safely. This option is best for an environmentally friendly option.
It's not just its strong allergy reducing qualities we want to emphasise, we also wanted to share a few words on how comfortable the bed is and a really good looking one for that matter. Lastly, the price point is reasonable and how economical it is for this bed to be created in the first place will surely win browning points with owners who are keen to reduce carbon footprint and only buy sustainable products.
4. The Dog's Bed
The Dog's Bed brand offers a premium, plush orthopaedic dog bed made with hypoallergenic oxford outer fabric to keep pesky dust mites, fleas and thanks to the waterproofing bacteria and mould which can seep through with water.
For those who want bang for their buck, it's all in here thanks to a gorgeously designed bed with bolster sides to help them rest their heads, a super warm and comfy mattress to ease elderly dogs with joint problems and plenty of space for them to stretch and adjust themselves with ease. This is the best option for pet comfort.
This is one of the more premium hypoallergenic beds on the UK market and definitely deserves its place on this list.
The Dog's Bed
Large: Size 91 x 70 x 10cm with 22cm bolster sides. Colour Grey with Black Piping. Waterproof protective inner & durable Oxford fabric outer. 5cm base, high stability foam and 5cm of grade, high density, extremely comfortable, high-care, orthopaedic memory foam
Read More: 10 Best Dog Beds UK 2021 – Top Rated Beds For All Breeds and Sizes
5. P & L Superior Pet Beds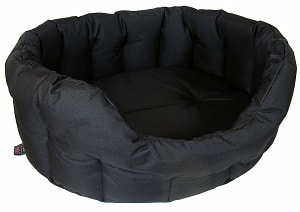 The P&L Superior dog bed isn't strictly hypoallergenic as it is made with 100% polyester, however, what it does offer is easy to wipe, easy to wash bed made with tough materials for strong chewers and diggers.
It's a very deep bed which offers excellent comfort at an incredible price. You'll have to put more effort into keeping it clean than the others but you'll benefit from its incredible hide and robust design in return which isn't so bad.
6. Bedsure Orthopedic Dog Mattress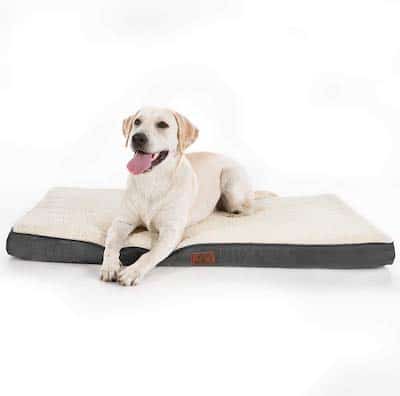 If you're an owner of a crate-trained dog we've got you covered, and thank god as well as it took us a tremendous effort to track down a hypoallergenic crate mattress and even when we did Bedsure did not highlight that it was.
It's made with Oxford fabric which as well all know if you've paid attention and read the buyer's guide is a fantastic material to keep the likes of dust mites, fleas and all those nasty allergies causing bugs at bay.
Not only that, but it's also a scrumptiously comfortable bed to boot that offers orthopaedic support to give them a good night's rest and helps the elderly that may have joint problems. The cover is removable which makes it even easier to keep your dog clean and itch-free.
Sale
Bedsure Orthopedic Dog Mattress
EGG CRATE FOAM: Bedsure dog bed crate evenly distributes pet's weight to alleviate pressure on joints & bony areas - Resemble the bottom of an egg carton, this bumpy surface is softer than a solid block of foam and helps air circulate to keep puppies cool in the hotter months - Convoluted foam also offers shock absorption that is beneficial for older dogs.
Hypoallergenic Dog Bed Buyer's Guide
Not everyone needs one of these beds because most dogs do not suffer greatly from allergens such as dust and mould. But for those with breeds that do suffer then adding a hypoallergenic bedding solution to the home alongside other allergy busting tactics can help your dog tremendously to live a normal, comfortable life.
1. What does hypoallergenic dog bedding mean?
The key to a hypoallergenic dog bed is the materials they are made from and nothing else. There's no magic secret in the design or anything like that.
The materials used to make hypoallergenic are typically 100% cotton, hemp, microfibre or wool and the reason for that is very few animals can be allergic to them and they are fantastic materials at keeping dust, and mites, mildew and mould away.
You'll notice, especially if you're a parent, that most baby clothes are made from 100% cotton/wool for the exact same reason. It's slightly more on the expensive side but if you do have a dog that would benefit from it then it's worth every penny.
Inside the foam, it can be thicker and denser which makes it more difficult for dust mites and mould to get in. The important part is what makes contact with the dog and what's exposed to the outside world – the cover.
Lastly, moulds and bacteria can cause allergies through water being carried from the dog themselves, namely from mud carried in from a walk. Most hypoallergenic dog beds would be waterproof.
Read More: A Beginner's Guide to the Best Dog Cooling Mats in UK 2023
2. Do I need a hypoallergenic bed for my dog?
Dogs with problems with common household allergies are rare. Often, it can be specific breeds which suffer from allergies the most but not always
Only shop for hypoallergenic dog beds in the UK if you see symptoms and not on a whim because these beds can be expensive and any of our recommendations in the best dog beds guide will do for 99% of dog owners.
Here are some signs that your current dog bed is causing allergies and needs a hypoallergenic bed:
Sneezing
Scratching but they do not have fleas
Watery or sore looking eyes
Reluctance to use the bed
Sore, red patches on the skin
Irritability
Constant licking
Here are some breeds which are prone to allergies. See if you have one of these
Pit Bull Terriers
Bichon Frise
Boxer
German Shepherd
Cocker Spaniel
Bulldog
Labrador
As you can see there's no real connection between these breeds but one thing's for sure as far as we're concerned – brachycephalic dog breeds (flat face, short muzzles like bulldogs and pugs) often suffer from allergies and dogs with short hair and a lot of exposed skin (Jack Russel, Boxer) can also suffer more than others.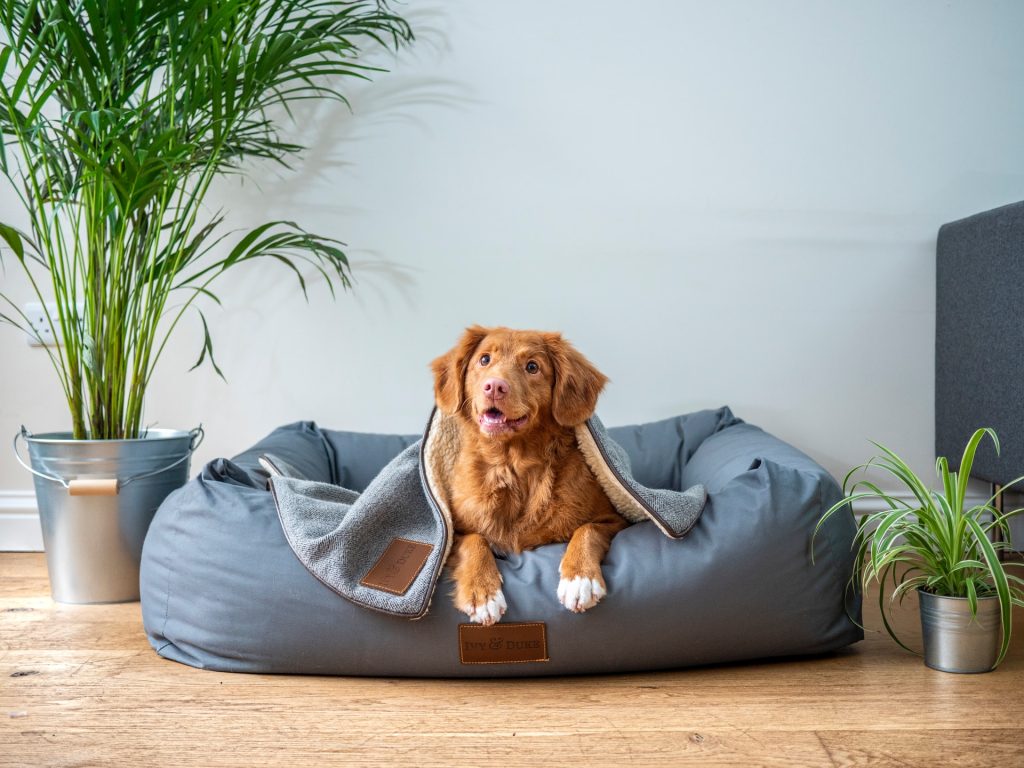 Hypoallergenic Dog Beds FAQs
1. Can a dog be allergic to bedding?
Probably.
Sometimes, dogs can be allergic to bedding. The likely cause of such allergic reactions from bedding is through the filling which may be infested with dust mites and/or fleas. Most dog beds are made with synthetic fibres which can be a good breeding ground for mites and fleas which then.
This is why hypoallergenic dog beds are made with thicker foam, cotton, hemp or wool outer layers and a removable cover to be able to keep the bed clean on a regular and convenient basis.
2. How do you know if your dog has dust mites?
Dust mites are really annoying and can make your dog very uncomfortable. Some symptoms of dust mites are:
Difficulty breathing
Red and raw skin from scratching
Constant scratching and itching
Irritability
Watery eyes
Runny nose
Hives
Most allergies present themselves in a similar way so if they show these symptoms it may not necessarily be dust mites but it will be because of some form of an allergic reaction.
3. Will hypoallergenic dog beds cure my dog's allergies?
A hypoallergenic dog bed is only a preventative and not a cure. To get rid of your dog's allergies you'll need to get some treatment from your vet and get rid of the existing infection whatever that may be; typically dust mite, fleas, mould or bacteria.
Last update on 2023-10-17 / Affiliate links / Images from Amazon Product Advertising API