Even when I HAVE to go somewhere, like work, I'm constantly worried about my dog's safety and well-being. I bet you're the same.
Do you want to keep an eye on your dog while away? Do you not want your pup to feel lonely? A dog camera can help you achieve that.
Dog cameras are devices that monitor your dog's behaviour and actions while you're away. The best dog cameras allow you to watch your pup when you can't be there in person.
How much do dog cams cost & how to choose?
Good quality dog cameras made by top brands can easily cost between £150 and £200. These products will have extra features like a treat dispenser, 1080p HD video quality, an in-built mic and more. You can get a decent cam for £50 or less if you're on a budget.
There are a few things to consider when choosing a dog camera.
First, decide what features you want and need. Secondly, consider your budget. How much are you willing to spend on a dog camera? Stick to that budget. Lastly, think about where you will be using the camera. You can choose between buying an indoor or outdoor camera.
Read More: Choose the Best Dog Camera in UK 2023, A Beginner's Guide
Top 10 Dog Cameras to Buy
1. Furbo Dog Camera
The Furbo Dog Camera is the best dog camera you can buy in the United Kingdom in 2023. At just £180, you get premium features like an integrated live treat dispenser. Moreover, you can integrate it with Alexa voice control for a better experience.
It has WiFi support and a full HD camera, like most dog cameras. It offers 2-way audio, so your dog can listen to you even when you aren't home!
You can instruct the treat dispenser to toss out treats live as you wish to or at given time intervals.
Buy Furbo Dog Camera on Amazon UK
2. Petcube Bites 2 Lite Pet Monitor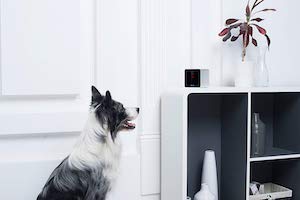 With features similar to the previous camera, this one is just a cheaper alternative. The Petcube Pet Monitor offers 1080p video quality and night vision too. Along with sound alerts, it sends motion alerts as well.
Connected to the Petcube app, you can have vet consultations for your dog by simply starting a chat on their app. The monitor also comes with a mounting kit for easy placement in your house.
However, this pet monitor doesn't support 5 GHz WiFi and is only compatible with 2.4 GHz WiFi.
Buy Petcube Bites 2 Lite Pet Monitor on Amazon UK
3. GALAYOU Home Security/ Pet Camera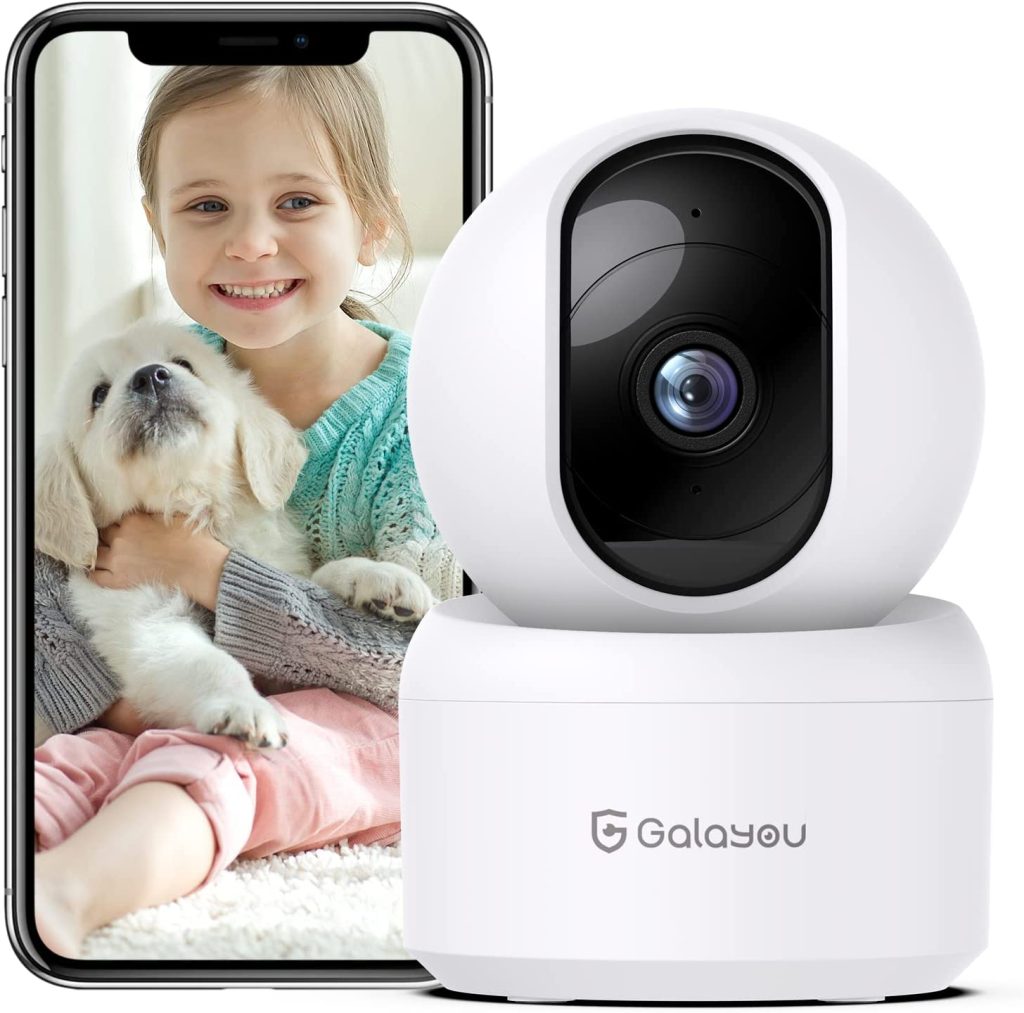 Priced under £30, the Galayou Dog Camera is the best bang for your buck. It gives the best coverage with 355° horizontal rotation. This camera also functions as a security camera with a feature that sounds like a siren on suspicious motion detection.
With an optional SD card storage of up to 128 GB, you can continually record footage of your pet. It also has a privacy mode and supports Google Home and Amazon Alexa instructions.
This camera, however, doesn't come with a treat dispenser, and its night vision footage isn't coloured.
Buy Galayou Pet Camera on Amazon UK
4. WUUK Pan Tilt Pet Camera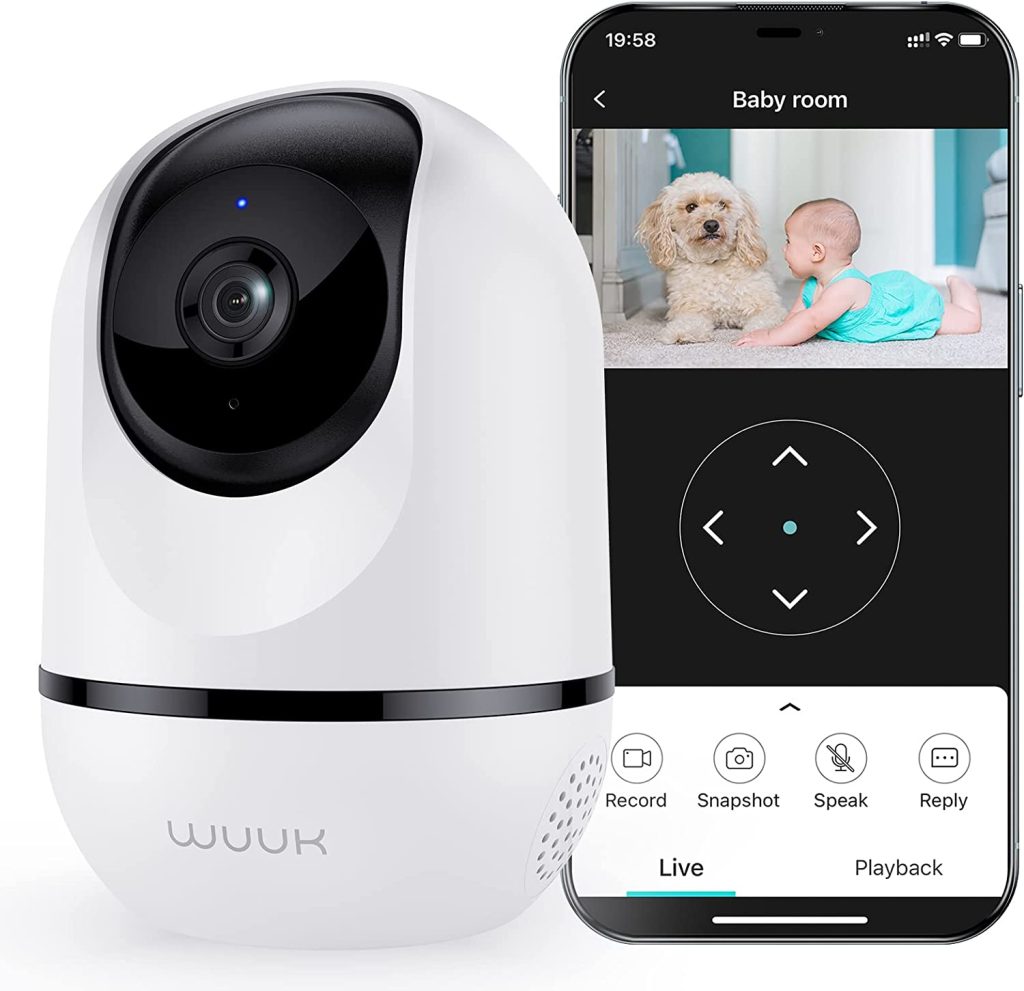 The Wuuk Pet Camera is the best choice for those who want to record funny memories of their pets while they aren't home. It captures great footage in 4MP Ultra HD video quality with its 360° rotation camera.
Its motion tracking feature can record activity as soon as it detects motion.
The camera doesn't come with a treat dispenser nor support 5 GHz WiFi. But it offers real-time interaction with your dog with its two-way audio system. Finally, you can use it with Alexa and Google home for smart integration.
Buy WUUK Pan Tilt Pet Camera Camera on Amazon UK
5. GNCC Pet Camera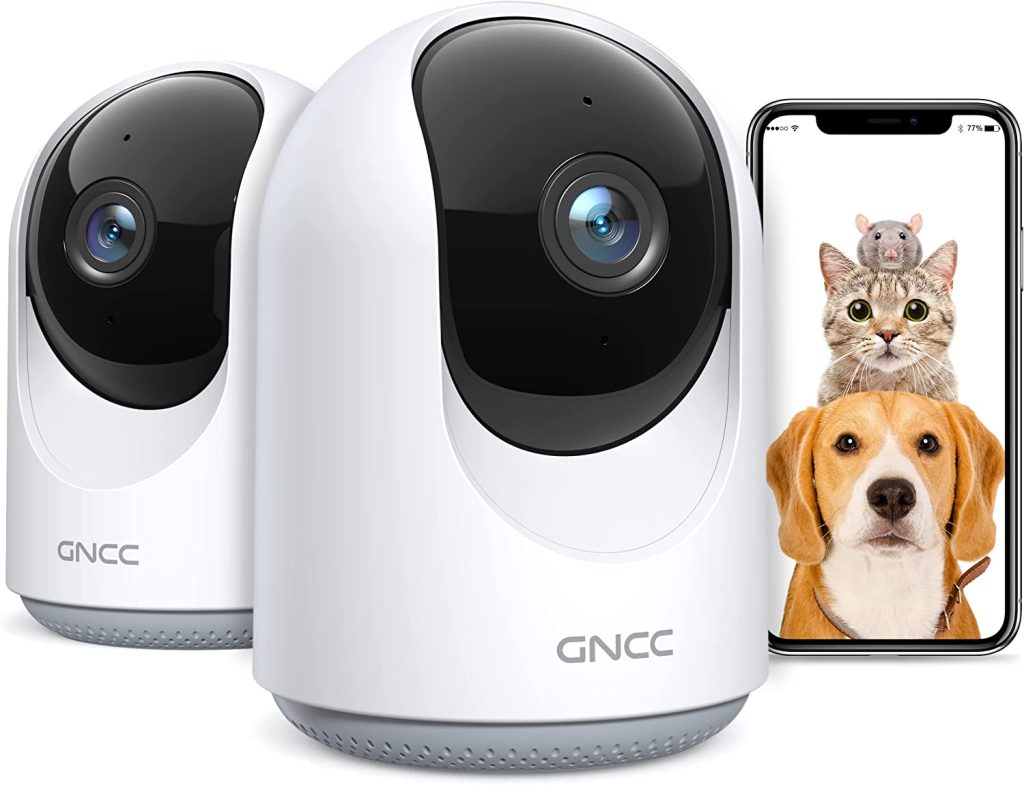 The GNCC Pet Camera is one of the best dog cameras you can buy for under 25 Euros. With 1080p HD clear view, you can have great quality footage of your pets.
This camera is feature-packed; it offers features such as sound detection, motion detection and two-way audio, all of which can be remotely controlled using the Osaio app.
The storage capability is where this camera truly shines, offering plenty of SD storage and a cloud storage option. You can opt for a pack of two for under 50 Euros.
Buy GNCC Pet Camera on Amazon UK
6. Enabot Ebo Air Security Robot, Smart Pet Camera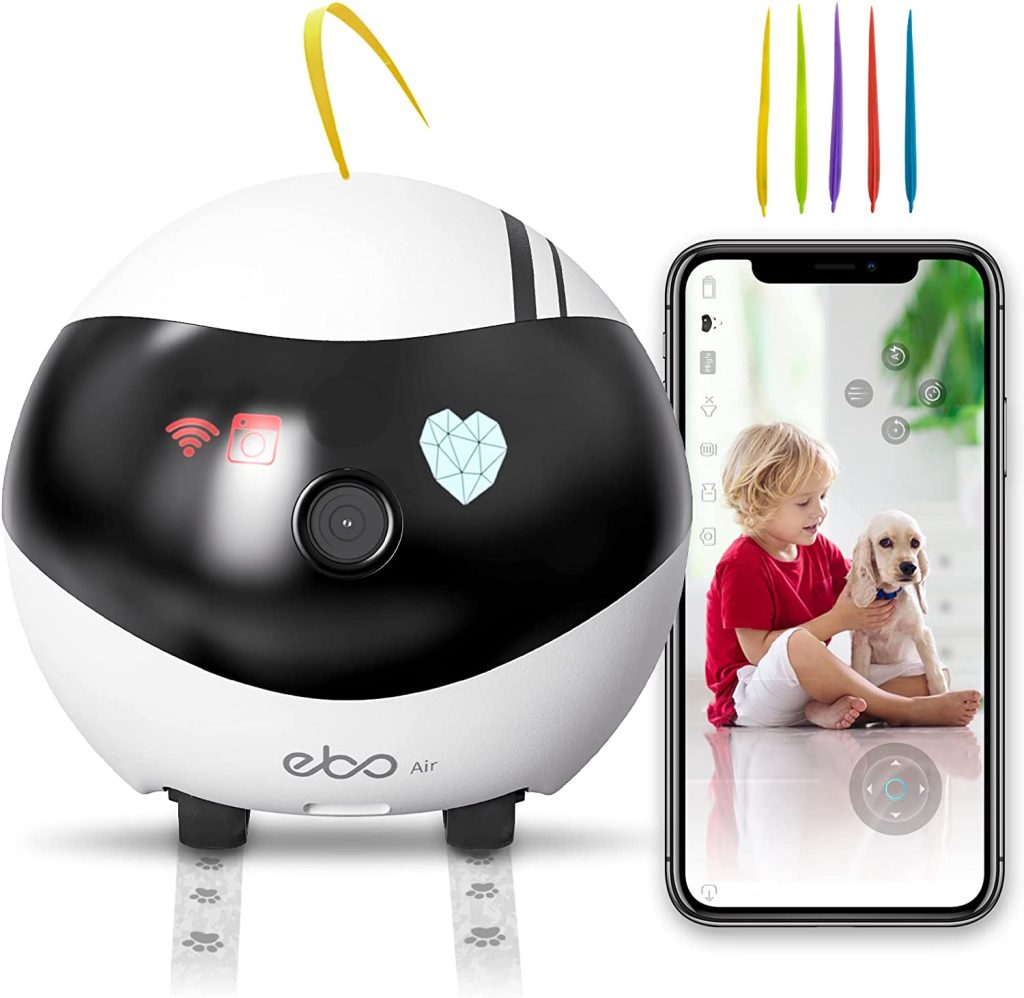 Meet Ebo. It isn't just a Pet Camera but a play buddy for your pet. Designed and manufactured by Enabot, this little robot has everything from two-way talk to an impressive 1080p camera with night vision, sound and motion detection. Ebo connects easily to both 2.4Ghz and 5Ghz WiFi. It has an app that you can use to control Ebo.
Interestingly, this thing moves in all directions. It barely makes any noise as it moves, and you can use its two-way audio to talk to your pets even when you aren't home.
Ebo has a lot of personality to it, the cute little heart on its display, as well as the "Ebo" sound it makes and other pet play features offered by the app, this robot can easily become your pet's new best friend.
As far as the storage is concerned, it comes equipped with a 32GB SD Card, but you can swap it up for a 256GB one if you wish to record more fun time with Ebo. Ebo surely is impressive, although a bit pricey, being sold for over 230 Euros.
Buy Enabot Ebo Air Security Robot, Smart Pet Camera on Amazon
7. PetTec Cam Snoop Cube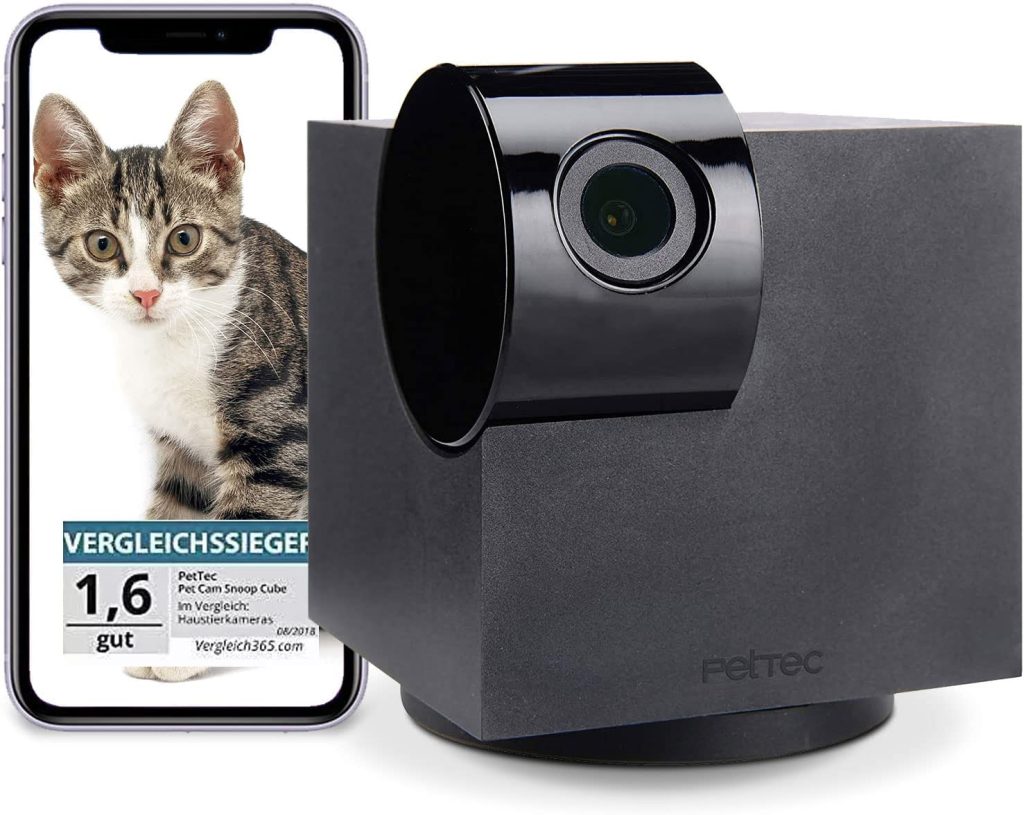 The PetTec Cam Snoop Cube conveniently connects to your 2.4Ghz WiFi and lets you watch your pets live at 1080p resolution.
It offers noise and motion detection with three sensitivity levels: wide angle lens & zoom and 360° pan and tilt. You can also install this sturdy little cube on the wall or ceiling.
Pair it up with the mobile app, and you can now connect to your furry friend over audio and video using two-way communication that supports video calling.
You can record and store up to 128GB worth of footage using an SD Card with this camera. All these features and the modern design make this one a great choice.
Buy PetTec Cam Snoop Cube on Amazon UK
Read More: Best Gifts to Buy for Your Dog in UK 2022
8. WOpet Smart Pet Camera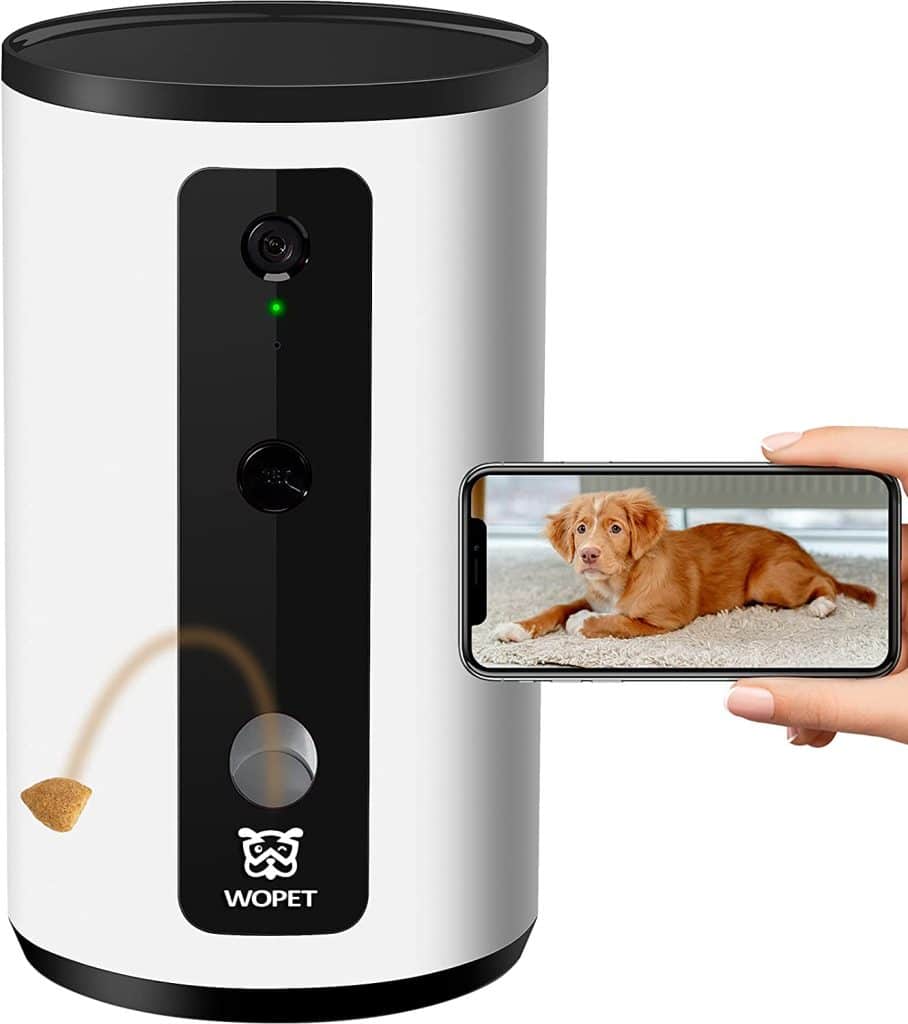 This camera is built with durability in mind, but WOpet didn't compromise any of the features for that. This WOpet Smart pet camera provides the same accessibility features as the Furbo Dog Camera, a 1080p camera with night vision and real-time two-way audio.
Pair it with the mobile app to get it ready to function. It can help you not just keep an eye on your pet but also toss them a treat to keep them happy. This playful little camera has one of the most positive reviews on Amazon, and the price is worth it.
Buy WOpet Pet Camera on Amazon UK
9. Owltron Pet Camera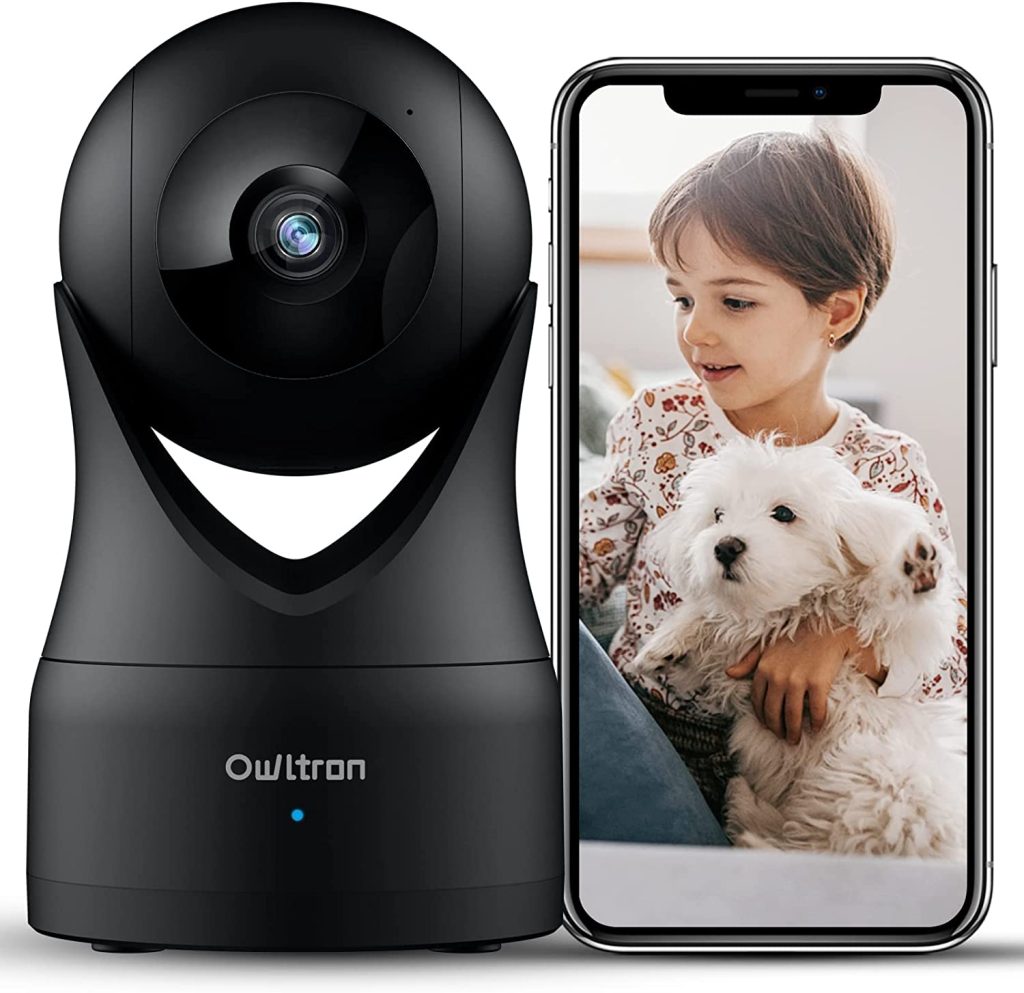 Owltron Pet camera is the best dog camera you can buy on a budget. At just 34 Euros, this camera is packed with features like noise cancellation for the mic, 1080p Night vision, and private mode to temporarily stop the monitoring.
It offers a real-time two-way audio system and 360° viewing. You can combine it with Amazon Alexa for better functionality. However, it only supports 2.4 GHz WiFi and not 5 GHz.
With financial-grade encryption, you won't have to worry about the safety of your data.
Buy Owltron Pet Camera on Amazon UK
10. BJS Home Security Camera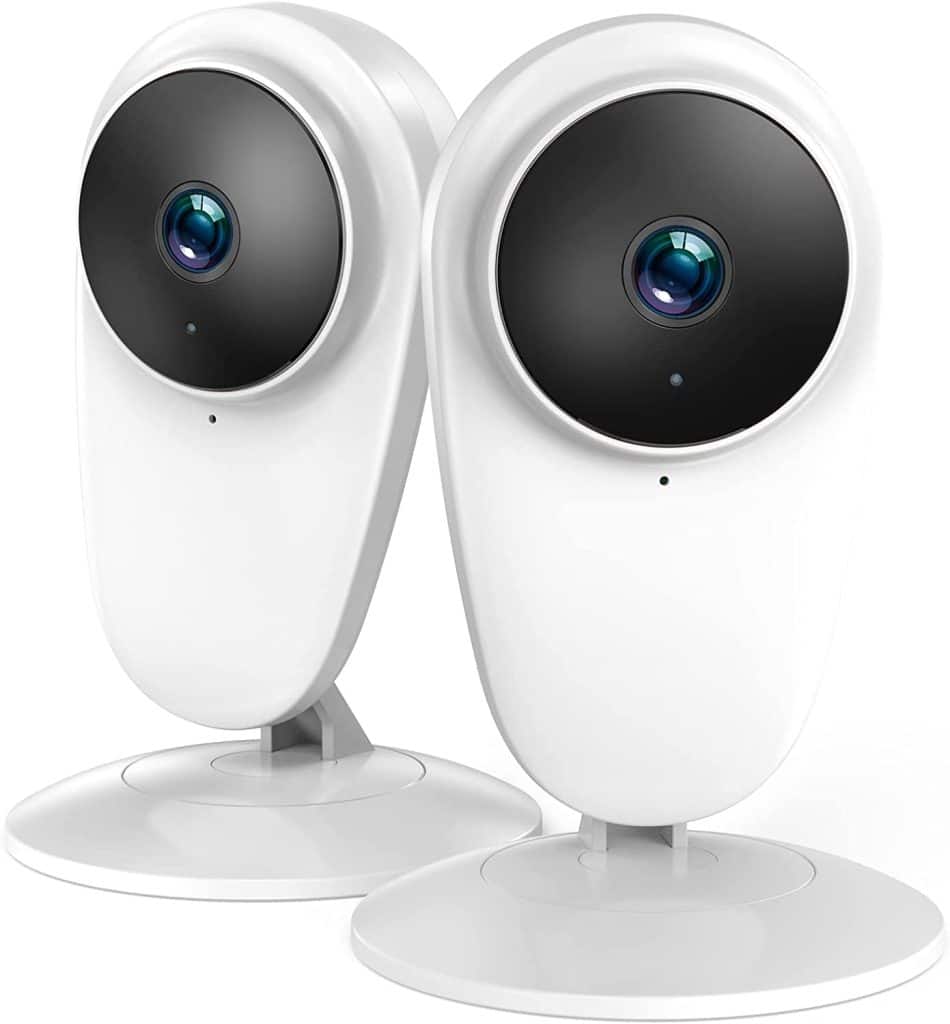 This home security camera by BJS is compatible with both Amazon Alexa and Google Home. It notifies you of movement as soon as its 2MP sensor detects it. The camera can be mounted on the wall using the mounting kit that comes with it.
This camera is one of the best dog cameras you can get on a budget. It only costs £20. When darkness takes over, hidden infrared LEDs light up to provide clearer footage.
All these features make this camera a great choice if you aren't looking for more pet-friendly features such as a treat dispenser.
Buy BJS Home Security Camera on Amazon UK
Are dog cameras worth buying?
There is no definitive answer to this question since it depends on each dog owner's needs and preferences. However, many dog owners find dog cameras helpful in monitoring their dog's activity and behaviour while away from home.
Dog cameras can also be a fun way to interact with your dog while away from home. You don't have to worry about missing out on special moments and memories or being in the dark about your dog's health and activity level. This is why a good dog cam is a worthwhile purchase for many dog moms and dads.