Do you have a breed of dog that has fur growing constantly to the point where it gets too long and you feel only a professional pet clipper can help?
Do you want to avoid the high price of a professional dog groomer but still create a high quality look with your own set of clippers?
Do you want to find the best dog clippers product to make grooming your pet easy?
Welcome to our guide to the best dog clippers. We will help you find the best dog clippers to forego all those professional groomer fees and have a happy and trim pup. We are aware that there are many options on the market when it comes to pet grooming kits: from corded to cordless dog clippers; single speed clippers to two speed and steel blades to ceramic blades. We have reviewed 5 of the best pet clippers on the market to help you to find the best dog grooming kit to suit your needs.
Table could not be displayed.
Best Dog Clippers UK Reviews
1. Petking Cordless Dog Clippers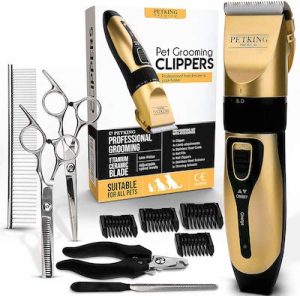 The Petking dog grooming clippers set has everything you need to allow you to successfully groom your dog at home. It will even shave other animals should you need it; it is the ultimate pet grooming kit for home use.
The Petking cordless dog clipper has been designed with low sound and vibration technology. This set of pet clippers will help keep your dog nice and calm during the grooming. Specifically, the noise level is under 58 decibels which is a quiet set of pet clippers but if this is a key feature for you then there are quieter options on the market.
When it comes to the blades in this clipper it is one of their best features. The detachable blade itself is ceramic which does carry a little bit of an extra cost but what you achieve is a sharper cut and an edge that doesn't dull quickly and needs constant replacements. Not only that, ceramic blades tend to not become jammed as easily as metal so you won't be pulling accidentally or have to stop and start constantly to wipe the loose hair away. The Petking blades are strong and sharp meaning that they are the best blades for high quality grooming of your dog at home.
These cordless clippers come with a rechargeable battery which will make grooming your pet at home easy as you won't be fixed to one spot in the house. The rechargeable battery takes 3-4 hours to charge but then you can use the pet hair clippers for around 60-70 minutes. There is a power cord available in the kit to use with the clippers if you would prefer that.
PetKing professional dog clippers are one of the best sets of clippers that won't jam, lose effectiveness quickly and they are easy to use on your pet. For the price of one professional grooming session: you can get these hair clippers for long-term home use and be able to freely trim your pet anytime and anywhere.
Included: 1x Pet Clippers with ceramic blade | 1x Rechargeable 4.44Wh / 3.7V Lithium Battery | 4x Comb Attachments | 1x Cleaning Brush | 1x Stainless Steel Scissor | 1x Thinning Scissor | 1x Stainless Steel Comb | 1x Nail Clippers | 1x Nail File | 1x User Manual | 1 x Storage Case
Pros
One of the best dog grooming clippers;
Ceramic blades that won't dull over time;
Low noise and vibration with high rotations per minute;
Cordless clippers allow free movement;
60-70 minutes battery life.
The gold storage case is a nice look;
Over 3,500 positive product reviews.
Cons
Somewhat of an expensive set of clippers;
More in the box than what you might want/need.
2. Wahl Professional Dog Clippers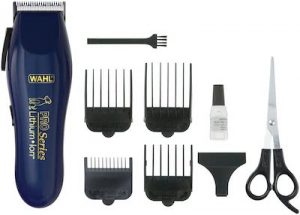 Wahl is to dog grooming what Nike is to athletes; they are one of the best premium brands of dog clippers with massive sales, marketing budget and research budget behind it. Wahl have come up with one of the most expensive clippers which boast being able to trim ANY dog's coat no matter if it's wiry, double-coated or even matted dog hair. These are the best dog clippers for heavy duty pet grooming.
This is probably a bit overkill for most home grooming kits for dogs as your dog only has one coat and that's all you need it for but if you're reading this with multiple dogs of different breeds or even a dog grooming business owner then this might be just the one you're looking for.
The metal chrome-plated precision blade included with the clippers are sharp and tough and really can cut through everything, it has attachments on top to help you glide through different coat types easily. The blade is a little noisier than others but not terrifying, this is to be expected from a dog clipper with so much power. Because of this, it does not jam easily and rarely encounters anything it can't handle.
These clippers are easy to clip and benefit from being both cordless and corded at the same time. When cordless it will last for 100 minutes continuously which is an extremely generous battery life for a dog clipper – this can be a godsend for those with several dogs that need clipping in one session or for grooming professionals.
The chrome-plated trimmer will cut from 0.7mm to 3mm and the attachments are for 3mm, 6mm, 9mm, 12mm, 18mm, and 25mm so you can get to the desired length with ease. Those who visit groomers may get it shorter than they wish just so that it lasts but with these clippers, at home, you can groom more often at the precise length you want every time.
Included in the pack are 6 length attachments, a how-to guide to grooming your pet with these clippers, oil to keep the chrome-plated blades sharp and of course the cord to charge the battery. There are products we have mentioned who give you more but arguable not many are as powerful and versatile as this.
Overall, this could be the best pair of dog clippers out there for those with tough coats and/or several dogs with different coats. A professional-grade dog groomer which can be used at home. It's probably a little too much for single pet owners.
Read the full Wahl Pro Series Dog Clipper Review
Pros
Best dog clippers for a range of different coats;
Heavy duty clippers;
Powerful yet low noise motor with a high rotation per minute
Corded and cordless with one of the best battery life
A professional looking pair of dog clippers which is easy to use
High quality pet clippers
Cons
On the expensive side and perhaps not the best value for money
Probably a little too much for those with only one dog
3. ONEISALL Pet Grooming Clippers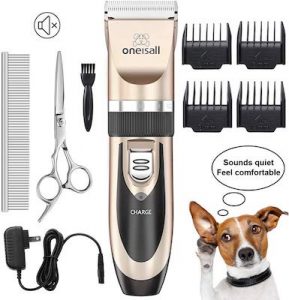 ONEISALL is a brand that does a lot of work in the field of dog grooming and technology so it's no surprise when their hair clippers are rated so highly online and by our independent testers. It's a great package at a very reasonable price that will please most home users with one or two dogs.
The blade is stainless steel with a ceramic moving blade, very sharp and easy to clean that can withstand the toughest of coats without jamming and losing battery charge quickly. The ceramic blade makes it long-lasting that won't dull after a few uses.
There are 5 different attachments, a cleaning brush and combs to give you the precise length needed and to add comfort as it glides across the dog's body. The range is 0.8mm to 2mm which is pretty standard but there are other grooming clippers out there that can offer longer. However, that is not usually desired as the point is to cut it short. It does struggle somewhat with particularly thick hair.
It is easy to adjust the blade distance with the turning circle in the middle, the on-off button is a position where it shouldn't be pressed by accident and charging the whole thing is a doddle at best. You should get around 60 minutes of power when on a full charge and it takes around 4 hours to charge.
Quietness is key so you'll be pleased to know this clipper is 50 decibels and under which is slightly quieter than the average in this list and one of the best for an anxious pet. Of course, it still makes a noise and does vibrate but not to the level where it can be frightening to the dogs. Maintenance and cleaning the blade is exactly as you'd expect with the need for disassembly – no oil is included though which isn't the best but inevitable as the product is shipped from overseas.
It feels nice in the hands and easy to turn and grip to make the whole process smoother and faster for both man and dog. The gold plated finish is a nice touch we feel. They have been pretty generous with what's included in the grooming kit with scissors, two combs and 5 different length attachments but again no oil.
Overall, this is a superb budget clipper which is suitable for dogs with regular hair as it may struggle with thick hair. Costs less than the price of a single dog grooming session and should last you years when it's used a couple of times a year.
Pros
One of the best dog grooming clippers on the market at a low price
Best dog clippers with a low noise
Easy to clean and maintain
Cons
Struggles with some breeds with thick hair
Doesn't come with cleaning oil
No instruction manual or instructional DVD provided
4. Andis AGCB Super 2 Speed Clipper
We wouldn't be catering to everyone looking to groom dog coats if we didn't list a corded, professional-level clipper; introducing the 2 speed clipper by Andis. Andis are the brand behind many clippers but we will focus on the AGCB Super 2 Speed Clipper which we think is the best in their range.
The main focal point of these heavy duty clippers is the power it can produce thanks to being plugged into the mains and not drawing power from a lithium-ion battery. The result is a clipper which runs 2 speed options of 3,000 or 3,800 strokes per minute (SPM) which is far and away more powerful than any cordless ones.
Is the 2 speed function necessary for your dog grooming clipper? It depends on the coat of your pet and how many dogs you need to groom in a day. Our view: this is a clipper for those with a dog grooming business, dogs with a lot of thick fur or owners of more than 4 dogs. We just think the 2 speed corded clipper is overkill for anyone with one small dog, to be completely honest.
The fact that it is cordless means that you have infinite and constant power running through it, it will not jam and it will not struggle with any difficult or matted hairs and it will make sure you can carry out the dog grooming easily. The downside is the 3m cord has its limitations which can be annoying so it's advisable to use a grooming table that the dogs are attached to or have a lot of patience.
It has adjustable heads from the Andis range to cut different lengths and oil to keep the ceramic blade maintained and sharp. There's an instruction manual but that's about it. Perhaps it's fair to say that the target market for this dog clipper probably doesn't need them, they just need the power and precision.
Overall, this is a fine clipper despite the downsides we've mentioned. If your main aim is to buy dog grooming clippers without a dog groomer kit then this is the best option for you. This grooming clipper by Andis is the most powerful and quick clipper which is easy to use and won't let you down no matter how tough the fur is but a word of caution – this clipper should only be used by people who know what they're doing and can handle the high SPM for the best results.
Pros
5. OMORC Low Noise Professional Dog Clippers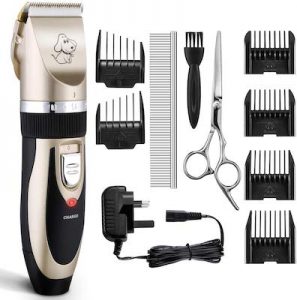 The OMORC dog clipper is a versatile and cheap alternative to mainstream brands. It's a little bit of a sleeper hit that has almost garnered 2,000 positive reviews on Amazon alone. One of the best hauls in the store. You might look at the picture and think to yourself that this is exactly the same as the other brands but with a different logo and you might be right.
It's super quiet with a motor humming along at 50 decibel which is quiet and about the same as the other options. The acute angle titanium blade cuts through most hair types with ease and along with the measurement knob can achieve a perfect length of 0.8mm to 2mm along with additional attachments for 3mm, 6mm, 9mm and 12mm. This kit also contains a cleaning brush to help you care for the blades.
It is both a corded and cordless clipper with a fantastic battery that will typically last you 70 minutes from a 4 hour charge – right about the average. When operating cordlessly it has enough power to cut through tough coats so there's no need to worry there. 70 minutes is great but perhaps a little lacking for professional dog groomers or those with a few dogs to get through.
The price point of this clipper is definitely its USP. Despite not strictly being the best dog clipper on the UK market the price makes it virtually risk-free. This is likely the reason why so many people ventured to buy it and later found it was a fantastic product.
Pros
One of the cheapest dog grooming clippers on the market
Very good performance
Strong battery capacity
Generous amount of items in the box
Great value for money.
Cons
Dog Clippers Buyer's Guide
Welcome to the JugDog dog grooming clippers buyer's guide; our guide to the best dog clippers on the market. This sits alongside our top recommendations to provide you with the only literature you'll ever need when shopping for a new or replacement dog grooming kit for your dog. We aim to provide you with the best information and reviews to help you to find the best grooming kit and pet clippers for your pet.
We've done the research and crunched the numbers in the world of dog grooming clippers so that you don't have to. Quite frankly, it can be hard work shopping for products these days with the sheer number available online with different features and price points. Which are the best professional dog clippers for MY dog? Will this budget model cope with the coat that my dog has? Is it easy to use and will my dog hate the noise and vibrations it makes?
These are some of the questions we know you have and we will endeavour to answer absolutely all of them backed up with facts from canine experts all around the world.
Let's begin, shall we?
What are dog clippers?
Dog grooming clippers have some similarities to clippers for human hair but of course there are key differences when it comes to purchasing pet clippers to groom your dog with. Essentially, dog groomer clippers are electronic devices with rapidly moving steel blades designed to clip the coats of dogs quickly and safely; leaving no nicks and scratches to deal with later.
A dog grooming clipper gathers hair to a certain point before it is cut entirely when it makes content with the rotating blades. Think of clippers as hundreds of tiny little scissors chopping away. Unlike scissors, a pet clipper can glide through the coat to trim their hair quickly and precisely each time.
Dog clippers can come corded or cordless and with a myriad of attachments to suit all the different coat lengths and types dogs can have. The biggest difference in best dog clippers is that the blades need to be tougher to handle dog hair and quieter so as not to terrify dogs who would otherwise suffer from anxiety as a result of having this alien object near them.
Dog clippers are the most effective way to keep a growing coat under control and to enable the whole process to be done as quickly and cheaply as possible.
Should I clip my own dog (and not visit a professional groomer?)
If you are new to owning a breed of dog with a coat that keeps growing or planning to buy or adopt one then a pet clipper is probably something you will need and the reason you're here.
Taking a dog to a professional dog groomer is one option – they are experienced and they've done this to thousands of dogs before yours. But they are expensive. Could you do this yourself?
Yes! Absolutely.
In fact, PETA recommends it on the grounds that groomers do it to make money and not necessarily to make your dog happy while they do it. This may not always be the case and we would never put groomers down for the sake of it but they do have a point.
By grooming your own dog with clippers at home you are able to comfort your dog better and take your time with it ensuring it's a stress-free experience for all. Isn't that what we all want at the end of the day?
Plus, there's a massive financial benefit as a dog nail clipper is around the same price as a single grooming session so you can save yourself a fortune going down the DIY route.
We will share tips throughout this guide but there is no reason why all manners of grooming your dog can not be done safely and effectively at home including clipping dog's nails and giving them a bath.
What to look for in a clipper for dogs
Clearly, there can be a gulf in difference between one pair of clippers and another and it can be daunting trying to figure out which is the best when it feels like you're comparing apples and oranges. Here are some unique features of dog clippers can have and what they could mean to you if you make that purchase.
Motor speed and power
Perhaps the most important feature in a pair of clippers for most but not all types of dog coats. The motor speed and power of clippers dictate how fast it can cut and how likely it is to power through thicker and perhaps matted coats. This is measured in rotations per minute.
Most dog clippers will not list the exact rotations per minute (RPM) it is capable of which is very annoying for us as we can't directly compare one to another so you'll have to get the information indirectly from third party reviews and what it says on the box. Most UK dog clippers brands will let you know if the clipper can handle larger dogs and tougher coats so if the RPM isn't specified go with that information and check the reviews for that pair of dog clippers.
However, if the dog clippers do list the RPM then know that 3,000 and above is powerful enough for 90% of the dog coats out there and anything above that is for the heavy duty professional clippers who need to be prepared for coats in the worst conditions possible such as grooming professionals and adoption centres.
Low noise
It is almost essential for dog grooming clippers to produce low noise. Even the most confident of dogs can get scared easily when presented with a pet grooming kit that is vibrating and coming near them, in fact, it is one of the scariest noises for them alongside thunder and the vacuum cleaner. It can become even worse when contact is made between the clipper blades and the pet hair and skin. Professional grooming experts will only have a quiet clipper in the shop and you should have the same.
Look for a pet grooming kit which produces less than 60 decibels would count as 'low noise' – this can be achieved easier with cordless dog clippers.
Cordless vs corded clippers
The vast majority of modern dog clippers are both corded and cordless but there are some which are just corded. Having a cordless dog clipper has clear advantages by being highly portable and gives the owner the ability to clip their dog's hair at home or anywhere. However, it does come at the cost of power as the lithium-ion battery inside can not compare with the power and rotations per minute of a motor-powered through the AC.
If you're a professional groomer, owner of several dogs that you want to groom in one session, a groomer in a rescue centre or an owner of a dog with particularly thick or problematic coats then we thoroughly recommend going for a more expensive corded pet clipper as you will need the constant power it provides.
If you've got one dog with a normal coat then cordless clippers will be more than enough for you and you'll save a fortune with it. It will easily clip the whole dog's coat on a single charge and the power will be more than enough. Even if money is no object there is simply no reason to throw money at a more expensive corded version just for the sake of it.
How it feels in your hand
The best dog clippers are ergonomically designed and feel great in the hand and are easy to glide through fur without straining your wrists. A long session with a poorly designed pair of dog clippers can be an arduous affair, especially for users who may suffer from repetitive strain injury or arthritis. Some may come with an instructional DVD to help you work it to a professional grooming level.
You should also consider your needs if you have particularly small or big hands.
Type of blades
Don't bother with any kind of dog clippers which don't use titanium/ceramic detachable blades as these dog clippers will not have the toughness to avoid the blades jamming in the dog's coat and these blades are likely to dull quickly. Of course, replacement dog clipper blades are usually quite cheap but it's still a hassle nonetheless because if you don't have any spare blades you just can't do the job yet.
Maintenance
Even professional dog clippers don't just take care of themselves, they need to be cleaned and the blades need to be oiled regularly otherwise the clipper blades will dull and become ineffective. Research how the new product needs to be maintained and see if the dog clipper comes with oil for you to use on the blades. What's even better is if clipper comes with a complete handbook with maintenance tips for you so know exactly what to do.
If not, find out where you can buy the right oil and cleaning brush for the clipper blades.
Dog Clippers FAQs
What are the best dog grooming clippers for home use?
We feel that any of the clippers we've reviewed are more than suitable for most regular breeds of dog. But, if we had to recommend one then it would be the Petking or Wahl dog clippers for cordless and the Andis for corded.
Can you use human hair clippers on a dog?
It is not a good idea to use human clippers to cut dog hair. The blades are too powerful and the vibration/noise might scare them to the point of anxiety. Plus, using clippers on dog fur can wreck them for your own personal use making them useless so it is definitely recommended that you purchase specific dog hair clippers.
Read: Difference between hair clippers and dog clippers
What do dog groomers use to make dogs smell so good?
A professional groomer will take the time to shampoo and condition your dog's hair much more thoroughly than most people would at home. They are likely to use high quality products designed to make sure that your dog smells good and therefore you will be more likely to return to the groomer opposed to using the grooming clippers yourself.
How often should dog hair be clipped?
How often a dog should be clipped varies from one dog's coat to another. A standard pet grooming routine would involve grooming your dog more frequently in warmer months and less in colder seasons; their hair will grow and shed less the colder it is. Some dogs will need clipping more regularly when their hair impacts their quality of life i.e when it starts to cover their eyes or when it starts to become matted.
You can buy an instructional DVD to help you figure this out like a grooming professional.
Last update on 2022-05-19 / Affiliate links / Images from Amazon Product Advertising API