Wahl is one of the most recognisable brands in the clipping space for both dogs and humans, offering quality products at a competitive price thanks to its numerous supermarket and drug store contracts and high market visibility.
Today, as part of our best dog clippers roundup post we're going to take a more in-depth look at the Wahl Pro Series lithium powered dog clippers to help you decide if this is the dog clippers you should buy.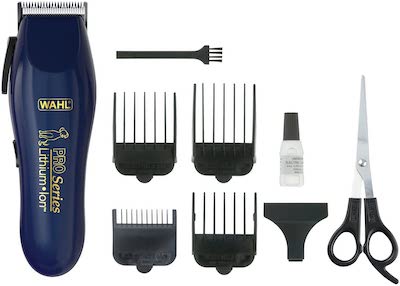 Features
The first feature we should talk about is the blades. They are called 'precision ground blades' and made using seriously tough and sharp carbon steel. They cut through hair effortlessly thanks to a good gap between each blade and two layers of different angled blades. Suitable for wiry, smooth-short and long-silky coats. The cut is smooth and effortless which should the number one concern if you are thinking of making the purchase.
Next, the motor. The noise and vibrations created are low but not zero (this is impossible). We'd probably go as far and say they are about as quiet as all the others but more importantly quiet enough that our dog didn't mind being near them. The power of the motor is decent and easily gets over 6,000 rotations per minute even when cutting through wired coats.
The unique selling point for Wahl's Pro Series clippers is the lithium battery which provides an exceptional and class leasing 120 minutes of use on a single full charge. This is a bold claim but one that they can back up thanks to our own experience and that of many others on websites such as Amazon. The fact that it has such a long lasting battery and provides as much power as it does is rather astounding.
They've added a quick charge feature which means that after a 15 minute charge it's good to go for 10 mins. This is all well and good but the reality is that it will never get used unless you've not been charging between uses and 10 minutes is enough to get the job done (doubt it) or if you've ran out of charge right at the end of the session (also doubt it). We feel it's a nice way to push the product but not a feature that will get used much in the real world.

With a lightweight and ergonomic design which fits perfectly in any hand and easy to twist along with the wrist it takes a lot of the effort out of clipping your dog. It's wireless, of course, meaning you are unrestricted in how you shave your dog which is ideal for dogs who may be a little wriggly during the grooming session. The Wahl Pro Series may be named as if it's intended customer were professional groomers when in reality anyone can feel like a pro using it as it's so easy.
Not everyone has the same kind of dog so Wahl have added a taper level on the side to make precise adjustments to the length of the cut and then there are 4 other attachments to extend the length even more. 4 isn't huge but it will cater for the majority – there are other manufacturers who offer as much as 16 lengths of attachment. Realistically, however, these 4 will be fine for 99% of dog owners. They slip on easily and tightly and come off just as easily.
In summary, the Wahl Pro Series dog clipper has all of the features needed to be a great clipper or all dog owners.
Accessories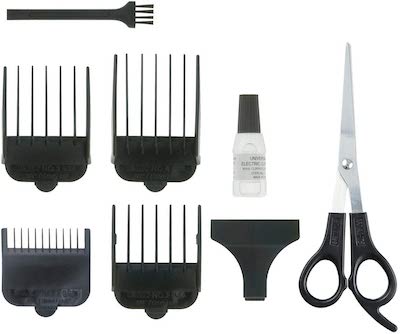 Included with the clipper you will get 4 length attachments – 3, 6, 10 and 13mm, a brush to clean the hair off after use and oil to lubricate the blades after use. Dog clipper wash is not present so you'll have to source it separately.
Conclusion
Sale
The Wahl Pro Series dog clippers are one of the most acclaimed on the market. We think it's a fantastic blend of performance and affordability for owners with wiry, short smooth and long silky hair. Wahl does offer clippers which can deal with the more tough coats if you so desired.
Related articles
Last update on 2023-10-13 / Affiliate links / Images from Amazon Product Advertising API