Just got a new puppy and unsure what's the best dry puppy food to give once they're off their mother?
Overwhelmed with the number of brands that seem to offer the same thing?
Then why not take a look at our curated list of the dry puppy kibble for large, small and medium breeds in the UK to give your young pup the best start in life!
Brand
Best Overall
Lily's Kitchen
Best For Large Breeds
Eukanaba
Best For Small Breeds
Wellness Core
Image



Best Overall
Image

Best For Large Breeds
Image

Best For Small Breeds
Image

Much like our human babies, puppies have an underdeveloped digestive system and a body that needs a healthy diet in order to grow and develop into a strong and able adult. Veterinarians across the world can not stress enough how important a good diet is post-mother's milk.
With this in mind, Jug Dog have once again written an expert roundup of only the best dry food as well as a complete buyer's guide to explain why it's so important to buy the right one and what to look out for in a good/bad purchase to help you save money and have a happy and active puppy.
Dry Puppy Food UK Reviews
1. Lily's Kitchen Chicken & Salmon Dry Kibble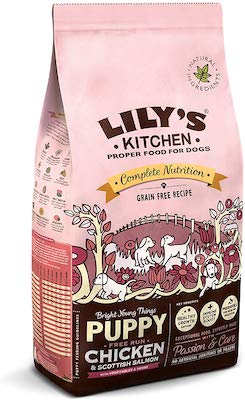 Lily's Kitchen is a brand that we have recommended time and time again and with good reason. They make high-quality dog and puppy food which have garnered thousands of reviews over the years.
This particular blend is super tasty packed full of fruits and vegetables and aimed at puppies four weeks and up, it includes only natural ingredients and is grain-free. The kibble is nice, soft and suitable for their tiny teeth.
This dry food for large breeds and small breeds will give your pup the health boost they need through the nutrients and minerals, give their developing immune system a boost and give them prebiotics for good measure. Its taste will be a joy thanks to the added herbs.
A quality product that's one of the best and suitable for any breed of puppy and a price to keep owners pleased, too.
Ingredients
38% Freshly Prepared: Chicken 24%, Chicken Liver 7%, Salmon 7%, Sweet Potatoes 28%, Pea Protein, Potatoes 6%, Lentils, Peas, Eggs, Chicken Fat, Chicken Gravy, Flaxseed, Salmon Oil, Vitamins & Chelated Minerals, Fructooligosaccharides 2.5g/kg, Mannan Oligosaccharides 2.5g/kg, Glucosamine 1,500mg/kg, Methylsulphonylmethane 1,500mg/kg, Chondroitin Sulphate 1,200mg/kg, Apples, Carrots, Spinach, Cranberries, Botanicals & Herbs: Alfalfa, Rosehips, Chickweed, Cleavers, Golden Rod, Nettles, Kelp, Celery Seeds, Milk Thistle, Dandelion Root, Burdock Root, Marigold Petals, Chicory Root
2. Barking Heads Dry Dog Food for Puppies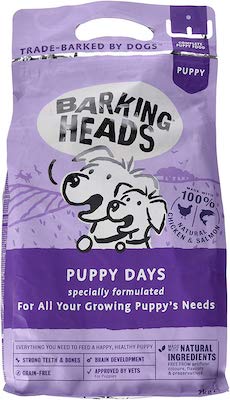 Barking Heads has started to become a household name as they offer puppy food used with the kind of ingredients you would expect in your own dinner. In this case, it's freshly prepared chicken and salmon – two ingredients full of protein and omega fats which are essential for puppy development.
The kibble is small and easy to chew for even the smallest puppies whether it's prepared on its own or with some choice wet food. It's also free from processed grains, food binders, artificial preservatives and all that bad stuff.
Barking Heads Dry Dog Food for Puppies will help your dog grow strong teeth and bones, a clean and shiny coat and it is vet-approved and backed up with almost a thousand positive reviews which is always a good sign. Lastly, it comes in a massive 18kg bag which will drive down the cost even further.
Ingredients
Composition: 62%* Salmon, Chicken & Egg includes – Salmon *(27%), Dried Chicken *(21%), Sweet Potato, Potato, Chicken *(10%), Peas, Egg *(4%), Lucerne, Salmon Oil, Seaweed, Fructo-oligosaccharides, Yeasts (MOS), Glucosamine 355mg/kg, Methylsulfonylmethane 355mg/kg, Chondroitin Sulphate 250mg/kg, Tomato, Carrot, Mixed Herbs (Marjoram, Basil, Oregano, Sage, Thyme, Parsley) (0.4%), Minerals


Barking Heads Dry Dog Food for Puppies
100% NATURAL CHICKEN AND SALMON - Our yummy dry puppy food is made with 100% natural chicken and salmon blended with a super tail-wagging combo of vegetables and herbs for your newest family member.
3. Harringtons Puppy Food Complete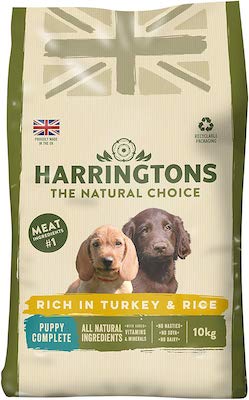 Harringtons is a recognised brand that produces quality puppy food at affordable prices. The turkey and rice flavour is what we've found to be one our pup liked the most. Easy to chew kibble with plenty of the nutrients and minerals they crave at that age.
No artificial colours, flavours, dairy, soy and wheat will be found in this great blend so you can rest assured your pup is being well fed. Yeats has been added to aid their adolescent digestion. On top of these, you'll find citrus antioxidants, kelp and omega 3 & 6 fatty acids with yucca extracts – all of which help reduce flatulence and help give fresh breath.
Harrington' is perfectly fine on its own but optimal with wet food mixed in, especially for picky eaters.
Overall, you can't go wrong with Harringtons puppy food, we vouch for it as do over 300 verified customers on Amazon.
Ingredients
Maize, Turkey Meal (20%), Rice (15%), Meat Meal, Porridge Oats, Poultry Fat, Digest, Beet Pulp, Linseed, Minerals, Kelp (0.2%), Yeast (0.1%), Citrus Extract (0.04%), Yucca Extract (0.01%)


Sale
Read the Full Harringtons Dry Puppy Food Review
Don't forget to check out our other articles on dog food – best adult dry dog food, best wet dog food, high fibre dog food and grain free dog food.
4. Wellness CORE Large Breed Puppy Food Dry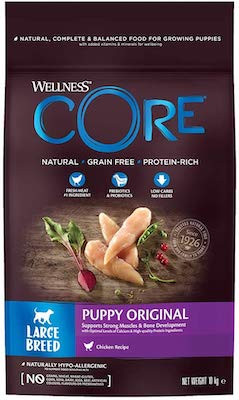 The Wellness CORE range almost exclusively on most of our dog food related buyer's guides and with good reason, they make quality food with proper ingredients which are super tasty and super healthy – in this case, we wanted to highlight their chicken flavour designed for large breeds.
Grain-free, hypoallergenic and with meat as the number 1 source this is pretty close to what a puppy would need if they were in the wild as it supports their massive growth period. Despite being chicken-based, Wellness has thrown in salmon oil to ensure their joints get plenty of attention as well as their eyes and brain.
The kibble is bigger for larger jaws but still easy to chew and swallow. The flavour is good enough to be eaten on its own or mixed in with your choice of wet food if they're a little on the fussy side.
The price is above average but the quality is also above average so you really do get what you pay for for your loved puppy. Highly recommended puppy food.
Ingredients
COMPOSITION: Chicken 61% (Fresh Chicken 25%, Dehydrated Chicken 20%, Chicken Fat 6%, Dried Chicken Protein 5%, Chicken Gravy 5%), Peas, Dried Potatoes, Beet Pulp 4%, Full-fat Linseed, Salmon Oil 2%, Carrots, Apples, Dried Chicory Root 0,5% (source of FOS and inulin), Yeast Extract (source of mannan-oligosaccharides) 0,5%, Broccoli, Tomatoes, Spinach, Cranberries, Blueberries, Glucosamine Hydrochloride 100 mg/kg, Chondroitin Sulfate 100 mg/kg, Yucca Schidigera. NUTRITIONAL ADDITIVES (PER KG): Vitamin A 14.000 IU, Vitamin D3 1.000 IU, Vitamin E 120 mg, Taurine 1.500 mg, L-Carnitine 150 mg, Zinc as zinc sulphate, monohydrate 100 mg, Iron as ferrous sulphate, monohydrate 100 mg, Copper as cupric sulphate, pentahydrate 7,5 mg, Manganese as manganous sulphate, monohydrate 5 mg, Iodine as calcium iodate, anhydrous 1,5 mg. TECHNICAL ADDITIVES (PER KG): With Natural Antioxidants Enterococcus faecium NCIMB 4b1705, 109 CFU – Helps establish, maintain and restore bacterial balance within the intestinal tract of dogs. Bentonite (montmorillonite) 1.200 mg SENSORY ADDITIVES (PER KG): With Flavours (Rosemary extract, Grape seed extract, Turmeric extract, Grapefruit oil expressed, Clove leaf oil) 300 mg Analytical Constituents Protein 33%; Fat Content 15%; Crude Fibres 3,5%; Crude Ash 8,5%; Calcium 1,1%; Phosphorus 0,9%; Docosahexaenoic Acid (DHA) 0,1%; Omega 6 Fatty Acids 2,1%; Omega 3 Fatty Acids 1,0%.


5. Eukanuba Puppy Dog Food for Small Dog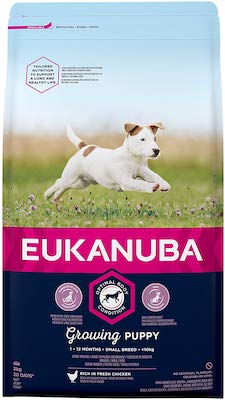 Eukanuba is one of the highest-rated dry food on Amazon with almost 600 reviews and an average rating of 4.5. This is on the strength of the flavour of the kibble with many owners saying how much their puppy looked forward to breakfast, dinner and supper.
As usual, the main ingredient is chicken with no artificial colours, flavours or preservatives, or GMOs. This is the high standard everyone comes to expect in puppy food to be fair. Second, Eukanuba Puppy Dog Food includes prebiotics for a healthy gut and DHA for joint, brain and eye support.
This may not be a household name being splashed on the telly and all over Pets at Home but it's one that many who buy puppy food online will have encountered at one point. Why not give this a go and save some money on some proper quality puppy grub.
Ingredients
Dried Chicken And Turkey (38%), Maize, Wheat, Animal Fat, Dried Beet Pulp (3%), Chicken Digest, Rice, Dried Whole Egg, Fish Oil, Brewer's Dried Yeast, Potassium Chloride, Sodium Chloride, Fructooligosaccharides (015%), Marigold Extract, Analytical Constituents Contain Protein (32.0%), Fat Content (21.0%), Omega-6 Fatty Acids (3.00%), Omega-3 Fatty Acids (0.45%), DHA (0.10%), Moisture (8.00%), Crude Ash (7.35%), Crude Fibres (2.30%), Calcium (1.35%), Phosphorus (1.03%), Additives Contain Vitamin A (15000 IU/kg), Vitamin D (750 IU/kg), Vitamin E α-Tocopherol (200 mg/kg), β -Carotene (1 mg/kg), Trace Elements Contain Iron (Ferrous Sulphate), Heptahydrate (220 mg/kg) , Zinc (Zinc Oxide 184 mg/kg), Manganese (Manganous Oxide 24 mg/kg), Manganese (Manganous Sulphate), Monohydrate (18 mg/kg), Copper (Cupric Sulphate), Pentahydrate (14 mg/kg), Iodine (Potassium Iodide 3 mg/kg), Cobalt (Basic Cobaltous Carbonate), Monohydrate (0.5 mg/kg)
Sale
6. Wagg Puppy Food Complete Dry Mix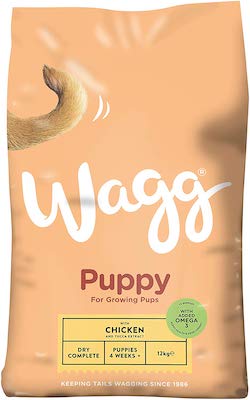 Wagg is somewhat of a household name that provides adequate nutrition for those on a budget. No artificial, colours or flavours included and overall it's a pretty healthy mix for any pup big or small.
Can help to boost their immune system with citrus extracts, help grow strong teeth and bones and positive energy through a healthy digestive system with prebiotics as they try and navigate their new world. DHA from fish is thrown in to help mental development.
The kibble is nice and tasty with a delicious powder coating that is easy to chew and swallow whether alone or with a wet mix.
Wagg's blend is perfectly serviceable at a very reasonable price to keep both the hound and master happy as larry.
Ingredients
Cereals, Meat and Animal Derivatives (15% chicken in chicken kibble), Vegetable Protein Extracts, Oils & Fats, Vegetables (4% peas in pea kibble), Derivatives of Vegetable Origin, Minerals, Yeasts (0.08%), Citrus Extract (0.03%) & Yucca Extract (0.01%).


7. Vet's Kitchen Chicken and Brown Rice Puppy Complete Dog Food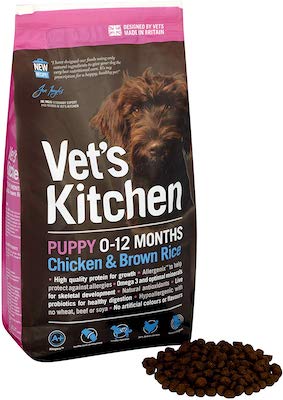 Vet's kitchen offers a chicken and brown rice recipe bursting with flavour and nutrients to help grow a healthy puppy from nose to tail.
Hypoallergenic and with prebiotics (Fructooligosaccharides), Vet's Kitchen Chicken and Brown Rice Puppy Complete Dog Food is sensitive on your puppy's tum and helps prevent flatulence and dry, itchy skin which can occur at that age.
Omega 3 and nucleotides provide bone and joint support and 36% chicken provides an abundance of protein to maintain and grow strong muscles. The taste is superb and our pups had no problem whatsoever eating and seemed to really enjoy it often wanting more.
It's a strong product with hundreds of positive reviews and a reasonable price point to suit any taste, breed or budget.
Ingredients
Chicken Meal (min. 36%), Brown Rice (min. 26%), Oats, Dried Egg, Beet Pulp, Chicken Fat, Brewer's Yeast, Salmon Oil, Chicken Gravy, Minerals, Vitamins, Seaweed Oil Extract (min. 0.3%), Beta-Glucan Yeast Extract (min. 0.1%), Mannanoligosaccharides (Prebiotic, min. 425 mg/kg), Fructooligosaccharides (Prebiotic, min, 425 mg/kg), Yucca Schidigera Extract, Nucleotides.


Sale
8. Edgard & Cooper Fabulous Duck & Chicken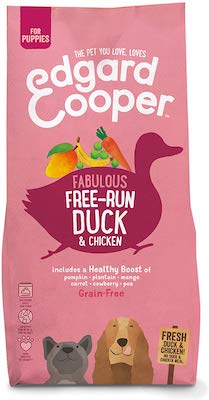 If you're looking for something a little posh for your pampered pup then Edgard & Cooper Fabulous Duck & Chicken dry puppy kibble is probably at the top of the list. The duck itself is premium meat in dog food and your pup will be spoiled by the taste and the nutrients it provides.
None of the meat is processed or in meal form, so it's the highest quality you can expect and retains all of the minerals from its natural state. Next, Edgard & Cooper Fabulous Duck & Chicken also contains other fancy ingredients most puppy food brands don't have which are pumpkin, plantain, mango, carrot, cowberry and pea.
This, in turn, creates one of the most nutritious and tasty dry food on the UK market, albeit on a bit of a premium!
Ingredients
fresh chicken 40% potatoes fresh duck 10% peas 8% pea protein potato protein chicken gravy linseed chicken fat minerals fish oil pumpkin 0.5% plantain 0.5% mango 0.5% carrots 0.25% cowberries 0.25% mannan-oligosaccharides (MOS) fructooligosaccharides (FOS) marigold blossoms nettle blackberry leaves fennel caraway chamomile balm glucosamine chondroitin sulphate.


Sale
Edgard & Cooper Fabulous Duck & Chicken
PACKED WITH FRESH MEAT: There's no processed meat or meat meal in our dry adult dog food, so it not only smells and tastes irresistible, but it's full of natural antioxidants and nutrients your dog can easily digest and keeps them healthy!
9. IAMS for Vitality Small/Medium Breed Puppy Dry Dog Food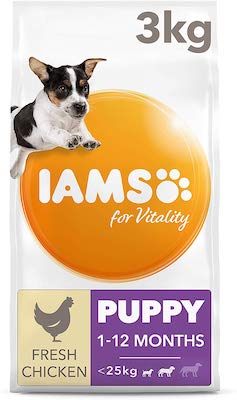 IAMS offer healthy and affordable food for puppies using fresh chicken (not a meal or processed) without wheat, fillers, artificial colours or preservatives. There's an antioxidant blend with vitamin E to help support your pup's growing immune system.
The kibble is nice, small and crunchy which will delight the young pup to no end. It's not the tastiest, however, with IAMS aiming to make their blend utilitarian and affordable as opposed to flamboyant like some of the others.
Does this make it an also-ran? A little. However, what you do get with IAMS is a tried and tested blend which is unlikely to be disliked by any dog as they're a brand for the masses and not the connoisseur. It does contain grains and it isn't hypoallergenic.
Ingredients
dried chicken & turkey 32% (including chicken 19%), maize, maize grits, animal fat, fresh chicken (5.0%), rice, dried beet pulp (3.3%), chicken gravy, minerals, fish oil, dried whole egg, fructooligosaccharides (0.21%), brewers' dried yeast.


Sale
Read the full Iams for Vitality Dry Puppy Food Review
10. James Wellbeloved Lamb And Rice Hypoallergenic Complete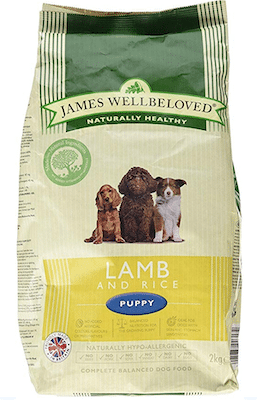 James Wellbeloved is a…beloved brand of dog food and has got itself a reputation of making rustic foods bursting with nutrients in the form of a tasty kibble. We've highlighted this one as it's lamb and rice flavour which is a nice option away from all the chicken recipes we've listed.
It's hypoallergenic mix with no additives and full of natural goodness. The price point is very reasonable and ideal for those on a budget who still want a taste of luxury. It's gentle on your pup's digestion and will help create healthy stools and no flatulence.
It's available in a wide range of shops which makes one of the most accessible puppy foods so once you've ordered online you can always get more elsewhere in the future.
Ingredients
Lamb meal (17.8%), white rice (17.4%), pea protein, barley, brown rice (11.3%), lamb fat (7.3%), whole linseed, lamb gravy (2.9%), omega oil supplement*, sugar beet pulp, alfalfa meal, seaweed, sodium chloride, chicory extract (0.25%), potassium chloride, calcium carbonate, yucca extract (0.02%) * from sunflower and fish oils. Additives per kg: Antioxidants: E306/Natural antioxidant, 187mg, Vitamins: E672/Vitamin A, 15000 iu, E671/Vitamin D3, 1400 iu, Trace elements: E1/iron, 133mg, E2/iodine, 3.3mg, E4/copper, 20mg, E5/manganese, 40mg, E6/zinc, 385mg, E8/selenium, 0.44mg. Analytical Constituents: Protein 30%, crude fibres 2.6%, fat content 15%, crude ash 7.7%, Vitamin E 180mg/kg, omega-3 fatty acids 1.5%, omega-6 fatty acids 1.4%.


For more options, check out our review for Arden Grange dry puppy food
Dry Puppy Food Buyer's Guide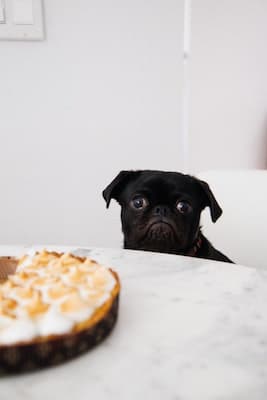 Welcome to the Jug Dog puppy food buyer's guide. Here we give a broad overview of the world of dry food for small breed, large breed and medium breed of puppies and what to expect as the purchaser. There are a LOT of puppy food brands in the UK and with practically all of them claiming to be 'complete' it can be quite hard to find out which is in fact suitable for you and your breed of puppy.
Nutritional needs of puppies
Up until the age of around 6-8 weeks, a puppy will have been fed by the best and most nutritious food possible – mother's milk – which has literally everything they need and more as they grow rapidly at this stage. Mother's milk provides more than just protein, carbs and fat; as The Nest state "Mother's milk provides the nutrition and antibodies they need to fight off disease".
As the young pup's teeth come in it becomes more and more uncomfortable to nurse them and they begin to be weaned off, however, their nutritional requirements are just as demanding as they look to get all the goodness of the milk from somewhere else. Getting the best puppy food is essential or it can lead to malnourishment, lethargy and a weak immune system.
HomeoAnimal says "Malnourishment" can occur when pets' bodies are lacking an essential nutrient, but it doesn't mean they're not loved or cared for; they just need a more balanced diet." The Kennel Club goes on to explain that puppies grow 20 times faster than adult dogs which is why there exist specialist foods for them.
Puppies need a balanced diet which consists of proteins, fats, carbohydrates, vitamins and minerals which may not be present in low quality and cheap food.
If you want your puppy to grow healthily then you shouldn't just feed them anything, you should only feed them puppy appropriate food which is 'complete' and 'balanced'.
Why dry puppy food?
We may one day write a top list on the best-wet puppy food but until then we started with recommending puppy kibble for the following reasons
Keeps longer in storage and won't spoil as quickly
Helps clean and sharpen growing teeth which is essential for them to be able to eat solid food
Puppy kibble is more nutrient and calorie-dense than wet food which gives both the puppy and the owner more bang for their buck
Puppy dry kibble is cheaper per kg and more widely available in bulk and therefore drastically cheaper than wet puppy food
How does puppy food differ from adult pet food?
Foods designed for puppies will be more calorie-dense and nutrient-rich than adult dogs as their growth stage is intensive – this is not to say puppies eat more than adult dogs as that wouldn't make sense so this measurement will be compared to the gross weight of the bag.
As an example, PetMD states that puppy foods have more proteins and minerals per kg than adult food.
Puppy kibble will also be smaller in size and slightly softer so that it can be broken down easier by smaller, sharp teeth.
You should never feed adult food to a puppy regularly.
What to look for in good puppy food?
Thanks to a heavily regulated industry, it's quite hard to get dry puppy kibble which is horrendous or just not fit for purpose, however, there is still plenty of scope for brands to make their foods better than others. When shopping, keep an eye on the following:
Natural Ingredients
Processed food is cheap and in most cases adequate but as we've explained in depth in this article, puppies need more than just adequate food during this critical time. As such, we recommend only purchasing puppy food made using real foods and as close to natural as possible.
This also means avoiding foods with artificial colours, flavours and preservatives.
Small, easy to chew kibble
Puppy teeth are razor sharp and are designed more for taring than they are hardcore chewing so find foods with small, softish kibble that's tough enough to give their teeth a workout and encourage chewing but soft enough that they won't struggle with it.
Nutrients, minerals, prebiotics and fatty acids
We think foods with additional vitamins, minerals prebiotics and fatty acids such as omega 3+6 are much better than those without, especially for puppies. We want to do more than just fill their bellies. We want to help encourage strong joints, bones, teeth, brains and eyes too.
Available for small breed, large breed and medium breed
Make sure you buy the food that caters for your specific size of dog be it large breed, small breed, or medium breeds as their dietary requirements do different quite a bit especially fr large breed.
Last update on 2021-09-17 / Affiliate links / Images from Amazon Product Advertising API