I know that you want the best for your dog, especially when it comes to keeping them safe, warm and healthy during the cold winter months. A good quality dog house will shelter your dog from the wind, rain and cold weather whilst also looking welcoming and enticing for your pooch.
Depending on how you intend for your dog to use the house will impact the features and style of the dog house you require; I have included a wide variety so that you can find the perfect one to meet your needs.
If you plan for your pet to stay in their house overnight, then I would recommend one of the best-insulated dog houses or a heated dog kennel to provide extra warmth and insulation. If you want to offer a house in the garden, I'd advise getting an extra-large model so that you can place a dog bed, food and water bowl inside to entice them to get in from the cold outside weather.
Whatever your needs for your dog, I aim to meet them with our range of the best houses.
Best Dog House For Winter Reviews
1. Kerbl Deluxe Insulated Dog Palace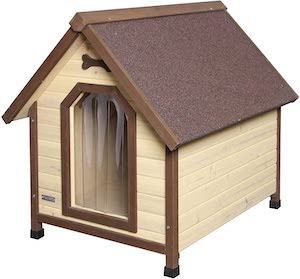 Kerbl Deluxe Insulated Dog Palace is the best dog house for winter. This kennel is a deluxe and insulated "dog palace" made with high-quality materials. The floor heater insulation will allow your dog to be cosy, protected and warm throughout the winter whilst also looking good in your garden.
The best feature of the Kerbl dog houses for winter has to be the unique insulation technology: the double walls are lined with 3 inches of styrofoam, creating a cosy environment for your pet in both summer and winter. The house door features a curtain made of transparent blinds for protection against the elements once your dog is inside whilst also being easy for your dog to get in and out of on their own.
There is plenty of space inside for dog beds, bowls and blankets; you can make this a comfortable space for your dog to relax and enjoy. The bitumen roof is weatherproof to keep dogs sheltered from the rain whilst inside. This would be a suitable house for your dog to relax in day or night: you could even use it to assist with dog training purposes.
2. Starplast Large Dog Kennel Starplast Dog House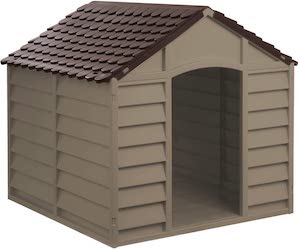 The Starplast dog kennel is made with carefully manufactured plastics to create a stable and sturdy dog house for winter. Construction of this dog house is simple and really straightforward to assemble: simply click all of the parts together, place them in your desired outdoor location and the dog house is ready for your dog to enjoy.
Unlike a wooden dog house, the plastic Starplast dog kennel is easier to clean: no mess is absorbed into the kennel like it would if it were made from wood. To clean the dog house rinse with water and wipe down if needed – these dog houses can be kept clean for years.
In terms of size, the Starplast dog houses are perfect for large and small dogs: the entire winter dog house is 86cm x 84.5cm x 82cm. There is space for a dog bed within the dog house to ensure your dog is more comfortable and warm during cold temperatures in the winter.
Read More: How to make a dog house warm in the winter?
3. Click Large Outdoor Wooden Dog Kennel Click Dog House, Large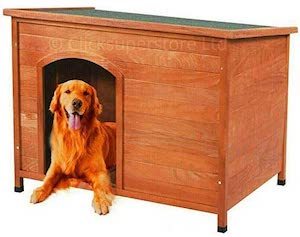 This wooden dog house by Click has a strong floor and integrated legs to raise the base of the house up a couple of inches off the ground to prevent rising dampness and to help keep adequate air circulation throughout the pet house. The legs of the raised floor are covered by rot free and weather-resistant plastic caps to protect the wooden legs from the soil.
The opening of the dog house, where your dog enters and leaves, is shaped to provide a greater area of shelter from the cold temperatures during the winter months. The entrance is intentionally off centre so that your dog can curl up in the corner of the house to keep warm from direct drafts in the cold temperatures.
The roof of the outdoor dog house is covered with a green feel and slightly slopes from front to back to allow water drainage away from the dog house. The roof of this outdoor dog house can be removed for easy access to cleaning, maintenance and pest control.
The heavy-duty wooden dog house is weatherproof and will provide a safe place for your pet to rest and live. Overall, the Click wooden dog house is best for outdoor use under some additional shelter to prevent damage to the wood after prolonged exposure to winter weather conditions.
Read More: Best Flea Treatments For Dogs UK 2021 – Get Rid Of Fleas NOW!!
4. Pets Imperial Wooden Dog Kennel Pets Imperial Wooden Kennel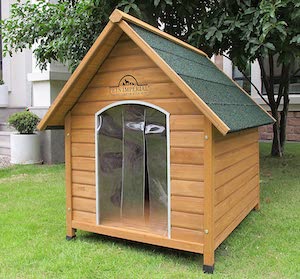 The best dog house for looks has to be the Pets Imperial wooden dog kennel. Pets Imperial is a brand that aims to take care of your pets and that shines through with the attention to detail they have demonstrated in the design of this insulated wooden house for your dog.
The wooden dog house is raised off the ground to make sure air can circulate under the dog house and thus keep the floor dry and comfortable; these legs are covered by rot adjustable plastic caps. The legs of the dog house have adjustable feet which allow you to make the kennel even on uneven surfaces. The floor itself is removable which makes for easy cleaning, maintenance and pest control.
The roof opens fully with two lockable arms which makes it easy to clean and to add a heating pad or pet bed into the kennel if you wish to create a more comfortable environment for your dog while they are out in the cold weather.
The fully opening roof will also make it easy to place their dog food and water bowl in the house easily and retrieve them once they have finished with them. The edging around the entrance of the dog house is made from aluminium anti-chew strips to minimise the chances of your dog causing any damage.
5. Croci Recycled Kennel Villa Croci Recycled Plastic Dog House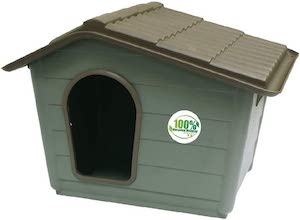 This is a plastic dog house with a difference: it is made from recycled plastic which makes it the best choice for the environment as well as your dog this winter. The Croci dog houses are made from 100% recycled plastic and are quick and easy to assemble and disassemble.
The plastic material of the outside dog house is easy to clean: the roof can be removed to allow you to get inside the house and clean it thoroughly. Removing the roof also allows you to place dog beds, cushions, water bowls and dog food inside the kennel for your dog's comfort.
The Croci dog kennels are available in two sizes to allow you to find the best fit for small or large dogs. The interior of the Croci dog houses is grooved to allow any fluids to drain away from your dog which is essential in the rain as you don't want your dog sitting in the winter rain during the night.
The ventilation grid on the side of the dog house allows optimal air circulation.
6. Wooden Dog Kennel Wooden Pet Kennel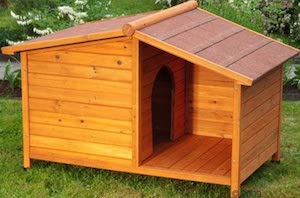 This sturdy and attractive dog kennel will not only keep your dog warm this winter but the wooden material makes these dog houses look great in your garden too. The wood used on the dog house has been generously oiled and treated to make it an excellent winter weatherproof home.
I love the sheltered patio area of this outdoor dog house which provides protection from the wind and rain on cold days as well as a nice and cool shaded area on sunny days.
The raised floor of the dog kennel outdoor prevents the wet ground from impacting the base of the house while the roof is made from a specially treated material for extra weatherproofing and insulation to keep your pet warm and dry. Due to the position of the door on the house, it will help keep a draught from getting into the house meaning there is no need for door flaps or a self-closing door.
You may want to add foam insulation to the walls and floor if you wish to create a warmer environment for your dog when they are outside in cold temperatures. The DIY dog house is easy to build and can be assembled with just a few screws. Overall, this is the best dog house to allow your pet to be comfortable outside whatever the weather.
7. Petmate Indigo Igloo Style Dog House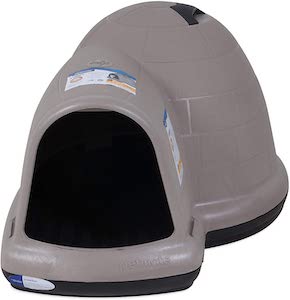 This heavy-duty igloo style dog house is perfect for outdoor use this winter to keep your dog or dogs nice and warm. Petmate is a brand that owners can trust when it comes to buying pet products: for over 50 years Petmate Indigo has created high-quality items that demonstrate their passion for dogs, cats and many other furry friends.
The outdoor dog igloo is heavy duty and is an ideal option for large dogs thanks to its generous size. The house provides insulation in hot and cold weather so it is ideal for outdoor use all year round. Additionally, it has an offset doorway that will shield your dog or cat from rain and the roof has vents on the top to circulate fresh air.
The floor is raised which means you can place the house onto a concrete surface without having to find an additional insulated base to place it on. One of the best features of the Petmate Indigo dog Igloo is that it has Microban Antimicrobial Protection to help prevent the growth of stain and odour-causing bacteria.
Read More: Which is the best rain suit with legs for your dog in UK 2023?
8. Pawhut Luxury Weatherproof Dog House and Shelter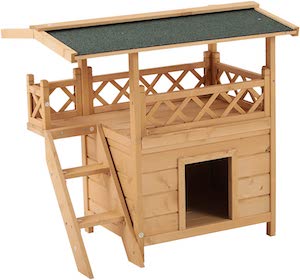 If you're looking for a fun and practical dog house for your pets this winter then the Pawhut luxury weatherproof dog houses are one of the finest. I really love how this house and shelter looks: as well as the main traditional dog house, there is a ladder leading up to a roofed terrace area for your dog to relax on whilst being sheltered from the rain.
Both small and big dogs and cats will love the multi-tier design of this house; the elevated house with a roof over the terrace area will bring exciting new options for sleep, play and protection. The multi-level design also promotes a natural desire to hunt and play with your dog or cat so it will keep them engaged and prevent your pet from destroying your garden furniture and flower beds.
The floor of the dog house has been raised to allow air to circulate underneath the house and also helps to keep some insects and other animals out of the house and away from your dog. Although the design of this house is aesthetically pleasing, unfortunately, it is not easy to get into the house itself which means it isn't the best option if you are wanting to get dog beds, insulation or a floor heater into the house.
I would say the Pawhut models are the best houses for winter for cats and dogs that would use the shelter in the day but then sleep indoors at night.
9. Sealands Heated Dog House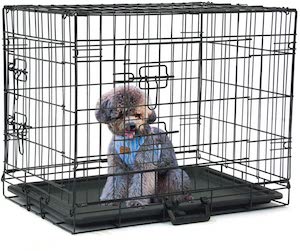 The Sealands heated dog house for winter is unique compared to the rest of the best dog houses on our list due to the foldable function. This is a semi-enclosed pet house which is surrounded by windshields and can be used with heating pads to protect your dog from harsh, cold winter weather.
This insulated dog house does not include the heated pad, that insulation can be purchased separately. The best feature of the dog houses for winter is that they are detachable and foldable: the inner pad can be removed for easy cleaning and storage. The Sealands dog houses are good for outdoor use as they are waterproof; I would advise that you build a DIY base for the house to sit on to keep the floor off the ground.
It's available in 3 sizes: small, medium and large to allow you to find the perfect heated home whatever your dog's breed. On the listing, you can see the measurements of each size to check which one is best for your dog to prevent you from getting a house that is too small.
10. HoundHouse Kennel Camouflage Dog House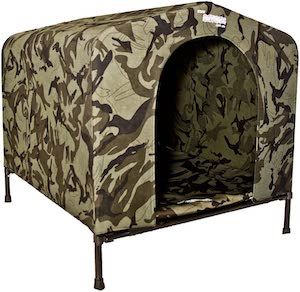 The HoundHouse model is a breathable and hygienic canvas kennel which will ensure your dog remains sheltered from the wind and rain whilst outside this winter. The canvas material of the house is breathable which is essential for your dog's safety and comfort.
The metal frame of the house is strong and rust-resistant which is reassuring when it is going to be used outside in the rain. The canvas dog home is raised several inches up and off the ground to allow air to circulate beneath your dogs and prevent them from being too cold as the base doesn't touch the cold ground.
This dog house may be more suitable for dog training than prolonged overnight stays for your pet because of the lack of insulation. As the kennel is without a dog house heater – you could add dog beds and blankets to ensure your pet is warmer if your dog is going to be in the house for a longer period of time.
How do you keep a dog house warm in the winter?
There are several steps you can take to keep your dog houses warm in the winter.
Consider the outside location carefully. If you can, position the dog house in a sheltered location either next to your house or even in a garage. Raise the dog house up a few inches from the concrete or cold ground.
It's best to get a pet house with adjustable feet so you could raise the house up but alternatively you can place the house on a pallet or on a thick pad of straw or insulation. A dog house with an angled entrance or a self-closing door will prevent more cold air from getting to your dog.
Within the dog house itself, you should add a heavy-duty insulation material if you haven't bought an already insulated dog house for when the temperature drops. An electric floor heater would also add additional warmth or you could place thick and comfy dog beds or blankets down to ensure your dogs are cosy and warm.
You may wish to purchase a dog house heater such as the Popetpop heated pads which you could place directly on the floor of the kennel or onto their pet bed. Alternatively, you could purchase the Ancol self-heating heated pads which are machine washable and use a range of technologies to allow your dogs to remain suitably heated overnight.
You may also wish to apply a curtain to the door hole if your pet home features an open space for the door. By limiting the amount of cold air that enters the house through the door, you will also keep the warmer air contained within the house.
This plastic door by Trixie offers your pet protection from the wind, rain and cold whilst still allowing them to get in and out of the home easily.
Read More: 10 Best Waterproof Dog Beds – Let Them Sleep Dry
Is it humane to use a dog house?
If your dogs spend time outdoors in your garden, then a dog house will provide them with warmth and shelter from the rain during the colder months of winter.
As long as your dog is getting plenty of attention, interaction with humans and dogs, walks, food and water then a pet kennel will be a welcome space for them to have to themselves.
Some owners use the homes as an optional place for their dogs to go for shelter when outdoors whereas other owners prefer to use them as a place for their dogs to sleep to prevent them from being in the house.
How do you build a dog house for winter?
If you are good at DIY then you may wish to create your own kennel to meet your and your dog's needs perfectly. By using wooden pallets, foaming insulation and bitumen weatherproof materials you can create a cosy and safe home for your dog.
This is an especially good idea if you want to create the house to a specific size perhaps to suit an especially small or large dog. I love these designs and guides to follow. If you do have a go at creating your own home then we'd love you to get in touch with your photos.