For some people, a waterproof dog coat still won't do the trick as it still leaves far too much skin and fur to get wet. For these owners and dogs, there is a solution and that solution are rain suits which help to cover pretty much all of the dogs including the legs and belly.
And if you're still not sold, you'll be soon. Just look at how cool these doggos look in their rain suits, you'll be smitten.
This article takes a look at these rain suits to help you figure out the pros and cons of using one and which ones out there are worth considering for your dog.
What are dog rain suits with leg protection?
These suits are made to cover all of the dogs apart from the tail, head and feet so that during a rainy walk they do not get wet and muddy – it enables the owner to relax while enjoying a rainy walk with them without worrying about the carnage which will be brought home after it.
What they're made of varies but in general it is vinyl/PVC/polyester as they are waterproof and water wicking – which is key to their use.
Benefits of using a rain suit for dogs
The immediate benefits of using an all covering suit are clear, most of your dogs will be completely covered and dry during the rain and will not get wet or muddy unless they are to be totally submerged. These suites cover the areas which get the muddiest and the hardest to wash – the underbelly and the legs.
You won't need a rain suit AND a waterproof coat. Secondly, these suits help to keep your dog warm as it traps their body heat so they can also be effective in the winter. If your dog is used to regular walks and gets antsy if they don't get their exercise then one of these suits will allow you to be able to walk them all year round without any worries about the wet and cold.
Lastly, and this one's not to be underestimated, a dog rain suit will reduce the rage and anger of every owner who is sick to the stomach of having their car or home (or both) completely ruined by a smelly wet dog to the point where they may not even take them for a walk at all. That is priceless.
Read More: Is it cruel to make dogs wear clothes?
Drawbacks of full-body waterproof dog suits
The benefits do certainly outweigh the drawbacks of the suits but they are not without their faults.
The biggest obstacle to a full-body waterproof dog suit's usefulness is whether or not your dog is happy to wear them at all. Some dogs just can't wrap their head around it and hate it to the point where they are obsessed with getting it off. They often require some training to get used to it.
Getting the coat on is quite simple but some dogs may be a bit wriggly and make it a challenge. The size needs to be almost perfect for the coat to work; if it's too loose then it's annoying to wear and if it's too tight then it restricts movement and causes a poor experience. Dog sizing is difficult so be prepared to bring the tape measure out.
What are the best waterproof dog suits with legs?
Here are a couple of examples of decent waterproof coveralls for dogs.
Cosipet Trouser Suit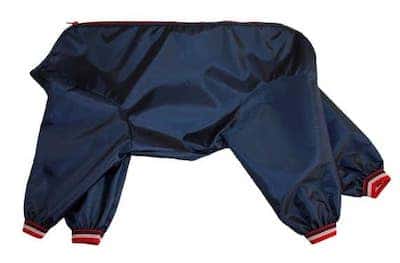 The Cosipet trouser is the best waterproof rain suit for dogs. It's a stylish bit of gear which makes the lucky dog look like they're wearing trackies. Easy to put on with a zipper on the back to close, this should not cause any inconvenience or a hassle for dogs not used to wearing these things.
Made of water wicking polyester, the water simply washes away and as it's not porous your dog will be warm and dry on the inside. It is not machine washable or tumble dryable so it will be wiped down to be clean again.
The elasticated cuffs make the suit stay comfortable and stop water from going into the legs. The sizing guide is excellent with an incredible range from 20cm to 76cm so virtually every dog is catered for. It is a quality rain suit covering all the essentials made with quality materials here in the UK. Black, red and navy colours are available.
Sale
Hurtta Downpour Suit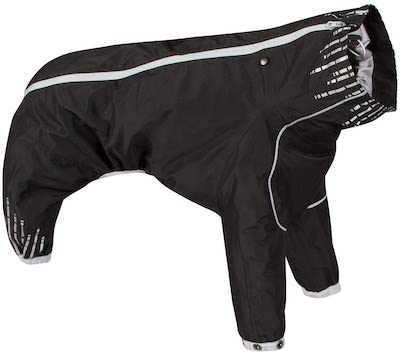 For something which really pushes the boat out in terms of quality, you can't go wrong with the Hurtta brand which is also well known in the waterproof coat department. With a little more style and better neck coverage, the Hurtta downpour suit may be a good product to consider.
The outer fabric is laminated, breathable and dirt-proof which makes it not only great in the rain but the snow and heavy winds as well. The fabric isn't cheap and won't make a cheap tracksuit noise as they run around in it.
Rather than just being elasticated, the neck, ankles and collar are adjustable to cater for your specific dog. This is a top-notch product that would be the go-to for serious dog walkers and hikers that live in areas which often get rough weather. It's a little expensive but you get what you pay for here.
Hurtta Downpour Suit
NO TWO DOGS ARE THE SAME - Don't guess on the size. Use the size chart along with the "Measuring Your Dog" size guide. The back length is the most important for apparel
Read More: What are guard hairs on dogs? Are they different from normal hair?
Kerbl Raincoat With Belly and Leg Protection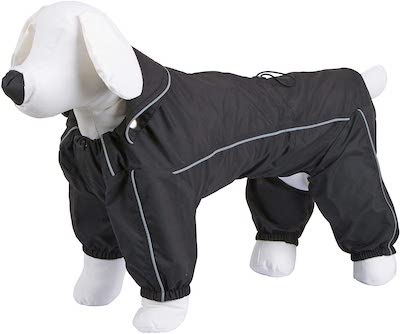 The Kerbl raincoat with belly and leg protection is a jack of all trades and offers decent rain protection at a cost that will make the owner happy. It is easy to get on and uses a drawstring to tighten so it can be somewhat customised to your dog but does take a little longer to sort over elasticated cuffs.
The coat feels cheap but it is waterproof and the rain slides off easily as it's made of 100% polyester. The neck and throat protectors are removable if your dog finds them annoying which we find a neat feature. Light-reflecting strips make it a little more obvious at the nighttime.
The cost is super low and there are plenty of sizes for every breed.
Conclusion
If you already have a waterproof coat but your dog still comes home too wet and muddy then your only other option is a rain suit like the above which covers the whole body down to the ankles. If you regularly go hiking, rambling or exploring in the wilderness and often come up against extreme weather then a rain suit for your dog is essential.
They work a treat and you will only have the head and paws to contend with afterwards. By staying dry you and your dog can enjoy being out in the rain almost as much as a sunny summer's afternoon.
The quality varies from one to another so pay attention to how often you'll actually use it and when it is in use and how strong and intense it needs to be to keep up the elements.
Last update on 2023-10-14 / Affiliate links / Images from Amazon Product Advertising API