Are you struggling to find a way to make your dog get in and out of the car, or perhaps your faithful friend is not quite as lithe as they used to be? Then perhaps a good dog ramp is exactly what you need to help bridge that gap for them. Here at JugDog we have compiled a selection of what we would class as the best dog ramps for cars, SUV and boats on the UK market as well as the most comprehensive dog ramp buyer's guide on the internet to help you find the best product at the best prices.
The Best Dog Ramps for Cars Reviews
This is an exhaustive list of the 10 best dog ramps in the UK as of 2020. However, this is no simple list with a basic review – this is the best dog ramp guide you will ever find on the internet. Ever. Here's what this guide contains to help make your purchasing decision easier.
1. PetGear Tri Folding Ramp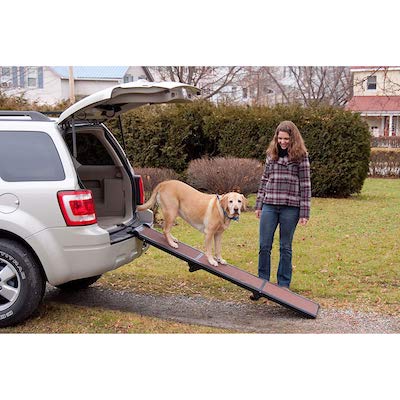 In a segment full of products which are essentially the same it can be quite difficult to pick a winner. However, we think we've found the one most people will end up wanting in the end which is the Pet Gear tri-fold dog ramp. It's lightweight and easy to carry around for us humans and won't bring down the weight of the vehicle transporting it.
On both ends it comes with an angled rubber hook which grips well to a car with a decent lip and also comes with a safety attachment cable to give you added peace of mind. This rubber grip won't cause damage to your car's bodywork if you don't have rubber boot lip protectors. The surface of the ramp is non skid and very comfortable on the dogs paws. It's durable and won't get wrecked with repeated use which it will undoubtedly get.
The tri fold mechanism works seamlessly and it's effortless to get it from being packed to unpacked. Because this is the tri fold model we've gone for, it takes very little space when not in use so it's great even if you drive a little city car.
Overall, this is a fantastic dog ramp and well deserving of at least your time while you conduct your research. The price point is very generous as it's not uncommon for ramps to go up to £100 while this one can usually be found for under £80. With it being available at Amazon, Argos and Pets at Home you can usually compare the three for the best price at any time.
2. PetSafe Solvit Telescopic Dog Ramp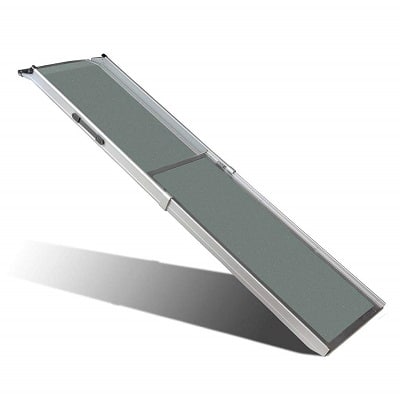 If you prefer a telescopic dog ramp then we recommend the Solvit extendable dog ramp by PetSafe – a well known and trusted brand of dog products. Weighing under 6kg this is a very lightweight ramp that won't bring your car's weight down and won't be much of a problem for you the owner to get in and out of the boot when you need it. If you think a lightweight and portability means it can't handle heavier dogs then think again as it can hold dogs up to 180kg at any single time. The number of owners with dogs that heavy is extremely slim.
What we like about it is that it has guide rails on the side to make it easier for inexperienced ramp dogs to navigate. It of course also features an ant slip surface which is ideal if you're looking for a solution for dogs with mobility issues that need to take it nice and slow. The materials used are aluminium and plastic which is really high quality and protects itself from rust and degrading over time, although it's not invulnerable if it's constantly stored improperly.
The PetSafe Solvit telescopic dog ramp extends from its default length of 99cm to 182 cm which is just under double. It comes in two "halves" obviously and can take some chunk out of your boot's real estate but not that much. It slides out and in effortlessly and you can go from stop to go in well under 1 minute. It has a hook grip on one of the sides which the image doesn't quite show but it is there. It is suitable for even the bigger SUVs like your Land Rovers or Volvos.
Overall, the reason we rate this so highly is that it's just a good product that's easy to use. The one let up? It's rather expensive and you can get other ramps of different types cheaper but they may not be what you're after if you yourself aren't physically up for the extending parts. When you read the many reviews online you'll see almost everyone is in agreement that the PetSafe Solvit Telescopic dog ramp is a cracking solution.
3. Trixie Pet Ramp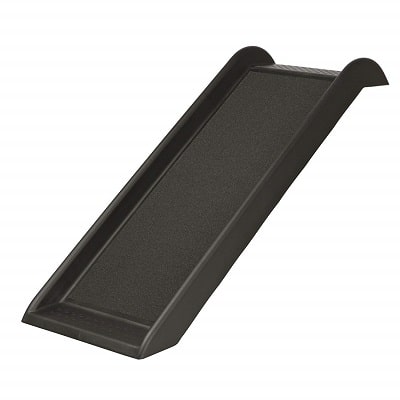 Every time we review any series of products we will always have a 'best on a budget' and here it is – the Trixie Dog Ramp. This version is rather hard to find and there aren't many stockists, perhaps because because they only want to stock dog ramps which are easily recognisable.
Anyway, what you've got here is a dog ramp that doesn't have any metal in it whatsoever and made using only plastic. It feels very rubbery but it is quite strong and can handle most breeds of dog up to perhaps Labradors. Much larger 'giant' breeds should not be using this.
Because it's completely rubbery it's one of the most grippy of them all and clings to cars easily. The rubber feel also makes it ideal to be used in situations where it could get wet such as near the beach or on a dock.
The lack of metal is what makes the Trixie dog ramp really stand out – it's less than 5kg so lighter than even the most compact of telescopic dog ramp. A lack of metal also drives the price way down to below £50 in most situations even when not on a sale. Despite the lack of metal this baby can still fold to save a load of space.
The biggest worry for most shoppers is its performance and structural strength and integrity and you shouldn't worry. This is a really strong dog ramp that will suit pretty much most dogs and owners.
4. SPW Foldable Wooden Dog Ramp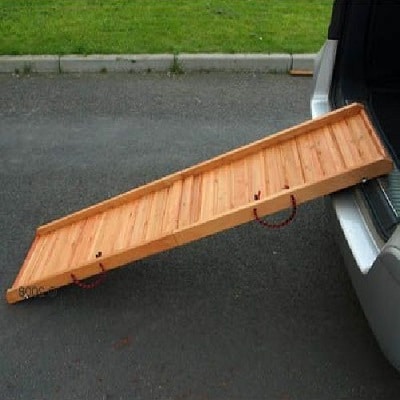 The first few dog ramp reviews are all ordered to give diversity from the best there are. This next one is probably the most diverse as it does away with plastic and metal and is instead made out of wood. It has been expertly crafted and the wood gives a natural anti slip surface and has two rubber feed for gripping and to protect the surface of wherever this ramp is placed such as a car, SUV or boat.
The biggest pros to focus on when deciding whether or not to buy this ramp is that the wood is a much softer material to carry on and for the dog's paws. Wood is easier to work with and cheaper than metal and plastic and you can see this reflected in the price which is not uncommon to see under £50. Most reviews online are very positive and praise it for how easy it's been for dogs to take to this one – perhaps dogs find wood a little less scary to tread on?
The cons, which we must make sure to include is that folded it does take up a bit more space than some of the other traditional metal choices so bare that in mind especially if you don't have a generous boot. Along with this, remember that this is made of wood which is a natural product and can weaken with age and may need ongoing treatment especially to protect the wood from rot which it can attract when it is used in the wet.
However, out overall sentiment with this ramp is that it's just as good as any ramp – it's just different and with so many dog products it really comes down to personal taste. If you'd prefer the wood over metal then this is the best wooden dog ramp on the UK market hands down. Plus it's cheap so it does take the sting out of the decision substantially.
5. Hewitt & Blue Large Dog Ramp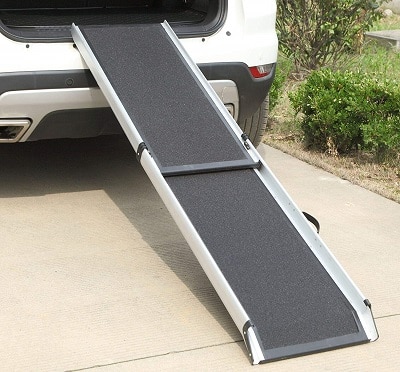 The Hewitt and Blue large dog ramp probably looks like another 'also ran' because it looks the same, works the same and is made from the same stuff as most other ramps we've reviewed and perhaps they are, but in our eyes it's a bloody good one.
From a product only point of view it is an excellent dog ramp which has been well designed, made and uses quality metal and plastic to provide a sturdy solution to get your dog in and out of the car. It has guiderails on the side to help nervous or elderly dogs stay on the path and it has a really good "Suregrip" cover which makes it non slip even in the wet conditions (don't underestimate how important this is). It is a telescopic dog ramp if you haven't been able to tell from the screenshots which folds neatly in the boot. It weights 6.3kg which isn't the lightest option but not the heaviest either. Dogs up to 110kg are safe to use so although it's been labelled as heavy duty, we have reviewed others which go up a lot more.
The service you receive from Hewitt and Blue is perhaps the most stand out feature as it comes with an incredible 5 year warranty. This means that if the extending mechanism fails or the non slip surface gives out then you can buy with confidence. Hewitt & Blue specialist in dog ramps and don't really advertise much else which allows them to give much more attention to this product hence the warranty and excellent reviews.
We've tested this ramp with an SUV and it was a doddle to get out, extend and get our dog to use. The highlight really was the non slip surface which felt like sandpaper but it was fine for dog's paws. The rubber ends protected my car from scratches and when folded it fit in a little Fiesta boot no problems. You don't need a large SUV for this. The suregrip surface was also so good that when we spilt a lot of water on it on purpose it did not affect performance and therefore suitable for boats and docks.
What we like about this dog ramp and the why you should buy it is if you're nervous parting with so much money and worried about after sales. It's not cheap or expensive but has a lot of positive reviews and relatively risk free.
6. Gen7 Natural-Step Dog and Cat Ramp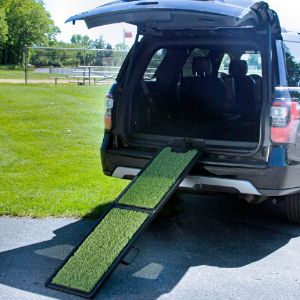 We're not gonna lie, the Gen7 Natural -Step dog and cat ramp is straight off the bat not the best performing dog ramp on our curated list. It is most definitely not a bad product as it does exactly what you need it to do but the high cost and below exemplary performance means that there are a couple which are better, overall.
We try to keep every 'best of' list vary to cater for practically every type of dog owner. And you can probably guess why we've included the Gen7 Natural -Step dog and cat ramp on our list – the immediately noticeable astro turf surface on both panels of this bi fold ramp. Indeed, this product's unique selling point is its natural feel surface which no other dog ramp possess, that we could find. This is an ideal product for those who have fake grass at home and have a nervous dog who will appreciate the familiarity beneath the paws. It's niche, we get it. But it's a good type of niche that does feel pretty nice to touch and looks good as well. This is definitely the best looking ramp.
Aside from the surface, it is also a normal dog ramp underneath which folds onto itself once. It weighs 7.7kg which is slightly heavier than usual. It has rubber grips to grab onto the desired surfaces as well as protect them from damage when engaged. It's fully extended size is 42″/106cm which is standard and we have no complaints – it's suitable for cars, estates, SUVs, crossovers and boats. It can hold dogs up to 113 kg which is decent.
Biggest drawback is the price when you consider what other ramps you can get for that money. However, we feel it deserves a mention because it is a good ramp and the astro turf surface will definitely appeal and delight some owners and dogs who may have been looking for exactly this type of product!
7. A R North America Inc Aluminium Tri Fold Telescopic Ramp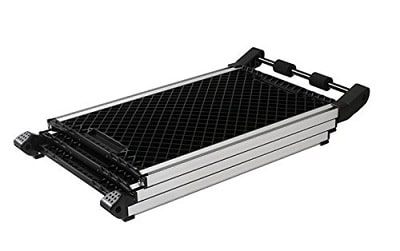 This dog ramp is one of our wildcard choices for people to consider because it is a non-branded item with 'unknown' down as the manufacturer. It is actually made by a company called A R North America Inc after some research. We were unable to find any English speaking video reviews because of this or an English instruction manual. However, what we did find when we were able to test it is that it's an extremely well made performance telescopic dog ramp suitable for anyone.
The pictures don't really do the ramp justice as it's about as good looking of a ramp as you're ever going to get, if you care about these things. The anodised aluminium and ridged, diamond shaped black plastic non slip surface contrast to give a super modern look which will pair well if you have a fancy car, SUV or boat. What's more, the telescoping mechanism is smooth and problem free and the fact that it folds down three times means it takes minimum space and one of the smallest dog ramps when not in use.
In addition, it has foam pads on both sides to both give it grip when in use and to protect the car's body paint from damage if they are coming out of a car.
Although unbranded (technically A R North America Inc) with little information online, there are plenty of online reviews on Amazon from verified purchasers to help put you at ease, as well as this review by JugDog of course. If you want to know more than this review or the pictures check the video tab as you will see it in action.
8. Trixie Petwalk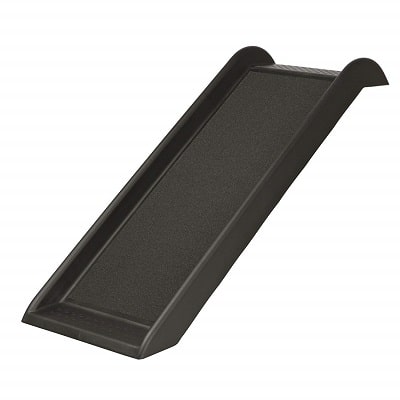 We've not reviewed a dog ramp best suited for small dogs and for indoor use as of yet so here we are talking about the fabulous Trixie Petwalk. We don't want to waste any space on this page slating it for what it doesn't have because that would be pointless. This isn't a heavy duty dog ramp designed to be lugged here and there in a car to take rampant Labradors to the lake or forest or even the dock in your big SUV. No, this is an ideal dog ramp for smaller dogs to get up and down different levels. It can still be used outside but the emphasis here is that it's a petwalk and not a dog ramp.
What you will get is a nice and grippy dog ramp that's somewhat stylish, cheap (great) and sturdy enough for some of the uses highlighted in the above image galleries. If you have a small dog that struggles to get up and down furniture either in the home or in the garden but you don't want some garish dog ramp like most of the others in this list then this is the perfect one. It's made entirely of plastic and weighs less than 3kg which is pretty much like air. It's got a nice curved rubber hook at the top which curves and allows easy entry for the pooch and at the bottom it has a no slip base so no need to worry if you have slidey laminate flooring.
It's a brilliant product and we always thing a ramp is better than steps, even for indoor use as steps aren't the most natural thing a dog would need to climb and over time can actually contribute to arthrosis and arthritis and other joint problems.
As a final point, and a bit of a disclaimer, the Trixie Petwalk can be used outdoors perfectly fine but wouldn't be suitable for crossovers and SUVs due to it's size and it also doesn't fold so it does take up more space than other ramps which are actually bigger and heavier.
9. RayGar Plastic Pet Ramp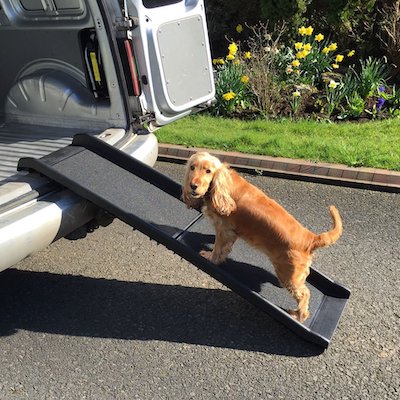 The RayGar dog ramp is a strong and durable plastic dog ramp that's a softer approach to consider. Immediately you can see it looks similar to the trixie dog petwalk except this one is bi folding and a little more rugged to handle being used outside. The main reason we've included it is just to make sure we have a ramp for every taste and this is the only one that looks like this and can be used outdoors.
The anti-slip material feels like sandpaper which is pretty much the same thing that most of these dog ramps use but has drawn a little bit of criticism. It goes up to 90kg which is great but not spectacular. The materials feel sturdy and high quality but because it's rubber it definitely isn't the sturdiest and would not recommend over the more expensive ramps if you have multiple energetic dogs or larger breeds.
It's very lightweight coming at 4.5kg and the rubber entrances and exits protect your car from scratches. The folding mechanism is handy but with it only being bi-folding it is still rather big when collapsed.
However, this ramp is very cheap and excellent value for money if you don't use it that often and you don't have rambunctious dogs. Because it isn't metal it's a dog ramp that can be used both inside and outside which is actually a good unique selling point just not one that people actually want, we've found.
10. doghealth Pet Ramp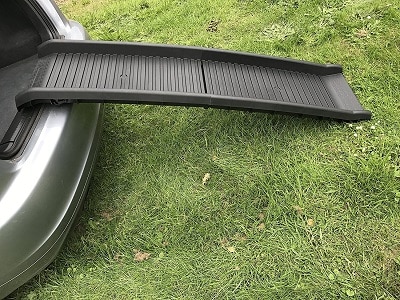 Last but certainly not the least is the doghealth Pet Ramp – an engineered plastic dog ramp which has garnered hundreds of positive reviews and one of the best price points on the market. At a glance, this looks very basic and perhaps it is, but the beauty of this product is that it doesn't need to be expensive to help your dog get in and out of the car nor does it need to be made out of fancy aluminium either.
What this dog ramp offers is superb performance and a really grippy surface for dogs up to 90kg. Sure, there are ramps that can go up to 150kg but if you don't have a gigantic Great Dane or a St. Bernard's why would you need one of those? The simple answer is that you don't. Anyway, the doghealth Pet Ramp is bi folding and doesn't take much space in a boot. The images we've been supplied and the third party reviews we've seen all state it is more than capable of handling large crossovers, SUVs and boats.
Despite metal ones being overall the better choice, plastic ones offer the added benefit of being easier on your hands to carry and move around in the wet as it won't slip. There's also much less likely to damage vehicle interiors if it's moved incorrectly – if that's one of your worries then this one might be the one for you.
We briefly touched on the price point. We have reviewed only a couple of cheap dog ramps less than £50 and this is one of them, pair this with almost 300 reviews on Amazon UK at time of writing and you have a relatively risk free product on your hands. We get that most dog ramps are the same and we'd probably be honest and say this is an "also ran" but consider this the service that JugDog prides itself on offering which is great, unbiased choices for every type of dog owner.
Dog Ramp Buyer's Guide
What is a dog ramp?
A dog ramp is a product, usually made out of metal, plastic or a combination that bridges the gap between two points of differing heights such as a car or an SUV and the ground or a docking platform and a boat. A dog ramp's goal is to help dogs to be able to travel safely on a flat surface of an exact angle which they may otherwise be unable to for logistical or health reasons. There are several different types of dog ramps but the exact usage is the same which is to help dogs move safely and with control.
Who needs a dog ramp?
You probably already know whether you need a dog ramp or not and won't need to read this bit, but if you're unsure or a first time owner then it may be of help. Most dog owners could find a few benefits from having a dog ramp but usually just picking the dog up and moving them yourself is much easier (and cheaper) especially if you have a small dog. However, there are certain types of dog owners who would benefit the most from owning a dog ramp, they are listed here:
Owners of SUVs
Sports Utility Vehicles and Crossovers have a higher ride than usual cars and are a bit of a climb to get out even for the biggest of dogs. A dog ramp makes it an easy transition from the car to the ground. Even if your dog can get out of the SUV themselves, jarring the jump causes the joints and muscles can take its toll over time and lead to problems further down the line.
Getting out of the SUV is one thing, though, getting back into it is even harder especially if the boot has a high lip. A ramp makes it a doddle.
Owners of dogs with joint problems
Like we mentioned previously, jumping in and out of a car or a boat or whatever can cause stress on the joints that can lead to problems. If you have an elderly dog with joint and muscle problems then they may really struggle to get out of a car, especially if it's an SUV. A ramp makes it virtually pain free and they will thank you for it. The alternative obviously is for you to physically carry them but that's not practical and good for your joints either!
"Many of these dogs do not have the strength in their back legs to jump up into the back of a car or truck," Dr. Jay McDonnell, DACVIM
Training
Dog ramps are a great way to teach your dog to follow orders and move in a controlled manner instead of jumping off whenever. With the use of a dog ramp they will learn to be patient when they arrive at a destination and then to use a specific path you tell them to take. If you have plans to get your dog to take part in shows and so on, then a dog ramp could be another tool to help them.
Boat or barge owners
A dog ramp can help create a stable bridge between land and sea and minimise the risk of an unnecessary accident. Even if your dog is fit, capable and healthy the change of movement caused by a body of water can catch them out.
Short legged breeds
Short legged breed of dogs may have a better centre of gravity and balance but their jumping capabilities are very limited and would no doubt struggle to get in and out of a car, SUV or boat without the use of a best dog ramp.
Owners of disabled dogs
Those who have adopted a disabled dog or own a dog who develops a disability during their life will gain a lot from a ramp.
Related – Exercises for dogs with hip dysplasia
Types of Dog Ramps
Not all dog ramps work in the same way even if the end result is more or less identical. Not a single one type of dog ramp is the best, either, as they all have their strengths and weaknesses and are better suited to some scenarios than others. With this in mind, we'd like you to glance over some of these types of dog ramps to help you discover which may be the best fit for you. You never know, you may end up buying a couple of different ones!
Folding dog ramp
A folding dog ramp is one where there are two or four hinges in the ramp to allow it to fold together to save space. When it's needed to be used it just uncurls into position. These are some of the most common types of ramps as well as the most reliable provided the hinges are sturdy and made of rust resistant materials.
Pros
Budget friendly – Ramps with hinges are cheap
Reliable – Hinges are unlikely to fail and are pretty strong
Portable – Folding ramps take little space when not in use, even less the more they fold
Cons
Hinge reliance – If even one of the hinges fail the whole thing fails
Laborious – Can be a chore to get out if the dog ramp is heavy
Telescopic dog ramp
A telescopic dog ramp is a type of ramp which is built like a russian doll with other segments of the ramp inside the ramp which slide out and fully extend into the full size product. Telescopic dog ramps tend to be lightweight, convenient and extremely portable which has led them to become one of the bestelling types of ramps on the UK market. To be fair, this is the kind of dog ramp you will likely end up buying for a car.
Pros
Lightweight – Most telescopic dog ramps should weigh less than 7kg.
Portable – Telescopic ramps take little space when not extended
Convenient – Doesn't take long to get the ramp fully extended and ready to go
Cons
Reliance on moving parts – If the extending mechanism fails, it's over
Strength – Not as strong as other types as density is sacrificed for convenience
Noisy – Can be noisy if the internal metal scrapes while extending
Permanent/semi-permanent dog ramps
Dog ramps that come in a single form and can not be folded or telescoped are some of the toughest and durable of all dog ramps as all thought has been given to just how well it works. However, as you can probably guess this isn't the most convenient and portable but would be handy to have in a single use area such as the docks for boats and perhaps on the back of a pick up. You'll likely find these kinds of ramps to be the cheapest because you aren't paying a premium on the portability mechanism.
Permanent dog ramps can also be designed to be bolted in place making them even more secure than other ramps. They can be bolted on to the back of pickups, concrete floors or even to the boat.
Pros
Strength – They tend to be stronger than portable ramps
Cheaper – A cheaper price can be obtained for this type of ramp, usually
Secure – If they are secured into place permanently they will not be swinging around
Cons
Not portable – They are not portable even if you decide you need a portable solution later down the line
Degrade with time – Permanent dog ramps can be knocked and damaged over time
What to look for in a dog ramp
On the face of it, a dog ramp is a seriously simple product with little differences between one product and another. However, there is a difference between a good and a great dog ramp and the focus of this buyer's guide is to help you separate the wheat from the chaff so that the dog ramp you end up buying is the best for your needs, the dog's needs, your budget and the purpose you need it for. A dog ramp made for boats is not going to be the best dog ramp for SUVs and so on.
From our extensive research from the field and online we've gathered together a list, or criteria, of common traits and markers that all good dog ramps have and you should look out for before clicking on that add to basket button.
Dog ramps or steps?
This guide is specifically for dog ramps and not steps so if you're looking for steps only then you're going to be disappointed. However, we still wanted to add some information to help distinguish between the two and why someone may want one over the other.
We find that the dog stairs are best suited for indoor use for small dogs who need help to get up to beds or chairs or dogs suffering with muscular/joint problems who just need to get up small heights. Dog stairs very rarely have enough length to be able to get out of cars, boats and large SUVs and are much more cumbersome to lug around. If you are looking for a basic indoor dog stair solution then check out
Set of Strong yet Lightweight Pet Stairs
You can, however, find some stairs which are long enough to get out of cars, boats and SUVs if you really wanted to just be aware that they are not very portable, not nearly as strong and still give your dog a lot of work to do to get up and down. We can't think of many reasons you'd ever go for stairs over ramps for outdoor use to be honest.
Places where dog ramps can be used
Dog ramps only allow a dog to get to and fro from two places of different heights, true, but there are a few different places and situations where being able to do just that can be extremely handy and if you're on the fence about committing to buying one or not then hearing all about them may help you make that decision. Below are just some of the most common places dog ramps have been used effectively.
Getting in and out of a car
The most common use of a dog ramp that we've had feedback on is to simply get a car in and out of a car. When we quizzed people on the type of car they had it was heavily in favour of larger models such as crossovers and sports utility vehicles. The rise of these vehicles with a higher ride on the market has also given birth to a new demand for ramps to get in and out of them. Many, but not all, dog owners who use ramps to get in and out of car had elderly canines or canines with joint problems.
Dog ramps can be used to get in and out of the boot, or side doors it matters not. The most common type of dog ramp used for cars is telescopic, followed by folding – there is usually no room for permanent ramps outside of pickups.
On and off boats
Not everyone has a boat but everyone who has a boat and a dog has a dog ramp. It is the safest way to get on and off boats. Permanent ramps are the way to which can either be bolted on to the dock or the boat itself.
For a load of reasons, we wouldn't recommend not using a proper ramp with anti slip material when it comes to marine transport.
To help get around indoors
A few people use dog ramps and stairs to help their dog reach greater heights indoors. However, all dog ramps used in this scenario were made of soft materials and not the same kind of dog ramps that the bulk of this buyer's guide describes.
These aren't necessarily used for elderly dogs or dogs with joint problems as they are also handy for toy breeds to use to get up and down furniture such as beds. We would class this as a luxury product and not a necessity really.
Dog training
If you're anywhere remotely serious about dog training then you are going to need several dog ramps! If you've ever watched any dog shows then you'll have noticed from time to time a dog will have to traverse a dog ramp over some kind of an object. Sometimes the dog ramp may take them over a small body of water, over a fence or there might be an inclining dog ramp meeting a declining ramp to test their balance and coordination.
Granted, they are usually much narrower than the dog ramps we'll be advertising but the point of getting a ramp for training is for a dog to learn to take orders to go over a designated path and to not be afraid of ramps and other pathways like that. Professional dog training really is an expensive sport!
How to train a dog to use a ramp
Obedience training is a key precursor before getting a dog to use a product such as a ramp and it's good practice to take a loom at some of our training articles first before doing this. That being said, a dog ramp is something they may take to straight away or something that they will take to in time. Either way, you should still be teaching them to use it safely and confidently because you never know when things go wrong because of a lack of education and obedience work.
Can I make a dog ramp?
Yes, of course. If you're a skilled DIYer with a specific interest in joinery or metal work then by all means make one to save money. However, consider that the strength and durability of the ramp is of great importance and making one that may not be as good as ready made ones online can put your dog at risk.
Manufacturers of dog ramps will have a tried and tested blueprint which has been field tested and reviewed extensively over the years making them superior to anything you may be able to make yourself, probably.
We wouldn't recommend making one for yourself if it is going to be used over and over again and in different weather conditions which can weaken the structural integrity.