I figured we have talked a lot about our dogs and puppies already so why not have one guide just for us, the dog owners. After all, we too get a wee bit chilly in the winters.
Investing in a high-quality coat for yourself can make dog walking a far more enjoyable experience when the weather changes and the temperature drops. Whether you are investing in walking boots, wellies, a hat or gloves: investing in the correct walking gear to suit what you need will help make the experience of walking your dog during winter far more pleasurable.
There are several features to consider when you are looking for the perfect dog walking coat: a waterproof material is ideal if you are going to be walking your dog in the rain, a fleece lining or removable inner jacket will keep you warm and finally, you don't want to pay over the odds so whether it is a reasonable price to ensure you are getting good value for money.
Let's hope you find the right item to keep you comfortable during the dog walks this winter.
Top 4 Dog Walking Coats for Women
1. Berghaus Women's Nula Micro Jacket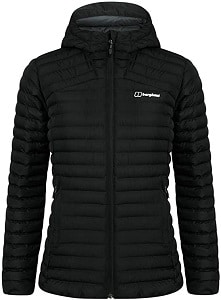 The Berghaus Nula Jacket is one of the most stylish puffer-style coats on the market and is perfect for a blustery walk. Dog walking coats can often be large and cumbersome but Bergahaus have made a coat which is both functional and flattering for any figure.
On the inside, it is insulated with a synthetic hydro loft poly ball which keeps you toasty and dry on the inside and throughout the coat. On the outside is lightweight water wicking material. Perhaps one of the best features is how adjustable the hood is for serious windy days as well as the bottom hem. With several colours available this coat should delight everyone.
2. Mountain Warehouse 3 in 1 Water-resistant Coat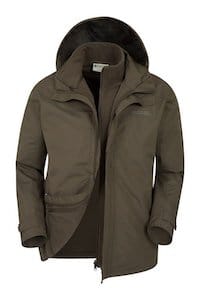 Our best water-resistant jacket for women has to be the Mountain Warehouse 3 in 1 water-resistant coat. The stylish and colourful outer material is water-resistant; it has been treated with Durable Water Repellent (DWR) so if you are out on a walk and it rains then the water droplets will bead and roll off.
Mountain Warehouse does state that this coat will keep you dry when in light rain rather than long exposure to heavy rain. The best feature of this dog walking coat for us is the detachable inner jacket: both the water-resistant outer and the lightweight microfleece inner can be worn as separate coats or together depending on the weather.
The two sections fit together and come apart easily with a zipper; meaning that if the weather changes while you are out dog walking, then you can quickly make any changes to how you wear the coat. The Mountain Warehouse coats are machine washable, they are available in 3 great colours (burgundy, teal and black) and there is a range of sizes available from UK6 to a UK20. We think this is a perfect dog walking coat to get if you want to look stylish and also be well prepared if the weather changes for better or worse.
3. Regatta Women's Romina Waterproof and Breathable Insulated Hooded Jacket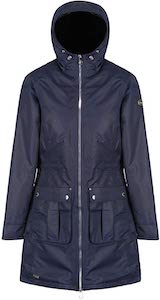 We love this waterproof and breathable hooded jacket by Regatta. The Regatta jacket ticks all the boxes when it comes to finding your perfect dog walking coat: it is made from a waterproof and breathable polyester material with a durable water repellent finish and contains a thermos-guard insulation lining throughout the inside of the coat.
The lining itself is soft and cosy which adds to your comfort whilst out dog walking. If you wear this coat on a cold, wet day whilst walking your dog you are going to stay warm and dry. As well as the essential features, the Regatta coat has a hood, two large pockets and drawstring toggles around the hood and waist of the coat. The coat is available in 12 colours and in sizes 8-26.
4. TACVASEN Women's Windproof Waterproof jacket lightweight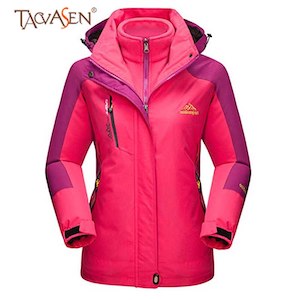 This windproof and waterproof winter jacket by TACVASEN is perfect for dog walking. The softshell outer material is water-resistant, windproof and breathable: it blocks out the cold air and even contains a soft fleece lining throughout which will keep you warm and dry when you are out dog walking in cold weather.
The thermal winter waterproof jacket also has a hood that can be removed to leave you with a stand-up collar jacket. We really love the vibrant colour options; you could get any one of the 7 options and you'd stand out on your dog walk. To hold your dog walking essentials, there are two zip pockets on the side of the coat and another zip pocket on the upper sleeve.
The TACVASEN coat is shorter than some of the others – just reaching the hip so this makes bending up and down easier but doesn't keep your lower half sheltered from the rain. If the shorter length was an issue you could pair the coat with waterproof trousers to ensure you are fully protected against the rain.
Read More: Best Dog Walking Coats for Dog owners in UK 2022
Top 4 Dog Walking Coats for Men
1. North Face Men's Trevail Jacket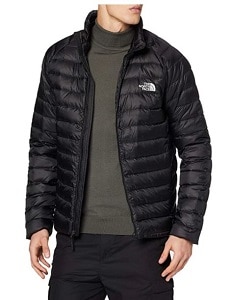 The North Face have a vast range of different outdoor jackets, of which we feel the Trevail is most optimal for a dog walk because it's stylish, lightweight, showerproof and warm. With secure pockets, a chest pocket and a stowable hand pocket all your belongings along with dog treats can be kept away protected and separated.
There are a few snazzy colours available alongside the tried and tested blacks and greys to suit any taste. This is a perfect all-rounder from North Face with only a hood lacking.
1. Donhobo Waterproof Fleece Jacket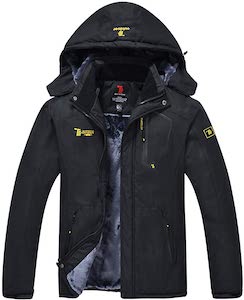 This trendy piece is one of the best waterproof jackets for dog walking this winter thanks to the thermal fleece lining and multiple pockets. This men's dog walking coat has a water repellent surface which will keep you dry whilst walking in the rain. The coat is also windproof thanks to the adjustable hook and loop cuffs and the drawstring feature around the detachable hood.
It is the super soft and thick faux fleece lining that we find most appealing about this winter coat: it is the best material for heat retention and will make even the coldest dog walking trip more pleasurable. The multiple zip pockets are ideal for storing your and your dog's essentials safely: there are two large side pockets, 1 chest pocket and 1 inside secure pocket to prevent valuables from getting wet.
These waterproof coats come in 7 colour options and are available to get in sizes small upto 2XL (there is a sizing chart when you click on the product link). We think the price is excellent value for money too. This is a fantastic coat to wear whilst dog walking: you'll be protected from the wind and rain, kept warm and dry and you'll have multiple pockets to keep your items safe.
2. Country Leisure Wear Quilted Wax Rain Jacket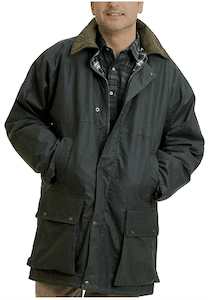 This quilted wax rain jacket is the best coat to get if you are looking for the traditional and classic dog walking garment. The quilted wax jacket has a timeless look to it and will keep you dry thanks to the high-quality wax material it is breathable and waterproof.
You will find that a classic wax cotton jacket like this is an investment piece to get and it will even mould to you over time. The cotton lining is a tartan pattern with a colour scheme that fits the outer jacket which is available to get in brown, navy, olive and green. The sizes range from S to XXL but unfortunately, no size chart has been provided so our advice would be to buy your usual size or contact the supplier with your measurements to find the perfect fit.
The fastening consists of a zipper and popper buttons. There are two large pockets with popper buttons and two additional pockets higher up to prevent your items and hands from getting wet during your walk. The price is very reasonable for what you get: a quilted wax rain jacket for under £40 is incredible.
3. Result Heavyweight Waterproof Jacket and Trouser Suit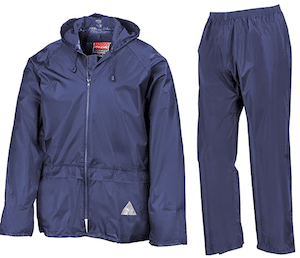 This is the best waterproof jacket and trouser suit set to ensure you are fully prepared for the wet weather on your dog walk. These sets are brilliant if you and your dog are keen to get out in the rain as you can put the jacket and trousers on over your usual clothes to prevent them from getting wet then remove them once you are home.
Both the coats and trousers are fully waterproof, which is best for ultimate protection against the rain when walking your dog on a wet day. Another bonus to this suit is that they are windproof too thanks to the drawcord adjustment around the hood and waist to prevent a cold breeze from affecting you. You will find 2 large pockets within the jacket and further pockets on the trousers that allow access to the trousers you are wearing underneath.
The jacket and trouser suit sets are available in navy blue, royal blue and black and from size S upto XXL; the price fluctuates depending on the colour and size option but the whole set will be below £32 which we think is really good value for money.
Read More: Best Dog Walking Gloves You Can Buy in UK 2022
How to choose the best waterproof jacket?
Finding a jacket that actually keeps you dry when you are out on a rainy walk can sometimes feel like it is too much to ask. There are 3 terms to understand when you begin your search for a new coat: water-resistant, water-repellent and waterproof.
Firstly, water-resistant coats are able to resist the penetration of water to some degree but not entirely; these coats are best to use if light rain is possible but you wouldn't be staying out in them for too long. Water-repellent coats have usually been treated with a surface coating to ensure that water cannot easily penetrate the coat. Water-repellent coats are the next level up from water-resistant so if it is raining and you need to get out for a short walk then this style of coat would prevent the rain from reaching you.
If an item is waterproof then it is impervious to water; meaning that it will not let any rain pass through the material to you. If you want to ensure you'll remain dry whilst walking your dog, or you want to get out in a heavy shower and not worry about needing to rush home before you are soaked; a waterproof coat is an option for you.
Do be careful to read the item description and review carefully if you are wanting to be fully protected from the rain as some items list the term waterproof in the title but then explain that the material used is water-resistant or water-repellent instead.