If your dog loves the outdoors no matter the weather but you dread to think what will happen to your shoes then you need a good pair of dog walking boots. These speciality boots go way beyond just normal boots as they are catered for two things – long walks and adverse weather and mud.
Normal walking boots or wellies just don't cut it because walking boots can be poor at keeping the mud away from the bottom of trousers and wellies can be uncomfortable and not great over all terrain. Dog walking boots marry both of these together to create a hybrid which makes a dog walk just a walk in the park.
Brand
Muck Boots Unisex Adults' Arctic Sport Mid Wellington Boots
Aigle Unisex Adults' Parcours 2 Vario Work Wellingtons
SALOMON Men's Quest Prime GTX High Rise Hiking Boots
Mil-Tec Bundeswehr Mountain Boot with Laminate Lining
LE CHAMEAU 1927 Men's Vierzonord Neoprene Lined Boots
Image





Brand
Muck Boots Unisex Adults' Arctic Sport Mid Wellington Boots
Image

Brand
Aigle Unisex Adults' Parcours 2 Vario Work Wellingtons
Image

Brand
SALOMON Men's Quest Prime GTX High Rise Hiking Boots
Image

Brand
Mil-Tec Bundeswehr Mountain Boot with Laminate Lining
Image

Brand
LE CHAMEAU 1927 Men's Vierzonord Neoprene Lined Boots
Image

How did we test these?
Myself and my wife have tested a few dog walking boots to give our opinion on both unisex and gender specific boots. We live in St. Helens, UK with family in north Wales and lucky enough to be able to test these in different scenarios to be sure they really are suitable for any terrain and weather – Carr Mill Dam for muddy pathways and inclines as well as shallow water wading, Neuborough Warren which is both a beach and a forest as well as Scafell Pike which is grassy, muddy with plenty of rocks to climb. All with our adventurous Jug Dog, Jeff.
We were lucky enough (or should we say unlucky) to encounter adverse weather in each of these trips so the waterproofing element was fully tested as well as their ability to keep muck from our clothes. We reviewed dog walking boots at the same time as other dog walking products such as coats.
What are the best dog walking boots?
1. Muck Boots Unisex Adults' Arctic Sport Mid Wellington Boots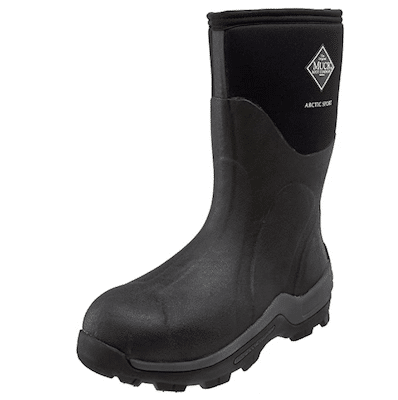 MuckBoots specialise in boots designed for the dirty outdoors, they have a vast range of different boots for different scenarios. The ones we tested were the Uniserx Arctic Sport model. These boots hit the right spots when it comes to the ultimate mucky dog walking experience as they have 5mm thick neoprene rubber which allows the boot to bend and flex with your steps and adjust the different terrain you may encounter.
The rubber is of course waterproof as it is sealed but also provides a level of shock absorption which makes your feet feel light and invincible if you're having to jump down on a hard surface from time to time. This is common if you're more into hiking than walking.
The fit is a little tight but it adjusts to your feet and calves for added protection from splashes but also protects from chafing and blisters from long walks. We can't emphasise enough that our feet did not feel sore from a 2 hour muddy walk.
Lastly, the bottom is made with gum rubber with really thick ridges which gives you plenty of grip on slippery surfaces. We wouldn't go as far to say they are good for mountain climbing but they are good enough for rough inclines and declines.
These are a quality pair of boots and you'll be surprised at how affordable they are against some of the biggest brands in the business.
2. Aigle Unisex Adults' Parcours 2 Vario Work Wellingtons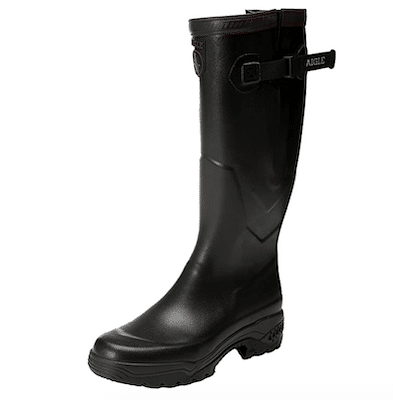 The Aigle Unisex wellies provide complete waterproofing and a comfortable fit. On the outside is thick water wicking rubber which extends over the calf to allow the wearers to be totally fearless when it comes to deep mud and water. There is an adjustable band at the top to allow it to be fit perfectly to see the size of the leg and reduce the wobble you can get with wellies.
Perhaps the unique selling point and a feature we definitely noticed in action is the anti-fatigue design. What this means is that the welly doesn't hinder your mobility at all and feels light as a feather so you can walk for longer without getting tired. Traditional wellies are cumbersome and are not suitable for long walks but Aigle have reworked the rubber to combat this.
To aid the comfort are tabs and gussets for a perfect fit and suitable when wearing clothes or shorts.
The sole is flat with a hollow middle to allow mud to be squashed away similar to how a tire tread works. There are plenty of chunky ridges to provide grip when you need it most. Inside the foot is a damping cushion which gives the boot a bit of suspension and absorbs the shock you can encounter on hard terrain or when climbing down from somewhere.
Inside the boot is foam over softex lined rubber which helps prevent sores and blisters whilst helping to keep the feet warm. The perfect winter dog walking wellie.
A quality dog walking wellie for any gender and shoe size.
3. SALOMON Men's Quest Prime GTX High Rise Hiking Boots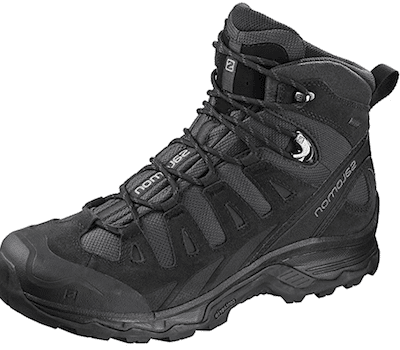 Salomon is a brand associated with Aldi and the Quest Prime GTX is one of their most high tech and high performing products. It is a high rise hiking boot which rises to on the ankle/slightly above the ankle and provides total comfort which can tackle the roughest of terrain and a perfect dog walking boot.
It's a tough boot which fits very snugly with socks. The GTX uses gore-tex to provide waterproofing but also allows the feet to breathe and eliminates sweaty feet over extended use which can plague hikers wearing a poor quality boot. If your feet are submerged then of course water will get in but with the right pairs of socks and trousers your feet will be the driest part of your body.
The sole of the boot has thick rubber and 4d chassis which means that it can bend and twist so it doesn't become damaged quickly when being tested to the limits of rocky uneven surfaces. The tread also allows water and mud into the grooves so you won't slip or close your footing easily. Perfect for winter walks.
As a hiking boot it is designed for long and tricky walks and you may think it's overkill for dog walking but the secret lies in its toughness and ability to withstand heavy use so you will go through one pair of these at the same time four pairs of trainers will snuff it..
4. Mil-Tec Bundeswehr Mountain Boot with Laminate Lining
German para boots are popular for dog walking because of their toughness, comfort and water/waterproofing. Para boots are of course designed for long distance and often gruelling treks so they fit perfectly in our world.
We've chosen Mil-Tec as one of the most affordable whilst still checking the boxes for quality. The Bundeswehr mountain boot is a solid boot with a leather outer lining which wicks the water away and is quite tough. Leather also bends with the boot to give a comfortable step. On the inside is thinsulate which is a pretty common material that most have heard of to keep the foot warm and dry.
DINTEX membrane adds the waterproofing, windproofing and makes the boot breathable which stops feet from getting hot and sweaty.
It's perhaps not the best looking boot on the market but the aesthetic may appeal to some people over hiking boots and wellies. But, they fit really well and definitely makes the walk more comfortable over rough terrain and mud. Leather is also easy to wipe down afterwards.
5. LE CHAMEAU 1927 Men's Vierzonord Neoprene Lined Boots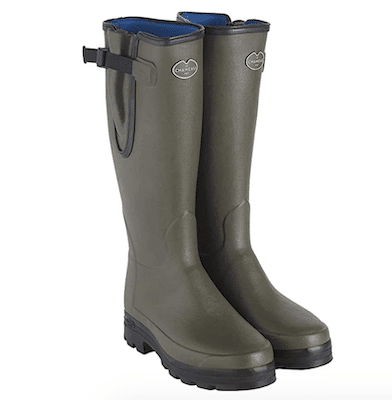 Le Chameau are luxury manufacturers of country clothing and boots and their Vierzonord range is a perfect fit for particularly muddy and wet walks. On the outside is tough, sealed rubber which is waterproof. On the inside is 3mm neoprene which keeps the cold out (as low as -15c).
Dog walking wellies can often be cold without proper lining due to the open areas the cold air can get it into.
The sole is thick and chunky which helps grip the floor and spread any mud out so you won't slip. It's pretty standard but we should note that the seams are well made and the dreaded breakdown of these is not present with this product. On top of this, the sole is designed to combat fatigue and helps promote a healthy gait while walking, making long journeys much easier and less stressful on the soles, ankles and places where blisters and sores are common.
There's a tough strap on the top which helps make the welly fit comfortable to any leg size or if you want to sometimes wear trousers and sometimes shorts.
Lastly, these are really good looking wellies which may not be important to some but it could be a deal breaker for others. Who doesn't want to look good while out and about?
Dog Walking Boots Buyer's Guide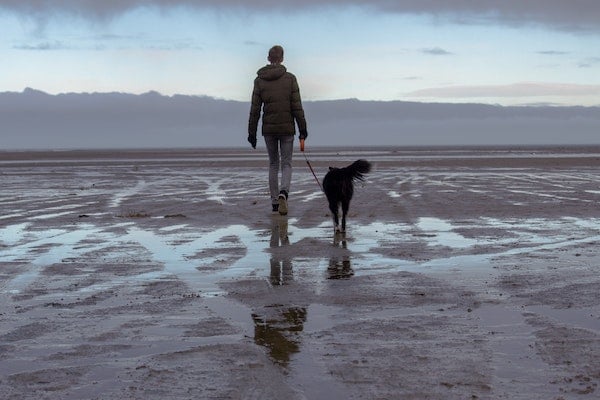 From the personal experiences of all the writers at Jug Dog we all concluded that a decent pair of walking boots make a huge difference in the enjoyment of even the most ordinary of dog walks. The more you walk the greater the benefits of using them.
Alex Kendall of Large Outdoors insists people should be avoiding trainers and use walking boots instead to save your ankles from stress, reduce soreness and appearances of blisters which can be common with ill fitting and not appropriate footwear. Walks around Britain add that "if you only buy one piece of kit for your walks, then we recommend the best pair of walking boots you can afford."
With this in mind, we have written this dog walking boots buyer's guide to help you understand which dog walking boots to buy and why you need to buy them in the first place.
Why you shouldn't walk your dog in trainers
Regular trainers are designed for fashion and some light activity but not for long walks which can occasionally see adverse weather and different surfaces. Trainers lack the support for your ankles and don't have an appropriate lining to protect from sores and blisters which come up as your feet rub over and over again.
This isn't such a problem if your walks are always short in the local park but anything beyond that and you will feel the benefits of a proper pair of dog walking boots almost instantly.
Bad footwear can cause injuries or have long term effects on our posture so investing in a quality pair will be beneficial in the long run says Lara Physiotherapy. Indeed, if you're on your feet all day and then need to take the dog out for a walk it can aggravate existing problems and take the enjoyment from something most of us love.
Lastly, trainers are not good in the rain and can be ruined. If you're suddenly faced with a bit of rain and mud you will either have to choose between ruining your trainers or not taking the dog out at all – the latter is just not fair on the pooch.
Benefits of Dog Walking Boots
Although there are very few boots which are made specifically for walking a dog the benefits of 'walking boots' are numerous.
Better posture – Walking boots are designed with thicker and ergonomically designed bottoms which alleviate the pressure on the ankles and promote a healthy gait. This makes it easier to propel forward to make walks not result in sore feet, calves and legs. This is particularly important when the walk is particularly long or over uneven/rough terrain.
Waterproofing – Dog walking boots are waterproof all over which allows owners to walk when it's raining or following a shower where they may be puddles or muddy soil without getting soggy socks. Not only that, waterproof dog walking boots let you be able to enjoy off the lead dog walks in areas where there may be shallow rivers and lots of mud.
Related: Waterproof dog coats
Longevity – Dog walking boots are made out of tough stuff and on average will outlast 4 pairs of trainers in the same length of time. Even if you don't walk over rough terrain or get really muddy with a solid pair of dog walking wellies or boots you'll get better value for money.
Grip – Walking boots have a thicker sole with chunkier ridges which gives the wearer much better traction and grip which makes it easier to climb rocks or wade through squidgy mud. You'll never know when you really need the extra grip until you're in the situation.
Cold protection – You should continue to walk your dog even when it's a bit chilly. But, you might struggle if you don't have boots which have cold protection which dog walking boots do. Your feet don't need to get wet to get cold but they can also become sweaty if you cut corners with thick socks.
Are wellingtons good for dog walking?
We have never found standard wellies to be comfortable on a walk as they're not designed for that, they're designed to keep muck off your clothes in an agriculture setting. Dog walking wellies, however, ARE suitable for walking as they are a hybrid of boots and wellies in one.
Should I buy walking boots a size bigger?
If you have wide feet then yes, this could be a good idea. However, most walking boots are designed to fit around the feet and going a size up is not necessary. Ill-fitting shoes can cause a lot of problems so it's important to get the right size. We recommend doing what you normally do with show buying and apply it to our recommendations. If they don't fit right then return and then get the next size up.
Related Articles
Last update on 2023-10-14 / Affiliate links / Images from Amazon Product Advertising API