When it comes to rewarding your dog's good behaviour there are so many different types and brands of dog treats that it could be difficult to know where to start and which ones to get based on you or your dog's needs. Unfortunately, many dog treats out there have been packed with items that are not good for your dog's overall health.
Thankfully, here at JugDog HQ we've put together a handy list of healthy, natural, training and puppy treats to help you get the right ones. Below is a table with a summary for each category and you can read up on the full review for each treat below.Please note: These are quick treats as opposed to 'chewing treats' such as rawhides, paddywack, bones or indestructible chewing toys etc.
Best Dog Treats Reviews
1. Paw Originals Fish Training Treats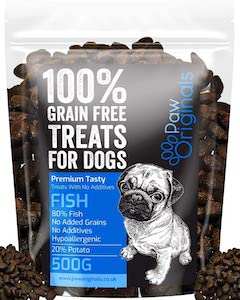 The Paw Originals premium and natural dog treat kibble is the best dog treat of 2023 in the UK market. It's made from 80% fish meat and 20% potato and salmon stock. It's a natural product with zero additives or "nasties>' More importantly, it's vet-recommended due to its high omega-3 content.
These are the perfect treat to keep your dog in good health and they will love the taste too. Many of the treats in our list are grain free because dogs cannot digest grains and they are especially troublesome for dogs with allergies and sensitive stomachs. Not only are the Paw Originals fish training treats free from grains, but they also contain no sugar, preservatives or flavourings: they consist simply of salmon, white fish and potato.
Thanks to the simple 3 ingredient recipe and heavy fish content, these treats are packed with Omega 3, 6 9 and D3 which supports soft, shiny coats and the overall health of your dogs.
The high-quality products are a great price: a 500g bag costs less than £9 which is fantastic value for money. Paw Originals also offer a money-back guarantee – if your dogs don't love the treats there is a 30-day money-back guarantee so it's definitely worth giving these a try to see how your dog gets on.
2. Bounce and Bella Grain Free Dog Treats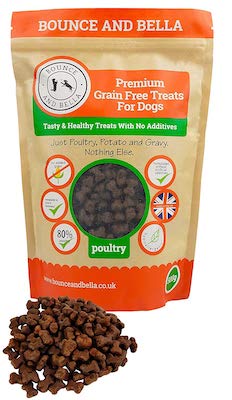 Bounce and Bella's grain-free treats for dogs are high-quality natural dog treats that are affordable and handy to use whilst training. The Bounce and Bella treat consist of just 5 ingredients: freshly prepared chicken, duck and turkey meat, potato and sweet potato.
The simple yet high-quality ingredients make the Bounce and Bella treats the best healthy dog treats. We love the size of these treats: in the 500g bag, you get 800 treats which makes these ideal for training puppies and also makes it less likely that you'll over-feed your older dogs.
Many treats contain cheap grains; the Bounce and Bella treats are free from grains, wheat and gluten. Dogs cannot digest grains, so grain-free treats, like these natural treats, help with digestion and give dogs a shinier coat, more energy, better breath, and healthier skin which will result in a healthier and happier dog.
If you're looking for a great treat, free from grains, then we'd recommend the Bounce and Bella treats.
3. Stella and Chewy's Carnivore Crunch Treats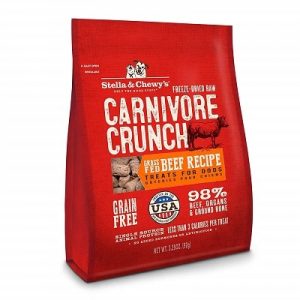 Stella and Chewy's meat treats are the best dog treats for meat-loving dogs. Every batch of the freeze-dried raw carnivore crunch grass-fed beef treats contains 98% beef, organs and bone to ensure your dog is eating as nature intended.
All ingredients have been sustainably sourced, minimally processed and all-natural; These healthy treats for dogs are made in the USA; the all-natural recipe is crafted with care in small batches in S&C's own kitchen to provide the highest level of protein-rich meat nutrition for your puppies and dogs.
These are perfect as snacks, or as healthy dog treats to reward positive behaviour. It can be hard to give your dog meat which is rich in omega 3 and fatty acids so by giving your dogs these natural dog treats you know you're supporting their immune system whilst rewarding them with a taste they will love.
4. Barker and Barker Low Fat Dog Treats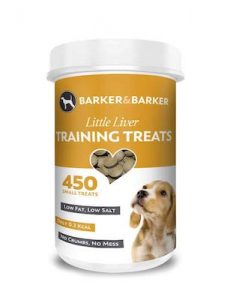 If you are looking for the healthiest treat option available for dogs: Barker and Barker low-fat dog treats are the best. These treats are free from cereals and grains whilst also being low-calorie and tasty treats. Barker and Barker make their treats using a specialist compression technique which is how they can be made without cereals and grains. Instead, they contain high-quality single meat protein with no additives, making them a great source of Omega 3 fatty acids thanks to the meat used.
The compression process allows more nutrients to be locked in per gram than any other treat; they also keep really well with a great shelf life of up to 2 years. Expert dog trainers and nutritionists helped to design these treats specifically to be the ultimate training treat for puppies and dogs.
We love the fact that these treats don't crumble in your hand or pocket, so they're ideal to take out with you when walking your dogs or training your puppies.
Experts recommend that you use the smallest treat possible when training a puppy: these are best to use because they can be snapped easily without crumbling. Barker and Barker are one of the best dog brands out there and are a company you can really trust: the treats are manufactured in their own UK factory in Dorset, and no part of the manufacturing or packaging processes are outsourced.
Read More: How to Naturally Treat Constipation in Dogs?
5. Lily's Kitchen Bedtime Biscuits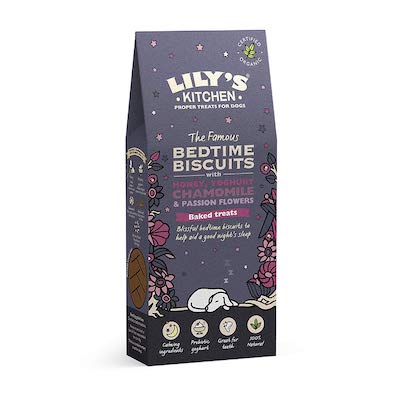 We love the Lily's Kitchen brand: we've featured their scrumptious food in our best-wet dog food article and best dry dog foods. They they create natural, unique and some of the best-tasting dog food around.
Designed with a good night's sleep in mind, Lily's Kitchen's bedtime biscuits contain only natural ingredients, which include honey (for dietary fibre), oats (for lots of energy) and chamomile and passion flowers (for the best night's sleep). These bedtime treats are suitable for young canines over 4 months and dogs of any age.
Dogs can start to associate their tasty bedtime treat with their dog bed and know that it is time to settle down and rest. A box contains around 20 bedtime biscuits and you can order 3, 4 or 12 boxes in bulk.
6. Wagg Low Fat Treats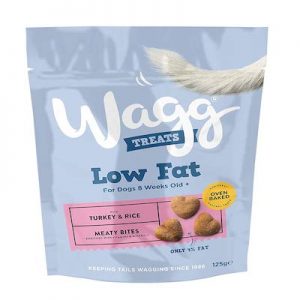 Wagg is a pretty well-known name in the dog industry, and their incredible range and variety of low-fat treats deserve a special mention here. These will be the best dog treat options if you're looking for a variety of flavours: from beef, pork, or chicken to butter and banana flavours and even duck and cranberry!
Due to the extensive range and variety, these treats make the best gifts for friends and family members' dogs and puppies. The Wagg treats are low in fat, just 4% fat, making them great to use as a training treat with dogs as they won't consume too much fat.
Each item within the Wagg selection of treats is free from sugar, but these treats do contain wheat, colours and preservatives so if you are looking to keep your dog's diet especially pure then we'd suggest opting for one of our other recommendations.
7. Coachies Training Treats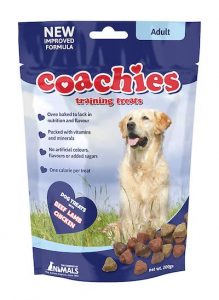 The Coachies training treats are designed to be used when training puppies and dogs. The treats are low in calories (just one calorie per treat) – which means you can use a handful during a training session without worrying about your dog overeating.
The coachies treats are also oven-baked which not only locks in the flavour for your dog, but also makes the treats less likely to crumble in your hands or pockets compared to other cooking methods. Coachies treats are highly palatable- they are flavoured with yoghurt to give them a great taste and are packed with chicken to boost your dog's energy.
They have added calcium for healthy teeth and bones and they are free from colours, flavours and sugar. These are a top choice for puppy training – your young canine can enjoy Coachies from 8 weeks old and they will be great for their bone and dental development.
8. Denzel's Healthy Dog Treats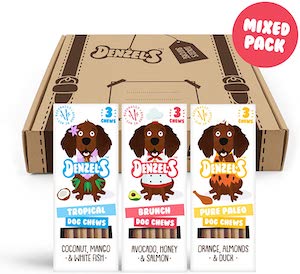 Not only are the Denzel's treats low calorie, hypoallergenic and natural; the 'suitcase' packaging is amazing too. Denzel's chew sticks come in three great flavours: peanut, cashew and turkey; banana, berries and salmon; spinach, chickpeas and chicken: it would be so hard to choose which flavour to treat your dog too but thankfully this suitcase package allows you to try all three flavours in one order.
You will receive three of each flavour, so 9 chews in total. All of the chews are free from grain, gluten, fillers or nasties: just 100% natural and high quality ingredients. These treats are great for dogs with sensitive stomachs thanks to these high quality ingredients used.
Denzel's are a UK based company so all of the chewy sticks are soft-baked within the UK. The chewy sticks break up nicely, making the perfect training treats. Denzel's recommend waiting until your puppy is 16 weeks old before treating them to one of their chew sticks. Tasty flavours, great packaging and high quality ingredients: we highly recommend giving these chew treats a chance.
9. Zuke's Puppy Naturals Pork and Chickpea Treats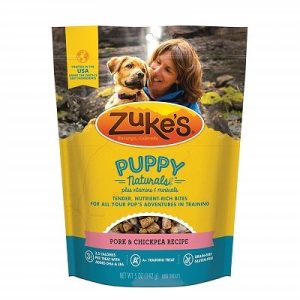 Zuke's Puppy Naturals pork and chickpea treats are best known in America but you can get the exact same, ultra popular treats over here in the UK, too. These tick all of the boxes comfortably by using only good ingredients including pork, bacon and chickpea. As a result of only using top quality ingredients, the small treats are moist and tender; this is the best consistency for a puppy treat as they are easy to bite and chew for a young pup without adult teeth.
Zuke's Puppy Naturals contain protein, DHA & EPA (healthy fats), vitamins (A, C and E) and minerals making them an extremely healthy choice that will contribute to a balanced and healthy diet. These healthy treats are free from grains and gluten whilst being rich in quality ingredients such as flaxseed, sunflower oil and rosemary extract. Each treat contains approximately 3.5 calories so they are more high in calories than other treats but if your pup is active and you use the treats in moderation then this shouldn't be a problem.
Zuke's natural tasty treats are one of Jug Dog's best choices for young canines; we think they are an ideal training treat as they are unbelievably tasty, very healthy and good value for money.
10. Extra Select Puppy treats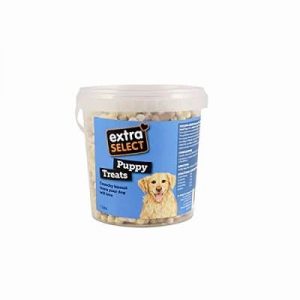 Last but not least, our final dog treat recommendation is the cheap and cheerful Extra Select puppy treats bucket. The buckets are available in 1 litre and 3 litre sizes which are fairly large compared to the other packs in our list. There are a range of flavours and styles to choose from: from lasagne squares to animal figures – there are also several mixed bucket options available.
Whatever option you choose – these small treats are perfectly sized. We think the bucket packaging is really handy too for storing in your cupboard or by the front door: it's easy to grab a handful of treats before heading on your dog walk. These are not the healthiest treats available: they do contain sugar and additives so definitely use them in conjunction with healthy wet dog foodand dry food and healthier natural treats dogs. We think these novelty treats are great for gifts or for treats to use every now and again whilst learning a challenging new skill perhaps!
Read More: How to remove dog salive stains from their fur and other places?
Dog Treats Buyer's Guide
Giving your dog treats may seem like a trivial thing to do: as long as your dog is seen to be eating them and enjoying them, it's all that matters. Depending on how many treats your dog is given, it can mount up to a substantial amount of their daily diet and nutritional needs and significantly impact their overall health and well-being.
If you want to treat your dog to a healthy and natural treat, then apples, green beans and carrots are all good options. Giving your pet fresh items like this can be easy around the house: when you are preparing your meals, you could chop a few extra pieces for your furry friend.
However, when you are out and about with your pooch, either on a walk or training them, many owners find pre-prepared treats much easier to keep in their pocket and use. In this case we recommend items with as few ingredients in as possible: look for ingredient lists that are free from preservatives and added nasties if you're a health-conscious owner.
Tastes great
Obviously it's important that your dog loves the taste of the treat otherwise it shouldn't even be called a treat! However, the key is to find a treat that your pooch REALLY loves and their tails wag every time you even make a move toward the packet. Find a treat they love and they'll do whatever you want!
Low calorie
Usually when things taste great it's because they've got a lot of sugar in them or salt. None of these two are ideal in large quantities so it's important to find a pack of treats which have low calories so that they don't impact greatly on their day to day diet. Dogs can suffer from obesity too. If you have a treat-dispensing toy, this is suggested.
No grains
Grains aren't the worst thing for your pooch to eat but they aren't exactly brilliant either. Look for grain-free treats to ensure your dog can process and digest the item properly. We'd highly recommend avoiding grains if your pet has allergies or a sensitive stomach.
Naturally sourced
Less is best when it comes to processed food. It is always better for your dog and for a human to eat foods with minimal processing. Treats made with natural ingredients tend to be more healthy for your dog's digestion.