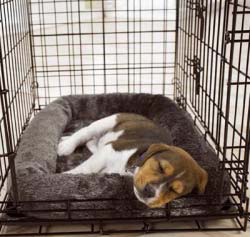 Now that you've seen our best dog crate guide, you may be thinking "Where is the best place to put a dog crate?" – the answer to this one isn't straightforward and really does depend on your home, the stage of training your dog is in and generally how your dog is with being separated. We will give some advice here on some scenarios and the best atmosphere for your dog.
Put the crate somewhere quiet
If the crate is going to be a safe haven for your dog then it needs be placed somewhere quiet so that the dog can go to the crate and chill if things get on top of them, putting the crate somewhere quiet will also help them sleep better, naturally. Avoiding putting the crate in the busiest room in the house can also reduce the chances of your dog being disrupted. Just make sure it's as comfortable as possible in there.
It's a bad idea to place the crate near a window towards the exterior of the house as passers by may scare the dog.
Put the crate in a well ventilated room
Placing the crate in area with good ventilation and clean air can let your dog breathe easy while relaxing or sleeping – essentially put it in a room where air can come in and out easily such as a kitchen, bedroom or living room. Avoid putting the crate in a room which is well sealed such as some cellars.
Put the crate somewhere which gets natural light
This is especially important for dogs who stay in their crates for a prolonged period of time. Being away from natural light can lead to health issues the longer it goes on for. On days where you may not be able to take the dog for a walk the dog could potentially not see the sun for 24 hours!
Keep the crate close if you're housebreaking
If you're housebreaking your pup then keeping the crate close to you when you sleep can make a big difference and ease the anxiety of the puppy. This will also help the pup get used to the crate and not feel like they are being separated from you, the pack. As time goes on you can move the crate further and further away while the dog's not looking and they'll soon get used to being in the crate wherever that may end up.
Related Articles