A dog cooling mat is a brilliant addition to any home in the warmer months.
Essentially, a dog mat cooler is a place for your pet to sit or lay down and cool off effortlessly while still being indoors. These pressure-activated mats are an effective way of helping your dog lower their body temperature without having to hide in the shade or drink gallons of water and pant endlessly.
The self-cooling mats are cheap to buy, can be placed anywhere in the home and can be used repeatedly. They're discreet and fold away neatly when not in use: they can be a tremendous help for active dogs during the warmer months of the year.
Best Dog Cooling Mat Reviews
1. Lauva Dog Cool Mat Bed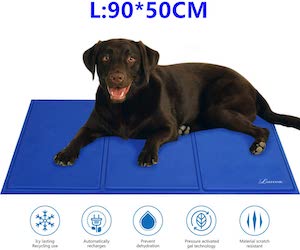 Lauva Dog Cool Mat Bed is the best cooling mat available for dogs in the UK in 2023. The inner material of the mat is a non-toxic gel and the outer material is latex-free both of which are completely safe. There is no need to add water, freeze or chill this mat.
You can simply place it on the floor and allow the self-cooling technology to do its thing. The pressure-activated cool gel delivers an instant and continuous cooling sensation which keeps your dog 7 to 9 degrees below ambient temperature. The gel mat is 0.5-inch thick and available in 3 sizes – offering comfort, reduced joint pain and improved health, mobility and energy for your dog no matter what their size.
The mat doesn't just keep your pet cool, it provides ample cushioning and is a perfect base for their bed, crate, kennel or any floor space. You can even use this multi-purpose mat for yourself either to sit on or beneath a laptop for example.
Lauva gets our top spot thanks to the 2-year warranty accompanying this amazing product; they will get back to you within 24 hours if you have any questions or queries about the item. We love the Lauva cooling mat and we hope you and your pooch do too.
2. Zellar Pet Cooling Mat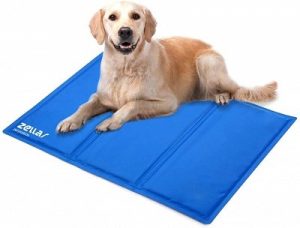 The Zellar pet cooling mat will offer your dog a temperature lower than the surrounding temperature for 4-5 hours. The temperature difference will be around 8 degrees so pretty significant and cool.
The mat contains a non-toxic gel inside it which is touch activated: when the body heat from your pet comes into contact with the mat then the pressure triggers the cooling effect. The mat can be used on the floor, on your dog's bed or even inside one of our recommended dog crates.
The mat is available in two sizes, the smaller option is dual folding and the larger option is tri-folding so it is easy to put away when not in use. The material is easy to clean which is always a useful feature for dogs. It's one of the best dog cooling products available for dogs who struggle in the heat during warmer months to offer them somewhere chilled where they can cool off. We think the Zellar pet cool mat is a great choice for your pup this summer.
3. XIAPIA Dog Cooling Mat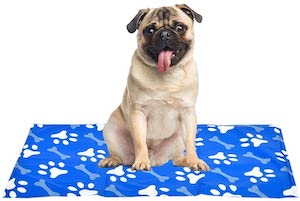 The XIAPIA pet product is a great choice if you're looking for a refreshing and comfortable mat for your dogs in warmer weather. The non-toxic gel inside the mat is 100% safe for both dogs and people as well as any other pet that may come into contact with it.
The thick and durable material is unlikely to break but if it does then it is reassuring to know that the gel is not toxic and won't harm your pet. When the body heat drops to a comfortable temperature then the cooling mat will prevent the temperature from falling any further thus providing your dog with a cool and comfortable environment.
The mat is easy to clean and waterproof: if the liquid does spill onto the surface then you can wipe it with a paper towel. The foldable design makes it easy to carry and take with you for days out or holidays but also makes it ideal for storing away when you don't need to use it.
This cooling effect of this non-toxic pad will provide a cool and comfortable place for your pet to sit on a hot day.
Read More: Can two dogs share the same dog bed?
4. ADEPTNA Self Cooling Gel Pet Dog Cool Mat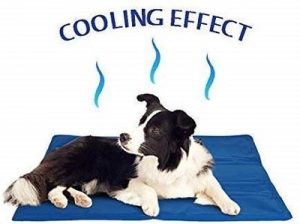 The ADEPTNA pad is the best dog cooling mat if you're on a budget. Available in one size for around £10 this mat will keep your pet cool on a hot day. Inside the mat is a non-toxic gel which maintains a temperature of approximately 5-10 degrees less than the ambient temperature and will keep dogs cool for around 4 continuous hours.
The outer material is durable and scratch-proof and flexible enough to bend over other objects such as dog beds, dog crates and the sofa. Its ability to fold also makes it highly portable and easy to put away when not in use – it will not take up valuable space in your home.
The size is ideal for smaller and medium-sized dogs: we wouldn't recommend this mat for large breeds. The pressure-activated pad is easy to clean: just wipe it down with a damp cloth.
5. Volwco Pet Cooling Mat For Dogs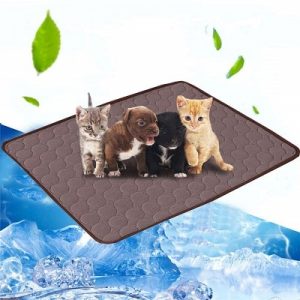 Unlike the other mats on our list which use a non-toxic gel, the Volwco mat consists of a breathable mesh fabric which dissipates body heat away from the dog, through the material and out. This will lower your dog's temperature by around 3 degrees below the ambient temperature (which isn't as impressive as the gel pads) – it will keep your dog cool but not cold.
The three materials used are ice silk, cotton and a breathable mesh. However, because it is not as intense as a non-toxic gel mat, the Volwco mat can be used all year round for dogs who like to have a cool bed and not a warm one. Many owners believe that this breathable mesh fabric is more comfortable for their dogs than the gel-based mats and they praise the fact that they look better too.
From a price point, it's about the same as the non-toxic gel cool mats for dogs and offers a different approach to which many may be attracted to. The mat is easy to clean because it is machine washable.
Dog Cooling Mat Buyer's Guide
At JugDog, we are determined to help fellow dog owners find the right products to suit the needs of their dogs as well as themselves.
Over the last few weeks, we've been researching, trialling and testing a variety of cooling pads to keep your dog cool and comfortable during the warm months. A cooling pad is a perfect companion to a dog cooling bandana but with so many pads looking the same, it can be hard to know which one is right for you.
Because the main material of cooling pads is phase change materials there is very little difference between the offerings of brands, to be completely honest with our readers. There just isn't an awful lot more they can do other than style the mat and add some patterns. That being said, there are certain features that can differentiate one from another.
Thermal efficacy: The product descriptions of each self-cooling mat should tell you the range of the temperature difference between the mat and the ambience in degrees, the greater the difference the longer it will take to reach equilibrium and the cooler it is.
Try and shop around for the best one with a large gap and you'll be very happy. A shorter gap will not provide great cooling and it will need to be recharged sooner than the others. For the benefit of the readers, we have already listed only the ones with the best ranges which are 5-10 degrees celsius.
Quality of the PVC: The PVC mat which holds the gel needs to be secured and stitched properly to protect from punctures and wear and tear. There's no way to really know this other than to check third party reviewers and see if anyone's commented on the product breaking shortly after purchasing or that it was easily damaged by a rambunctious dog.
Price: A cooling pad should be evenly priced as we've previously mentioned phase change material works the same way every time so if there's one that wants you to pay double for another question where that money is going. If it has a great design you really want then fine but otherwise keep your money and get a standard one.
Warranty: Any products which are mass-produced can encounter the odd imperfection so a brand willing to offer a warranty and or a guarantee can go a long way to keep customers happy who may be in receipt of a faulty product. Not only that, but if the performance degrades without deliberate damage you may also get a replacement.
Portability: Most cooling pads will be portable due to the gel but double-check that they can fold up properly so that you can easily take it with you on holidays and trips out to the park on hot days.
Read More: 10 Best Waterproof Dog Beds – Let Them Sleep Dry
Dog Cooling Mats FAQs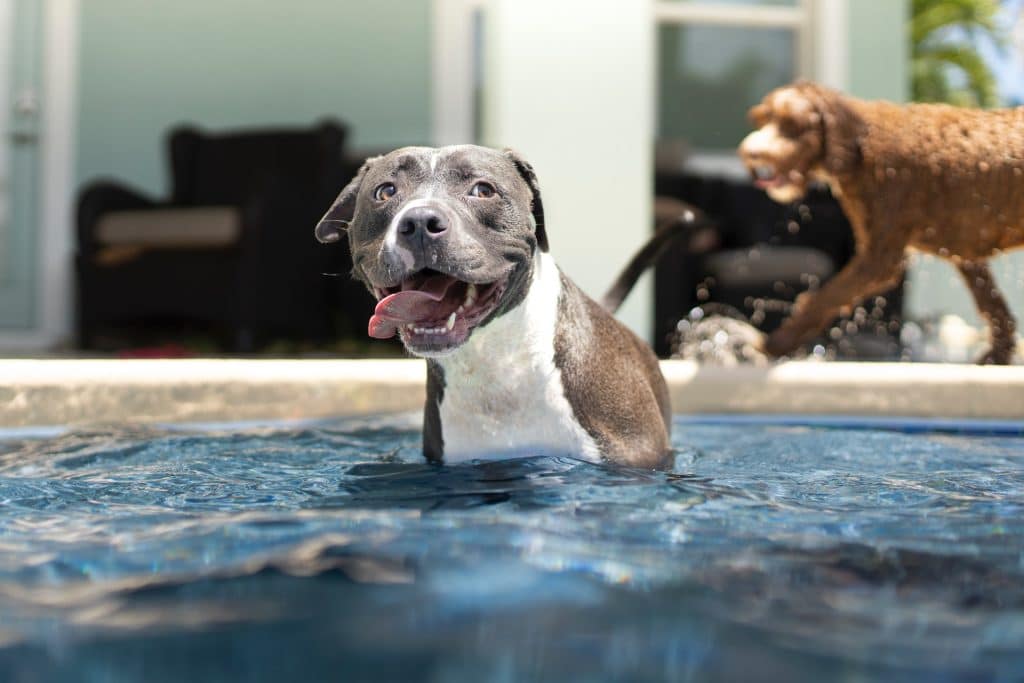 1. What are cooling pads for dogs?
A cooling pad for dogs is a thin plastic cushion which consists of gel on the inside which is constantly cooler than the temperature surrounding the plastic. It is cool or cold to touch and has a non-porous and somewhat slippery surface.
Because it's a PVC cover with a gel pack inside it is very flexible, heavy and almost like a heavy yet cold duvet – it's not designed to be comfortable as adding any cotton material to it defeats the purpose, it's made to offer a cold area for the dog to sit or lie down on.
Because of its flexibility, it can easily be put on top of other objects such as a dog bed or a sofa to turn that area cooler.
2. How do cooling mats work?
The secret behind the best cooling dog mats is the substance or "gel" on the inside. The name of this material is 'phase change material'. Phase change materials can store and release large amounts of thermal energy through absorption; in this way, they give an excellent thermal performance for both heating and cooling.
It's a relatively complicated material but in essence, the gel absorbs energy before releasing it in the opposite direction – in this case, the gel absorbs the heat around it and then cools down by around 5-10 degrees.
When your dog lays on the self-cooling mat it will do its best to absorb the heat from your dog's body and the gel will release the cold as a result. This is essentially draining your dog of warmth to get them back to a comfortable temperature. Once your dog leaves the mat, it will reset itself after around 15 minutes to be used again.
Dogs release heat through various means, the first is by panting and the others are through the skin which isn't covered by furs such as the belly, paws and anus. A dog may continue to pant while on the mat but after time its body temperature will be lowered to get match that of the mat itself.
Dr Corinne Williams' analogy is best here for the layman here as she says "Ice is a commonly used and well-known PCM. An ice cube absorbs heat from a drink. When the ice cube reaches its melting temperature, it changes phase – from a solid to a liquid – and it absorbs large amounts of energy (at constant temperature) and cools the drink in the process."
3. Are cooling mats safe for dogs to use?
After reading about phase change materials in a mat that could be punctured somehow you may be worried about what would happen if the gel leaks. Cold Chain Tech in their extensive report has stated that phase change material "cooling gel" is non-toxic to humans and animals. It is certainly safer than using deep freeze.
However, you should not just let your dog ingest cooling gel just because it's non-toxic as it's still a gel and could cause digestive problems. The takeaway here is if they do swallow some that an urgent trip to the vet won't be needed so long as it's not excessive.
The only real danger the bed would have is if an aggressive dog tears the PVC lining of the mat and ingests a large amount of plastic. Therefore, if you have an aggressive chewer that doesn't like the cooling bed then it's probably not safe enough for them.
Read More: Best Orthopedic Dog Beds UK 2023 – Sleep In Comfort
4. Where is the best place to put a cooling mat?
Since the best cooling mats are 5-10 degrees colder than the ambient temperature they should be placed anywhere other than the hottest areas of the home and certainly not in the blazing sun or next to a radiator.
To avoid being too cold, it's best not to place the mat in an already cold area as it may be uncomfortable to lay on, especially for older dogs with joint problems.
Our ultimate recommendation is to put it on top of the sofa or over their dog bed so they can chill out and be comfortable in a familiar spot. Having the mat face down on a hard floor is not great for a dog's joints and they may not stay there for very long because of it. Alternatively, if they sleep in a crate that would work, too.