What is paddywack made from?
Paddywack, sometimes spelled paddywhack, is the slang term for a ligament in the neck of a sheep or cattle. In terms of its dog treat form, paddywacks are the result of air drying and sometimes lightly powdered to create a stretchy and chewy natural dog treat.
The sheep or cattle used to make paddywacks differ greatly depending on the area and country of origin so it is impossible to get the same product twice.
What are the ingredients for paddywack dog treats?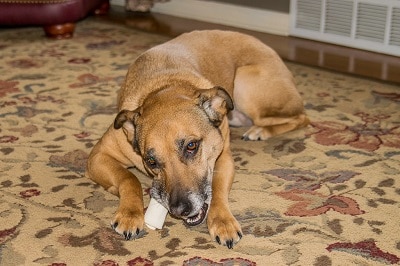 Paddywacks are made of only a couple of ingredients as it is a natural animal based product. Although it can change from batch to batch, a typical paddywack treat should have between 60% and 75% protein and around 10% to 20% oil, with the rest being ash and fibre. This makes a paddywack treat exceptionally fatty.
Are paddywack dog treats safe for dogs?
Given supervised, in moderation and with access to water paddywacks are relatively safe to consume for adult dogs. However, they are not risk free as they are very chewy and can be a choking hazard and can splinter in rare cases. In saying that, you could argue that there is nothing in life which is risk free.
The problem with paddywacks, however, is the lack of nutrition and digestive problems they can cause as they are overwhelmingly fatty which can cause some issues for the digestive system as a whole. The biggest complaint online towards paddywacks by far has been tummy trouble experienced after eating a large quantity. Paddywacks should be given as a rare treat and in small quantities. Here's a list of alternative and best dog treats for you.
Are paddywacks safe for puppies?
No. Some owners may say it is fine and just let them have a treat from time to time but the reality is paddywacks are just too fatty for a puppy's digestive system to be able to handle. Not only that, puppies can be aggressive chewers which is more likely to lead to choking and splinters in their mouth.
Our opinion is to not give paddywacks to puppies.
Hollings Paddywack Dog Treat
Hollings paddywacks are made with 100% British beef which is the air dried afterwards for a nice and crispy finish which is very chewy and tasty. A great little treat to use sparingly as a super reward and give them an aid to clean their teeth and remove plaque and tartar build up.
Ingredients
Protein 60.5% , Oil 19.4% , Fibre 0.2% , Ash 4.0%
Forrest Dog Treats Paddywack Beef Treat
Forrest paddywack treats are a golden colour paddywack which has been air dried in their ovens to create a taste experience your dog will love. They can help clean their teeth and give them big rewards for doing something delightful for you.
Ingredients
Protein – 78% Oil – 10% Fibre – 0.7% Ash – 1%
Related Articles
Last update on 2022-07-02 / Affiliate links / Images from Amazon Product Advertising API