A dog treat bag is exactly what the name suggests – a pouch made to hold treats for your dog that can attach or be carried easily so you no longer need to bundle in the best dog treats in a pocket or forget to bring any at all.
Do you really need one? Technically, you don't. The world's not going to end if you don't buy one. But I know that you certainly want one and for good reasons. It's pretty convenient, to say the least.
There are two types of dog treat bags: multi-compartment bags with more than one pocket and can usually be carried with a strap over the shoulder or on the hip.
And single pocket pouches, which only have one purpose and usually attach only to the hip. These two kinds cater for different people.
The multi-compartmental bags are for serious dog trainers, those who take their dogs for long, extended off the lead walks and people who may be travelling overnight with dogs. The single pouch owners will be casual walkers who want to keep their treats out of their clothes.
Let's look at some of the best options to buy in 2023!
List of the Best Dog Treat Pouches in 2023
1. Pet Room Dog Treat Pouch Bag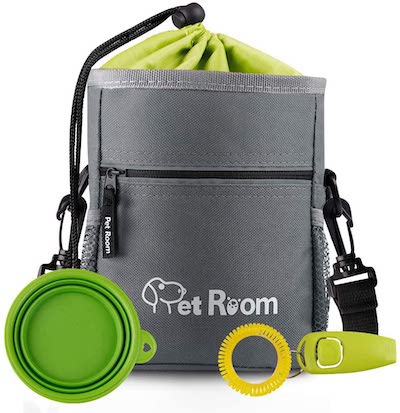 Pet Room Dog Treat Puch Bag is the best one you can buy in 2023 in the UK. This dog treat bag is a blueprint of how doggy treat bags should be. It's made of breathable high-quality Oxford materials and provides large storage spaces while looking sleek and stunning.
Oxford is high quality, anti-allergy and has strong water resistance. The pouch can be worn on the shoulder, waist, clipped onto clothing, or anything else that a metal clip can grab. This is convenient on so many levels and easily adaptable, from simple park walks to rugged hiking trails.
In terms of storage space, there is a large main compartment which is 6.5 inches deep and 5.5 inches wide – this is probably too much for just dog treats, so you can easily throw in some toys, snacks, car keys and other miscellaneous items to free up pocket space.
The compartment has a top-grade durable lining which helps make it easy to clean and makes the product last longer. There is also a zipped side pocket and a mesh pocket for items such as mobile phones, chewing gum and other keys.
With the Pet Room bags for dog treats and pouches, you will never need pockets again. The bag includes a poo bag holder, a dog whistle and a small water bowl, which is pretty neat considering the bag is already so cheap.
It is difficult to find any faults with the Pet Room treat pouch, especially when it's cheap. This is one of the better treat bags on the market and should be considered by every serious buyer.
Pet Room Dog Treat Pouch Bag
[Made of Premium Quality Fabric] The dog treat bag is made of 600D oxford cloth with exceptional abrasion and tear resistance, lasting use year after year. The inner lining is made of Top grade durable material. It can be pulled out fully making it very easy to clean. No other pet treat bag use such high quality fabric. You will be definitely amazed at the quality of this bag when you receive it.
2. VOSO Mini Snack Bag Food Treat Storage Holder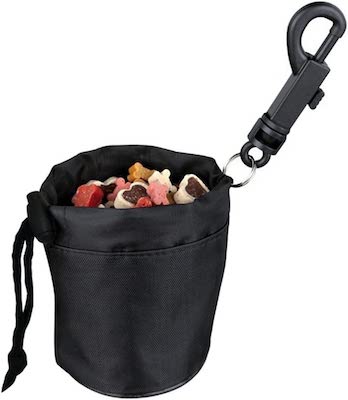 If all you want is a small pouch to hold treats and nothing more, then the VOSO fits the bill for you. It's made with a mesh fabric which breathes and keeps the treats fresher for longer between uses. It's big enough to hold many treats and won't need constant replenishing.
It has an adjustable strap that opens and closes the treat bag and can be used to hold the bag, or you can also use the simple black clipper to attach to your belt loopholes or any kind of loops.
There's not a lot else to this product, but we can say that the bag's dimensions are perfect, the mesh fabric is nice and classy, and it's discreet enough that it doesn't look pretentious.
3. Sweetie Store Dog Treat Pouch Bag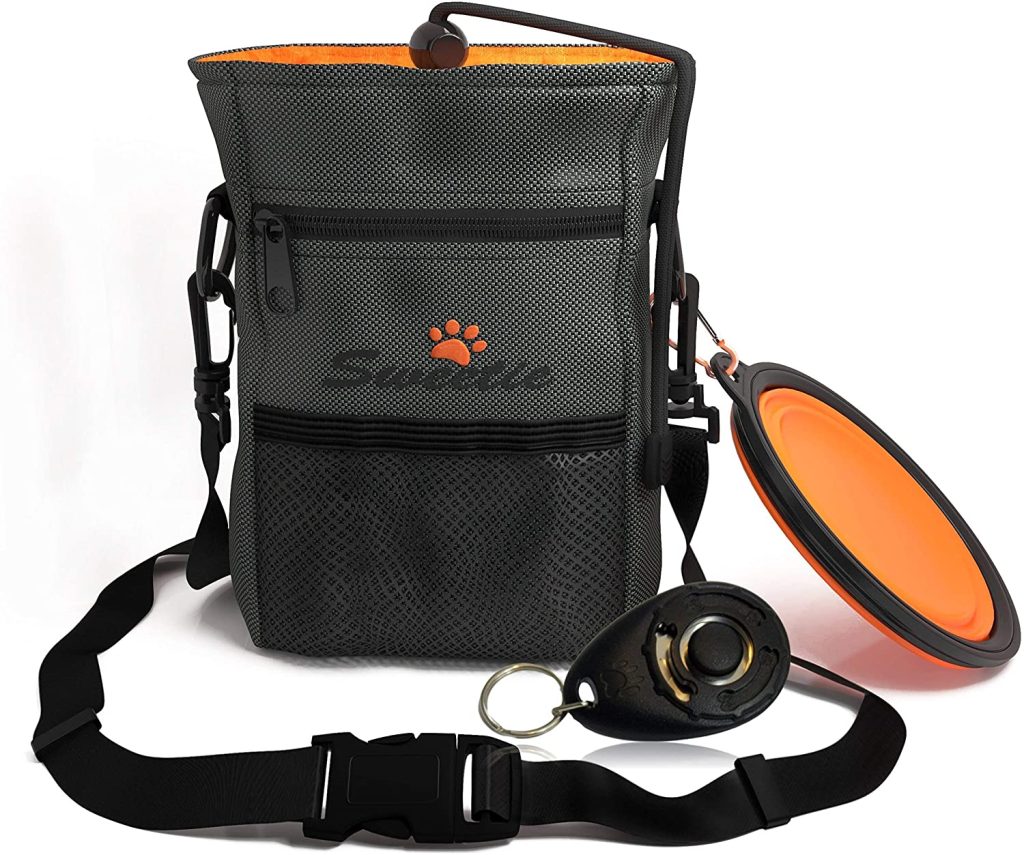 Sweetie Store is fairly well-known manufacturer of dog products, so it's no surprise they've dipped their toes into dog treat bags. This offering is similar to the other multifaceted models in which it does a lot more than just carry dog treats around.
It has a deep main compartment for a whole bag of treats, some dog toys, and somewhat large items. It also has a zipped pocket for more important items such as keys, mobile phones and watches. Lastly, it has a simple mesh pocket for items such as snacks, chewing gum, etc.
Dog poop bags need not go into a pocket as it has an awesome built-in poo bag dispenser. Awesome!
The whole thing is made with breathable and quality fabric, easy to wipe down and water-resistant. It feels like a quality product despite coming in at less than £11. This is one of the best treat bags out there.
Sweetie Store Dog Treat Pouch Bag
ULTIMATE DOG TREAT POUCH BAG - Now your pet has their very own bag with room for everything! Space for toys and treats, a built in poop bags dispenser so you're always prepared, D-rings for used waste bags, your clicker or even the portable food or water bowl.
4. RoyalCare Silicone Dog Treat Pouch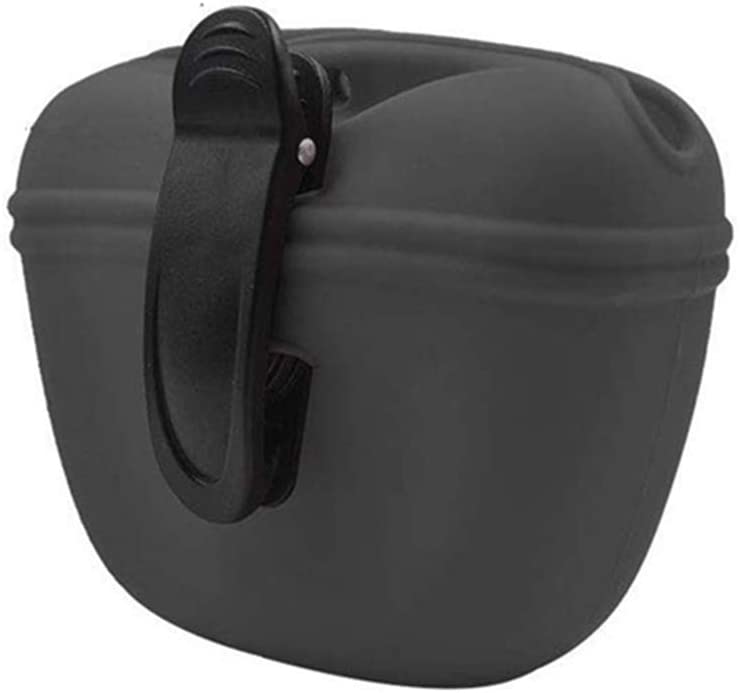 A great choice for those looking for something minimalistic and long-lasting is the RoyalCare silicone treat pouch. It's a very small, ergonomically designed pouch which clips onto a belt for easy access and no fuss.
It doesn't hold as much as some of the other models we've reviewed, but this is just for the casual dog walker who just needs some treats for recall and not necessarily a heavy training session.
The silicone is waterproof, very tough and easy to clean, which will make it last practically forever and never be an issue in terms of crumbs or mould. It's a bit expensive for something so small, but it's worth it for its long life and convenience.
5. Company of Animals Treat Bag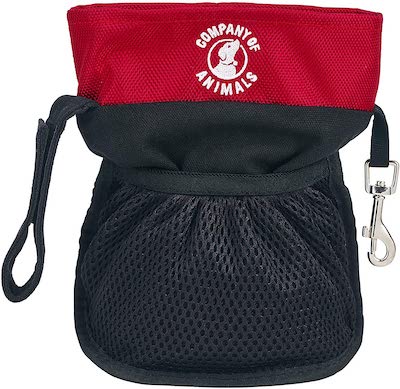 The Company of Animals (COA) treat bag sits in the middle between budget models and high-performance multi-compartmental bags. It's made with light and breathable materials spread to make a couple of compartments.
The bag has two segregated pouches in the main area for wet or dry treats and a mesh pouch to keep training aids such as clickers and whistles and small toys such as balls.
It attaches to the hip as you usually would have it and has a drawstring closure to make it easier to get in and out. We're impressed with how light the materials are and how easy it is to retrieve items on the fly, thanks to the coloured wide opening at the top.
The Company of Animals treats pouch price point is extremely low despite having more than one compartment, making it stand out for those looking for a larger bag and customers who just want something simple. We highly recommend this as it's a jack of all trades at an attractive price.
Sale
Company of Animals Treat Bag
This super-practical dog and puppy training treat pouch has been designed with many useful features, to help make dog training easy, perfect for all users, including professional dog trainers
Read More: Best Treat Dispensing Dog Toys You Can Buy in the UK
Why do I need the best dog treat pouch?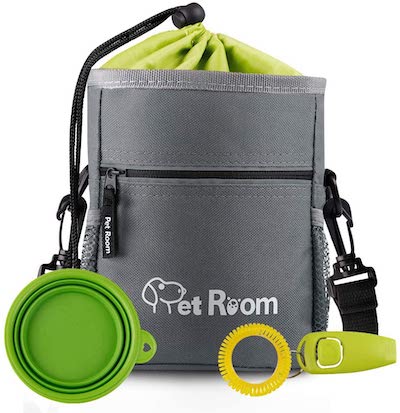 I know you might be wondering why to waste money on a pouch when you can carry the treats without spending anything. But they offer some genuine benefits that can make them worthwhile.
Carrying dog treats becomes much more convenient. You don't have to save (and ironically ruin) a pocket in your coat or jacket anymore.
This becomes crucial, especially in the Summer when you may wear clothes with no pockets but will be going on walks that require rewards for your furry friend. If you opt for multi-compartmental treat bags, you could also store your keys, phone, wallet, dog toys, and all sorts without filling any pockets.
Second, dog treats tend to crumble in pockets, making them dirty and uncomfortable over time. Treat bags eliminate this problem and protect themselves from having the same problem by having a wipeable surface or a liner inside.
Finally, treat bags make it easier not to leave the house without any treats. I often leave the house, and it dawns on me around the corner that I have forgotten treats. Knowing you have a treat bag at all is a much better reminder.
Read More: Best Paddywack Dog Treats to Buy in 2023
How to choose the right dog treat pouch?
What makes a good product is subjective, but some are definitely better than others. It mostly depends upon the quality and strength of the materials, with particular attention to how well it's sewn together. Bags which are used often need strong stitching, or they will come apart.
The quality of the clip which attaches to the waist should be hard plastic or metal and not a flimsy light one, or a strong tug can snap it completely.
Lastly, it should have an inner lining that is wipeable and not porous; otherwise, the crumbs will stick to it. If it doesn't have a lining (single pouches), it needs to be smooth plastic that can be washed easily.
These are the minimums, in our opinion, and not desirables – if it can't do the above, it's not a good treat bag to us.
Despite not being an essential purchase for dog owners, a treat pouch has benefits. They're very handy and will reduce the crumb build up in your pockets, make it quick and easy to reach treats when you need them, and make you less likely to forget the treats on future walks.
You'll be surprised how cheap and high quality some of them are to the point where it just makes sense to have one.
Last update on 2023-10-14 / Affiliate links / Images from Amazon Product Advertising API